Iowa Legislature Approves Congressional Map Giving Edge to GOP
Map pairs Axne and Miller-Meeks in competitive district
Plan is second drafted by nonpartisan legislative agency
Iowa's Republican-controlled state legislature approved a new congressional map that gives the GOP an opportunity to win all four House districts in the 2022 election.
The map, drafted by the state's nonpartisan legislative agency, created three districts where Donald Trump would've narrowly defeated Joe Biden in the 2020 election and a fourth that's heavily Republican. The Iowa Senate voted 48-1 for the new district lines Thursday, followed hours later by the Iowa House's approval on a 93-2 vote, sending the map to Gov. Kim Reynolds (R) for her signature.
The map paired the homes of Reps. Cindy Axne (D) and Mariannette Miller-Meeks (R) in the politically competitive 3rd District, which takes most of its population from Axne's current district in and around Des Moines.
Miller-Meeks, who was elected in 2020 by six votes, may opt to run in the mildly Republican-leaning 1st District that includes most of her current constituents in southeastern Iowa. That district also includes Johnson County, a liberal area in and around Iowa City and the home of state Rep. Christina Bohannon (D), who's challenging Miller-Meeks. Members of Congress aren't required to live in their districts.
"I will be evaluating the new districts to determine my next step, which I will be announcing shortly," Miller-Meeks said in a statement.
The new 3rd District would have voted for Trump by less than 1 percentage point, comparable to Axne's current district. Axne was re-elected by less than 2 points in 2020. Several Republicans already have announced 2022 campaigns.
( Sign up for Ballots & Boundaries, a weekly check-in as states change voting laws and revise political districts.)
Read More: Iowa's Second Redistricting Proposal Pairs Axne, Miller-Meeks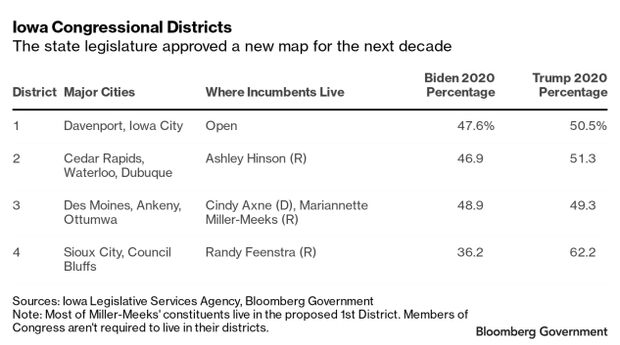 Rep. Ashley Hinson (R) said she will seek a second term in the new 2nd District, which retains most of her current district in northeastern Iowa. State Sen. Liz Mathis (D) is opposing Hinson in the 2022 election.
Rep. Randy Feenstra (R) would be strongly favored to win a second term in the 4th District, the largest and most conservative district in the state.
The map was the second drafted by Iowa's Legislative Services Bureau, which can submit up to three congressional and state legislative district plans to the legislature for consideration. The agency's first map placed Hinson in a Democratic-leaning district and was rejected by the legislature last month on a party-line vote.
The new map "is not a perfect plan and did not address every concern raised with the initial plan," state Sen. Roby Smith (R) said. "However, it did improve on the average population deviation and some of the compactness measures for the four congressional districts and the 150 legislative districts."
To contact the reporter on this story: Greg Giroux in Washington at ggiroux@bgov.com
To contact the editors responsible for this story: Bennett Roth at broth@bgov.com; Kyle Trygstad at ktrygstad@bloombergindustry.com