HEALTH CARE BRIEFING: Trump, Congress to Target Mask Supply Next
Bloomberg Government subscribers get the stories like this first. Act now and gain unlimited access to everything you need to know. Learn more.
Hospitals and health equipment manufacturers might see an emergency influx of hundreds of millions of dollars as part of the latest effort to fight coronavirus infections.
Senate Minority Leader Chuck Schumer (D-N.Y.) called for a "Marshall Plan for our public health infrastructure" that would spend $400 million partly to boost capacity in hospitals and buy medical supplies. Lawmakers in both parties said they expect funding for public health to be included in what is likely to be a $1 trillion stimulus package set to reach the Senate floor as early as this weekend.
Some senators expect manufacturers of much-needed medical gear like masks, respirators, and ventilators, all of which are in high demand from hospitals that are caring for patients who have contracted Covid-19, will need funding to meet emergency orders President Donald Trump announced yesterday.
Minnesota's 3M is among the largest producers of N95 respirators, commonly used by doctors and nurses during pandemics. Medtronic and General Electric both manufacture ventilators. Trump said yesterday the federal government is ordering 500 million N95s to help increase private production.
Sen. Bob Menendez (D-N.J.) said the president has to cut deals with manufacturers to build up the supply of gear like masks, and agree to buy some of it. "They may need funds to do that," Menendez said. Alex Ruoff has more.
Also yesterday, Trump signed a new executive order that gives the federal government broad powers to direct the production and distribution of health-care equipment like protective gear and ventilators if the outbreak in the U.S. gets far worse. The executive order gives HHS Secretary Alex Azar priority over contracts with private companies. His department could also get control over how needed health-care equipment gets distributed.
It's not clear how extensively the government would use the powers outlined in the broadly-written order, or whether companies would start legal objections if they disagreed. In a tweet following the signing of the order, the president said it would be used for a "worst-case scenario," and hopefully wouldn't be needed.
The White House cited the Defense Production Act of 1950, which provides the government power to allocate private resources in a national crisis, as the legal basis for the new authority. Josh Wingrove and Shira Stein have more.
Trump to Hold Call with Governors at FEMA HQ on Virus: Trump will participate today in video teleconference with governors on virus response at the Federal Emergency Management Agency headquarters at 2 p.m., according to the White House, Caitlin Webber reports.
Two U.S. House Members Test Positive for the Coronavirus: Two members of the U.S. House announced Wednesday that they tested positive for the coronavirus as the government tries to mitigate its spread and soften the economic fallout.
Rep. Mario Diaz-Balart (R-Fla.) developed symptoms over the weekend and has been working from an apartment in Washington while in quarantine, according to a statement from his office. A short time later, Ben McAdams (D-Utah) said that he, too, had tested positive. Read more from Daniel Flatley and Billy House.
BGOV Coronavirus Response Webinar: Looking for credible information on possible government responses to the spread of Covid-19? Don't miss the special webinar today, hosted by Bloomberg Government experts on possible federal responses and their impact on the upcoming congressional elections. Sign up now.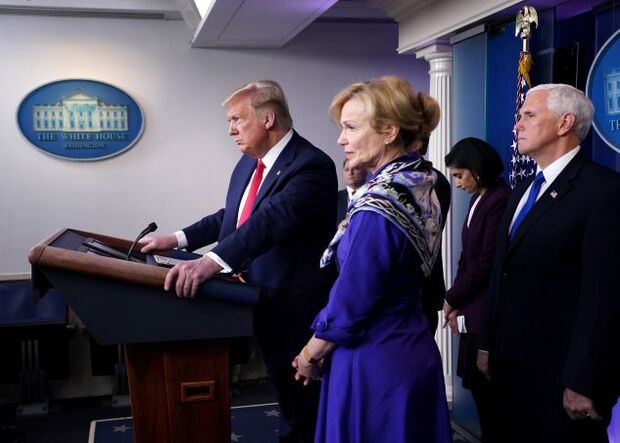 Virus Response Measures—BGOV OnPoint: The administration is preparing a coronavirus response package that may top $1 trillion to follow two other relief measures advanced by Congress. An initial $8 billion package was signed March 6. Trump yesterday signed a second package (H.R. 6201) to give paid leave to some quarantined individuals, make coronavirus tests free, ensure students continue to receive free lunches, and boost unemployment insurance. This OnPoint reviews congressional and executive actions taken so far. Read the analysis here.
Undocumented Laborers on Farms: Undocumented laborers on farms in the U.S. could be especially vulnerable to the coronavirus—and they probably can't look to Congress for help. "I don't think anybody's going to back legislation that would say, 'We are going to start giving health care to undocumented workers,'" Senate Finance Chairman Chuck Grassley (R-Iowa) said. But providing health care to immigrant laborers and suspending deportations is exactly what many advocates and public health analysts say is needed. Fear of deportation is discouraging the ill from seeking medical care, potentially increasing the spread of Covid-19 to the broader population. Megan U. Boyanton has more.
Companies Lobby to Keep Shelves Stocked: Lobbying groups that represent companies including Target, Clorox, and Anheuser-Busch InBev, are seeking an exemption from local gathering bans and curfews in the U.S. so that stores can replenish products that are rapidly disappearing from store shelves. More than four dozen industry groups representing sectors ranging from food, household products, and transportation are pressing the Trump administration, Congress, and state and local officials to establish a clear framework for consumer goods makers, food processors, distributors, and their workers to prevent shortages. Read more from Megan Wilson.
Testing & Treatment
'Non-Essential' Elective Care: The U.S. will issue guidance to hospitals urging them to limit "non-essential" elective medical procedures, CMS's administrator, Seema Verma, said yesterday. Several hospital associations urged U.S. Surgeon General Jerome Adams on Sunday against such guidance. But Verma said CMS believe that the recommendations "will help surgeons, patients, and hospitals prioritize what is essential." Verma said her office had the support of physician groups and appealed to "the entire health care community to join us in this effort." Read more from Jennifer Jacobs.
CDC Report Cites Nursing Home Risks: Seattle-area nursing homes—including the Kirkland, Wash., facility that's been linked to about three dozen deaths in the country—were likely vulnerable to Covid-19 in part because employees worked while displaying symptoms, according to a report released yesterday by the CDC. Inadequate equipment also likely played a role, as did a delay in recognizing the illness for what it was, according to the CDC's "morbidity and mortality" report. The findings could shed light how long-term care facilities should respond to the threat the virus poses to their residents. Read more from John Voskuhl and Dina Bass.
Navy to Dispatch Hospital Ships: The Navy hospital ship USNS Comfort will be dispatched to New York City as coronavirus cases almost doubled, Gov. Andrew Cuomo (D) said in Albany yesterday. The floating hospital—which has previously been sent to disaster zones, such as Haiti and post-Katrina in New Orleans—can help free 1,000 beds when it arrives in a few weeks, Cuomo said. Another vessel, the Mercy, will head to the West Coast. Defense Secretary Mark Esper said those ships aren't equipped to handle infectious disease patients but can provide care for trauma victims, allowing more beds in hospitals on land to handle those with the coronavirus. Read more from Keshia Clukey.
Virus Makes Virtual Doctor Visits Tempting: Hospitals using telehealth to combat the coronavirus still have legal pitfalls to avoid, even under relaxed guidelines just released by the Trump administration. The HHS Office for Civil Rights said Tuesday that it won't enforce penalties under federal health privacy policies if covered entities use popular video chat apps, including Apple FaceTime, Facebook Messenger video chat, Google Hangouts video, or Skype, to provide telehealth services.
Fcebook Live, Twitch, TikTok, and other similar video communication apps, however, shouldn't be used for telehealth by covered health-care providers, the OCR added. Those systems could catch the eyes of hackers if the connections aren't secure under health security laws still in place. Doctors also have to make sure they have the correct credentials to provide these virtual services, including diagnoses, treatments, and filling prescriptions, health IT professionals warn. Read more from Ayanna Alexander.
Home Health Agencies Want Medicare to Pay for Phone Visits: Home health agencies are urging the Medicare agency to cover telephone visits with homebound beneficiaries so that the industry can do more to help fight the new coronavirus outbreak. The Partnership for Quality Home Healthcare, which represents large, multi-state home health agencies, wants the Centers for Medicare & Medicaid Services to cover visits by telephone as a substitute for in-person nursing, said Joanne Cunningham, the partnership's executive director. Read more from Tony Pugh.
Yes, Young People Are Falling Seriously Ill From Covid-19: New evidence from Europe and the U.S. suggests that younger adults aren't as impervious to the novel coronavirus that's circulating worldwide as originally thought. Despite initial data from China that showed elderly people and those with other health conditions were most vulnerable, young people — from twenty-somethings to those in their early forties — are falling seriously ill. Many require intensive care, according to reports from Italy and France. The risk is particularly dire for those with ailments that haven't yet been diagnosed. Read more from Michelle Cortez and Angelica LaVito.
More Headlines:
Research & Prevention
Injectables to Hit Markets Faster: Low-cost, emergency injectable drugs could be on the horizon as the pandemic continues. HHS yesterday launched a public-private partnership to help the nation's repository of emergency health supplies fill and finish hundreds of millions of pre-filled syringes. The syringes are aimed at responding quickly and efficiently to widespread health emergency outbreaks such as the current coronavirus pandemic, HHS said. Americans may see results within six months, according to the agency. Read more from Ayanna Alexander.
Clinical Trial Rules Relaxed: The pandemic is prompting the FDA to relax some clinical trial rules so last-minute decisions to protect research participants won't trigger the agency's enforcement arm. The agency issued guidance to help drug and device companies manage clinical trials during the outbreak. Ongoing trials face disruptions, such as site closures, quarantines, travel limitations, and supply chain issues that could lead to shortages of drugs, the agency noted. Read more from Jeannie Baumann.
U.S., Canada Agree to Block Leisure Travel: The U.S. and Canada say they have agreed to close the border between the two countries to non-essential traffic as the coronavirus spreads but will allow trade to continue. "We will be, by mutual consent, temporarily closing our Northern Border with Canada to non-essential traffic," Trump said in a tweet yesterday. "Trade will not be affected." Trump and Canadian Prime Minister Justin Trudeau spoke yesterday morning and agreed to the mutual measure, Josh Wingrove reports.
More Headlines:
What Else to Know
Fed in Charge of Virus Testing Tapped For World Health Org Board: A top HHS official who has been coordinating coronavirus testing for the federal government was nominated to represent the U.S. on the board of the World Health Organization. Brett Giroir, HHS assistant secretary for health, was selected to join the 34-member WHO executive board by Trump, the White House said yesterday.
Giroir has been charged with leading the administration's efforts to end the spread of HIV, stem the opioid crisis, and to ramp up testing for Covid-19, the disease caused by the new coronavirus. Giroir was also the acting FDA commissioner for a little over a month in 2019. Read more from Shira Stein.
Child Separation Count May Never Be Known: Department of Homeland Security personnel did not accurately count and record data during its family-separation policy, a failure that may never be remedied, the Government Accountability Office found in a new report.
Department personnel "have not accurately and consistently recorded family units and separations" during or after the so-called "zero tolerance" policy was in effect, the GAO said. The GAO reviewed a sample of cases and found that 60 percent of the family separations examined in the sample were not properly documented.
House lawmakers rebuked the administration over its policy and implementation.
"It's pretty damning that we may never have a full accounting of how many children were or remain separated – and that Border Patrol still may not be properly tracking families," Rep. Bennie Thompson (D-Miss.), Chairman of the Committee on Homeland Security, and Rep. Zoe Lofgren (D-CA), Chair of the Judiciary Committee Immigration and Citizenship Subcommittee, said in a joint statement, reports Shaun Courtney.
More Headlines:
To contact the reporter on this story: Brandon Lee in Washington at blee@bgov.com
To contact the editors responsible for this story: Giuseppe Macri at gmacri@bgov.com; Zachary Sherwood at zsherwood@bgov.com; Michaela Ross at mross@bgov.com
Stay informed with more news like this – from the largest team of reporters on Capitol Hill – subscribe to Bloomberg Government today. Learn more.