'Gerrymandering 2.0′ Vetoed in Wisconsin: Ballots & Boundaries

Wisconsin Gov. Tony Evers (D) vetoed Republican-drawn state legislative and congressional redistricting maps today, saying, "They are gerrymandering 2.0."
"As other politicians in this state abuse their power to try and predetermine our elections, as they try to create controversy where there is none, as they try to discredit the hard work of our election administrators and poll workers who helped ensure we had a free, fair, and secure election last November, I will not," Evers said before he vetoed the maps (S.B. 621 and S.B. 622).
The nonpartisan Princeton Gerrymandering Project gave both the congressional and state legislative maps an "F". — Stephen Joyce
NORTH CAROLINA: BUTTERFIELD CALLS IT QUITS AFTER REMAP
Rep. G.K. Butterfield(D-N.C.), whose district was redrawn to be more politically competitive, announced today he won't run for re-election even if Democrats can convince the courts to block the new congressional map.
"While I am hopeful that the courts will ultimately overturn this partisan map and see that a fair map is enacted, I have made the difficult decision that I will not seek re-election to the United States House of Representatives," said Butterfield, who turns 75 next April. Butterfield's eastern North Carolina district voted 54%-45% for Joe Biden over Donald Trump in 2020, when Butterfield was re-elected 54%-46%. After redistricting, Butterfield's district would have backed Biden by just 51%-48%. — Greg Giroux
(Was this email forwarded to you? It's free. Sign up HERE .)
MASSACHUSETTS: WHAT WILL BAKER DO?
Precisely two-thirds of the Massachusetts state Senate voted for the congressional district lines that are now ready for Gov. Charlie Baker to sign or veto.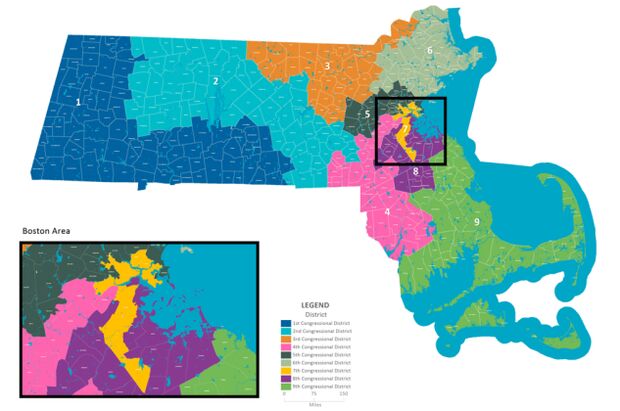 To override a veto, the overwhelmingly Democratic legislature would need a two-thirds vote. Baker (R) has 10 days to act on the bill (H.4256).
Under the new map, Joe Biden would have easily defeated Donald Trump in all nine districts. — Greg Giroux
NEVADA: NEW MAP'S NOW OFFICIAL
The 2022 election will be the first test of whether a new Democratic-drawn congressional map in Nevada can preserve the party's 3-1 advantage in the House delegation.
The map signed into law by Gov. Steve Sisolak (D) shifted Democrats out of Rep. Dina Titus' 1st District to boost vulnerable Democratic Reps. Susie Lee of the 3rd District and Steven Horsford of the 4th District. In doing so, Democrats had to slice the salami thinly: Joe Biden would have won all three districts by high single digits over Donald Trump. So the districts should favor Democrats in most election years but would be highly competitive in a pro-Republican political environment. — Greg Giroux
NEW HAMPSHIRE: PAPPAS AT RISK
Rep. Chris Pappas (D) is targeted for defeat under a map advanced by the Republican majority on New Hampshire's state House redistricting committee.
The map approved this week would shift the strongly Democratic communities of Durham, Portsmouth and Dover from Pappas' 1st District to Democratic Rep. Annie Kuster's 2nd District. Pappas was re-elected in 2020 with 51%, compared with 54% for Kuster. Republicans rejected a Democratic proposal that would have shifted just one municipality between the districts. — Greg Giroux
OKLAHOMA: BETTER FOR BICE
Oklahoma's Republican-led state House passed a congressional map (HB1002) that would buttress first-term Rep. Stephanie Bice (R) in the 5th District in and around Oklahoma City.
Bice unseated Democrat Kendra Horn in the 2020 election by 52%-48% in a district where Donald Trump defeated Joe Biden 51%-46%, by far the smallest Republican winning margin in Oklahoma's five districts. The reconfigured 5th would have voted for Trump by 58%-39%, effectively putting the district out of reach for Democrats in 2022 and beyond.
The map's next stop is the GOP-controlled state Senate, which is on track to clear it for Gov. Kevin Stitt (R) to sign into law. — Greg Giroux
ARIZONA: MAKE ELECTIONS BORING AGAIN
Republicans who believe the 2020 election was legitimate now have their own PAC. Pro-Democracy Republicans of Arizona is raising money for candidates in the fight against what they call "conspiracy theorists and demagoguery."
The man behind it, Maricopa County Recorder Stephen Richer (R), ran on making the Recorder's Office "boring again" but instead found himself defending the county against a partisan election review at the behest of his fellow Republicans in the state Senate. Richer tweeted that he's looking for people who care about "traditional Republican 'stuff' (free people, free markets, rule of law), but also don't believe in conspiracies about the 2020 election or that Jan 6 was a tourist event." —Brenna Goth
SOUTH CAROLINA: SPECIAL SESSION SCHEDULED
The South Carolina House will return to Columbia on Dec. 1 to consider redistricting in a special session. — Associated Press
SEE ALSO:
Quotable: How Redistricting's Different
"If you're cooking something and you taste it, and you realize that it's missing salt or needs some other kind of modification, you can tweak it. But if you're baking, once it goes in the oven, it's done. You cannot change it. Redistricting is just like baking: once we take this vote, once a map is enacted into law, we cannot tweak it or change it. It stays this way for an entire decade, a full decade of our democracy." — Massachusetts state Sen. Becca Rausch (D).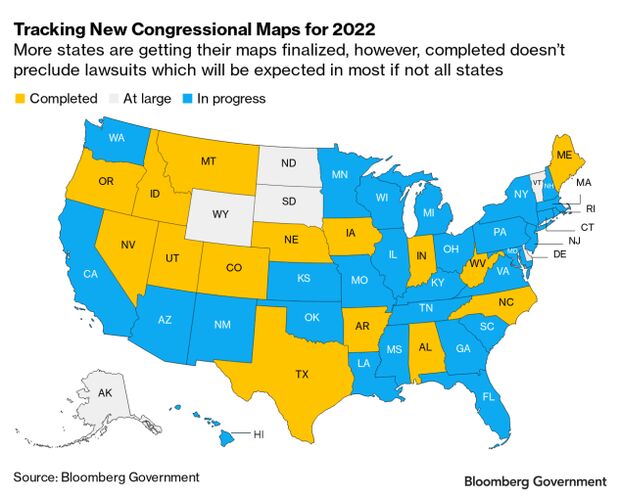 Resources
Add Us to Your Inbox
Click HERE to sign up for Ballots & Boundaries, your check-in on redistricting and state voting laws.
To contact the reporters on this story: Tiffany Stecker in Sacramento, Calif. at tstecker@bgov.com; Greg Giroux in Washington at ggiroux@bgov.com; Jennifer Kay in Miami at jkay@bloomberglaw.com; Stephen Joyce in Chicago at sjoyce@bloomberglaw.com; Brenna Goth in Phoenix at bgoth@bloomberglaw.com; Greg Giroux in Washington at ggiroux@bgov.com; Alex Ebert in Columbus, Ohio at aebert@bloomberglaw.com
To contact the editors responsible for this story: Tina May at tmay@bloomberglaw.com; Katherine Rizzo at krizzo@bgov.com; Bennett Roth at broth@bgov.com