Vulnerable Nevada Democrats Bolstered by New Congressional Map
Lines designed to help party maintain 3-1 delegation advantage
GOP could compete for seats in favorable political environment
Nevada's new congressional lines strengthen the prospects for Democrats in the state's two most competitive districts but could give Republicans a shot in all three blue districts in a favorable political environment.
The Democratic-controlled legislature designed the map, which Gov. Steve Sisolak (D) signed into law Tuesday, to bolster Reps. Susie Lee of the 3rd District and Steven Horsford of the 4th District after they were re-elected in 2020 by 3 and 5 percentage points, respectively. In aiding the two politically vulnerable Democrats, the map diminished the Democratic strength of the 1st District, which Rep. Dina Titus (D) won by 28 points.
A neutral or pro-Democratic political atmosphere could solidify the party's 3-1 advantage in the House delegation. The three reconfigured Democratic-held districts, which all include parts of populous Clark County in and around Las Vegas, would have voted for Joe Biden over Donald Trump by between 7 and 9 points.
But earlier this month Republicans won the governorship in Virginia, which Biden won by 10 points in the 2020 election, and almost won it in New Jersey, which Biden carried by 16 points.
Nevada Democrats "have taken a calculated risk to maximize their (decreasing) chances for a House majority," Dave Wasserman, the House editor of the nonpartisan Cook Political Report with Amy Walter, wrote on Twitter.
( Sign up for Ballots & Boundaries, a weekly check-in as states change voting laws and revise political districts.)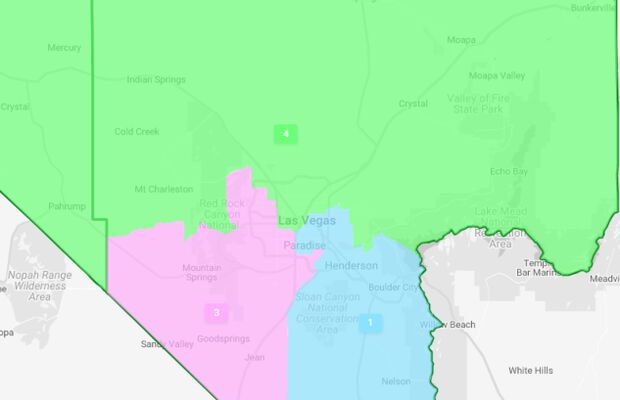 The map maintains a solidly Republican district, currently held by Rep. Mark Amodei (R), that includes the state capital of Carson City and Washoe County in and around Reno.
The new lines drew scrutiny for reducing the Hispanic population percentage in Titus' district to 36% from 45% under the current lines, while increasing it in Lee's district to 21% from 18% and in Horsford's district to 34% from 31%.
After signing the new congressional and state legislative lines into law, Sisolak defended maps he said "reflect Nevada's diversity and reflect public feedback gathered throughout the legislative process."
To contact the reporter on this story: Greg Giroux in Washington at ggiroux@bgov.com
To contact the editors responsible for this story: Kyle Trygstad at ktrygstad@bloombergindustry.com; Bennett Roth at broth@bgov.com