Georgia Runoff Strategies Shift With Senate Majority at Stake
Twin January races allow for coordination, sharing resources
Biden's victory, split Senate affect campaign messaging, ads
Georgia Senate candidates are pivoting their strategies in the state's pair of January runoffs, working in concert to activate their party's supporters and tailoring their messages to highlight that control of the chamber is on the line.
Those are the stakes in the concurrent races between Republican Sens. David Perdue and Kelly Loeffler and their Democratic challengers, Jon Ossoff and Raphael Warnock. With Republicans holding a 50-48 seat advantage following the general elections this month, the GOP could have as many as 52 seats in the next Congress, while Democrats are vying for an even split, which would give Vice President-elect Kamala Harris the tie-breaking vote.
Turnout is a major question mark for both parties, given the elections' odd timing and the presidential race having already been decided. The GOP, which historically has an advantage in Georgia runoffs, is leaning on President Donald Trump's base, as both Perdue and Loeffler align themselves with the president's election grievances. Democrats now have a winning blueprint and are banking on recreating the coalition that gave President-elect Joe Biden a narrow edge in the state.
Republican consultant Chip Lake, who worked for Rep. Doug Collins (R) in the special election primary, said all four candidates must "divide and conquer" across the state to turn out their bases.
"It's the candidates that get their base out first who can start appealing to moderate voters after they're certain their base will vote for them," Lake said. "I think you'll see a lot more nuanced campaigns than what we saw in November."
Perdue, who is seeking a second term, led Ossoff by 86,000 votes in the general election, but his vote share was lower than 50%, triggering a runoff. Warnock took 33% and Loeffler 26% in the 20-candidate all-party special election. The winner of that race will finish the unexpired term of former Sen. Johnny Isakson, whose resignation led to Loeffler's appointment.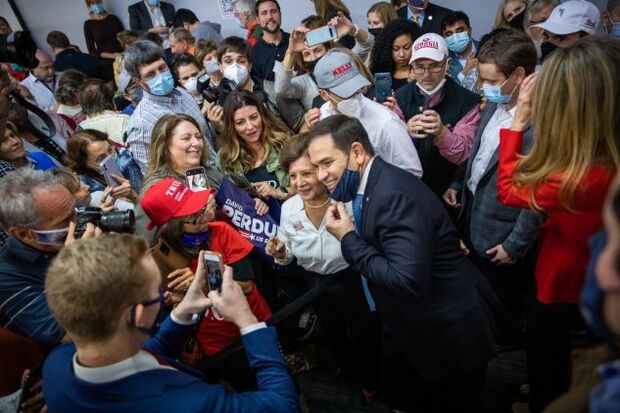 Democratic Momentum
Bryan Long, a Democratic strategist in the state, said the races will be close, but there is a path to statewide victory throughout the Atlanta suburbs, as well as in Augusta, Savannah, and the areas surrounding Columbus.
Warnock and Ossoff, who campaigned together during the general, are expected to do so again in the runoff, said Ossoff spokeswoman Miryam Lipper. But if the candidates are on opposite sides of the state, Ossoff's campaigning can help turn out Warnock voters, and vice versa.
On Thursday, Ossoff is continuing a statewide tour in the southern half of the state with stops in Albany and Savannah to discuss coronavirus-related issues regarding the economy and health care. Warnock is holding a news conference with labor leaders in Atlanta and, according to a press release, intends to encourage voters to request an absentee ballot.
The races' importance on Senate control will be expressed "in a more explicit way," Lipper said. "Whether or not Trump is in the White House, Mitch McConnell is in the Senate."
Georgia Democrats are more organized than in past competitive statewide elections, some of which went to runoffs and all of which were won by Republicans, thanks in large part to Stacey Abrams' efforts to register and mobilize voters, said Amy Steigerwalt, a Georgia State University political science professor. Abrams said Monday that her organization Fair Fight had raised $6 million for Warnock and Ossoff.
Read More: Stacey Abrams's Ground Game Puts Georgia Within Joe Biden's Reach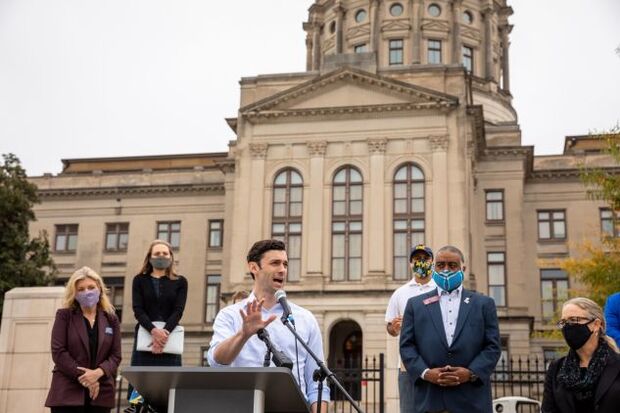 Observers attributed Biden's apparent victory to the increased focus on voter mobilization and access. But while Trump and Perdue received nearly identical raw vote totals, Biden won 100,000 more votes than Ossoff. Those appear to have gone instead to Libertarian Shane Hazel, whose third-place finish eliminated him from the runoff and left his supporters up for grabs.
"The dynamics of the race are more favorable to Ossoff now than they were going into the Nov. 3 election," Long said. "He and Warnock, their fate is tied together in a way it wasn't on Nov. 3. I think those who do turn out in January will vote more along party lines."
Trump Base
Perdue and Loeffler have linked themselves to Trump's unfounded claims of election malfeasance. In a letter Monday, they called for the Republican secretary of state to resign and echoed Trump's claims that the election was rigged. Long said those allegations could blow up in their faces by casting doubts on the process that could make it less likely Trump voters participate in the runoff.
"They're not signaling to their base to trust the system," Long said. "If that is the story between now and January, Democrats will have a better chance of winning than they otherwise would."
Trump's name won't be on the ballot this time around, so the Perdue and Loeffler campaigns need to provide a draw for his supporters to turn out anyway. Loeffler released a pair of ads Thursday that tie Warnock to Jeremiah Wright, the Chicago minister who became an issue in President Barack Obama's 2008 campaign, and Cuban dictator Fidel Castro. Sen. Marco Rubio (R-Fla.) highlighted the latter argument during a "Save Our Majority" rally Wednesday in Cobb County, an Atlanta suburb that's gone blue in recent elections.
Read More: Senate Race Runoff in Georgia Kicks Off With Democrat's First Ad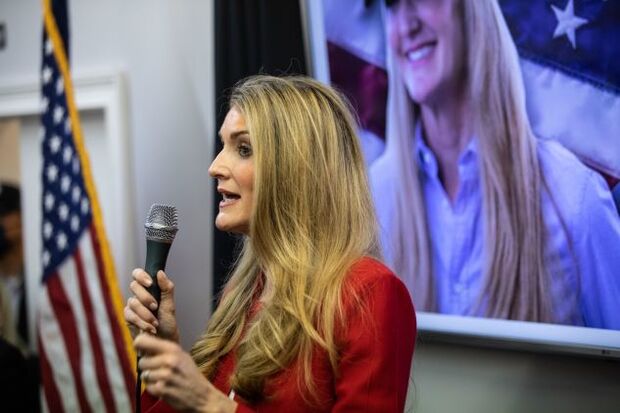 Loeffler can now train her sights solely on Warnock after having to battle with Collins for the Republican vote in the primary. And tying herself together with Perdue will help
Loeffler capitalize on Perdue's approval ratings and his reach that goes beyond the Trump base, said Steigerwalt.
Meanwhile, Perdue can now make a direct connection between Ossoff's election and a Democratic Senate majority — for the opposite reason that Ossoff's campaign intends to do the same.
"Jon Ossoff is a vote to hand power to Chuck Schumer and the radical Democrats in Washington," Perdue campaign manager Ben Fry said. "Georgians won't let that happen."
While Loeffler will need to appeal to more moderate voters whom she didn't need during the jungle primary, Republican strategist Jay Williams said she'll likely be able to transition her message and sway Georgia women. He added that Democrats may try to link Loeffler and Perdue, both former chief executive officers of companies, as "rich, out-of-touch White folk."
Indeed, Warnock's second ad of the runoff highlights his family roots, says to support him "if you want someone who's been through some of the same challenges as you," and alludes to Loeffler and Perdue by saying, "If you want a billionaire, I'm not your guy." The ad also mentions his position as senior pastor at Ebenezer Baptist Church in Atlanta, where Martin Luther King Jr. preached.
New Dynamics
Republicans in the state said the presidential election will be the biggest factor in both runoffs, saying Biden's win will likely motivate more Republicans to ensure the Senate is a check on the White House. Williams said with Trump off the ballot, there will be some suburban voters who may dislike Trump but are wary of Democratic proposals.
"You're going to see a swing back with these folks who are like, 'Now that Democrats want to pack the Court and do all this insane stuff, we need to make sure that we have some kind of firewall,'" Williams said. "They're going to have a hard time making the case that they need full domination of the government."
Lake added that Biden's thin victory margin in Georgia will be a "wake-up call" for the GOP.
"We have an election where it looks like there's a chance that a Democrat can win at the top of the ballot," Lake said, "and that should be a very good reminder to Republican base voters that we can't take anything for granted."
To contact the reporters on this story: Emily Wilkins in Washington at ewilkins@bgov.com; Samantha Handler in Washington at shandler@bloombergindustry.com
To contact the editors responsible for this story: Kyle Trygstad at ktrygstad@bgov.com; Heather Rothman at hrothman@bgov.com