Senate Race Runoff in Georgia Kicks Off With Democrat's First Ad
Warnock, Loeffler facing off in high-stakes Jan. 5 contest
It's one of two outstanding Senate races in the state
The Rev. Raphael Warnock launched a TV ad Thursday in the special election runoff for one of Georgia's two Senate seats, while votes are still being counted in the race for the state's other one.
The Democrat, who is the senior pastor at Martin Luther King, Jr.'s former congregation, Ebenezer Baptist Church, finished first Tuesday in the 20-candidate field. He faces appointed Republican Sen. Kelly Loeffler, who finished second, in a Jan. 5 runoff that could prove critical in the fight for the Senate majority, depending on the results in three other outstanding races.
Warnock uses humor in the ad to pre-empt the on-air criticism set to come his way. The ad's announcer lists faux attacks, including that he "hates puppies."
"Get ready, Georgia, the negative ads are coming," Warnock says in the ad. "Kelly Loeffler doesn't want to talk about why she's for getting rid of health care in the middle of a pandemic, so she's going to try to scare you with lies about me."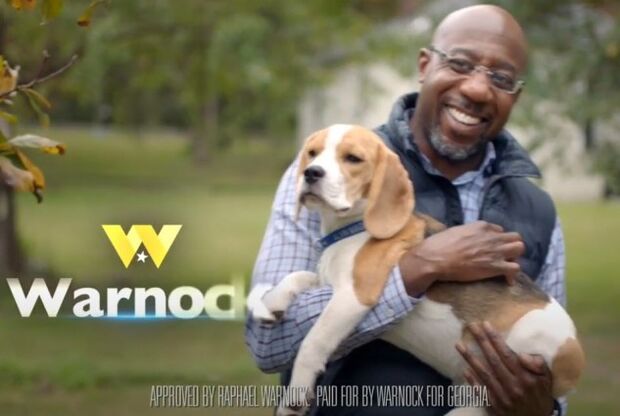 Loeffler was appointed by Gov. Brian Kemp (R) and sworn in on Jan. 6 — almost exactly one year before the runoff will take place — to replace former Sen. Johnny Isakson (R), who resigned. The special election is to fill the remaining two years of Isakson's term.
Strategists say the challenge for Loeffler will be winning over moderate voters after a bitter jungle primary fight with fellow Republican Doug Collins, who finished third, while Warnock will need to motivate Democrats who don't traditionally turn out for January runoffs.
The race is further complicated by its potential consequence in deciding which party controls the Senate, which could invite an even larger deluge of outside spending, as well as the possible presence of a coinciding runoff for the state's other seat.
First-term Sen. David Perdue's lead diminished as votes continued to be counted. As of Thursday morning, Perdue's vote share was still above the 50% threshold needed to avoid a runoff against Jon Ossoff (D).
The other Senate races still uncalled are for Republican-held seats in North Carolina and Alaska. Both parties have so far secured 48 seats. In a 50-50 split, the party that wins the presidential race would control the Senate thanks to the vice president's tie-breaking vote.
To contact the reporter on this story: Samantha Handler in Washington at shandler@bloombergindustry.com
To contact the editors responsible for this story: Kyle Trygstad at ktrygstad@bgov.com; Heather Rothman at hrothman@bgov.com