Federal Contract Spending: Five Trends in Five Charts
Bloomberg Government subscribers get the stories like this first. Act now and gain unlimited access to everything you need to grow your opportunities. Learn more.
Federal contract spending in fiscal 2019 reached $594 billion, the highest amount on record. That's a 34% increase from the $442 billion in government spending obligations in fiscal 2015. Bloomberg Government tracks five important spending trends that developed during the past five years.
1. Defense Drives Record Contract Spending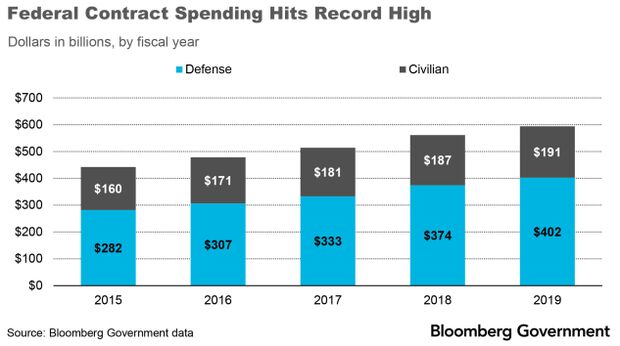 Federal spending grew at a rate of about 7.6% annually from fiscal 2015 through 2019, when it rose to $594 billion The previous peak was fiscal 2010, when federal spending reached $563 billion.
The majority of the spending increases were at the Defense Department. DOD spending increased by about 43% in the 5-year period,from about $282 billion in fiscal 2015 to $402 billion in fiscal 2019. Civilian spending grew by about 19% in the same period, rising from $160 billion in fiscal 2015 to $191 billion in fiscal 2019.
2. IT Modernization Boosts GWAC Spending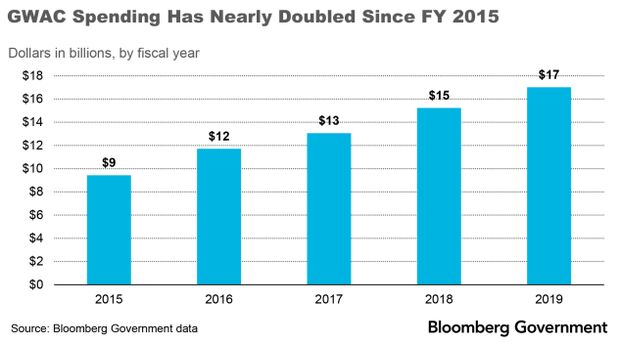 Federal spending on government-wide acquisition contracts, which are contracts designated exclusively for information technology purchases, has continued to accelerate, reaching $17 billion in fiscal 2019. The trend suggests agencies are relying more on GWACs each year to satisfy IT requirements and modernize legacy systems.
.
3. Small-Business Spending Share Holds Steady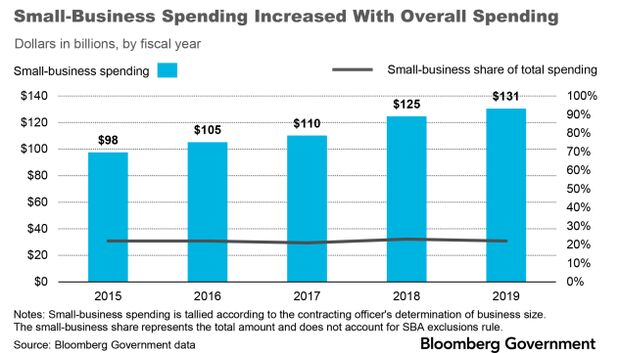 The amount of dollars disbursed to small businesses has risen in lockstep with overall contract spending, while the share of federal dollars won by small-businesses has remained relatively flat. From fiscal 2015 through 2019, the overall share of federal spending disbursed to small businesses has remained about 22% of the market. The SBA exclusion rule, which sets eligibility standards for certain contract competitions, has allowed agencies to reach the government-wide spending goal of 23% for six straight years.
4. OTA Spending Growth Supports Research & Development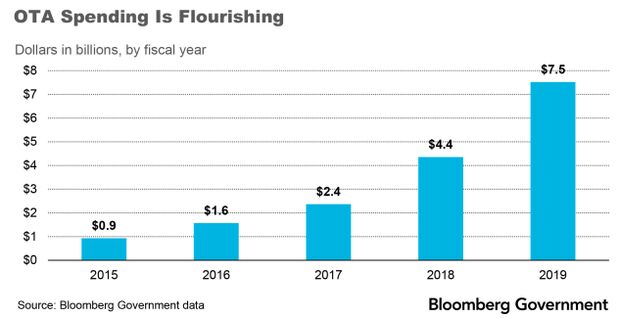 Acquisitions using the federal government's Other Transaction Authority, which reduces red tape to allow the government to swiftly acquire research and prototyping services, has increased each year. The trend suggests the federal government is using the contracting mechanism to expedite the award of new contracts, expand its pool of nontraditional contractors, and enable agencies to more significantly invest in and influence technology development.
5. Agencies Adopted Simplified Acquisition Purchasing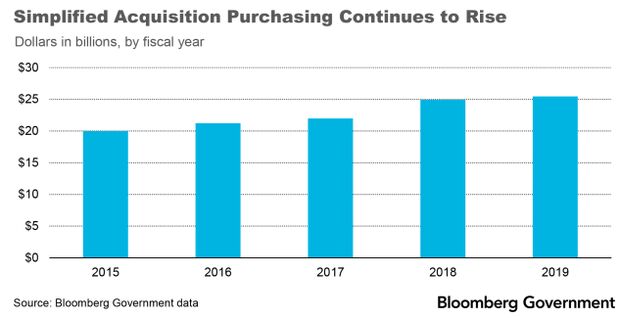 Spending through simplified acquisition procedures (SAP), a government process for buying commonly acquired goods and services that fall below a certain price threshold, has increased each year since 2015. In fiscal 2019, SAP spending reached the highest amount ever reported. The increase is likely attributable to three factors: the overall growth in spending, reduced threshold standards for eligible purchases, and federal agencies' willingness to use SAPs as a means of buying routine goods and services.
To contact the analyst: Daniel Snyder at dsnyder@bgov.com
To contact the editor responsible for this story: Jodie Morris at jmorris@bgov.com
Stay informed with more news like this – the intel you need to win new federal business – subscribe to Bloomberg Government today. Learn more.