Government Meets Small-Business Spending Goal for Sixth Year
The U.S. Small Business Administration announced June 25 that federal agencies awarded more than 25% of their total procurement dollars to small businesses in fiscal 2018, exceeding the government's 23% government-wide goal for the sixth straight year.
Total spending increased in all five goal categories: small businesses, small disadvantaged businesses, woman-owned small businesses (WOBs), service-disabled veteran-owned small businesses (SDVOSBs), and historically underutilized business zone (HUBZone) businesses. Federal small-business spending exceeded $120 billion for the first time ever.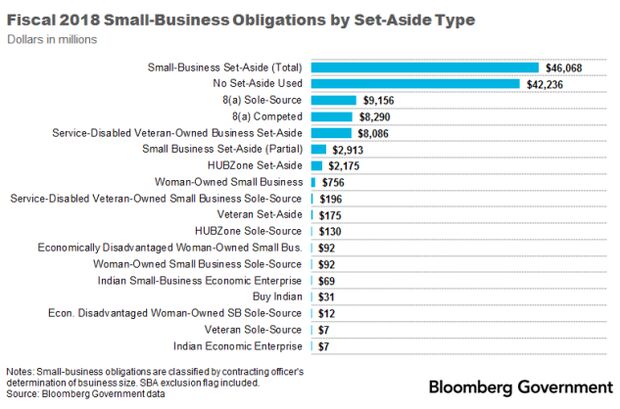 While agencies exceeded individual goals specifically for small Businesses, small disadvantaged businesses and SDVOSBs, they fell short with WOBs and HUBZone businesses.
The SBA also announced that small-business subcontracting exceeded $79 billion in fiscal 2018. THe BGOV subcontracts dashboard shows that the number of small subcontractors grew by 5.5% to 5,609 in fiscal 2018 from 5,919 in fiscal 2017, the highest level in the past five years.
Clients can click here to analyze small-business spending trends such as top contracts, agencies, and companies.
To contact the analyst: Paul Murphy in Washington at pmurphy@bgov.com
To contact the editors responsible for this story: Daniel Snyder at dsnyder@bgov.com; Jodie Morris at jmorris@bgov.com