Do Maps Adequately Reflect Latino Growth? Ballots & Boundaries

Larger Latino populations should have spurred line-drawers to create districts that maximize their voting power, according to advocacy groups that have gone to court. At issue: a proposed congressional district map in Colorado and the statehouse map signed into law in Illinois.
"The Latino community in Colorado has been growing quickly, and the new maps this year need to reflect that," Mark Gaber of the Campaign Legal Center said in a brief submitted to the Colorado Supreme Court.
A second brief by the Colorado Latino Leadership, Advocacy and Research Organization said the independent redistricting commission's map would dilute the votes of Latinos in the proposed 3rd and 8th congressional districts, in part because of "white bloc voting."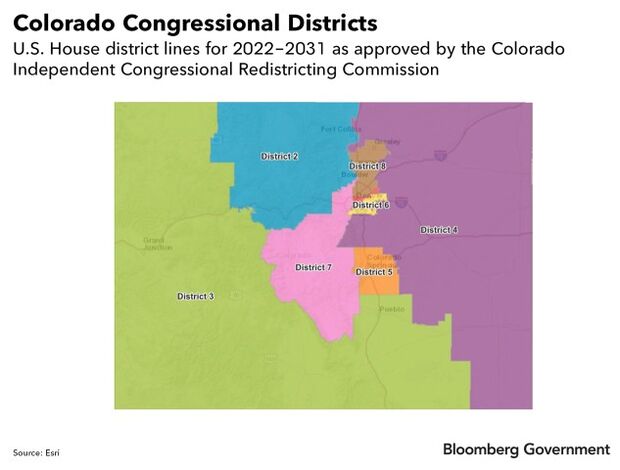 The court has until Nov. 1 to act on Colorado's plan.
In Illinois, the Mexican American Legal Defense and Educational Fund's federal Voting Rights Act court challenge contends that the Latino vote was diluted in state legislative maps. — Tripp Baltz and Stephen Joyce.
(Did you get this newsletter as a forward? Subscribe here.)
MONTANA: NINE MAPS OUT FOR PUBLIC COMMENT
With her tie-breaking vote, Maylinn Smith, presiding officer of the Montana Districting and Apportionment Commission, voted with the Republicans on their plans and the Democrats on theirs, so nine proposed congressional district maps are out for public comment.
The commission could select a tentative congressional map as early as Oct. 21. A final map has to be submitted to the secretary of state by Nov. 14. — Tripp Baltz
TEXAS: SENATE ADVANCES GOP-FRIENDLY MAP
The Republican-led Texas Senate has passed a 38-district congressional map that shores up GOP incumbents and draws 25 districts in which Donald Trump would have defeated Joe Biden in the 2020 election.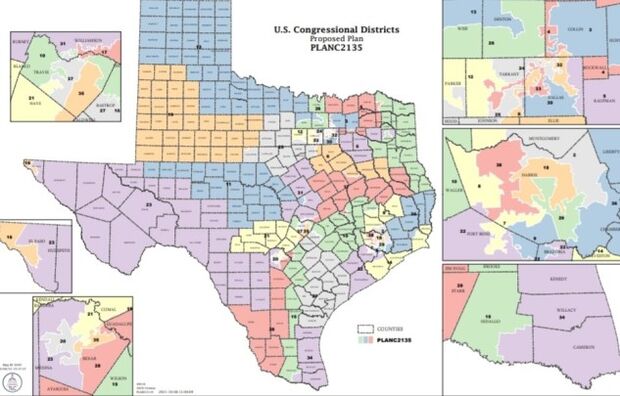 Democrats said the map doesn't reflect gains by racial and ethnic minorities.
Republican Joan Huffman, the chair of the state Senate redistricting panel, said the lines were drawn "blind to race" yet satisfied the Voting Rights Act. — Greg Giroux
FLORIDA: LAWSUITS STAY ALIVE
Four separate lawsuits aiming to overturn new Florida ballot-access restrictions got the green light to proceed after a federal judge shaved them down a bit.
Going forward are challenges to restrictions on third-party voter registration organizations, drop boxes for vote-by-mail ballots, interactions with voters waiting in line to cast their ballots, and requests to vote by mail. — Jennifer Kay
ARIZONA: MAPMAKING BEGINS
Arizona's Independent Redistricting Commission has set its starting point for changing district lines and is on to the public feedback phase of the process.
Initial analysis: The configuration of a proposed congressional district in the northern part of the state could give Native American voters there less power, according to the Arizona Mirror.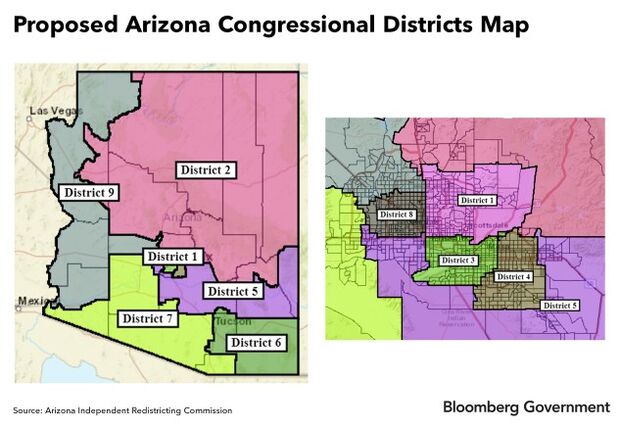 And the draft map could shake up Tucson's Democratic hold, the Arizona Republic reported. — Brenna Goth
VIRGINIA: STALEMATE
If you placed a bet on bipartisanship rising to the occasion in Virginia, it's time to pay up (or collect). The line-drawing commission is at an impasse. — (AP)
ARKANSAS: GOP-FRIENDLY MAP AWAITS GOVERNOR
Arkansas Gov. Asa Hutchinson said he'll decide this week whether to sign a new four-district congressional map into law.
The contours drawn by the Republican-controlled legislature would put the GOP in a strong position to sustain its all-Republican House delegation.
Rep. French Hill's 2nd District in and around Pulaski County (Little Rock) stands out as a possible beneficiary of the new map because some mostly Black Democratic precincts would be shifted into two other districts. — Greg Giroux
WISCONSIN: BALLOT REVIEW UPHEAVAL
Wisconsin's following Arizona's lead with a ballot examination saga that's had a few twists, turns, and detours over the past several days:
Retired state Supreme Court Justice Michael Gableman, who's leading the project, is ticked at Gov. Tony Evers (D) for calling it a boondoggle, so he put out a video rebuttal. Gableman also gave an interview in which he said he started out not understanding how elections work.
A judge ordered Assembly Speaker Robin Vos (R) to turn over records related to the investigation.
The Republican leader of the Assembly election committee said she's been kept out of the loop.
"Gableman's investigation has been criticized by Evers and other Democrats as a sham, by moderate Republicans who say it undermines faith in elections that have been proven to be fair, and by conservatives who say he's not being aggressive enough in pursuing a review like the widely discredited audit recently completed in Arizona." — (AP)
OHIO: UNDER OATH
Ohio Gov. Mike DeWine, Secretary of State Frank LaRose, State Auditor Keith Faber and the GOP leaders of the state House and Senate all must sit for depositions and answer questions under oath about the state's partisan redistricting process.
Activists claiming the officials drew partisan maps in violation of the state constitution can pepper these Republicans for two hours each, the Ohio Supreme Court ruled Thursday. The court will hold an oral argument in December considering whether the maps violated new state political fairness requirements. — Alex Ebert
Caught Our Eye
The Democratic National Committee wants to intervene in a vote-by-mail lawsuit brought by Pennsylvania Republicans. (NBC)
A lawsuit alleging that Republican-affiliated groups falsely accused some North Carolinians of voter fraud is one step closer to a jury trial. (The News & Observer)
Former GOP Missouri governor Eric Greitens, running for U.S. Senate, is headed to Arizona and Texas to discuss election and border security. (The Missouri Times)
Resources
Add Us to Your Inbox
Click HERE to sign up for Ballots & Boundaries, your weekly check-in as states change voting laws and revise political districts, influencing power and policy for the next decade.