Colorado Democrat Set for Competitive Race as O'Dea Wins GOP Nod
Sen. Michael Bennet favored for re-election in blue state
Joe O'Dea self-funded, charted center course in primary
Construction company founder Joe O'Dea won the Republican Senate nomination in Colorado on Tuesday and will now take on Democratic incumbent Michael Bennet in November.
Bennet, a former presidential aspirant who's seeking a third full term, starts as the favorite in the Democratic-leaning state. But O'Dea gives Republicans a better chance than his primary opponent, state Rep. Ron Hanks, would have, especially if the party continues to enjoy a favorable national environment by the fall.
Speaking with Bloomberg Government on Monday at an event for his campaign, O'Dea put faith in the hope that voters want to elect "fiscal conservatives."
"I'm focused on making sure we unite this party once we get through this primary, because we need everybody," O'Dea said. "We need everybody on task to defeat Michael Bennet here in November."
President Joe Biden won Colorado by more than 13 percentage points in 2020, and Republicans haven't won statewide since 2014. But Democrats, including Bennet, have secured victories recently by much narrower margins.
In an interview Tuesday morning in Fort Collins, Colo., Bennet recalled his previous races in 2010 and 2016, which were also favorable cycles for Republicans, and serving as chair of the Democratic Senatorial Campaign Committee in 2014, when Republicans flipped the majority.
"This is shaping up to be as hard a year as any of those years, because of inflation and because of where the president's approval rating is," Bennet said.
Bennet in the interview criticized O'Dea for his support for another Trump presidential bid and opposition to the gun violence prevention bill (S. 2938) that Biden signed into law last week.
He also pointed out that O'Dea, who describes himself as a supporter of abortion rights, has said he would have voted to confirm US Supreme Court justices who voted to overturn the abortion-rights decisions Roe v. Wade and Planned Parenthood v. Casey.
"That's really all I need to know about his position" about abortion, Bennet said. "I mean, words are words, but the votes really matter."
Bennet enters the general election with nearly $7 million on hand as of June 8, according to a pre-primary report filed with the Federal Election Commission. O'Dea, who's given his campaign more than $1.1 million, reported having $1 million on hand ahead of the primary.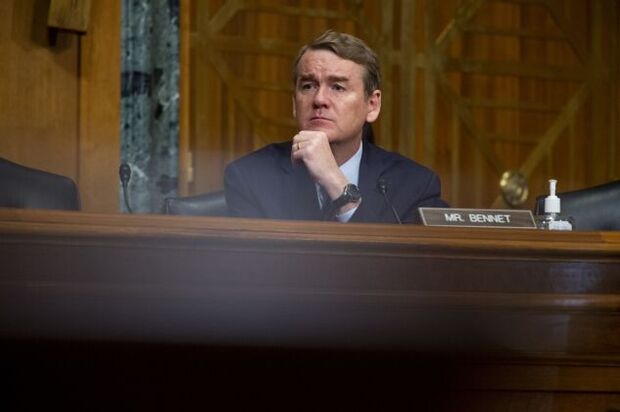 O'Dea and Hanks faced off after O'Dea gathered enough signatures to get on the ballot, and Hanks qualified by winning the backing of conservatives at the Republican state convention.
Read More: Colorado Senate Race Primed for Pivot Point at GOP Convention
O'Dea received support of a super PAC that spent about $1 million on campaign ads that blasted Hanks as a "Republican In Name Only." The ads mentioned Hanks' support for restrictions on the purchase and possession of firearms when he sought a House seat in California under the name Loren Hanks.
They also criticized each other in paid media on the issue of abortion rights, which O'Dea supports with limitations and Hanks opposes.
Read More: Colorado Primaries Test Abortion Issue's Potency With Voters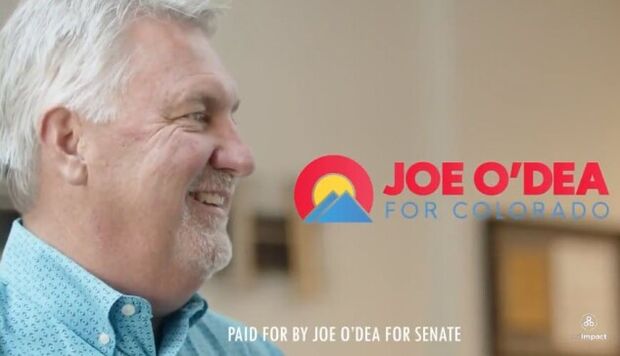 Intervention by Democrats
A newly registered super PAC, called Democratic Colorado, reported spending more than $4.2 million to run TV and digital ads supposedly criticizing Hanks as "too conservative for Colorado" and linking O'Dea to national Democrats.
The ads were intended to appeal to conservative GOP voters and help Hanks beat O'Dea, according to political strategists. Hanks' hardline conservative stances, espousal of false 2020 election fraud claims, and poor fundraising would have made it difficult for him to overcome the Democratic lean of the state.
Dick Wadhams, a veteran Colorado Republican political consultant and former state party chairman, said Hanks' nomination would have allowed Democrats to "basically take Colorado off the map" of competitive Senate races.
Read More: Rick Scott Defends Hands-Off Approach to Senate GOP Primaries
Because of disclosure deadlines, the super PAC hasn't had to reveal its donors yet. But Bennet's campaign said it was not coordinating with the group, something that would be prohibited by campaign finance law. The PAC has hired vendors that typically work for Democratic causes.
O'Dea also sought federal and state authorities' help in stopping anonymous campaign mailings that were sent to 500,000 voters. The mail pieces attacked O'Dea for giving campaign money to Democrats who back gun control measures and for supporting the infrastructure spending bill. O'Dea pointed a finger at Democrats in a complaint filed with the FEC.
Kenneth P. Doyle in Washington and Patty Nieberg in Denver also contributed to this story.
To contact the reporter on this story: Zach C. Cohen in Denver at zcohen@bloombergindustry.com
To contact the editors responsible for this story: Kyle Trygstad at ktrygstad@bloombergindustry.com; Tina May at tmay@bloomberglaw.com