Alabama to Appeal After Court Blocks Map: Ballots & Boundaries

A state that's 26% Black ought to have more than one congressional district with a sizable Black population, federal judges said as they hit the pause button and moved a candidate qualification deadline.
"Any remedial plan will need to include two districts in which Black voters either comprise a voting-age majority or something quite close to it," the judges wrote yesterday.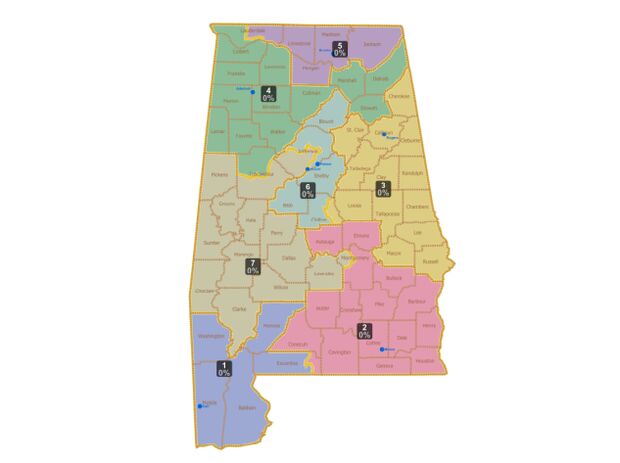 "The Attorney General's Office strongly disagrees with the court's decision and will be appealing in the coming days," spokesman Mike Lewis told The Associated Press.
Previously: Alabama Lines Designed to Preserve Republicans' 6-1 Edge
Tally: 27 Completed
With Alabama's status changing, congressional redistricting is now complete in the following states:
Arizona | Arkansas | California| Colorado |Georgia | Idaho | Illinois | Indiana | Iowa | Kentucky |Maine | Maryland| Massachusetts | Michigan | Mississippi |Montana | Nebraska | Nevada | New Jersey | New Mexico | North Carolina | Oklahoma | Oregon | Texas | Utah | Virginia | West Virginia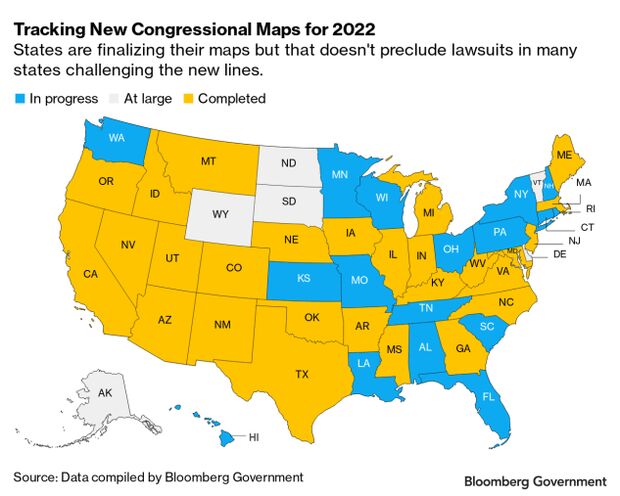 (Was this newsletter forwarded to you? It's free. SUBSCRIBE )
REDISTRICTING CREATES RIVALS
Some incumbents in Congress are already doomed. Bloomberg Government's Greg Giroux, Zach C. Cohen, and Emily Wilkins have the rundown on member-versus-member contests.
NEW YORK: TIME'S UP
Tonight at midnight New York's independent redistricting commission turns into a pumpkin.
The 10-member panel, which has been bogged down in partisanship, has until the end of the day to send the legislature revised state legislative and congressional district lines. Commission members made it clear yesterday that they're not on track for an agreement, leaving line drawing up to the Democratic governor and legislature, where Democrats hold a supermajority. — Keshia Clukey
TENNESSEE: GOVERNOR'S DESK
Rep. Jim Cooper is targeted for defeat in the proposed Tennessee congressional map ready for the signature of Republican Gov. Bill Lee.
The map includes a three-way splintering of Davidson County in and around Nashville, transforming Cooper's compact Democratic district into one that would lean Republican. Overall, the lines would favor Republicans in eight of nine districts.
The Tennessee House voted 70-26 for the map yesterday, four days after the state Senate backed it 26-5. State Rep. Vincent Dixie (D) of Nashville called it an "abuse of power that silences the voices of Tennesseeans in our nation's capital" and "divides urban minority communities to dilute their voting power."

State Rep. Pat Marsh (R) said Davidson County would benefit from having three House members representing the area instead of one. — Greg Giroux
KANSAS: DEMOCRAT HINDERED
Republicans used their supermajority to win Kansas Senate approval for a redistricting plan that likely would make it harder for the state's only Democrat in Congress to win reelection this year.
After a 26-9 vote, the bill next will be considered by the state House, where top Republicans are backing an almost identical plan that would carve thousands of Democratic voters out of the Kansas City-area district held by Rep. Sharice Davids (D). — The Associated Press
PENNSYLVANIA: STALEMATE
A congressional redistricting proposal (S.B. 2146) that won final approval yesterday is destined for a veto. Pennsylvania Gov. Tom Wolf (D) has said he'll reject it so it's all but certain now that the Commonwealth Court of Pennsylvania will end up picking a map.
Hearings are scheduled Thursday and Friday for the court to consider maps submitted by Wolf, lawmakers, and other parties, including Common Cause Pennsylvania. — Jennifer Kay
NEW MEXICO: IN COURT
New Mexico Republicans are fighting the state's new congressional districts in court, arguing they illegally favor Democrats.
The lawsuit in New Mexico's Fifth Judicial District Court alleges the changes "carve up and extend Congressional districts to give Democrats a political advantage in future elections," the party said in a news release. — Brenna Goth
ARIZONA: OLD SCHOOL
Thanks to redistricting, Arizona candidates hoping to make the 2022 ballot may have to collect signatures the old-fashioned way.
The office of Secretary of State Katie Hobbs (D) says the online system for congressional and legislative nominating petitions will likely go offline in early March so the state can transition to new maps.
The deadline for filing signatures for the Aug. 2 primary is April 4.
The office of Attorney General Mark Brnovich (R) argues that the temporary take-down is illegal and in a letter threatened "civil and criminal actions." Hobbs' office is deciding how to respond to the letter but disputes its premise, Spokeswoman Sophia Solis said in an email. — Brenna Goth
Caught Our Eye
Redistricting and a flood of departing incumbents are paving the way for more extreme candidates in this year's midterm elections. (Axios)
The GOP is using redistricting to retain outsized statehouse power. (Stateline)
Alaska's governor and lieutenant governor have begun a new push to change state elections laws. (Anchorage Daily News)
Resources
Add Us to Your Inbox
Click HERE to sign up for Ballots & Boundaries, your check-in on redistricting and state voting laws.
With assistance from Kimberly Wayne
To contact the reporters on this story: Brenna Goth in Phoenix at bgoth@bloomberglaw.com; Greg Giroux in Washington at ggiroux@bgov.com; Jennifer Kay in Miami at jkay@bloomberglaw.com
To contact the editors responsible for this story: Tina May at tmay@bloomberglaw.com; Katherine Rizzo at krizzo@bgov.com