Ad Spending Exceeds $300 Million for Georgia's Senate Runoffs
GOP outside groups have committed far more money so far
Democrats aired more ads than Republicans in November
Georgia residents tuning in over the weekend to the Macy's Thanksgiving Day Parade, morning news shows, and football games were greeted by ads attacking Republican senators for pandemic-driven stock trades and calling Democratic challengers radical.
It's a holiday season onslaught — set, so far, to cost just over $300 million — that will continue into the new year, when the state's two Senate runoffs decide which party controls the chamber in the next Congress.
Including TV, radio, and digital ad space already purchased over the past month or reserved through Jan. 5, Republicans are set to spend more than $177 million, compared to about $130 million for Democrats, according to figures compiled as of Dec. 2 by AdImpact, which tracks political advertising. The numbers are likely to increase.
"The volume of campaign spending in Georgia right now is staggering," said Mandi Bates Bailey, a professor at Valdosta State University in Georgia, who focuses on media and politics.
Bailey suggested in an email that Republicans have an edge because of big spending by GOP-aligned outside groups and that pouring money into advertising can help incumbents "frame their challengers and shape voters' images."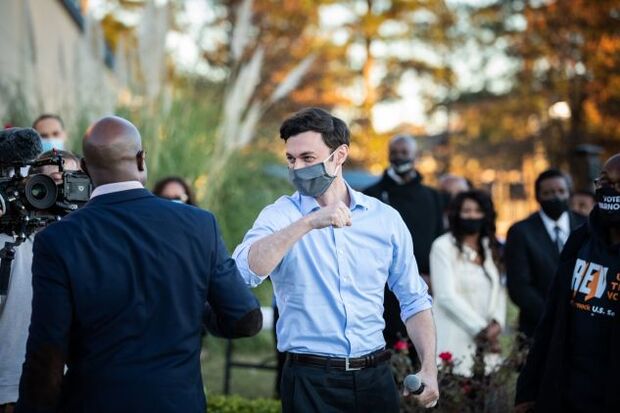 Democrats aired more individual ads since Nov. 4 — 42,000 to 33,500, through Nov. 30 — despite spending $3 million less than the GOP's $33 million in total expenditures. That's because most of the Democratic spending was by candidates, who are legally entitled to lower broadcast ad rates than parties and political action committees.
Democratic challengers Jon Ossoff and Raphael Warnock have booked a combined $105 million in ad spending, compared to $77 million for Republican Sens. David Perdue and Kelly Loeffler.
Outside spending could more than compensate for the GOP's gap in candidate money in the runoffs. The Republican-aligned Senate Leadership Fund and American Crossroads have booked $83.1 million in ad spending, compared to $16 million for two groups, The Georgia Way and Georgia Honor, allied with Democratic-aligned Senate Majority PAC. The National Republican Senatorial Committee is so far set to spend about twice as much as its Democratic counterpart, $10 million to $5 million.
Read More:Some Wall Street Democrats Are Sitting Out Georgia Senate Races
Ad Messaging
Republicans are picking up on messaging used in general election campaigns that painted Democrats as radical and helped the GOP limit its losses to only its two most vulnerable Senate seats. It may have even more resonance now that Democrats are set to control the White House and the House.
"Perdue and Loeffler are all that stands between America and socialism," Senate Leadership Fund President Steven Law said last month in announcing nearly $80 million in total spending for the Georgia runoffs.
Ads by Republican groups focus relentlessly on linking Ossoff and Loeffler to a national Democratic agenda depicted as dangerous, including pictures of rioters burning buildings and controversial historical figures including Cuban leader Fidel Castro who died in 2016 and the Rev. Jeremiah Wright, a Chicago pastor whose sermons have drawn scrutiny.
"Raphael Warnock's radical views put our families and neighbors at risk," an announcer says in an American Crossroads ad that ran nearly 2,300 times over the past week and cost nearly $5 million.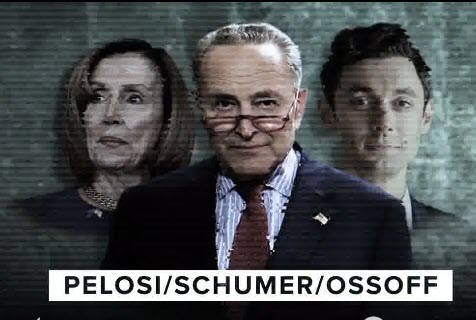 Georgia has long been a reliably Republican state, but it narrowly voted for President-elect Joe Biden and kept Perdue from winning the majority of the vote required to avoid a runoff. If both Ossoff and Warnock — who advanced with Loeffler in a 20-candidate special election jungle primary — can flip Republican seats, it would give Democrats control of the Senate.
Democratic ads have targeted the two incumbents for stock trades during the coronavirus. A Georgia Honor ad states Loeffler "was protecting her stock portfolio while our economy collapsed" and features clips of a Fox News anchor criticizing her on the issue.
"Georgians simply can't trust David Perdue and Kelly Loeffler when they're knee-deep in the swamp and profiting at their expense," Senate Majority PAC President J.B. Poersch said Wednesday in announcing $16 million in total ad spending by the groups funded by the super PAC.
Perdue released a series of ads Tuesday that highlighted his past outsider profile, painted Georgia as the last line of defense to "save America" from the Democrats, and defended himself on the stock-trading charges by noting he was "totally exonarated."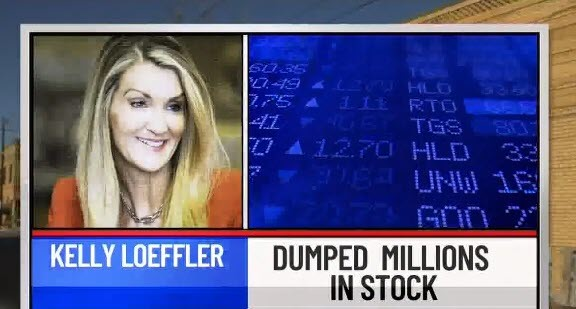 The Democratic candidates have sought to deflect Republican attacks with positive messages and humor — Ossoff talked about working with Biden to address the pandemic, and Warnock used a puppy to joke about "smear ads" linked to Loeffler.
"I think Georgians will see her ads for what they are," Warnock says in one current spot, as he drops a bag of dog poop in a trash can.
Read More: Senate Race Runoff in Georgia Kicks Off With Democrat's First Ad
To contact the reporter on this story: Kenneth P. Doyle in Washington at kdoyle@bgov.com
To contact the editors responsible for this story: Kyle Trygstad at ktrygstad@bgov.com; Bennett Roth at broth@bgov.com