Your Complete Guide to Election Night—and Beyond (Podcast)
Election Day is finally here! With so many competitive races, and control of the House and Senate up for grabs, there will be a lot to watch on Tuesday and the days that follow.
Li sten here or subsc ribe to Downballot Counts on Apple Podcasts , Audible , Google Podcasts , Megaphone , Spotify , or Stitcher.
To help you know what to focus on, and when, Bloomberg Government's Emily Wilkins, Greg Giroux and Zach C. Cohen used the latest "Downballot Counts" podcast to walk through each hour of polls closing (based on when the latest polls close in the state) and what races can tell us about the direction of the night.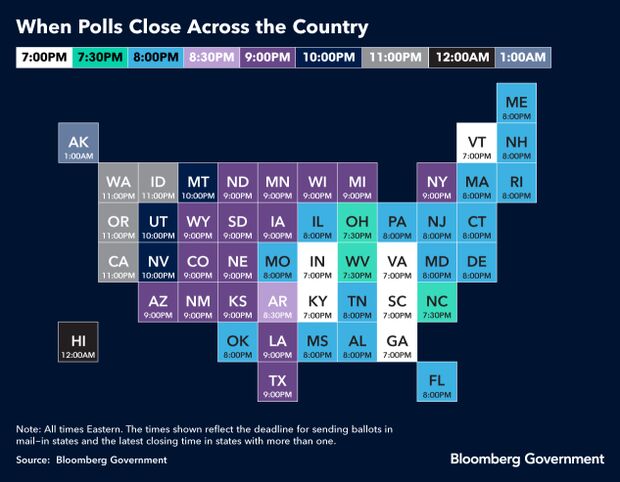 From the East Coast to the farthest reaches of Alaska, Greg, Zach, and Emily review which races will have quick reporting and which could take a while.
They also get into weird quirks of certain states so you know whether a Democratic or Republican lead is real or just a factor of how ballots are counted. Plus, they discuss the races that won't be called on Election Night and when you can expect final results.
So grab some pizza and the caffeinated beverage of your choice and get ready.
Have feedback on this episode of Downballot Counts? Give us a call and leave a voicemail at 703-341-3690.
David Schultz in Washington produced this podcast.
To contact the reporters on this story: Emily Wilkins in Washington at ewilkins@bgov.com; Greg Giroux in Washington at ggiroux@bgov.com; Zach C. Cohen in Washington at zcohen@bloombergindustry.com
To contact the editors responsible for this story: Loren Duggan at lduggan@bgov.com; Angela Greiling Keane at agreilingkeane@bloombergindustry.com