Worst Federal Worker Morale Spurs DHS Secretary to Make Changes
TSA workers get boost, with broader DHS efforts in progress
Mayorkas pledges to create 'department that they deserve'
Bloomberg Government subscribers get the stories like this first. Act now and gain unlimited access to everything you need to know. Learn more.
Secretary Alejandro Mayorkas is seeking to make the Department of Homeland Security a better place to work, a formidable task at an agency with the worst morale in Washington.
DHS has languished at the bottom of federal workplace rankings for years, and it faced further strain from repeated leadership shuffles during the Trump administration. Mayorkas took the reins in February, pledging to improve management and address employees' needs.
"How can we deliver to them the department that they deserve, as a place where they dedicate their talents and energy?" Mayorkas said in an Aug. 4 interview.
Government officials and outside analysts warn that low morale within an agency as critical as DHS carries serious risk for the American public. A weak sense of purpose and commitment among the department's workforce can undermine its ability to carry out important missions, the watchdog Government Accountability Office said.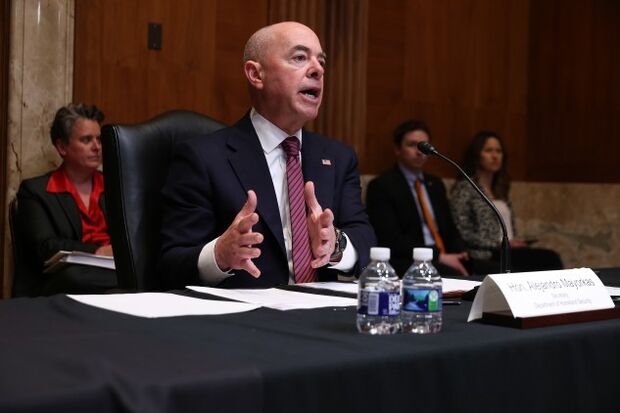 Mayorkas says he's using a variety of small, targeted fixes and broader initiatives to put the department "back on its axis."
"Because what I want to do is, in fact, make sure that we're capturing the best practices, the best lessons learned, the best people in the country, and partner with them in this investment in our workforce," he said.
Early Work
Early signs of that work are visible at the Transportation Security Administration, one of the DHS agencies with the lowest reported morale.
Workforce advocates and lawmakers for years have pushed to reclassify TSA employees to give them access to the standard pay scales, promotion opportunities, and collective bargaining rights of most other federal workers. Mayorkas took the first step in June when he announced expanded bargaining rights for TSA screening officers and a plan to ensure fair pay.
Biden Administration to Boost TSA Workers' Pay, Union Rights
Mayorkas has also pushed ahead on an overhaul, initiated by Congress in 2014, for how DHS recruits cybersecurity talent. The secretary trumpeted the new hiring and pay system last week at an industry conference, stressing that the Biden administration is committed to "developing a top-tier, diverse cybersecurity workforce."
Broader initiatives are underway to increase diversity and equity across the department, and to ramp up employee engagement and job satisfaction. The agency is seeking to retain someone from the private sector to help carry out those goals, Mayorkas said.
"Since he was confirmed, it appears to me that a significant priority of his is bolstering the workforce, trying to improve morale, trying to show that he is supporting the mission and supporting the workforce itself," said Carrie Cordero, a fellow at the Center for a New American Security, a research group.
'Politicization'
Previous DHS leaders have tried to address the complaints of its disgruntled workforce, with minimal success.
The GAO has tracked Homeland Security morale for more than a decade. The watchdog found in January that DHS employee engagement—a measure of workers' sense of purpose and commitment—has improved but remains below the government-wide average.
Critics of the Trump administration said the agency's reputation is in dire need of repair following its sweeping policy of separating families at the border with Mexico, its deployment of Border Patrol agents to racial justice protests in Oregon, and its failure to anticipate or prepare adequately for the Jan. 6 attack on the U.S. Capitol.
Jan. 6 Security Planning Marred by Confusion, Watchdog Says
Mayorkas addressed the previous administration's legacy indirectly, referencing internal and external concern about the "politicization" of the department and pledging to separate politics from policy decisions.
"Facts, evidence, data serving as a basis for policy decisions is an integral part of our efforts immediately, and have made a very significant difference operationally as well, as with respect to the views of the workforce, itself," he said.
Employee Complaints
But the secretary acknowledges he won't be able to please everyone in the department.
"There are going to be, in a time of transition, policy direction changes that some will embrace and celebrate, and others will not," he said. "So it's a time of transition, and transition is a time that can be of discomfort."
That's evident from public opposition from some employees — particularly some in U.S. Customs and Border Protection and U.S. Immigration and Customs Enforcement — to the Biden administration's agenda.
Immigration Defines Homeland Security Chief as He Thinks Bigger
Republicans have used complaints from Border Patrol and ICE agents to illustrate broader concerns about Mayorkas's leadership.
Agents are "going to continue to scratch their heads wondering if the policies from above are going to actually support the mission that they're doing," Rep. August Pfluger (R-Texas) said in a recent hearing.
Mayorkas, a former prosecutor, references his law enforcement roots often, which may help build credibility among the rank-and-file in those agencies over time, Cordero of CNAS said. "He's not running away from that," she said.
Track Record
Mayorkas has a deep understanding of DHS's inner workings, thanks to his time as its deputy secretary — or chief operating officer — during the second half of the Obama administration.
He also developed a good reputation among workers when he led U.S. Citizenship and Immigration Services at the beginning of the Obama administration, said Atlantic Council senior fellow Tom Warrick, a career official at DHS from 2008 to 2019.
"One of the strengths that he brings is that people believe that he genuinely does care about employee morale," Warrick said. "People are expecting that his leadership is going to see a turnaround at DHS, especially some of the more problematic parts of DHS."
Filling leadership vacancies in headquarters and throughout DHS agencies is a critical piece of that effort, the GAO said. The Biden administration is waiting for the Senate to confirm nominees for several top positions, including the heads of ICE and CBP, and the president has yet to announce his picks for some roles, including the head of DHS's Office of Intelligence and Analysis.
Mayorkas's supporters are confident he has the support and tools he needs to build a better DHS.
"He knows the department inside and out, he knows a lot of the players, and the administration put a great team around him," said Tom Carper (D-Del.), who previously led the Senate Homeland Security and Governmental Affairs Committee, and still sits on the panel now. "He's laser-focused on what needs to be done."
To contact the reporter on this story: Ellen M. Gilmer in Washington at egilmer@bloombergindustry.com
To contact the editors responsible for this story: Robin Meszoly at rmeszoly@bgov.com; Kyle Trygstad at ktrygstad@bgov.com
Stay informed with more news like this – from the largest team of reporters on Capitol Hill – subscribe to Bloomberg Government today. Learn more.