Women Lead Both Parties' Efforts to Win Senate Majority in 2022
Democrats named Christie Roberts as executive director Wednesday
Jackie Schutz Zeckman heads Republican committee in 2022 election
Women are leading both parties' Senate campaign committees for the 2022 cycle, with the 50-50 chamber up for grabs.
The Democratic Senatorial Campaign Committee announced Wednesday that Christie Roberts, a veteran Senate campaign strategist, will serve as executive director as the party seeks to defend and expand its control of the chamber. She's the second woman to hold the position, and the move came three months after the DSCC's Republican counterpart named Jackie Schutz Zeckman as its first female executive director.
Roberts was a senior adviser to the committee in 2020 and held several roles at the DSCC going back to 2014. She was campaign manager for Sen. Jon Tester's (D-Mont.) re-election in 2018.
"I'm thrilled to be back at the DSCC leading the fight to strengthen our majority and I'm looking forward to doing everything possible to seize opportunities across this map," Roberts said in a statement.
The committee also announced Jessica Knight Henry will serve as deputy executive director. Henry served as the political and engagement director for the DSCC in the 2020 cycle and held posts at Democratic-allied groups before that, including managing the League of Conservation Voters Action Fund and serving as executive director of the Congressional Black Caucus PAC.
The move to promote DSCC staffers to the committee's top jobs was a contrast to the National Republican Senatorial Committee, where the new chairman Sen. Rick Scott (R-Fla.) brought in longtime aides to run the committee. That includes Schutz Zeckman, who was his chief of staff.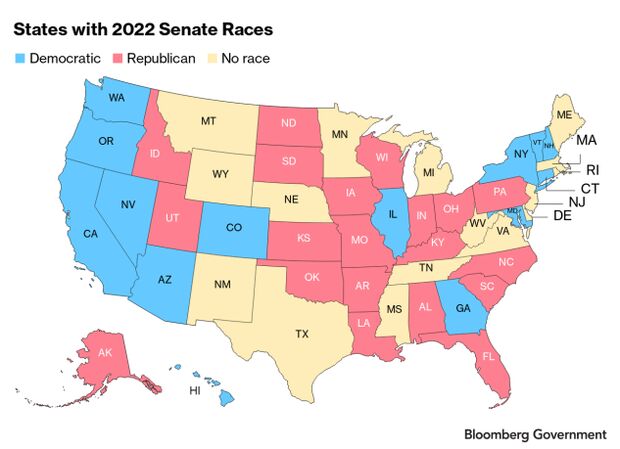 The Roberts announcement comes shortly after Sen. Gary Peters (D-Mich.) was named DSCC chairman. Peters' re-election in 2020 helped Democrats win a razor-thin majority, with Vice President Kamala Harris the tie-breaking vote in the 50-50 chamber.
They're charged with defending the party's most vulnerable seats, particularly those won recently in special elections in Arizona and Georgia, and picking up Republican-held seats. Top targets include those in North Carolina, Pennsylvania, and Wisconsin.
"I know from firsthand experience how Christie and Jessica helped lead the charge to flip the Senate last cycle," Peters said in a statement. "I'm confident the incredible and diverse team they assemble will lead our Democratic incumbents and challengers to more success in 2022."
To contact the reporter on this story: Kenneth P. Doyle in Washington at kdoyle@bgov.com
To contact the editors responsible for this story: Kyle Trygstad at ktrygstad@bgov.com; Bennett Roth at broth@bgov.com