Will Partisan Mapping Get a Court Blessing? Ballots & Boundaries
Bloomberg Government subscribers get the stories like this first. Act now and gain unlimited access to everything you need to know. Learn more.
Coming soon: Official court guidance on whether it's OK for Wisconsin lawmakers to consider political party tilt when revising district lines.
The Wisconsin Supreme Court has promised to provide guidelines as soon as today for what constitutes fair congressional and state legislative maps. The order will be used by map-drawers working against a Dec. 15 deadline to submit plans to the court.
Gov. Tony Evers (D) vetoed state legislative and congressional maps, calling the Republican-controlled legislature's plans "gerrymandering 2.0." That veto sent the map-drawing process to the courts.
Assembly Speaker Robin Vos (R) said he favors making changes based only on significant population shifts. Democrats want big revisions because of their persistent complaints about the maps drawn after the 2010 Census.
In a related federal case, a three-judge panel said it will wait until Jan. 4 before allowing its case to proceed in hopes the state Supreme Court resolves the dispute. — Stephen Joyce
Tally: 19 States Done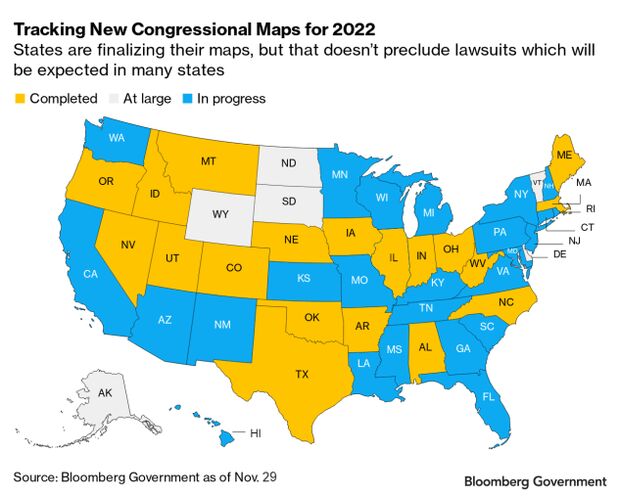 (Was this newsletter forwarded to you? Get your own. Sign up HERE .)
CONNECTICUT: COMMISSION DEADLINE
Time's running out for Connecticut's backup redistricting commission to adopt a new five-district congressional map.
If the panel of state Democratic and Republican legislative leaders can't come up with new lines by the end of today, the state Supreme Court can compel the commission to complete the job or take over line-drawing duties itself.
Look for the commission to ask the court for a three-week extension. It took over redistricting duties after the Connecticut Legislature didn't pass a plan by Sept. 15, just a few weeks after the Census Bureau provided block-level information following a months-long, pandemic-related delay. — Greg Giroux
MARYLAND, NEW MEXICO, SOUTH CAROLINA: SPECIAL SESSIONS
Three states have special legislative sessions coming up to finish their congressional redistricting.
South Carolina's House of Representatives will meet tomorrow to redraw its seven congressional districts. Look for the Republican-drawn map to maintain the GOP's 6-1 advantage, boost first-term Rep. Nancy Mace (R) in the Charleston-area 1st District, and keep a heavily Democratic 6th District for Majority Whip Jim Clyburn (D).
The sessions in Maryland and New Mexico begin Dec. 6. An advisory commission has submitted three proposals to the Democratic-controlled New Mexico state legislature, which could enact one of those maps—or one of its own. Democrats may try to target Rep. Yvette Herrell, the lone Republican in that state's congressional delegation, though doing so would require siphoning Democratic voters from the other two districts and thus make them more politically competitive.
In Maryland, Democrats have settled on a proposed map that would continue to give them the advantage in seven of the state's eight seats and turns the district of Rep. Andy Harris, Maryland's only House Republican, into a battleground. — Greg Giroux
FLORIDA: NEW DRAFTS
Analysts tell the Miami Herald that proposed congressional maps up for debate in a state House committee later this week would give Republicans more of an advantage in Florida's congressional races. Two options made public yesterday are crafted with a 17-11 GOP advantage, a one-seat gain over the current 16-11 split.
The seat to watch as the final map is drawn is in the Orlando area, where Rep. Stephanie Murphy (D) could end up with little of her current base. — Orlando Sentinel and Miami Herald
OHIO: WARP SPEED
Democrats challenging Ohio's 2022 congressional map will have a harder time collecting evidence now that they've been given a narrow window to depose mapdrawers and compel documents.
The case claims the map illegally favors Republican candidates. Secretary of State Frank LaRose had filed a brief claiming that any delay "would wreak havoc on the 2022 Primary Election for Ohio's fifteen new congressional districts." The Ohio Supreme Court sided with Republican requests to move fast and issued an order giving Democrats only nine days to collect documents and testimony. — Alex Ebert
NORTH CAROLINA: ARNOLD'S AMICUS
Arnold Schwarzenegger (R-Calif.) is part of a bipartisan group of former governors describing North Carolina's new congressional and state legislative maps as extreme gerrymandering that deserves court intervention.
The governors filed an amicus brief yesterday in one of three lawsuits. The GOP-drawn congressional map appears to give Republicans an advantage in 10 of 14 districts. READ the amicus brief. — Chris Marr
OREGON: NO BIAS
Oregon's lawmakers didn't gerrymander newly drawn congressional districts, a five-member judicial panel held in shooting down a Republican-filed lawsuit challenging the process.
The lawsuit led by former Republican Secretary of State Beverly Clarno failed to demonstrate the map violated the U.S. and Oregon constitutions, according to the panel composed of judges in each of the current five congressional districts.
"Far from being motivated by partisan purpose, the Legislative Assembly drew the enacted map based on public input and neutral criteria—resulting in a fair map that was not drawn for a partisan purpose," the panel said.
The judges upheld a special master's recommendation supporting the district boundaries that the Oregon Legislature crafted. The Census added a sixth district for Oregon because of population growth. The panel dismissed the lawsuit with prejudice, meaning it can't be refiled with amendments. — Joyce E. Cutler
MICHIGAN: SECRECY STRUGGLE
On Thursday 12/2 the Michigan Independent Citizens Redistricting Commission will vote on whether to disregard the state attorney general and keep its internal memos confidential.
At the behest of Republican and Democratic lawmakers, Attorney General Dana Nessel (D) issued a formal opinion finding the state constitution requires that the 13-member commission make its memos public, even the documents drafted by attorneys offering advice on avoiding Voting Rights Act violations.
Conservatives and Black Detroit politicians have blasted the commission for its secrecy, and the Detroit Free Press has threatened to sue if the public body doesn't release the memos. — Alex Ebert
NEW YORK: REDISTRICTING CONTINGENCY
New York has a new law (S.B. 7150) requiring the state's independent redistricting commission to hand over its data and draft maps if the panel misses its Jan. 15 deadline for voting on a final plan. — Keshia Clukey
Quotable
"If gerrymandering was an art, this proposed plan would be a Picasso." — Ex-Rep. Joe Cunningham (D-S.C.), testifying against a proposed redrawing of his old district. Cunningham is running for governor in 2022.
Caught Our Eye
A federal judge in Denver ordered two lawyers who filed a class action lawsuit alleging the 2020 presidential election was stolen from Donald Trump to pay more than $180,000 in attorney's fees for defendants Dominion Voting Systems, Facebook, and others. — (Grand Junction Sentinel)
New congressional and legislative maps spark cross-country debate over majority-minority districts. — (Associated Press)
Resources
Add Us to Your Inbox
Click HERE to sign up for Ballots & Boundaries, your check-in on redistricting and state voting laws.
With assistance from Kimberly Wayne
To contact the reporters on this story: Stephen Joyce in Chicago at sjoyce@bloomberglaw.com; Greg Giroux in Washington at ggiroux@bgov.com; Joyce E. Cutler in San Francisco at jcutler@bloomberglaw.com; Alex Ebert in Columbus, Ohio at aebert@bloomberglaw.com; Keshia Clukey in Albany, N.Y. at kclukey@bloomberglaw.com; Chris Marr in Atlanta at cmarr@bloomberglaw.com
To contact the editors responsible for this story: Tina May at tmay@bloomberglaw.com; Katherine Rizzo at krizzo@bgov.com; Bennett Roth at broth@bgov.com
Stay informed with more news like this – from the largest team of reporters on Capitol Hill – subscribe to Bloomberg Government today. Learn more.