Why Democrats Are Fighting Over How to Permit Energy Projects
Bloomberg Government subscribers get the stories like this first. Act now and gain unlimited access to everything you need to know. Learn more.
Sen. Joe Manchin, a crucial Democratic vote in the evenly divided US Senate, has been urging his colleagues to streamline and accelerate the process for obtaining federal permits for energy projects, including in his home state of West Virginia.
Now, a patchwork of federal agencies reviews fossil fuel and renewable energy projects for potential harm to the environment. Manchin, chairman of the Energy and Natural Resources Committee, and many Republicans want to expedite a system they say has delayed projects in some cases by a decade or more because of environmental protests and litigation.
House progressives, Republicans in both chambers, and environmental groups are pushing back against Manchin's efforts, particularly his bid to attach it to spending legislation needed to keep the government running after Sept. 30. Failure to enact that continuing resolution by the deadline could shutter government agencies in advance of the November midterm elections.
1. What is Manchin's case?
Manchin said his "main driving force" in revamping permitting is to help ensure the US remains a superpower. "You can't remain a superpower of the world if you do not have energy independence," he said Sept. 20.
While gasoline prices have fallen since the early summer after peaking at more than $5 per gallon in many places, fears persist that energy costs will spike during the winter, and other prices for goods are still rising.
At home, Manchin is laser-focused on completing a delayed and over-budget 303-mile natural gas pipeline that runs through his state, plus Virginia and potentially part of North Carolina. Supporters of the Mountain Valley Pipeline say it would create thousands of jobs across the region, reduce energy prices for Americans, and help European allies reeling from an energy crisis stemming from Russia's war in Ukraine.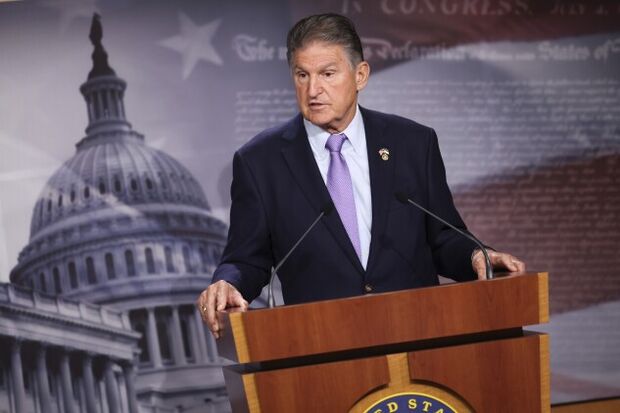 Read More: Manchin's Pipeline Could Be the Last of Its Kind, if It Survives
2. What does 'permitting reform' mean?
Democrats and Republicans talk of "permitting reform," but define it in different ways.
Republicans say the process has become too onerous for companies to successfully complete projects that could create jobs and increase domestic energy production that helps make the US energy-independent.
They say proposed project reviews under major environmental laws, including the National Environmental Policy Act, Clean Water Act, and Endangered Species Act, have become mired in red tape, which helps environmental groups sue the government and industry over fossil fuel projects they oppose. Republicans generally want shorter timelines for environmental reviews and in some cases, fewer federal agencies to weigh into the process. They also support giving states more authority over federal energy projects in their regions.
Some Democrats are open to tweaking the permitting process, yet most of them raise concerns streamlining the system could result in fewer and less robust environmental reviews, harming low-income communities of color already suffering from pollution. But Democrats also have expressed openness to permitting changes that would help expedite renewable energy projects while still protecting the environment.
Progressive Democrats, including House Natural Resources Chairman Raúl Grijalva (Ariz.), have proposed increasing transparency and public input into the permitting process.
3. What's the state of play now?
Democratic leaders committed to Manchin this summer they would vote on the permitting language as part of a continuing resolution, in exchange for the West Virginian's vote on tax, health, and climate legislation enacted in August (Public Law 117-169). Democrats needed Manchin's vote to pass the measure, a top priority for President Joe Biden, without Republican support.
Manchin Wednesday released bill text and a summary of the permitting provisions, which would mandate a target of two years for National Environmental Policy Act reviews for major energy and natural resource projects, as well as require that all other permits for projects be issued within 180 days of finishing the NEPA process.
It also would set a 150-day statute of limitations for court challenges.
The legislation would affect permitting of fossil fuel and renewable energy projects, including electric transmission projects. It would prioritize 25 critical energy infrastructure projects that have "strategic national importance" for expedited permitting.
Additionally, it seeks to tighten the scope of certain reviews under section 401 of the Clean Water Act.
Progressive House Democrats are concerned the changes would undercut disadvantaged communities' ability to weigh in on fossil fuel projects in their neighborhoods. Democrats and Republicans have complained about including significant policy changes in must-pass legislation.
The Manchin text also specifically calls for expedited permitting for the Mountain Valley Pipeline, which is close to completion. Environmental activists, some landowners, and Democrats including Grijalva and Sen. Bernie Sanders (I-Vt.) oppose the pipeline.
Read More: Energy Permits Fight Puts Shutdown-Wary Democrats in Tough Spot
4. Is there competing legislation?
Yes.
Sen. Shelley Moore Capito (R-W.Va.) introduced a GOP-backed permitting bill (S. 4815) earlier this month that would codify executive actions under former President Donald Trump that expedited permitting for projects under NEPA and the Clean Water Act. It also would codify the Trump-era "navigable waters protection rule" that narrowed the definition of federal waters under the broader "waters of the US," or WOTUS, rule. Capito's bill, supported by almost all Senate Republicans, also would shorten the time frame for consultation under the Endangered Species Act to 60 days from 90.
Grijalva, who has led opposition in the House to Manchin's permitting effort, said Capito's bill is even worse, calling it "horrible." Capito's bill, considered more aggressive than Manchin's, also proposes to give more authority to states when it comes to federal energy leasing under certain circumstances.
Her legislation, which Manchin dubbed a "messaging bill," is based on a rejected amendment Capito offered during debate of the tax, health and climate law this summer.
Other language in Capito's measure would prohibit the use and adoption of the Biden administration's "estimates for the 'social cost of greenhouse gases' and any other estimates that may raise gasoline prices."
Capito's bill would also specifically expedite the approval of the Mountain Valley Pipeline to within 21 days of the legislation's enactment.
Energy and Natural Resources staff during Wednesday's briefing on Manchin's bill said the two pieces of legislation were very similar.
5. Can an impasse be broken?
A small group of senators have been part of the permitting negotiations, including Manchin, Majority Leader Chuck Schumer (D-N.Y.), and Environment and Public Works Chairman Tom Carper(D-Del.).
Look for the text of the Manchin permitting provisions to be incorporated into the continuing resolution, likely to run through Dec. 16. It's yet to be determined which chamber will take up the CR first, although Manchin indicated Sept. 20 that the Senate would take it up next week.
Both chambers are out Sept. 26 for the Rosh Hashana holiday, with the Senate returning the afternoon of Sept. 27.
If the CR omits the permitting language or lawmakers strip it out because it endangers passage of the stopgap measure, the provisions could find a home in a year-end omnibus spending bill, or in the fiscal 2023 National Defense Authorization Act.
"This is bipartisan; this doesn't pass without the Republicans," Manchin said of the permitting legislation. He predicted once Republicans see the text of his bill, they will vote for it. Republicans "ran the tables in 2016" with control of Congress and the White House and they "didn't do anything" to streamline permitting, Manchin added.
To contact the reporter on this story: Kellie Lunney in Washington at klunney@bloombergindustry.com
To contact the editors responsible for this story: Robin Meszoly at rmeszoly@bgov.com; Anna Yukhananov at ayukhananov@bloombergindustry.com
Stay informed with more news like this – from the largest team of reporters on Capitol Hill – subscribe to Bloomberg Government today. Learn more.