White House May Shift to Regulations; Biden Promises Climate Aid
From fighting climate change to protecting consumers, President Joe Biden's agenda will depend on a flurry of federal regulations if the midterm elections hand Republicans control of Congress.
With little chance of legislative compromise on major initiatives under a House (and possibly a Senate) controlled by Republicans, the White House will be forced to rely on federal agencies to advance much of Biden's priorities over the next two years, racing to finalize major regulations and craft new ones during his remaining time in office.
The potential change in power — the GOP appears poised to take back control of at least take the House — deals a blow to Biden's ability to make good on a promise to provide $11.4 billion in international climate finance by 2024 just as the president spoke Friday at the UN climate summit in Egypt.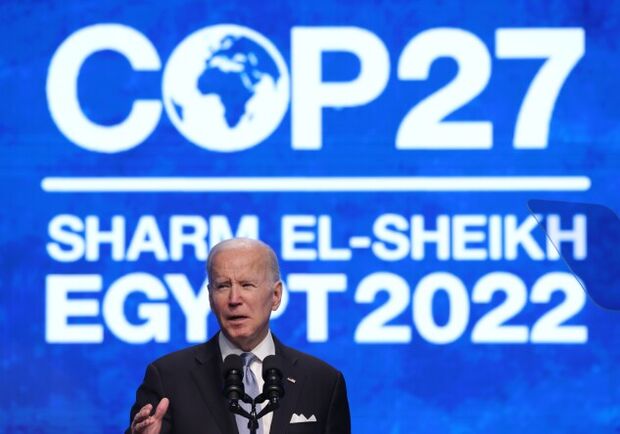 "There is a great deal the Biden administration can do with purely executive authority at this point and now is the time for them to begin," Sen. Sheldon Whitehouse (D-R.I.) told reporters Thursday.
Under a divided government, Biden's climate ambitions will increasingly be pursued through the executive branch. The Environmental Protection Agency already is drawing on longstanding legal authority to write new regulations clamping down on greenhouse gas emissions from oil wells, power plants and vehicles. And the Inflation Reduction Act gave the Interior Department an explicit mandate to curtail methane leaks from oil and gas infrastructure on federal land, empowering the agency to set new limits. Ari Natter previews the scenario.
The Biden administration is strengthening its plan for limiting methane emissions from oil and gas wells after environmentalists panned an earlier version as too weak. The EPA advanced the supplemental proposed rule on Friday, hours before Biden spoke at the COP27 summit. The proposed regulation would require energy companies to do more to stifle leaks. Read more.
Biden Tells Skeptical Summit US 'Unwavering' on Climate Aid
Biden pressed his "unwavering" commitment to combating climate change and said the US is on track to achieve its Paris Agreement goals as he sought to allay concerns the country's efforts would backslide after the midterm elections.
"We've proven that good climate policy is good economic policy," Biden said Friday in an address to the UN climate conference in Sharm el-Sheikh. "Today, finally, thanks to the actions we've taken, I can stand here as president of the United States of America and say with confidence, the United States of America will meet our emissions targets by 2030."
Biden said the US is "putting our money where our mouth is" and detailed his administration's policies and support to help other countries deal with the effects of climate change.
"The upheaval we're seeing around the world, especially Russia's brutal attack against Ukraine is exacerbating food shortages, and energy spikes and costs, increasing volatility in those energy markets, driving up global inflation," Biden said. "Against this backdrop, it's more urgent than ever that we double down on our climate commitments. Russia's war only enhances the urgency of the need to transition the world off its dependence on fossil fuels."
Still, the president's attempted assurances came even as senior members of his own administration acknowledged that Republican gains would likely doom efforts to underwrite international climate finance. Jennifer A. Dlouhy and Justin Sink recap the president's visit.
Biden raised the issue of human rights with Egyptian President Abdel-Fattah El-Sisi on Friday during a meeting on the sidelines of the climate summit. Read more.
Republicans Pitch 'Clean' US Oil Production at UN Climate Summit
House Republicans made the case for more US oil production at the UN climate summit in Egypt, arguing that cleaner domestically produced crude is needed to meet growing demand.
"If we are going to be increasing global demand of oil and gas we must ensure that the extraction, exploration and production activities are occurring in places where we have the lowest emissions per unit of energy, which is largely in the United States in the Gulf of Mexico," said Rep. Garret Graves (R-La.). He spoke at an event on the sidelines of COP27, held by the House Conservative Climate Caucus.
Republicans, who are poised to take back the House, plan to make the expansion of domestic fossil-fuel production a key tenet of their plans to fight climate change. They argue that US oil is cleaner than supply from nations with less stringent environmental regulations, and is produced more efficiently, Ari Natter reports.
Elections & Congress
It is increasingly likely that US lawmakers will return to Washington next without knowing who will wield majority power as both parties prepare for leadership elections and a lame-duck legislative session. Three days after Americans voted, Democrats appear to have an edge in the Senate and Republicans in the House but control of both chambers is still very much in play.
Follow the latest race results here.
Sen. Marco Rubio (R-Fla.) called for a delaying next week's party leadership elections as the unexpectedly poor showing in the midterms roils congressional Republicans in the House and Senate.
Rep. Tony Cárdenas (D-Calif.) announced Friday his bid to head the Democratic Congressional Campaign Committee for the 2024 election cycle.
Click the link above for a list of Senate and House members who didn't seek reelection in 2022, were defeated for reelection in the primaries or in the Nov. 8 general election, or vacated their seats or died during the current 117th Congress. Note not all races have been called yet.
Climate-literate blue governors — a mix of incumbents and upstarts — will be taking office around the Midwest and Northeast just as more federal money than ever is available for tackling climate change, pointing to a possible new wave of state-level action.
Efforts to fill leadership positions on the federal board in charge of investigating chemical accidents could get a boost Nov. 17.
Around the Administration
Chris Magnus, the Biden administration's top border official, has been asked to leave but has refused to step down, according to a person familiar with the matter.
The Department of Education stopped accepting applications for student loan forgiveness after a federal court ruled Thursday that Biden's plan is unlawful.
A previously undisclosed government-ordered audit of Twitter's privacy and data controls missed failures later exposed by a whistleblower — raising questions about oversight of major technology platforms.
After losing thousands of employees and top compliance officials at Twitter, Elon Musk's deputies are racing to contain heightened concerns that staff will be held liable for security lapses.
Twitter's frenetic overhaul under Musk is attracting attention from senior politicians and regulators worldwide, who are telling the world's richest man they're ready to hold his new acquisition to data protection, content moderation and employment law.
Treasury Secretary Janet Yellen called October's positive inflation report in the US "a good reading," but cautioned against relying too much on one data point.
Former Treasury Secretary Lawrence Summers favored President Biden keeping his current economic team in place, with no need to change in the wake of the midterm congressional elections.
Summers called for an expansion in the number of forensic accountants — though not necessarily an increase in regulation — in the wake of the meltdown in Sam Bankman-Fried's crypto empire.
Ukrainian President Volodymyr Zelenskiy said on Telegram that Kherson is "ours" after his forces entered the regional city in a dramatic setback for President Vladimir Putin.
To contact the reporter on this story: Giuseppe Macri in Washington at gmacri@bgov.com