Whip Thune Sees Water, Transport, Virus Bills Coming This Year
Senators are planning to tackle legislative priorities such as infrastructure, highways and contact tracing in the upcoming months as they continue to address the coronavirus pandemic.
Republican Whip Sen. John Thune (R-S.D.) laid out a plan for the rest of the year, including focusing on water infrastructure legislation and a surface transportation program that must be reauthorized by Sept 30.
"The coronavirus legislation and everything associated with it take a tremendous amount of time and energy," Thune said during a Bloomberg Government webinar Thursday. "There are other things we need to address."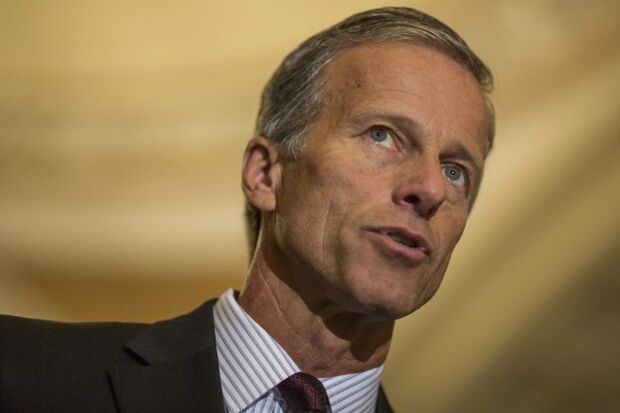 Next week, the Senate will take up a bill (S. 3422) to fully fund the Land and Water Conservation Fund and address a massive backlog of national parks maintenance projects. The bill, from Sens. Cory Gardner (R-Colo.) and Steve Daines (R-Mont.) was set to go when lawmakers were slated to return from their March recess.
Two water infrastructure bills, (S. 3591, S. 3590) were approved May 11 by the Senate Environment and Public Works Committee and are also priorities, Thune said. That same panel also approved a surface transportation bill (S. 2302) in August 2019, however approval is needed from several other committees before the bill can come to the floor and lawmakers are stuck on how to fund the measure.
Water infrastructure and roads will also be the focus of the House this summer Majority Leader Steny Hoyer (D-Md.) has said.
Thune said the Senate plans to stick to their original schedule of work periods and recesses, which gives members all of June and most of July as well as September to work on legislation.
Coronavirus Riders
Thune said some issues could be included in a future coronavirus stimulus bill, such as expanding broadband access to rural areas and developing protections for contact-tracing technology.
He also has his eye on the U.S. Postal Service, which is heading for bankruptcy as soon as September. President Donald Trump rebuffed bailing out the postal service, calling on USPS to raise prices and cut costs before receiving federal help. However, senators are taking a look not at prices but pensions. A 2006 law changed how the USPS funded pensions, and some lawmakers blame it for the agency's financial decline.
"Throughout the years, Congress makes tweaks here and there and sometimes when you make a tweak you might overreact in one direction," Thune said. "It might be time to pull that back a little bit."
Thune said he doesn't expect the next coronavirus bill to pass until June or July, but senators are working on the next phrase.
Language on liability protections to prevent employees or customers from suing businesses over coronavirus infections should be coming out "fairly soon," Thune said.
Liability protections are expected to be a sticking point with Democrats, who worry they will infringe on workers' rights. Thune said the issue has potential for compromise, but Republicans would only go so far.
"If the Democrats demand $2 trillion in additional spending on this or that in exchange for liability protections, it's going to be hard to get Republican senators to vote for that," he said.
To contact the reporter on this story: Emily Wilkins in Washington at ewilkins@bgov.com
To contact the editors responsible for this story: Heather Rothman at hrothman@bgov.com; Michaela Ross at mross@bgov.com