Which Court Will Decide Ohio Remaps?: Ballots & Boundaries

The fate of Ohio's May 3 primary now rests with a court. But it's not clear which one.
No court has yet approved new maps for either congressional or state legislative districts, leaving officials, candidates, and voters unsure about the election.
There's a lot going on:
The eventual boundaries of congressional districts could affect the balance of power in Congress. Republicans currently hold 12 of 16 Ohio seats in the U.S. House; after losing one district based on the 2020 Census, they came up with a configuration that would lock in 10 districts favoring the GOP, two favoring Democrats and three toss-up districts. Democrats pushed for an 8-7 split.
Only a federal court could approve allowing the May 3 primary to proceed for state offices affected by redistricting, according to Ohio Secretary of State Frank LaRose. It would be up to the legislature to delay or hold a separate primary for legislative offices. — Kenneth P. Doyle
See also: Eric Holder wants federal action on 'democracy challenges'
(Was this newsletter forwarded to you? It's free. SUBSCRIBE )
NEW HAMPSHIRE: VETO WATCH
We're keeping an eye on whether Gov. Chris Sununu (R) follows through on a threatened veto of New Hampshire's congressional map.
The state has two seats. The legislature shifted lines around to make Rep. Chris Pappas (D) more vulnerable and Rep. Annie Kuster (D) more secure, which "is not in the best interest of New Hampshire," Sununu said.
Republicans are well short of the two-thirds majorities required to override.
State Senate Majority Leader Jeb Bradley (R), who once represented the district now held by Pappas, voted with Democrats in opposition. State Rep. Barbara Griffin (R), chair of the House redistricting committee, hasn't said what a new congressional map might look like. — Greg Giroux
Five to Go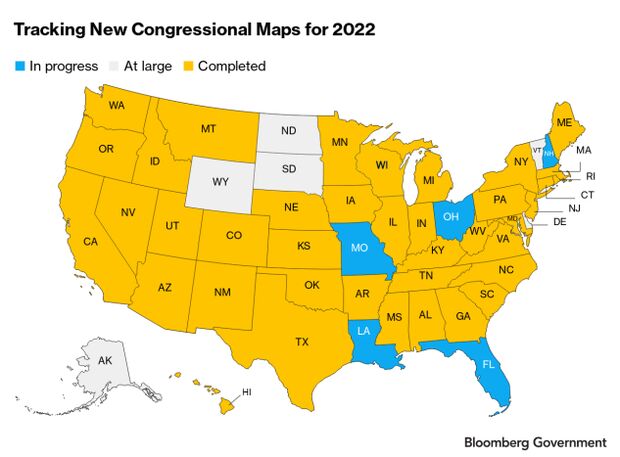 The finished maps:
Alabama|Arizona | Arkansas | California| Colorado |Connecticut |Georgia |Hawaii| Idaho | Illinois | Indiana | Iowa | Kansas | Kentucky | Maine | Maryland | Massachusetts | Michigan | Minnesota | Mississippi |Montana | Nebraska | Nevada | New Jersey | New Mexico |New York | North Carolina | Oklahoma | Oregon | Pennsylvania | Rhode Island |South Carolina |Tennessee| Texas | Utah | Virginia|Washington | West Virginia | Wisconsin
More Redistricting Litigation
ARKANSAS: 'CRACKING'
A lawsuit filed in Pulaski County circuit court in Little Rock argues that the Republican-drawn Arkansas congressional map violates the state constitution by "cracking" that county's Black voters across three of the four districts, thereby "diluting the strength of their voting power."
The filing notes Arkansas is the only state with a Black population above 10% that has never elected a Black member of Congress. There's also a federal lawsuit challenging the new Arkansas lines on similar grounds.
Gov. Asa Hutchinson (R) had qualms about the map, then let it take effect without his signature. — Greg Giroux
UTAH: GERRYMANDER?
Voting rights groups are challenging Utah's new congressional map as a partisan gerrymander.
A lawsuit filed in Salt Lake County argues that the Republican-drawn map will "reliably produce exclusive Republican membership in the State's congressional delegation for the foreseeable future" after it split Democratic-leaning Salt Lake County four ways.
The changes signed into law last November boosted Republican Burgess Owens, who unseated a Democrat in 2020 in Utah's most politically competitive district. Utah Gov. Spencer Cox (R), who signed the map into law, declined to comment because the suit is "active litigation."
The lawsuit also asks the court to reinstate a 2018 statewide voter proposition that created an independent redistricting commission and required the legislature to enact or reject a commission-recommended plan. A 2020 law reduced the commission's role to advisory. — Greg Giroux
Election Law
WASHINGTON: VOTER ID SUIT
The U.S. Supreme Court seems poised to allow North Carolina lawmakers to join in the state's defense of a voter identification law, even though the state's attorney general already is involved.
The case argued yesterday is one of several this term in which justices are considering who can sue or be sued over controversial state laws. The NAACP says the law discriminates against Black and Latino voters. — Kimberly Strawbridge Robinson
FLORIDA: JUDGE UNAWARE?
A federal judge considering challenges to Florida's ballot-access restrictions expressed some frustration that no one thought to bring up changes to election law awaiting the signature of Gov. Ron DeSantis.
The legislature sent DeSantis (R) a measure he asked for, to create a voting fraud squad and more (S.B. 524). Yet "no lawyer for any party has alerted the Court of imminent changes to the laws at issue before this Court—though the parties appeared to have been actively monitoring the latest election legislation as it moved through the Florida Legislature these past several weeks," Chief Judge Mark Walker of U.S. District Court for the Northern District of Florida wrote.
He has asked attorneys for the state and voting-rights advocates what impact, if any, the legislation would have on the case. — Jennifer Kay
See also:
RHODE ISLAND: LOCATION, LOCATION, LOCATION
Rhode Island would have to consider voter accessibility at polling locations under a bill (H. 7429) the state House passed March 15.
The measure calls for uniform standards and would increase to 3,500 the maximum number of voters that could use a polling place for elections. Cities or local boards would have to consider how accessible polling sites are to disenfranchised communities, their proximity to dense concentrations of voters and public transportation, and how to maximize voter participation. — Joyce E. Cutler
Caught Our Eye
Looking Ahead

Resources
Add Us to Your Inbox
Click HERE to sign up for Ballots & Boundaries, your check-in on redistricting, state voting laws, and initiatives.
To contact the editor responsible for this story: Tina May at tmay@bloomberglaw.com