What US Government Is Doing About Ohio Chemical Train Derailment
NTSB head says train derailment was '100% preventable'
Hundreds of derailments per year ignite calls for change
Bloomberg Government subscribers get the stories like this first. Act now and gain unlimited access to everything you need to know. Learn more.
Almost a month after a Norfolk Southern train derailed in a small village in eastern Ohio, setting cars on fire and releasing chemicals into the air, officials from a swath of federal and local agencies are still dealing with the consequences.
The National Transportation Safety Board, an independent investigative agency, in a preliminary report tied the incident to an overheated wheel bearing. The Biden administration and Norfolk Southern Corp. face increasing pressure from residents who fear their community remains unsafe from toxic fumes.
Officials are trying to sort out safety, and figure out what rules must change to prevent similar events in the future. Transportation Secretary Pete Buttigieg and Environmental Protection Agency Administrator Michael Regan both visited the derailment site last week— as did former President Donald Trump.
Here's a look at what happened and what to watch in the coming weeks.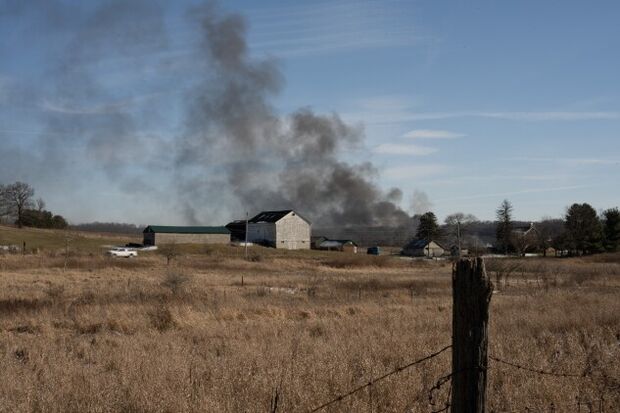 Why did this happen?
Surveillance video of the Feb. 3 derailment in East Palestine, Ohio, near the border with Pennsylvania, showed a wheel bearing experiencing an overheat failure. The train passed two sensors that showed the wheel bearings hit higher temperatures, but only on the third sensor did the alert hit a critical number under the company's policies, at which point the crew tried to stop the train. The train had 38 cars derail, igniting a fire, according to preliminary NTSB findings.
Before Ohio Derailment, Train Wheel Overheated and a Sensor Failed
"This was 100% preventable," NTSB Chair Jennifer Homendy said last week. The preliminary report stopped short of drawing final conclusions about the causes.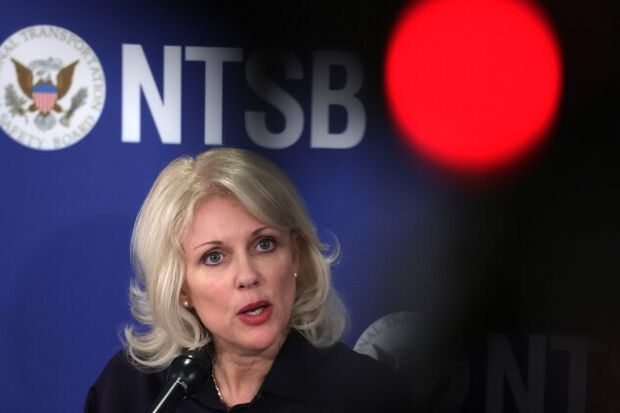 The train had 20 hazardous material cars, which complicated the response. Ohio Gov. Mike DeWine (R) and Pennsylvania Gov. Josh Shapiro (D) ordered an evacuation on Feb. 6 after Norfolk Southern deemed it safer to do a controlled release of the chemicals instead of risking a potential explosion. Images and videos showed black smoke spreading across the area.
Is it safe, and who decides?
State and federal officials say the air and water is safe. Officials, including Regan and DeWine, made sure cameras broadcast their sips of the tap water in East Palestine to show residents it is safe.
Some residents have complained of chemical odors, coughing, and other physical ailments since the derailment. The Ohio Department of Natural Resources estimates the chemical spill from the derailment killed more than 43,000 minnows and other aquatic life. But officials' testing of the air and water in the area, as well as more than 550 homes in the area, so far haven't shown levels of concern. Regan said testing will continue as part of the cleanup. Ohio is leading on the water sampling.
"We recognize that we are in a trust deficit," Regan said. "So we are working very hard to rebuild trust."
Anne Vogel, head of the Ohio EPA, said the soil under the train tracks is contaminated and officials have "a long-term remediation plan" to remove it safely without requiring another evacuation.
The Biden administration recently sent medical personnel and toxicologists from the Department of Health and Human Services and Centers for Disease Control and Prevention to conduct public health testing after a request from Ohio's governor. Researchers are also looking into health concerns.
Who's liable?
Norfolk Southern CEO Alan Shaw has vowed the company "will not walk away," pledging almost $8 million to the community as of Friday and setting up an assistance center for residents. But residents and officials say it isn't enough, criticizing the railroad's safety measures, lobbying, and revenue.
The company faces potential fines from the administration and class action lawsuits, including one from East Palestine residents and businesses over potential health problems. The railroad also reversed course and pledged to excavate the soil and replace the tracks in the derailment area in response to community pushback. Analysts expect it to take a special charge in the first quarter to cover escalating costs.
The administration and lawmakers have also railed against the company's lobbying, with Buttigieg calling the company "exceptionally profitable" while spending millions to lobby against regulations, according to a Feb. 19 letter to the CEO. The company reported $12.7 billion in railway operating revenue for 2022. Its shares have fallen roughly 13% since the beginning of the month.
Railroads Fought to Crush Rules That Biden Aims to Revive
How are federal agencies responding?
US transportation and environment agencies have been on site early, and two cabinet members — Buttigieg and Regan — have also made their way to East Palestine. President Joe Biden received an update on the federal response from top officials on Friday.
Regan has drawn praise from Republicans for his agency's efforts in response to concerns over air, water, and soil quality. Regan has been "involved from the outset" incident, said Rep. Bill Johnson (R-Ohio) during a town hall.
EPA Wields Superfund Law's Big Stick in Ohio Train Wreck Cleanup
Buttigieg has faced criticism for not moving fast enough to speak publicly about the derailment or visit the area. Buttigieg, who is now proposing changes to rail safety regulations, said in Ohio last week that he was trying to respect his role, but "felt strongly about this and could have expressed that sooner."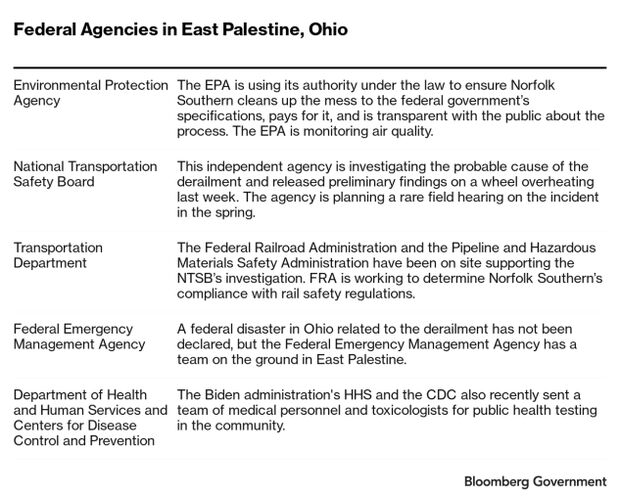 How often does this happen?
Trains derail about 1,000 times per year in the US. Buttigieg told reporters derailments are "far too frequent," and are "happening in the context of an exceptionally profitable business for freight railroads." Since the Ohio incident, a Union Pacific train carrying coal derailed in Nebraska and another Norfolk Southern train hauling hazardous materials derailed near Detroit, though none were released.
US railroads transport more than 2 million carloads of hazardous materials each year. There have been about 110 train derailments involving chemical spills from 2015 to 2022, according to the Federal Railroad Administration data.
Allan Zarembski, director of the Railroad Engineering and Safety Program at the University of Delaware, said the Ohio accident was a "statistical low probability of occurrence" as overheated bearing derailments are very rare.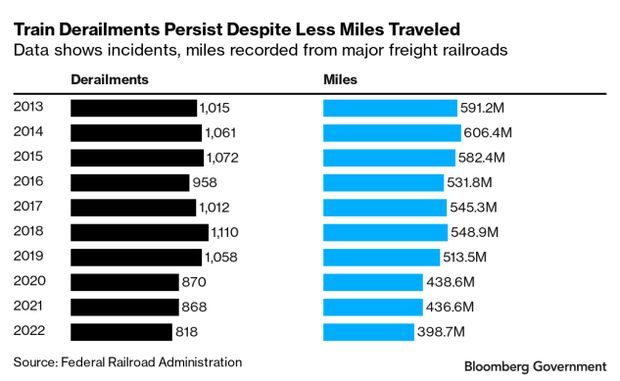 What can be done?
Buttigieg has called for regulations with "teeth," pointing to railroads being in charge of their use of hot-box detectors. He has also wants to push freight rail companies to speed up adopting safer tank cars and opt in to a reporting system that protects whistleblowers.
The Transportation Department said it will also pursue further rulemaking on high-hazard flammable trains and electronically controlled pneumatic brakes. The Trump administration repealed a 2015 rule that would require some trains carrying hazardous materials to update their braking, though that rule likely wouldn't have made a difference for this train. Environmental groups are pushing for modernized rail brake requirements, while labor unions want regulations to end precision-scheduled railroading, which they blame for longer trains and fewer crew members.
"If we're going to get better rail safety regulations, now's the time," said Kristen Boyles, an attorney with Earthjustice.
Buttigieg Seeks Higher Fines, Tighter Rules After Derailment (1)
Industry has successfully resisted past attempts at stricter rules, including for tank cars carrying hazardous materials. The Association of American Railroads urged officials to await the NTSB findings before proposing measures — the agency's final investigation results could take more than a year.
The NTSB has said the Ohio train didn't qualify as a "high-hazard flammable train," a federal classification that has additional requirements. Ohio's governor has criticized that classification — urged Congress to take a "hard look" at rail safety.
What's Congress' role?
Ahead of the preliminary investigation findings, Buttigieg called on Congress to boost the maximum possible fine on rail companies for violating safety regulations — currently set at $225,455 — and to increase spending to expand hazardous materials training for first responders. "A pretty good place to begin would be to add a zero" to that fine, he said.
House Democrats are listening to that call, with Donald Payne (D-N.J.), ranking member on the House's railroads subcommittee, saying he wants to work with Buttigieg to boost fines. Panels in the Senate, under Democratic control, are planning a hearing on the public health impacts and launching a probe into major railroad practices.
Getting agreement across both chambers could be a challenge. Ted Cruz (Texas), top Republican on the Senate Commerce Committee, said the NTSB report "exposes the shallowness of Secretary Buttigieg's recent grab-bag of policy proposals—all designed to blame the incident on President Trump—and many of which the NTSB report shows are irrelevant to this derailment." House Transportation and Infrastructure Committee Chairman Sam Graves (R-Mo.) has said he wants to fully understand what happened before deciding next steps.
With assistance from Kellie Lunney
To contact the reporter on this story: Lillianna Byington in Washington at lbyington@bloombergindustry.com
To contact the editors responsible for this story: Anna Yukhananov at ayukhananov@bloombergindustry.com; Robin Meszoly at rmeszoly@bgov.com
Stay informed with more news like this – from the largest team of reporters on Capitol Hill – subscribe to Bloomberg Government today. Learn more.