What to Look For in the Seven States Holding Primaries Tuesday
Bloomberg Government subscribers get the stories like this first. Act now and gain unlimited access to everything you need to know. Learn more.
Congressional elections return Tuesday with primaries in seven states including Iowa, where Republican firebrand Steve King may lose his seat.
His is the marquee contest on a busy election day that also includes voting in Indiana, Maryland, Montana, New Mexico, Pennsylvania and South Dakota. Amid the coronavirus pandemic, election officials encouraged voters to cast ballots by mail or return them to voting centers or drop boxes before primary day.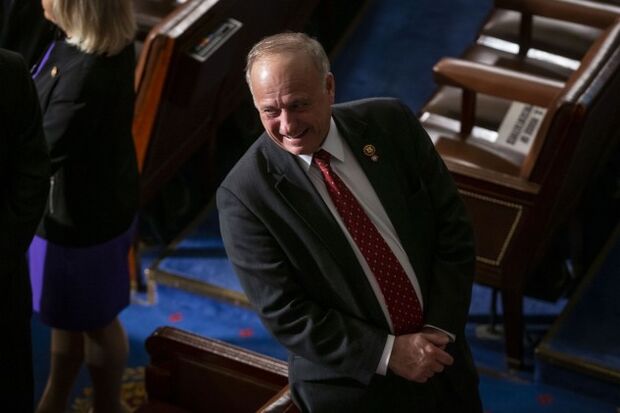 Democrats are eyeing Senate seats in Iowa and Montana in their quest to overturn the Republican majority, now 53-47. Republicans, who need a net gain of 17 seats to win back the House majority they lost in 2018, are targeting three Democratic-held seats in Iowa and one in New Mexico.
Here's a look at the races to watch:
Indiana
1st District (Hammond, Gary, Portage, East Chicago; Hillary Clinton won 54%-42%): There are 14 Democrats seeking to succeed retiring 18-term Rep. Peter Visclosky (D), the chairman of the Appropriations Defense Subcommittee.
Hammond Mayor Thomas M. McDermott Jr., who had prepared to challenge Visclosky in the primary, raised more than twice as much as any other candidate. When McDermott began his campaign in late 2019, he offered himself as a more moderate counterweight to vocal liberals in the House Democratic Caucus.
"I could equal out the extreme left statements. The Democratic Party is in danger of becoming a party of coastal elites if we don't watch it," McDermott told a northwestern Indiana interviewer.
McDermott received donations from some labor unions, Rep. Henry Cuellar (D-Texas), and groups advocating for more military veterans in Congress. McDermott served in the Navy.
Mara Candelaria Reardon, a state representative for 12 years, is backed by the Latino Victory Fund and the Congressional Hispanic Caucus PAC. Sabrina Haake, a lawyer, is the preferred candidate of Equality PAC, which advocates for more LGBTQ members of Congress.
Visclosky endorsed Frank Mrvan, a township trustee. Mrvan and attorney Jim Harper were the other two Democratic candidates who topped $200,000 in campaign receipts.
Melissa Borom, a former congressional aide, received donations from some members of the Congressional Black Caucus.
The winner of the Democratic primary will be strongly favored to win in November.
5th District (part of Indianapolis and suburbs; President Donald Trump won 53%-42%): There are 15 Republicans and five Democrats running to succeed Rep. Susan Brooks (R), who isn't seeking re-election.
On the Republican side, state Sen. Victoria Spartz primarily self-financed her campaign and is endorsed by the Club for Growth, a conservative activist group that supports cutting taxes and spending, even more than many Republicans prefer.
Beth Henderson, a businesswoman and nurse, cast herself as a political outsider and touted an endorsement from Sen. Mike Braun (R-Ind.). She said in TV ads she was born in the U.S., seemingly drawing a contrast with Spartz, who was born in Ukraine when it was part of the Soviet Union.
Carl Brizzi, a former Marion County prosecutor, lagged in fundraising but had residual name recognition. In a TV ad, Brizzi promised to work with Trump to "hold the Chinese government accountable" for the coronavirus.
State Treasurer Kelly Mitchell received a donation from VIEW PAC, which works to elect more Republican women to Congress.
The likely Democratic nominee, and the best-funded candidate in either party to date, is former state Rep. Christina Hale, who was the Democratic nominee for lieutenant governor in 2016. Her opponents include Dee Thornton, who received 43% against Brooks in 2018.
Iowa
Senate (Trump won Iowa 51%-42%): Four Democrats are seeking the nomination to oppose Sen. Joni Ernst (R), whose 2014 victory helped Republicans win the Senate majority.
Theresa Greenfield, a businesswoman, is backed by the Democratic Senatorial Campaign Committee and is the best-funded Democratic candidate, with more than $7 million in receipts through May 13. Her campaign emphasized protections for health care, Social Security and labor union benefits. Greenfield often talked about how she raised her children as a single mother after her first husband died in a work accident when she was 24.
Her opponents are Michael Franken, a retired Navy admiral endorsed by the Des Moines Register's editorial page; Eddie Mauro, a businessman who primarily self-financed his campaign; and Kimberly Graham, a lawyer.
EMILY's List, which aids Democratic women who support abortion rights, endorsed Greenfield. Its super PAC ran a TV ad that said Franken is a former Republican who only recently moved back to Iowa.
1st District (Cedar Rapids, Dubuque, Waterloo, Marshalltown; Trump 48%-45%): First-term Rep. Abby Finkenauer (D) is unopposed in the primary while Republicans probably will nominate Ashley Hinson, a state representative and TV journalist touted by the National Republican Congressional Committee and groups advocating for more Republican women in Congress.
Finkenauer, who unseated Rod Blum (R) in 2018, leads the Small Business Subcommittee on Agriculture, Energy and Trade. She sponsored legislation the House passed her first month in office that would require federal agencies to help small businesses participate in research and development contracting programs.
2nd District (Davenport, Iowa City, Ottumwa; Trump 49%-44%): Republicans have an opportunity to capture the district of retiring Rep. Dave Loebsack, the only Democrat not seeking re-election from a district Trump carried.
Of the five Republicans seeking the nomination, the best-known is state Sen. Mariannette Miller-Meeks, a physician and Army veteran who was the losing Republican nominee against Loebsack in 2008, 2010 and 2014. Her top competitor probably is former Rep. Bobby Schilling, a pizzeria owner seeking a political comeback in his adopted state of Iowa after representing a western Illinois district from 2011 to 2013.
Democrat Rita Hart, a former state senator who was the party's 2018 nominee for lieutenant governor, is unchallenged in the primary. She had $1 million in her campaign account as of May 13, almost three times as much as Miller-Meeks.
3rd District (Des Moines, Council Bluffs, Ankeny; Trump 48%-45%): Rep. Cindy Axne (D) and ex-Rep. David Young (R) are preparing for a rematch of a 2018 race that Axne won by 2 percentage points. Axne is unopposed in the primary, while Young is favored against Bill Schafer, a retired Army colonel.
Axne, a member of the Agriculture Committee, supported a trade agreement between the U.S., Mexico and Canada, and has worked to protect farmers from tariffs.
4th District (Ames, Sioux City): Steve King, a conservative firebrand seeking a 10th House term, is at risk of losing his seat in Iowa's most Republican district. Early in the 116th Congress, Republican leaders stripped King of his assignments on the Agriculture and Judiciary committees following controversial comments he made about white nationalism.
King's four opponents, led by state Sen. Randy Feenstra, said King's removal from committees rendered the congressman ineffective.
"I'm running for Congress because the 4th District needs a seat at the table, an effective conservative voice," Feenstra said at a May 26 debate.
King raised just $331,000 through May 13, compared with $926,000 for Feenstra. At least five Republican members of Congress donated to Feenstra, who also was endorsed by former Iowa Gov. Terry Branstad and Iowa social-conservative leader Bob Vander Plaats. The U.S. Chamber of Commerce and two Iowa-based super PACs aired anti-King ads.
King described himself as a "full spectrum constitutional conservative" on issues including abortion. "I always stand up and run to the sound of the guns, and I've never let you down," he said at the debate.
Under Iowa election law, a candidate needs 35% of the vote to win a primary. Otherwise, a party convention selects the nominee.
Awaiting the Republican nominee is Democrat J.D. Scholten, who came within 3 percentage points of unseating King in 2018.
READ MORE:Committee-Stripped Steve King Faces His Toughest Primary Yet
Maryland
5th District (Waldorf, College Park, most of Bowie; Clinton 64%-32%): Majority Leader Steny Hoyer, the No. 2 House Democrat who's been a member of Congress for almost 40 years, is favored over four primary challengers including McKayla Wilkes, a single mother whose platform includes a Medicare for All government-run health care system, the Green New Deal climate-change blueprint, and revamping criminal-justice policies. Wilkes raised $296,000 through May 13, mostly in small donations and none from political action committees. Hoyer raised $3.3 million.
7th District (part of Baltimore; Clinton 76%-20%): Rep. Kweisi Mfume (D) is up for nomination to a full two-year term five weeks after winning a special election to succeed the late Elijah Cummings (D).
Mfume's 18 opponents include Maya Rockeymoore Cummings, a former Maryland Democratic Party chairwoman and the late congressman's widow, and state Sen. Jill Carter. Rockeymoore Cummings and Carter finished a distant second and third to Mfume in the special Democratic primary in February. In this Democratic stronghold, the Democratic primary is the consequential election.
Montana
Senate (Trump won Montana 56%-36%): The primary surely will make official a November matchup between Sen. Steve Daines (R) and outgoing Gov. Steve Bullock (D) that should be among the nation's most competitive Senate races. Daines and Bullock both have two lesser-known primary opponents.
Bullock initially denied interest in a Senate race, even after ending his presidential bid. He reversed himself in early March, just before the candidate filing deadline. Bullock was re-elected governor in 2016 by 50%-46% as Trump swept Montana in the presidential election.
Daines, who's seeking a second term, aired TV ads blaming China for the coronavirus and supporting a temporary ban on immigration.
At-Large House District: Six Republicans and two Democrats are seeking to succeed Rep. Greg Gianforte (R), who's running for governor.
The leading Republican contender probably is state Auditor Matt Rosendale, who dominated the Republican field in fundraising and came up 3 points short of unseating Sen. Jon Tester (D) in 2018. Rosendale also sought the House seat in 2014, losing to Ryan Zinke in the Republican primary. Rosendale's rivals include Montana Secretary of State Corey Stapleton, who also sought the House seat in 2014.
Former state Rep. Kathleen Williams and state Rep. Thomas Winter are seeking the Democratic nomination. Williams lost to Gianforte in 2018 by 5 points.
New Mexico
Senate (Clinton won New Mexico 48%-40%): Rep. Ben Ray Luján, the No. 4 House Democrat, is unchallenged in the primary and favored in November to succeed retiring Sen. Tom Udall (D).
The Republican candidates are Gavin Clarkson, a business law professor; Elisa Martinez, an anti-abortion activist; and Mark Ronchetti, a former TV meteorologist.
2nd District (Las Cruces, Roswell, Alamogordo; Trump 50%-40%): Three Republicans are vying to oppose first-term Rep. Xochitl Torres Small (D) in an expansive district that covers southern New Mexico.
Yvette Herrell, a former state representative who lost to Torres Small in 2018, and Claire Chase, an oil and gas executive and former congressional aide, have slugged it out as have allied super PACs. Chris Mathys, the third Republican candidate, highlighted his background as an Army veteran.
Herrell brandished an endorsement from Rep. Jim Jordan (R-Ohio), a leader in the conservative House Freedom Caucus, and she received outside support from the group's super PAC arm. Her backers also include Make New Mexico Great PAC, a super PAC that aired an ad that referred to Chase as a "lobbyist" and noted her past criticism of Trump. Make New Mexico Great PAC formed last month and hasn't revealed its donors.
Chase's outside backers include Defending Main Street Super PAC and Citizens for a United New Mexico. The latter group received $100,000 from Winning for Women Action Fund, which works to elect more Republican women to Congress.
One Democratic PAC intervened in the Republican primary to promote Herrell, a sign it views her as the weakest Republican opponent for Torres Small. Patriot Majority PAC aired ads referring to Herrell as a "Trump loyalist," Chase as a "Santa Fe lobbyist" previously opposed to Trump, and Mathys as a "California carpetbagger."
Torres Small voted against Democratic gun and minimum wage bills and also opposed the party's $3 trillion "Heroes Act" coronavirus relief package last month. She had more than $3.1 million in her campaign account as of May 13.
3rd District (Santa Fe, most of Rio Rancho; Clinton 52%-37%): With Lujan leaving open this seat to run for Senate, the seven-candidate Democratic primary is the key election.
The best-funded candidate was Valerie Plame, a former CIA operative whose identity was exposed by Bush administration officials in 2003 — not longer after her then-husband, Joseph Wilson, who died in 2019, criticized the rationale for the Iraq War. Plame raised more than $2 million.
Teresa Leger Fernandez, a lawyer and the next-best-funded candidate, received help from EMILY's List and the campaign arm of the Congressional Hispanic Caucus.
Marco Serna, a district attorney for the Santa Fe area, positioned himself as a more moderate candidate opposed to Medicare for All and the Green New Deal.
Pennsylvania
1st District (Philadelphia suburbs; Clinton 49%-47%): Two little-known Democrats are opposing Rep. Brian Fitzpatrick (R), a bipartisan-minded centrist who survived a big-spending Democratic campaign in 2018 to unseat him in Bucks County and part of Montgomery County.
Christina Finello, a lawyer, is better-funded than Skylar Hurwitz, a technology businessman. Finello has the endorsements of the Democratic organizations in Bucks and Montgomery counties.
Fitzpatrick in 2019 was the highest-scoring House member on the Bipartisan Index, released by The Lugar Center and the McCourt School of Public Policy at Georgetown University, which measures how often members of Congress work across party lines on legislation. He's one of four House Republicans from districts that Trump lost in 2016. Fitzpatrick was re-elected by 2.5 points in 2018, when Democratic candidates for governor and senator easily carried his district.
Fitzpatrick is opposed in the primary by Andy Meehan, a businessman who ran as a stronger advocate of Trump.
7th District (Allentown, Bethlehem; Clinton 49%-48%): Lisa Scheller, a former Lehigh County commissioner, raised more than $1 million to oppose first-term Rep. Susan Wild (D) in a Lehigh Valley district.
Scheller is opposed in the primary by Dean Browning, who also served as a Lehigh County commissioner and narrowly lost a 2018 bid for this district in the Republican primary. Both aligned with Trump and accused each other of being a liberal.
8th District (Scranton, Wilkes-Barre; Trump 53%-44%): Six Republicans are seeking the nomination to oppose Rep. Matt Cartwright (D) in an ancestrally Democratic and blue-collar swath of northeastern Pennsylvania that shifted to support Trump in 2016.
Minority Leader Kevin McCarthy (Calif.) supported Earl Granville, an Army veteran who was seriously wounded in Afghanistan. Granville focused on veterans, infrastructure and energy policy.
Mike Marsicano, a former Hazleton mayor, became a Republican after serving in that office and running for Congress in 2016 as a Democrat, losing decisively to then-Rep. Lou Barletta (R).
Jim Bognet, a Trump appointee to the Export-Import Bank who previously worked on Republican campaigns, said he ran "to make Pennsylvania great again" and after Cartwright voted to impeach Trump.
A Bognet ad noted Marsicano's past Democratic affiliation and a social media post from Granville in which he said he was "not a super Trump-Tard." A Marsicano ad noted Bognet's past political work for Sen. Mitt Romney (R-Utah), the 2012 Republican presidential nominee who voted to convict Trump.
Cartwright is a member of the Congressional Progressive Caucus and is co-chairman of the Democratic Policy and Communications Committee, which helps develop and disseminate the party's agenda. He was re-elected 55%-45% in 2018.
10th District (Harrisburg, York, Hershey; Trump 52%-43%): Two Democrats are seeking to oppose Rep. Scott Perry (R), a member of the strongly conservative Freedom Caucus who was re-elected 51%-49% in 2018.
Eugene DePasquale, Pennsylvania's elected auditor general, promoted his service of "holding powerful people accountable" as the state's "fiscal watchdog." He's the preferred candidate of House Democratic leaders.
Tom Brier, a lawyer, advocated for action to combat the opioid crisis and for the Green New Deal. He shunned corporate PAC donations and criticized DePasquale for voting for a Republican redistricting bill when he was in the state legislature.
17th District (Pittsburgh suburbs; Trump 49%-47%): Neither Rep. Conor Lamb (D) nor Republican Sean Parnell is challenged in the primary.
Trump endorsed Parnell, an Army combat veteran who served in Afghanistan, in a tweet late last month that falsely said Lamb voted for Nancy Pelosi (D-Calif.) for speaker. Lamb voted for Rep. Joe Kennedy (D-Mass.) at the start of the current 116th Congress.
Lamb, a former Marine, has voted as a loyal Democrat while breaking with leaders on Pelosi's speakership, some foreign policy votes, and a $3 trillion coronavirus relief package (H.R. 6800) that Lamb said was "not focused" and "rushed to a vote too fast." In 2018, Lamb defeated Rep. Keith Rothfus (R) by 12.5 points in a rare incumbent-vs.-incumbent matchup after Pennsylvania's district lines were redrawn.
18th District (Pittsburgh; Clinton 62%-35%): Rep. Mike Doyle (D), chairman of Energy and Commerce's Communications and Technology Subcommittee and a House member since 1995, is opposed in the primary by Jerry Dickinson, a constitutional law professor at the University of Pittsburgh.
Dickinson raised about $245,000 over 13 months, all from individual donors and none from PACs. In a candidate debate last month, Dickinson said Doyle was an "entrenched Washington insider" who hadn't done enough to address racial disparities in the district. Dickinson supports the Green New Deal.
Doyle said he worked cooperatively with black leaders in the district. He said the Green New Deal is a resolution, not an actual bill, and he promoted legislation called the CLEAN Future Act to achieve net-zero carbon emissions by 2050. Both Doyle and Dickinson support a Medicare for All health-care system.
"I've been part of Pittsburgh's revitalization. I sit on one of the two exclusive committees in Congress and I chair a major subcommittee. I'm dean of the Pennsylvania delegation and I sit in Speaker Pelosi's leadership circle," Doyle said.
South Dakota
Senate (Trump won 62%-32%): Sen. Mike Rounds (R) is favored to win a second term, beginning in the primary against nominal opposition. The lone Democratic candidate is Dan Ahlers, a former state legislator.
At-Large House District: Democrats didn't field a candidate to oppose first-term Rep. Dusty Johnson (R) for the statewide congressional district. Johnson has one primary opponent.
Stay informed with more news like this – from the largest team of reporters on Capitol Hill – subscribe to Bloomberg Government today. Learn more.