What to Look For in Ohio Congressional Primary Elections
Ohio will conclude its primary Tuesday six weeks after the election was delayed by state officials to avoid the spread of the coronavirus.
Most votes will be cast through mail-in ballots, which must be postmarked by Monday or delivered to county boards of election by 7:30 p.m. Tuesday. There is very limited in-person voting Tuesday. Any votes cast on or before March 17, the original primary date, will be included in the results.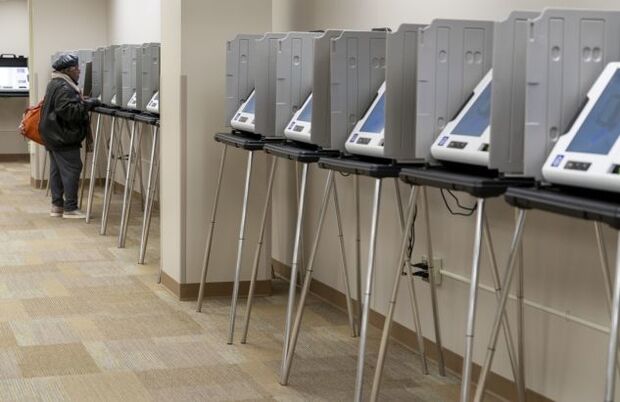 Here's a look at races to watch:
1st District (part of Cincinnati; President Trump won 51%-45% in 2016): Kate Schroder, a former vice president for the Clinton Health Access Initiative, and Nikki Foster, a former Air Force combat pilot in Iraq and Afghanistan, are seeking the Democratic nomination to oppose Rep. Steve Chabot (R) in a mildly Republican-leaning district.
Schroder is better-funded, with $822,000 in total campaign receipts through April 8 compared with Davidson's $525,000, and was endorsed by the Hamilton County Democratic Party in Cincinnati. In their TV ads, Schroder and Foster prioritized the lowering of health-care costs and noted personal connections with the health-care system. Schroder is a cancer survivor and Foster's newborn son had health problems.
Chabot, the top Republican on the Small Business Committee, is seeking a 13th term. He was re-elected 51%-47% in 2018.
3rd District (most of Columbus; Hillary Clinton won 67%-29%): Rep. Joyce Beatty (D), the chairwoman of the House Financial Services Diversity and Inclusion Subcommittee, faces a challenge from Morgan Harper, a lawyer who formerly worked for the Consumer Financial Protection Bureau.
Harper raised $772,000 through April 8, almost all of it from individual donors. Her backers include Justice Democrats, a liberal activist group, and the Progressive Change Campaign Committee, which referred to Beatty as a "corporate Democrat."
"We can continue down the path of the status quo, dominated by corporate interests that are willing to let our lives and our communities suffer. Or we can organize together and fight back," Harper said at a candidate forum in February.
Harper supports a Medicare for All national health insurance system. Beatty is a co-sponsor of Medicare for All legislation (H.R. 1384) authored by Rep. Pramila Jayapal (D-Wash.)
The AFL-CIO, the largest coalition of labor unions, gave Beatty a 100% score for her 2019 votes and a 96% rating for her full House tenure. She's seeking a fifth term in the overwhelmingly Democratic district.
Beatty's ads haven't mentioned Harper and instead have highlighted her opposition to Trump and her work on health care policy. In her most recent ad, released April 13, Beatty focused on the pandemic and reminded viewers to adhere to physical distancing and hand-washing recommendations from health professionals.
12th District (part of Columbus; Mansfield, Newark, Zanesville; Trump 53%-42%): Alaina Shearer, a businesswoman and former radio journalist, is favored to win the Democratic primary and face Rep. Troy Balderson (R) in a Republican-leaning district that includes part of Columbus and territory extending north and east from Ohio's capital city.
Shearer was endorsed by the Democratic organization in Franklin County, the dominant county in the district. She supports a public health insurance option to lower costs. Jenny Bell, a nurse practitioner who's the other Democratic candidate, supports Medicare for All. Shearer raised $250,000 through April 8 compared with $9,200 for Bell.
Balderson won a special election in August 2018 by a 50.1%-49.3% margin and then a full term in November by 51%-47%, both times against Democrat Danny O'Connor.
To contact the reporter on this story: Greg Giroux in Washington at ggiroux@bgov.com
To contact the editors responsible for this story: Bennett Roth at broth@bgov.com; Kyle Trygstad at ktrygstad@bgov.com