What to Look for in Florida, Alaska, Wyoming Primaries Tuesday
Bloomberg Government subscribers get the stories like this first. Act now and gain unlimited access to everything you need to know. Learn more.
Three states hold primaries Tuesday, including Florida, a populous battleground in the Nov. 3 presidential election.
Rep. Ross Spano (R) is trying to fend off a primary challenger amid an investigation into the financing of his 2018 campaign. In two other Florida districts, winners of crowded Republican primaries will be favored to succeed retiring Republican incumbents and join the 117th Congress.
There's also voting in Alaska, where House Dean Don Young (R) wants to continue a congressional tenure that's nearing half a century, and Wyoming, where voters will begin the process of selecting a successor for retiring Sen. Mike Enzi (R).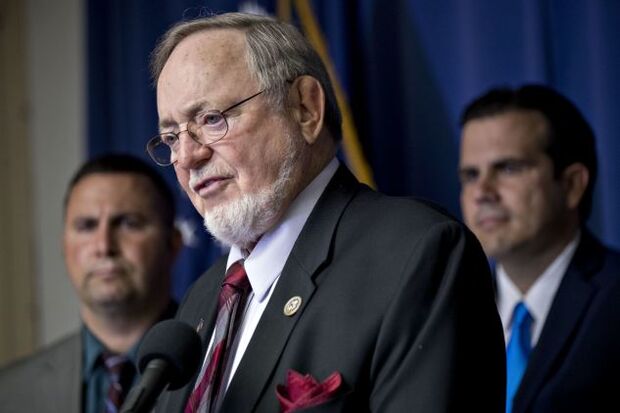 Here's a look at the races to watch.
Alaska
Senate (Donald Trump won Alaska 51%-37%): Dan Sullivan (R) is defending his seat for the first time after unseating Mark Begich (D) in 2014.
Sullivan's likely opponent is Al Gross, an orthopedic surgeon and first-time candidate who's running as an independent in the Democratic primary. The Alaska Democratic Party allows independents to run in its primaries and win nominations.
Gross' first commercials highlight an adventurous life that includes working as a commercial fisherman through college and medical school, prospecting for gold, killing a grizzly bear in self-defense, and leaving his medical practice to study public health and advocate for improving health-care benefits. He says Sullivan too frequently votes the Republican Party line. The Lincoln Project, an anti-Trump organization, is helping Gross.
In his first TV ad last month, Sullivan said he "secured millions for our fisherman and small businesses and fought to defend Alaska's energy jobs when oil prices collapsed."
Alaska has voted Republican in 13 straight presidential elections dating to 1968, but it has an independent streak. Third-party and independent candidates receive above-average vote shares.
At-Large House Seat
Rep. Don Young, the oldest and most senior House member in the 116th Congress and the longest-serving House Republican in history, is likely to face a rematch with Alyse Galvin, an education activist who came within 7 percentage points of unseating Young in the 2018 election.
Galvin is again running as an independent in the Democratic primary and is backed by the Democratic Congressional Campaign Committee. With $2.2 million raised as of July 29, Galvin has more than tripled her campaign fundraising compared with a similar point in 2018. She's among a small group of Democratic challengers with more available cash than Republican incumbents — $1.4 million compared with Young's $711,000.
Young, 87, is a former chairman of the Natural Resources Committee and the Transportation and Infrastructure Committee. He's been in Congress since 1973. His 2018 re-election was his third win in a row with less than 55% of the vote.
Florida
3rd District (Gainesville, Ocala; Trump won 56%-40%): Ten Republicans are running in the primary, with the winner favored to succeed retiring four-term Rep. Ted Yoho (R).
Kat Cammack, a former Yoho aide, received donations from agriculture industry political action committees and Sen. Rand Paul (R-Ky.). Judson Sapp, a businessman and former congressional aide, won backing from Rep. John Rutherford (R-Fla.) and former Rep. Cliff Stearns, who was unseated by Yoho in the 2012 primary.
James St. George, a doctor, primarily self-funded his campaign and also received contributions from health-care PACs including the American Medical Association. Todd Chase, a 26-year Navy veteran and pilot who formerly served as a Gainesville city commissioner, was supported by With Honor PAC, which says it supports "principled veteran leadership in order to reduce polarization."
7th District (part of Orlando; Altamonte Springs, Oviedo, Winter Springs; Hillary Clinton won 51%-44%): Rep. Stephanie Murphy, a co-chairwoman of the Blue Dog Coalition of Democrats who prioritize fiscal restraint, will face the winner of a three-candidate Republican primary.
The best-funded is Leo Valentin, a radiologist who previously worked on Ted Cruz's presidential and Senate campaigns. The Texas Republican donated to Valentin's campaign.
Murphy unseated veteran Republican John Mica in 2016 and was re-elected 58%-42% in 2018. In July 2019, she was among the 16 Democrats who voted against a two-year agreement that raised spending caps and suspended the federal debt limit.
13th District (St. Petersburg, Largo; most of Clearwater; Clinton 50%-46%): Five Republicans want a shot at unseating Rep. Charlie Crist (D), Florida's former Republican governor favored to win a third House term.
Three topped $1 million in receipts: Amanda Makki, a lobbyist and former congressional aide; Anna Paulina Luna, a military veteran and conservative commentator; and George Buck, a veteran and retired firefighter.
Makki is the preferred candidate of Republican leaders. Her donors include Minority Leader Kevin McCarthy (Calif.), Minority Whip Steve Scalise (La.), Rep. Susan Brooks (Ind.), and billionaires Sheldon and Miriam Adelson. Rep. Matt Gaetz (R-Fla.), a vocal Trump backer, supported Luna.
Buck lost to Crist 58%-42% in the 2018 general election.
15th District (parts of Hillsborough, Lake and Polk Counties; Trump 53%-43%): Spano faces a serious primary challenge from Scott Franklin, who's an insurance businessman, Lakeland city commissioner and Navy veteran.
Spano is under investigation for allegations that he accepted improper loans during his 2018 campaign. In August 2019, the Office of Congressional Ethics adopted a report that said there was "substantial reason to believe" the allegations and recommended that the House Ethics Committee further review the matter. The Ethics Committee said in November 2019 that it deferred consideration at the request of the Justice Department.
"Now Spano's under criminal investigation for breaking the law to win an election," one of Franklin's ads said. Franklin self-funded his campaign with at least $400,000 and was endorsed by Gaetz.
Spano said he made an honest mistake when he accepted loans from friends and then gave money to his campaign.
Rep. Liz Cheney (Wyo.), the No. 3 House Republican, donated to Spano Aug. 14 through her campaign committee and her leadership PAC, Cowboy PAC.
Three Democrats are seeking the seat. State Rep. Adam Hattersley, a Navy veteran, received donations from the PACs of the Blue Dog Coalition and VoteVets, a left-leaning group that works to elect veterans. Alan Cohn, a television investigative journalist, got support from some labor unions. Jesse Philippe, a Marine Corps veteran, lagged Hattersley and Cohn in fundraising.
Spano, a former state representative, won a five-way Republican primary in 2018 with 44% of the vote. He won the general election 53%-47%.
16th District (Bradenton, Sarasota; Trump 54%-43%): Rep. Vern Buchanan (R) and Margaret Good (D), a state representative and lawyer, are unopposed in the primaries.
Buchanan was re-elected 55%-45% in 2018. Good is on the Democratic Congressional Campaign Committee's "Red to Blue" list of candidates it says are running competitive campaigns in Republican-held districts.
18th District (Port St. Lucie, Jupiter, Palm Beach Gardens, part of West Palm Beach; Trump 53%-44%): Democrats Pam Keith, a lawyer and Navy veteran, and Oz Vazquez, Florida's former deputy solicitor general, are seeking to oppose two-term Rep. Brian Mast (R).
Keith, who lost Democratic primaries for this seat in 2018 and for the Senate in 2016, received a donation from Higher Heights for America, which works to elect more progressive Black women to political office. BOLD PAC, the political arm of the Congressional Hispanic Caucus, endorsed Vazquez.
Mast, who has nominal primary opposition, defeated well-funded Democrat Lauren Baer 54%-46% in 2018.
19th District (Cape Coral, Fort Myers, Bonita Springs; Trump 60%-38%): The winner of a nine-candidate Republican primary will be favored to succeed retiring two-term Rep. Francis Rooney (R).
State Rep. Byron Donalds, who is Black, is the preferred candidate of the House Freedom Caucus and the Club for Growth. Rep. Will Hurd (Texas), the only Black Republican in the House, isn't seeking re-election.
Businessman Casey Askar self-financed $3 million of the $3.7 million he raised through July 29. Urologist William Figlesthaler self-financed about $2.2 million of his campaign's $2.5 million in total receipts. State Rep. Dane Eagle, the only other Republican candidate who's well-funded, received the most in PAC money.
20th District (Miramar, Lauderhill, Tamarac; part of Fort Lauderdale; Clinton 80%-18%): Rep. Alcee Hastings(D), a House member since 1993 and a senior member of the Rules Committee, faces a primary rematch with Sheila Cherfilus-McCormick, who runs a home health-care business. Hastings won the 2018 primary by 74%-26%.
Hastings, who turns 84 next month, said in January 2019 he had been diagnosed with pancreatic cancer. In May 2019, the Ethics Committee announced it began an investigation into his personal relationship with one of his congressional aides. In June 2020, the committee said it closed the matter after learning Hastings married the woman in January 2019.
26th District (part of Miami-Dade County and all of Monroe County; Clinton 57%-41%): First-term Rep. Debbie Mucarsel-Powell is likely to face a serious challenge from Republican Carlos Gimenez, the mayor of Miami-Dade County.
With about 2.7 million residents, Miami-Dade is Florida's most populous county, and Gimenez has been on television frequently to talk about his county's response to the pandemic. He's opposed in the primary by Omar Blanco, a firefighter who formerly led the Metro-Dade Firefighters Local 1403 in the county.
The Ecuador-born Mucarsel-Powell unseated Carlos Curbelo (R) in 2018 and became the first South American immigrant in Congress.
Florida's 26th is the only district in the state the nonpartisan Cook Political Report presently rates as a Toss-up.
27th District (most of Miami; Miami Beach, Coral Gables; Clinton 59%-39%): First-term Rep. Donna Shalala (D) seems headed for a rematch with Maria Elvira Salazar (R), a broadcast journalist. Shalala defeated Salazar by 52%-46% in 2018, a closer-than-expected margin in a district Trump lost overwhelmingly.
Wyoming
Senate (Trump won 68%-22%): The Republican primary is the decisive election in the state where Trump had his largest margin of victory in the 2016 presidential election.
Former Rep. Cynthia Lummis (R), who served in the House from 2009 to 2017, is the leading candidate to succeed Enzi, who's retiring after 24 years in the Senate. Lummis was a member of the Freedom Caucus during her House tenure.
Lummis raised more than $1.8 million through July 29, more than five times the total receipts of her best-funded opponent, Converse County Commissioner Robert Short.
Lummis could help Republican women increase their numbers or offset losses in this year's Senate elections. Six of the nine Republican women in the Senate are up for election or re-election. Two of the 17 Democratic women in the Senate are on the ballot.
To contact the reporter on this story: Greg Giroux in Washington at ggiroux@bgov.com
To contact the editors responsible for this story: Bennett Roth at broth@bgov.com; Kyle Trygstad at ktrygstad@bgov.com
Stay informed with more news like this – from the largest team of reporters on Capitol Hill – subscribe to Bloomberg Government today. Learn more.