What to Know in Washington: Yellen Warns 'Time Is Running Out'
Bloomberg Government subscribers get the stories like this first. Act now and gain unlimited access to everything you need to know. Learn more.
Treasury Secretary Janet Yellen warned that "time is running out" to avert an economic catastrophe from failing to raise the debt ceiling, in remarks released as President Joe Biden and congressional leaders prepared to meet on the standoff.
Speaker Kevin McCarthy (R-Calif.) issued his own notice ahead of today's 3 p.m. gathering, saying, "We only have so many days left to deal with this."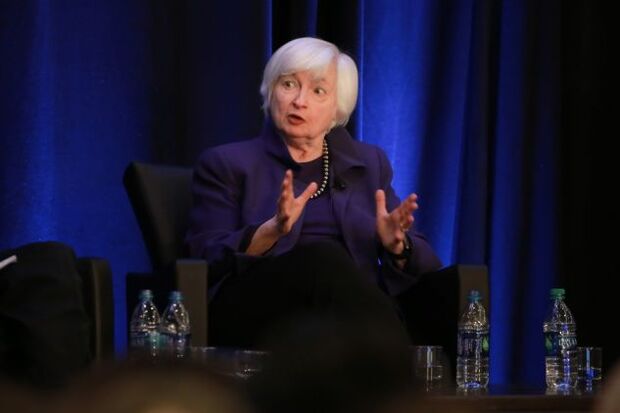 The two sides showed little signs of agreeing on much else than the countdown in the run-up to the second White House encounter on the debt ceiling in two weeks. While senior staff have been negotiating for days, Republicans are still pressing for sweeping spending cuts, while Democrats are determined to protect the president's legislative achievements.
"We are already seeing the impacts of brinksmanship: investors have become more reluctant to hold government debt that matures in early June," Yellen said in remarks prepared for delivery to a banking conference today. "The impasse has already increased the debt burden to American taxpayers."
The Treasury chief issued a fresh letter to congressional leaders Monday restating that the Treasury risks running out of sufficient cash for all federal obligations as soon as June 1. The livelihoods of millions of Americans "hang in the balance," she said in excerpts of her speech released by the Treasury.
Related: Yellen Warns US Paying Price as Negotiators Battle on Debt Limit
McCarthy emphasized that staff-level meetings are "not productive at all" and that negotiations were "not in a good place." His remarks came shortly after Biden told reporters in Philadelphia on Monday that the meeting was set—a day after confirming it was in the works.
Biden is expected to depart for Asia on Wednesday, on a trip intended to showcase US determination to address strategic competition with China. White House officials said Monday that the plans to attend the G-7 summit in Japan, with stops in Papua New Guinea and Australia, had not changed despite the ongoing debt talks.
Asked whether the president should go abroad at this point, McCarthy said, "I think an American president should focus on the solutions for America. I think it shows your values and priorities." Viktoria Dendrinou, Meghashyam Mali and Erik Wasson have more on where negotiations stand.
Yellen will discuss the recent developments in the banking system and the need for Congress to address the debt limit at the Independent Community Bankers of America 2023 Capital Summit today at 9 a.m.
House progressives warned Monday they would fight any debt limit agreement that includes new restrictions Republicans are seeking, such as food assistance to the poor.
BIDEN'S SCHEDULE
Biden meets with McCarthy, House Minority Leader Hakeem Jeffries (D-N.Y.), Senate Majority Leader Chuck Schumer (D-N.Y.), and Senate Minority Leader Mitch McConnell (R-Ky.) on the debt limit at 3 p.m.
At 4:30 p.m.. the president, the first lady, and the second gentleman give remarks celebrating Jewish American Heritage Month at the White House. Vice President Kamala Harris will also attend.
White House Press Secretary Karine Jean-Pierre gives a briefing at 1:45 p.m.
CONGRESS' AGENDA
The House returns at 10 a.m. to vote on a rule for consideration of several law enforcement measures.
Senators convenes at 10 a.m. to vote on a resolution to block a Washington, D.C., policing law.
Bank Failure Fallout
Regulators are ratcheting up oversight efforts across the banking system as they lack the ability to quickly overhaul rules to blunt turmoil that's already collapsed four mid-sized lenders.
The Federal Reserve's top bank watchdog is calling for more oversight of how bank executives are compensated.
Regulators aren't currently weighing a ban on selling stocks short as wild trading continues in the shares of some regional banks.
Politics and Probes
Voters in two states have a chance today to give candidates the go-ahead to try for political firsts.
Allies of former Vice President Mike Pence have formed a political action committee to support him as he moves closer to challenging his former boss Donald Trump for the 2024 Republican presidential nomination.
Special Counsel John Durham faulted the FBI and DOJ's probe into whether Trump's campaign conspired with Russia to interfere in the 2016 election but failed to issue any new charges or recommend significant changes to investigative procedures.
Atlanta-area prosecutor Fani Willis urged a judge to reject Trump's demands that her office be disqualified from investigating his efforts to overturn the 2020 election in Georgia.
Joe and Jill Biden, listed no more than $46,200 in income outside of his government paycheck in 2022 with liabilities of at least $295,000, according to the couple's latest financial disclosure filed with the Office of Government Ethics.
What Else To Know
OpenAI CEO Sam Altman plans to tell Congress that A.I. technology is becoming so powerful that the US and other governments should consider imposing regulation on products "above a crucial threshold of capabilities."
Companies including General Electric, Boeing, and Nike are wading through a mounting pile of concerns about their China-linked supply chains as geopolitical troubles brew and pressure to cut ties ramps up from the US government and investors.
Some members of Congress might push for more transparency about how hospitals use their federal drug discount program savings after a study by a government watchdog, attorneys say.
Amgen's $27.8 billion deal to buy Horizon Therapeutics, the largest in the biotechnology company's history, will be challenged by federal regulators who argue the tie-up would hamper innovation and slow the pace of drug development.
The US is soliciting bids for up to 3 million barrels of sour crude oil to refill its depleted Strategic Petroleum Reserve.
To contact the reporters on this story: Andrew Small at asmall@bgov.com; Michaela Ross in Washington at mross@bgov.com
To contact the editor responsible for this story: Kayla Sharpe at ksharpe@bloombergindustry.com
Stay informed with more news like this – from the largest team of reporters on Capitol Hill – subscribe to Bloomberg Government today. Learn more.