What to Know in Washington: White House Not Giving Up Biden Bill
The White House signaled yesterday the administration isn't giving up on President Joe Biden's signature economic package, despite hurdles in Congress. Meanwhile, the president's top medical adviser warned escalating case numbers could overwhelm U.S. hospitals.
Here's what Bloomberg Government is tracking for Monday.
Congressional Schedule:
The House meets for a pro forma session at 11 a.m.
The Senate meets in pro forma at 4:30 p.m.
No hearings or markups are scheduled.
Biden's Agenda:
Biden will participate in a White House Covid-19 Response Team call with the National Governor's Association at 11:30 a.m. to discuss the response to the Omicron variant.
The president is scheduled to leave Washington for Rehoboth Beach, Del. shortly after noon and arrive after 1 p.m.
White House Isn't Giving Up on Economic Package, Harris Says
The Biden administration is seeking a path forward for its "Build Back Better" economic stimulus and social spending plan, Vice President Kamala Harris said yesterday.
"I'm not giving up, the President's not giving up," Harris said in an interview on CBS's "Face the Nation," Ben Bain reports.
"Frankly the stakes are too high," she said.
Biden's signature bill hit the skids on Dec. 19 when Sen. Joe Manchin (D-W.Va.) said he couldn't support legislation with a price tag approaching $2 trillion. In an evenly divided Senate, Democrats need each member of their party to advance the legislation amid unified Republican opposition.
Sen. Ben Cardin (D-Md.) said on "Fox News Sunday" that members of his caucus all want to pass a version of the bill. He also acknowledged that to garner support the legislation may end up being less comprehensive than some progressive lawmakers want.
"We've got to find that sweet spot," Cardin said. "Look — a lot of us are going to be disappointed, but we're not going to let perfection be the enemy of getting something done."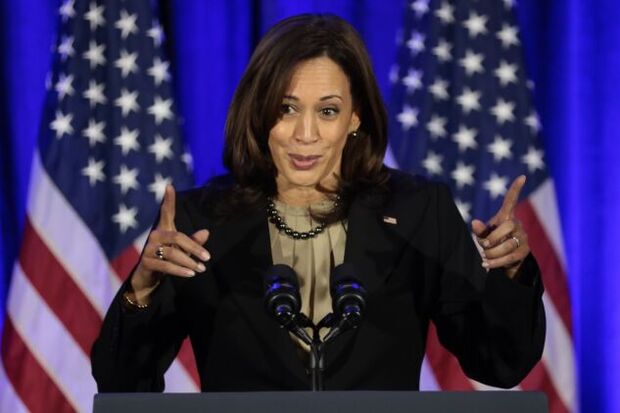 Fauci Warns of Complacency With Virus Set to Fill Hospitals
Americans should stay vigilant against the omicron variant despite evidence its symptoms may be less severe because the volume of cases can still overwhelm hospitals, President Biden's top medical adviser said yesterday.
"The issue that we don't want to get complacent about, Jon, is that when you have such a high volume of new infections it might override a real diminution in severity," Anthony Fauci told ABC's Chief Washington Correspondent Jonathan Karl on "This Week."
"So that if you have many, many, many more people with a less level of severity, that might kind of neutralize the positive effect of having less severity," said Fauci, who leads the National Institute of Allergy and Infectious Diseases.
Preliminary data from Scotland shows that omicron "is associated with a two-thirds reduction in the risk of Covid-19 hospitalization when compared to delta." However, the same study showed that it was 10 times more likely than delta to infect people who'd already had Covid.
New daily omicron infections in the U.S. have surpassed those in the delta wave, CNN reported. Read more from Ben Bain.
Airlines' U.S. flight cancellations exceeded 2,800 for the Christmas weekend, disrupting travel on one of the busiest periods of the year as the omicron-fueled wave of Covid cases triggered air-crew shortages, Maria Elena Vizcaino reports. Fauci told MSNBC this morning "it's reasonable to consider" a requirement to be vaccinated for coronavirus before getting on a domestic flight, Kasia Klimasinska reports.
New cases of coronavirus in New York State surged to an all-time high Dec. 24 before retreating on Christmas Day. Governor Kathy Hochul's office reported 49,708 new Covid-19 cases as the Omicron variant extends its spread worldwide. The number of new cases in New York slowed to 36,454 Dec. 25, probably because of the holiday. The state has stepped up its vaccine campaign as new daily Omicron infections in the U.S. have surpassed those in the Delta wave, CNN reported. Read more from Susanne Barton.
MORE HEADLINES:
Russia will start talks first with the U.S. on its demands for guarantees of an end to NATO's eastward expansion before a proposed Jan. 12 meeting between the military alliance and Moscow, Foreign Minister Sergei Lavrov said. "We will hold the main round of negotiations with the U.S. which will take place immediately after the end of the New Year holidays," Lavrov said in a YouTube interview today with the Soloviev Live channel. Read more from Henry Meyer and Andrey Biryukov.
Poland's President Andrzej Duda vetoed a bill that would force Discovery to sell most of the country's most popular private television network, defusing a row that strained relations with the U.S. The bill, adopted in a surprise parliamentary vote on Dec. 17, blindsided Washington and sent thousands of Poles to the streets in protest over what they saw as the ruling nationalists attempt to muzzle an independent broadcaster. Read more from Piotr Skolimowski and Maciej Martewicz.
The Taliban administration is working to boost exports to save the Afghan economy from collapse, with a government official saying international humanitarian aid alone won't prevent the country from slipping deeper into poverty. Eltaf Najafizada has the latest.
To contact the reporter on this story: Giuseppe Macri in Washington at gmacri@bgov.com
To contact the editor responsible for this story: Zachary Sherwood at zsherwood@bgov.com