What to Know in Washington: What Will Shape the Next Virus Bill
Bloomberg Government subscribers get the stories like this first. Act now and gain unlimited access to everything you need to know. Learn more.
The contents of the next coronavirus relief package will hinge on a central question—whether the goal should be to provide another tourniquet for the economy or a crutch to help return it to normal.
House Democrats planted their flag for the upcoming negotiations by passing a $3 trillion relief package. Republican leadership and the White House are taking a more cautious approach, calling for some time to measure the impact of previous relief bills and determine what else is needed to get the economy on track.
The tension over whether the next package should aim to provide more aid or stimulate a reopening economy is evident in two of the key areas of disagreement: whether unemployment benefits and further federal aid to states should be extended in the next bill, which could rival or exceed the size of the third law, known as the CARES Act.
"Republicans know CARES was not the end of the congressional response, but they clearly don't feel the same urgency as their blue state counterparts," said Liam Donovan, a principal at Bracewell in Washington. "You might think of this ongoing pause as walking away from the legislative bazaar—blithely dismissing what they deem a liberal wish list, winding down the clock, and lowering the price on the inevitable next phase."
Aides on both sides of the aisle expect talks to gain steam in June. By that time, the effectiveness of the Federal Reserve's new emergency powers and the return to operations of some nonessential businesses could weigh heavily on the next steps.
There appears to be bipartisan momentum behind certain provisions in the House-passed response bill, including tweaking the employee retention credit to make it more usable, providing further financial assistance through the tax code to help businesses cover fixed costs during shelter-in-place orders, and loosening IRS rules on deductions related to loans issued under the Paycheck Protection Program.
Less clear is whether Republicans would agree to another round of direct payments to Americans, something they viewed as an emergency bridge to increased unemployment benefits. Read more from Colin Wilhelm.
The Path to Reopening
Republicans Risk Backlash in Reopen Efforts: Trump is pushing to reopen the U.S. economy quickly as his core supporters are hit harder by job losses than by the coronavirus. The balance between lives and livelihoods during the pandemic has been experienced very differently across the ideological spectrum. In states Trump won in 2016, 23 people have lost a job for every one person infected. In states Hillary Clinton won, the number was 13. That is, in Trump country, Covid-19's greater pain has been economic, which helps explain why support for a fast reopening is so much more intense there.
The question now is if Trump could face a backlash as the geographic locus of the pandemic shifts red. Confirmed coronavirus cases rose 46% faster over the past two weeks in states that Trump won in 2016 than in the rest of country. If infections spike once lockdowns are lifted, Republican voters could blame GOP candidates who pushed for reopening, Mike Dorning and Gregory Korte report.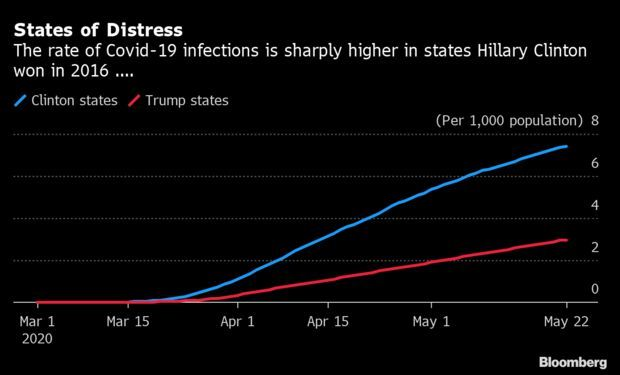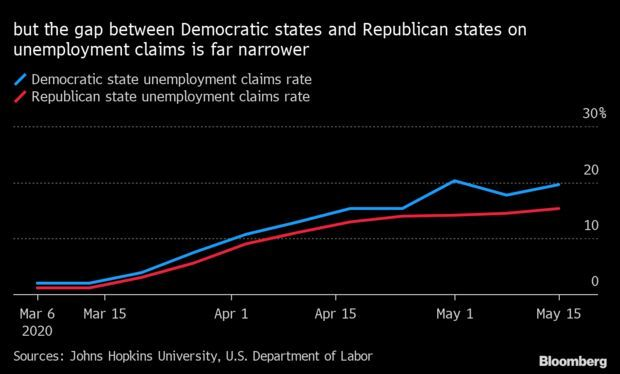 Federal Workers See Risks in Push to Reopen: As Trump presses states to reopen, government workers and their unions say they're increasingly concerned that their bosses will force them back to the office without sufficient protection. Agencies' approaches to returning to offices have been uneven, they say. Although the Securities and Exchange Commission's chief told many workers to plan on staying home through at least mid-July, the Internal Revenue Service has called back 11,000 workers to begin processing paper tax returns, responding to a backlog of mail and answering taxpayer calls.
Workers at some agencies who are already back — or who never left — report wide variations in their employers' attitude toward safety. For starters, there are no plans for broad testing or contact-tracing. The haphazard approach has led to confusing and often contradictory messages being sent to more than 2 million federal workers, 85% of whom live outside the greater Washington, D.C. region. Read more from Nick Wadhams.
Democrats Scoff at Trump's National Testing Plan: The federal government will continue to support state Covid-19 testing efforts, the White House signaled in a report submitted to Congress over the weekend that focused heavily on the successes of that system. The new report outlined how the federal government will maintain a system of "supporting and encouraging" states to expand testing capabilities, but doesn't specifically lay out a nationwide testing goal.
One section noted states need to submit this year a plan to test at least 2% of their population by May and June—12.9 million tests—and recommended that they invest in a technology accelerator program to help scale up testing efforts.
Democratic leaders, who first released the report and have pressed the Trump administration for a national strategy on tests that include clear benchmarks, said yesterday the report shows the White House "still does not have a serious plan" for increasing coronavirus testing nationwide.
"This disappointing report confirms" that Trump's national testing strategy is to "deny the truth that there aren't enough tests and supplies, reject responsibility and dump the burden onto the states," Speaker Nancy Pelosi (Calif.), Senate Minority Leader Chuck Schumer (N.Y.), House Energy and Commerce Chairman Frank Pallone Jr. (N.J.), and Senate Health, Education, Labor, and Pensions top Democrat Patty Murray (Wash.) said in a joint statement. Read more from Alex Ruoff.
U.S. Restricts Entry From Brazil: The U.S. will prohibit the entry of most non-U.S. citizens arriving from Brazil, where coronavirus cases have spiked to the second highest in the world, expanding restrictions already placed on visitors from China and Europe. Trump later updated the order to begin today. Read more from Ros Krasny.
Churches Move Slowly After Trump Urges Opening: Trump used the words "this weekend" when he demanded Friday that states allow houses of worship to reopen. Robert Jeffress, an influential Texas evangelical pastor, spoke with Trump afterward and told him he didn't plan to open his megachurch until June 7. "He wasn't ordering every church to open," said Jeffress, the senior minister at the First Baptist Church in Dallas who's in regular contact with the president. "There's no one-size-fits all."
Houses of worship, by nature centers for community, are eager to open — especially when businesses like liquor stores, many complain, have been open throughout the deadly coronavirus pandemic. But the faithful, despite Trump's desire to cater to them politically, appear to be moving cautiously. Ian Fisher has more.
Trump Says He Finished Malaria Drug Course: Trump said he's completed his course of treatment with hydroxychloroquine, the anti-malaria drug he's touted as a therapy for Covid-19 despite an outcry from medical professionals about its unproven efficacy and potential side effects. "Finished, just finished," Trump said in an interview on "Full Measure with Sharyl Attkisson" that aired on Sunday. "By the way, I'm still here to the best of my knowledge. Here I am." Read more from Mario Parker.
Coronavirus Adds to Health Risks of Ailing 9/11 Responders: Michael Hollander has prostate cancer, thymus cancer, chronic obstructive pulmonary disease, asthma, and has had a piece of his heart removed — all linked to his emergency medical response to the terrorist attacks on Sept. 11, 2001. He's among tens of thousands of emergency medical responders, police officers, and firefighters who breathed toxic dust from the collapse of the World Trade Center, and who now have an elevated risk from coronavirus, according to doctors who treat them. Hundreds of survivors have reported contracting the virus and several have died, reports Keshia Clukey.
Governments Called to Help Thwart Health-Care Hackers: Dozens of global leaders — ranging from former heads of state to private sector executives and Nobel laureates — signed a letter calling on international governments and the United Nations to help prevent the cyberattacks that have plagued health care and research facilities during the coronavirus crisis. "We call on the world's governments to take immediate and decisive action to stop all cyberattacks on hospitals, health care and medical research facilities, as well as on medical personnel and international public health organizations," said a letter organized under the CyberPeace Institute, a nonprofit that helps hacking victims. Read more from Alyza Sebenius.
China Tensions & Foreign Affairs
Beijing Warns U.S. of Budding 'Cold War': The U.S. ought to give up its "wishful thinking" of changing China, Foreign Minister Wang Yi said, warning that some in America were pushing relations to a "new Cold War." China has "no intention to change the U.S., nor to replace the U.S. It is also wishful thinking for the U.S. to change China," Wang said yesterday during a news briefing in Beijing. Wang also criticized Washington for slowing its nuclear negotiations with North Korea and warned it not to cross Beijing's "red line" on Taiwan.
The U.S.-China relationship has worsened dramatically in the past few months as America became one of the countries worst hit by the coronavirus pandemic, which was first discovered in the Chinese city of Wuhan. The world's two biggest economies have clashed on a range of issues from trade to human rights, with Beijing's latest move to tighten its grip on Hong Kong setting a stage for another showdown between Trump and Chinese President Xi Jinping. Sharon Chen and Jing Li have more.
U.S. Hits Back at China Over Airlines: Growing tensions between the U.S. and China have expanded to the airline industry as the Transportation Department accused its counterpart in Beijing of blocking U.S. carriers' attempts to resume service there. DOT on Friday said China violated a bilateral agreement allowing airline service between the two nations by ignoring requests by Delta Air Lines and United Airlines. Read more from Alan Levin.
Grenell Says He's Leaving Post: Ric Grenell, a favorite of Trump's, confirmed in a tweet yesterday that he intends to step down as U.S. ambassador to Germany. Grenell had recently served as the acting director of the Office of the Director of National Intelligence. The Senate confirmed former Rep. John Ratcliffe (R-Texas) to the DNI post last week. Read more from Ros Krasny.
Trump Aides Weigh Nuclear Tests: Trump administration officials discussed whether to conduct the first nuclear test explosion since 1992, The Washington Post reported. A meeting of U.S. government officials representing top national security agencies discussed the matter on Friday, according to the newspaper. It surfaced after some administration representatives said Russia and China were conducting low-yield nuclear tests, "an assertion that has not been substantiated by publicly available evidence," the newspaper said, Lee reports.
Foreigner Work Program May Be Limited: The Trump administration may set limits on a program that permits international students to work in the U.S. after graduation while still on their student visa, the Wall Street Journal reported. The looming temporary restrictions are designed to aid American graduates looking for entry-level work during the pandemic-fueled downturn, the newspaper said, citing the officials. Read more from Colin Keatinge.
From the Campaign Trail
Trump Threatens to Pull GOP Convention in N.C.: Trump vowed to move the planned Republican National Convention from North Carolina unless Gov. Roy Cooper (D) guarantees that the party will be allowed full attendance regardless of pandemic restrictions. Trump took aim at Cooper in tweets yesterday saying he wanted assurance that Republicans would be allowed to gather in Charlotte at the end of August whether or not there are ongoing outbreaks.
"Plans are being made by many thousands of enthusiastic Republicans," Trump said in the tweets. "They must be immediately given an answer by the Governor as to whether or not the space will be allowed to be fully occupied. If not, we will be reluctantly forced to find, with all of the jobs and economic development it brings, another Republican National Convention site." Justin Sink has more.
RNC Sues Newsom for Mail Ballot Order: The Republican National Committee and two other groups filed a lawsuit against California Gov. Gavin Newsom (D) in a bid to block his executive order allowing mail-in ballots at the November polls, calling it an "illegal and brazen power grab." Following the coronavirus outbreak, Newsom said this month that every registered voter in the state would receive a mail-in ballot for the upcoming election. In-person voting options will also be offered. Read more from Linus Chua.
Sessions, Trump in Running Spat Over Senate Seat: Trump's former Attorney General Jeff Sessions took to Twitter to fire back at the president and his latest attempt to tip an Alabama Senate runoff election. Trump called for Sessions to "drop out." Sessions took Trump on directly in a string of tweets late Friday and Saturday, arguing he was right to recuse himself in the probe into Russian meddling in the 2016 election. He also said Trump's favored candidate in the race is a "coward." Alan Levin has more.
Biden Makes First Public Appearance in Months: Joe Biden emerged from his stay-at-home lockdown yesterday after more than 10 weeks to mark Memorial Day with a tribute to veterans. The presumptive Democratic nominee and his wife, Jill, visited the Veterans Memorial Park at the Delaware Memorial Bridge to lay down a wreath of white roses. Both wore black masks over their mouths and noses. Read more from Jennifer Epstein.
What Else to Know Today
Wray Seeks Review of Flynn Probe: FBI Director Christopher Wray ordered an internal review of how the bureau handled the investigation of Trump's former National Security Adviser and campaign aide Michael Flynn, including instances of official misconduct. The "after-action review" by the Inspection Division is set to evaluate the bureau's role in the Flynn investigation and probe whether any current FBI employees engaged in misconduct, according to a statement Friday. Read more from Billy House.
Trump to Observe SpaceX Launch: Trump plans to travel to Florida tomorrow to watch the launch of SpaceX's manned test mission to the International Space Station, according to a U.S. official, as he seeks to project an image of normalcy. It will mark the first time NASA astronauts have taken off from U.S. soil since the end of the space shuttle program in 2011. Read more from Justin Sink.
Puerto Rico Oversight Revamp Sought: A group of House Democrats unveiled a long-shot bill Friday that would overhaul the federal government's relationship with Puerto Rico, allow an independent audit of the commonwealth's billions in debt and give local authorities the power to discharge unsecured debt deemed excessive. Read more from Jim Wyss.
To contact the reporters on this story: Zachary Sherwood in Washington at zsherwood@bgov.com; Brandon Lee in Washington at blee@bgov.com
To contact the editors responsible for this story: Giuseppe Macri at gmacri@bgov.com; Loren Duggan at lduggan@bgov.com; Michaela Ross at mross@bgov.com
Stay informed with more news like this – from the largest team of reporters on Capitol Hill – subscribe to Bloomberg Government today. Learn more.