What to Know in Washington: Vote to Set Final Scene on Stimulus
The Senate is poised to vote today on whether to advance a slimmed-down Republican-crafted pandemic relief bill, opening what's likely to be the final stage of the months-long partisan battle over fiscal stimulus.
Democrats say they have the votes to block a narrowly tailored bill introduced by Majority Leader Mitch McConnell (R-Ky.) from even reaching the floor. Once that happens, it isn't clear whether negotiations might resume, or if lawmakers will leave Washington to wage their November election campaigns without approving a fresh dollop of aid to businesses and workers hurt by the Covid-19 crisis.
McConnell yesterday expressed doubt Democrats want any deal, telling reporters they appear more interested in taking their case for a big-ticket relief package to voters. Senate Minority Leader Chuck Schumer (D-N.Y.) was more optimistic, saying Republicans are under growing political pressure to get a deal and seeing signs the Trump administration is more open to compromise.
"If it's defeated, there's a decent chance they will come back to the table and we get a better bill," Schumer told reporters yesterday. "That's what we're hoping for."
For now, though, senators in both parties are hardening their positions.
Almost all Republicans are expected to vote to advance the McConnell bill, which features some of the aspects of a $1 trillion GOP proposal that many in the party balked at a month ago. It's expected to cost $500 billion to $700 billion, with some of that covered by unspent funds allocated to support U.S. Federal Reserve facilities.
Schumer and Speaker Nancy Pelosi (D-Calif.) dismissed the Republican bill as a "check-the-box" effort to give endangered incumbents cover in the November elections. Democrats can block the measure from advancing because it needs the support of 60 members to limit debate under Senate rules. Republicans hold a narrow 53-47 majority. Read more from Laura Litvan and Erik Wasson.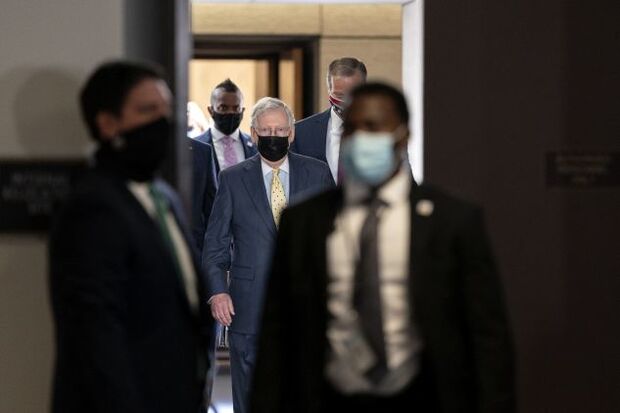 Also Happening on the Hill
Pelosi Says U.K. Must Respect Irish Pact: Pelosi said the U.K. can forget about Congress's approval for a free-trade deal with the U.S. if Britain's pullout from the European Union imperils an agreement that ended conflict in Northern Ireland. Prime Minister Boris Johnson is facing a backlash from the EU and from within his own ruling Conservative Party after his government said it's making plans to break its commitments to the bloc over the Irish border. Read more from Eric Martin.
Highway Law 1-Year Extension Pushed: A coalition of 88 transportation trade groups is urging the nation's highway law to be extended by a year, as prospects dim for a multiyear reauthorization and congressional leaders seek a short-term solution. The law that authorizes federal funding for highways, mass transit, and bridges expires at the end of the month. Top lawmakers support a one-year extension if they can't wrap up work on a longer-term bill, aides said. Read more from Courtney Rozen.
Drug Voucher Extension, Marijuana Research Bills Move: Bills related to rare pediatric diseases and marijuana used for research may come to the House floor in the coming weeks, Energy and Commerce Chairman Frank Pallone (D-N.J.) said yesterday after a markup of nearly 40 health and communications-related bills. The collection includes an extension of the pediatric priority review voucher program, which offers drug companies the chance to speed up approval of medicines if they create treatments for rare diseases. Another bill would establish a special enrollment period in Medicare for people with temporary insurance coverage. Read more from Alex Ruoff.
Elections & Politics
Biden Offshore Tax Plan Unlikely to Help Rust Belt: Democratic presidential nominee Joe Biden's plan to curb corporate offshoring and to renew domestic manufacturing may block companies from parking profits in tax havens, but may not do enough to make shuttered factories hum again. Biden's proposal uses a carrot-and-stick approach that raises taxes on a corporation's foreign profits but rewards companies with tax incentives for moving jobs and investment back to the U.S.
Biden launched a renewed focus on economic issues this week, beginning with a push to boost American manufacturing and operations. He called for a 10% tax penalty on U.S. companies that move operations overseas and a 10% tax credit for companies that create jobs in the U.S. Read more from Laura Davison.
Biden Shows Softer Tone on Policing: Biden is responding to President Donald Trump's campaign ads designed to inspire fear of protesters with a series of advertisements in key swing states that show positive messages of unity. "I've been looking to lower the temperature in this country, not raise it," Biden says in one 60-second ad, running largely on morning news and daytime television. It's targeted to metro areas in the key battleground states of Michigan, Pennsylvania and North Carolina.
Biden's language suggests a different strategy than Democrat Hillary Clinton employed in the 2016 campaign, seeking to offer voters a reason to vote for him and not just against Trump. At that time, it was Clinton on the attack and Trump running a more positive campaign. "I think it's no accident," said Erika Franklin Fowler, director of the Wesleyan Media Project, which tracks political ads. "They are intended to convey a presidential tone of calm and restoration of order. That's very much the strategy there, in contrast to Trump, who is very loud and very negative." Read more from Gregory Korte and Bill Allison.
Watchdog Eyes Hatch Act Violations at GOP Convention: An independent government watchdog will investigate whether members of the White House violated federal law during last month's Republican National Convention. The U.S. Office of Special Counsel, responding to a probe request from the House Oversight and Reform Committee, said there was enough evidence to merit an investigation into whether members of the Trump administration broke a law that prevents federal employees from using their positions for political purposes. Read more from Emma Kinery.
Ridge Pushes Pennsylvania to Process Mail-Ins Faster: Former Pennsylvania Gov. Tom Ridge (R) is urging state lawmakers to change a law barring elections officials from processing mail-in ballots before Election Day. Ridge, who is now the co-chair of the bipartisan group VoteSafe, said the state legislature should find a compromise that would allow earlier processing of mail-ins. Read more from Ryan Teague Beckwith.
Pandemic Response Helps Sununu: New Hampshire's governor heads into the election riding a wave of high approval ratings. About 70% of voters interviewed and 50% of Democrats interviewed by the University of New Hampshire Survey Center said they approve of Chris Sununu's (R) job performance, according to a poll last week of likely general election voters. Read more from Adrianne Appel.
The Coronavirus Pandemic
Trump's Own Words Add to Virus Fallout: Trump's bid to focus his re-election campaign on anything but the pandemic hit another setback yesterday, as the president acknowledged publicly downplaying the threat of the coronavirus in February even though he knew it was dangerous. Trump confirmed that he'd told journalist Bob Woodward the virus was easily transmitted and far more deadly than the flu at a time he was telling Americans not to worry about an outbreak he said would fade away. The revelation led swiftly to Democratic accusations Trump misled or lied to the public about the threat posed by the pandemic.
The president has repeatedly sought to shift the focus away from the virus as surveys show a majority of Americans disapprove of his handling of the crisis. Trump's comments lay bare a response that relied on rosy messaging over painstaking coordination with states to curb the spread of the virus. They also confirm anxieties that some voters have expressed to pollsters and others: That their leader again and again failed to take seriously a national emergency that has drastically altered their lives. Read more from Josh Wingrove and Mario Parker.
Cases Surge in Counties Sturgis Riders Hailed From: It's been just over a month since hundreds of thousands of largely unmasked motorcycle riders descended on the small town of Sturgis, S.D., raising fears the event would become a "superspreader" of the coronavirus. Now, new testing numbers combined with cellphone location data show those worries could have been well-founded.
More than 460 counties nationwide where bikers originated from and Covid-19 cases were trending downward before the rally have shown increases in the virus, a Bloomberg Industry Group data analysis shows. More than two-dozen counties in South Dakota, Minnesota, Iowa, and Texas flipped in such a manner, while significant numbers of counties in states as far away from the Dakotas as North Carolina, California, and Louisiana also made the list. Read more from Aaron Kessler.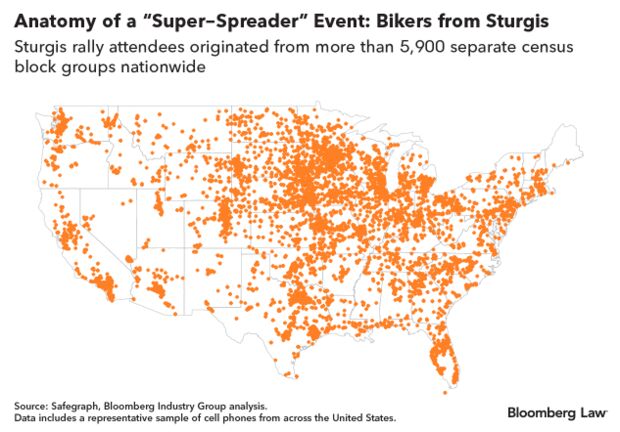 JPMorgan Finds Some Workers Pocketed Relief Funds: JPMorgan Chase found some of its employees improperly applied for and received Covid-relief money that was intended for legitimate U.S. businesses hurt by the pandemic, according to a person with knowledge of the matter. The bank discovered the actions, all of which were tied to the Economic Injury Disaster Loan program, after noticing suspicious amounts of money deposited into checking accounts owned by bank employees, said the person, who asked not to be identified because the information is private. The findings prompted an unusual all-staff message from JPMorgan Tuesday that puzzled many across the industry for its candid admission of potentially illegal acts by some of its own while not describing what they had done. Read more from Michelle F. Davis and Sridhar Natarajan.
What Else to Know Today
Pompeo Urges Asia to Cut Ties With China Firms: Secretary of State Michael Pompeo called on Southeast Asian countries to review ties with Chinese state-owned enterprises, stepping up pressure on Beijing over territorial disputes in the South China Sea. "Don't just speak up, but act," Pompeo said yesterday during a virtual summit with foreign ministers of the Association of Southeast Asian Nations. "Reconsider business dealings with the very state-owned companies that bully Asean coastal states in the South China Sea. Don't let the Chinese Communist Party walk over us and our people." Read more.
The U.S. has revoked the visas of more than 1,000 Chinese students and researchers for national security reasons, drawing protests and a threat of possible retaliation from Beijing. The visas were revoked under a measure intended to keep Chinese graduate students and researchers from stealing "technologies, intellectual property and information to develop advanced military capabilities," a spokesman for the U.S. Embassy said yesterday in a statement. Read more.
ByteDance Set to Miss Deadline for TikTok Sale: ByteDance is increasingly likely to miss a Trump administration deadline for the sale of its TikTok U.S. operations after new Chinese regulations complicated negotiations with bidders Microsoft and Oracle, according to people familiar with the matter. Read more.
A group of WeChat users trying to block the U.S. ban of the Chinese "SuperApp" can't challenge Trump's authority to make national security decisions, the U.S. said. "To hold otherwise would allow a group of social media users to substitute their subjective judgment" for that of the president "merely because they are unable to use an app that they prefer," the government said yesterday in a filing in San Francisco federal court. Read more from Edvard Pettersson.
HUD's Fair Housing Rules Hobble Discrimination Enforcement: With twin rules released this summer by the Department of Housing and Urban Development, the Trump administration has fundamentally revised how the federal government polices bias by landlords, lenders, and others in the housing industry. Civil rights advocates say the changes undermine anti-discrimination principles that have stood for more than 50 years, casting aside federal tools for enforcing the Fair Housing Act of 1968, a tentpole of Civil Rights legislation. Read more from Kriston Capps.
Companies Aim to 'Lock In' Water Rule Exemptions: Coal miners, stone quarrying companies, and other businesses are rushing to lock down any exemptions to federal water regulations for at least five years, under changes the Trump administration recently made to the nation's water rule. Read more from Amena H. Saiyid.
Amazon Adds Former General to Its Board: Amazon has added a retired four-star general to its board as the company seeks to deepen business ties with U.S. armed forces. Keith Alexander served as director of the National Security Agency and was the first commander of the U.S. Cyber Command, playing a key role in beefing up America's digital warfare capabilities. Alexander retired from the Army in 2014. Read more from Matt Day.
Diplomat's Wife Sued by Family of U.K. Teen: The family of a British teenager who died last year in a car crash involving the wife of a U.S. diplomat sued the American woman and her husband in federal court in Virginia. U.K. authorities have charged the diplomat's wife, Anne Sacoolas, with dangerous driving, saying she was on the wrong side of the road when she collided head-on with 19-year-old Harry Dunn, who was riding a motorcycle. David Yaffe-Bellany have more.
To contact the reporters on this story: Zachary Sherwood in Washington at zsherwood@bgov.com; Brandon Lee in Washington at blee@bgov.com
To contact the editors responsible for this story: Giuseppe Macri at gmacri@bgov.com; Loren Duggan at lduggan@bgov.com; Michaela Ross at mross@bgov.com