What to Know in Washington: Virus Relief Talks at a Stalemate
Democrats and Republicans have given no ground after three days of negotiations on a virus relief package as enhanced unemployment insurance for millions of out-of-work Americans and protections from evictions run out.
"We are still very far apart on a lot of issues," Treasury Secretary Steven Mnuchin said after leaving Speaker Nancy Pelosi's (D-Calif.) office last night.
Mnuchin said he and White House Chief of Staff Mark Meadows expect to return to the Capitol today for more talks as the clock winds down on several key elements of the economic stimulus measure passed in March. The two sides have to bridge significant differences between the $1 trillion stimulus plan the GOP released Monday and the $3.5 trillion package House Democrats passed in May.
Senate Majority Leader Mitch McConnell (R-Ky.) tried to strike a note of optimism about the talks.
"Many things around here happen at the last minute," McConnell said on PBS's "NewsHour" program after the day's talks concluded. "This is only Wednesday, so hope springs eternal that we'll reach some kind of agreement either on a broad basis or a more narrow basis to avoid having an adverse impact on unemployment."
There was growing pressure among Republicans for a stopgap bill to extend supplemental federal unemployment insurance and protections against eviction that were part of the last stimulus legislation and have now expired. President Donald Trump also weighed in favor of a temporary measure.
McConnell said he was "looking at all options," but Pelosi and Senate Minority Leader Chuck Schumer (D-N.Y.) again rejected the idea. Daniel Flatley, Laura Litvan and Erik Wasson have the latest.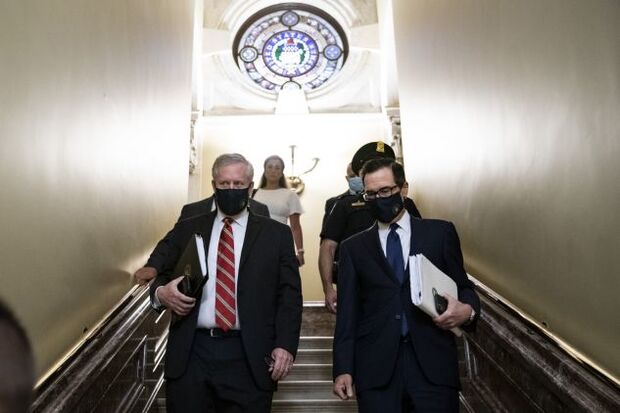 Millions Still Waiting for Virus Payments: The poorest Americans are among the least likely to have received a direct payment authorized by the federal government four months ago. While they continue to wait for their first relief check, lawmakers are talking about sending out another round.
The IRS has issued about 160 million economic impact payments approved under March's CARES Act, distributing hundreds of billions of dollars in aid through direct deposits, paper checks, and prepaid debit cards. But that leaves millions of eligible people who haven't received a payment of up to $1,200 per individual and $2,400 for married couples. The hardest part about reaching those individuals is they don't normally file a tax return because they don't have enough income, so the IRS simply doesn't know who they are, said Terry Lemons, the agency's chief of communications and liaison. Read more from Allyson Versprille.
White America's Head Start on Small-Business Virus Relief: The U.S. government's small-business relief program delivered an outsize number of loans to predominantly White parts of the country in its first two weeks of operation, leaving firms in mostly Hispanic and Black areas to wait until a second tranche of funds was made available, according to a Bloomberg News analysis of Small Business Administration data.
In the first round of the Paycheck Protection Program in April, 27% of businesses in congressional districts with a majority of non-Hispanic White residents received loans compared with 17% in districts where minorities make up more than half the population. The difference was starkest in the 36 majority-Hispanic districts, where only 15% of firms were able to tap into the $349 billion of available funds before they ran out on April 16.
Only after Congress appropriated an additional $320 billion and money began flowing again on April 27 did the situation reverse, and sections of the country left behind in the first round caught up, the analysis found. The examination of disparities in SBA lending is part of a larger Bloomberg News effort to track how the government's $3 trillion of pandemic relief is being spent, who's getting left out and how effective the various aid programs have been. Read more from Jason Grotto, Zachary R. Mider and Cedric Sam.
Powell Says More Fiscal Policy Necessary: Federal Reserve Chairman Jerome Powell said more fiscal policy will be needed to provide support to the financial recovery, which is at risk of slowing as coronavirus cases spike in several states. Powell praised Congress for earlier, strong fiscal action, saying the funding was "well spent" because it helped to keep businesses open and consumers in their homes during what he said was "the biggest shock" to growth in living memory. "There will be a need both for more support from us and for more fiscal policy," he said yesterday. Read more from Craig Torres and Misyrlena Egkolfopoulou.
Happening on the Hill
Lewis's Last Words: Rep. John Lewis (D-Ga.) will be laid to rest today after a funeral at Atlanta's Ebenezer Baptist Church. In an Op-Ed for today's New York Times, Lewis writes on race, his legacy, and the hope he sees in the current movement. "Ordinary people with extraordinary vision can redeem the soul of America by getting in what I call good trouble, necessary trouble," Lewis writes. "Voting and participating in the democratic process are key. The vote is the most powerful nonviolent change agent you have in a democratic society. You must use it because it is not guaranteed. You can lose it."
Pelosi Mandates Face Masks in House: Pelosi is making masks mandatory for all members while in the chamber after Rep. Louis Gohmert (R-Texas), who is frequently seen walking the halls of the Capitol without a mask, said that he has tested red to wear masks at all time in the hall of the House" except when members are recognized to speak, Pelosi said on the floor. "The chair wishes to further inform members and staff that they will not be permitted to enter the hall of the House without wearing a mask." Read more from Billy House.
House Advances Child-Care Bills: The nation's child-care providers would receive $60 billion in emergency funding and an additional $50 billion over five years in aid under two bills the full House passed yesterday. Democratic leaders want the bills to be incorporated into a future virus stimulus package.
The Child Care Is Essential Act (H.R. 7027) would give providers the $50 billion in funding industry leaders have said is necessary to weather the public health emergency. The Child Care for Economic Recovery Act (H.R. 7327) would provide $10 billion in emergency funding for infrastructure grants to help providers make health and safety modifications to their facilities, plus another $10 billion each year to further child-care entitlements to states through fiscal 2024. Read more from Jaclyn Diaz.
NLRB's Kaplan for New Term: The Senate yesterday voted 52 to 46 to confirm current Republican National Labor Relations Board member Marvin Kaplan for another five-year term, fortifying a GOP majority well into 2021. Kaplan will be serving his second term on the NLRB's five-seat leadership panel. With Kaplan's existing term set to end Aug. 27, a failure to confirm him would have resulted in loss of quorum and brought board functions at the highest levels to a halt. Read more from Ian Kullgren and Hassan A. Kanu.
What to Know About Big Tech's Antitrust Hearing: The leaders of Alphabet, Apple, Facebook, and Amazon defended themselves in Congress yesterday against allegations that their companies have broken antitrust rules and need to be reined in. Unlike previous hearings, most of the politicians came armed with tough, focused questions, backed up by a mountain of subpoenaed documents and other information gathered in a yearlong investigation. The event featured some of the typical beltway grandstanding. But there were also moments when lawmakers forced executives to concede new information, some of which could be used to rewrite aging U.S. competition law for the digital age. Gerrit De Vynck recaps the highlights.
Meanwhile, House Judiciary Antitrust Chairman David Cicilline (D-R.I.) told reporters he expects a year-long report on large tech antitrust issues to be completed in about a month. Cicilline said that the report is likely to be finished by the end of August or early September, Rebecca Kern reports.
Elections & Politics
Trump Scoops Up Fall TV Time: Democratic nominee Joe Biden has yet to buy a single ad for the post-Labor Day home stretch of the long 2020 campaign, giving President Donald Trump a crucial advantage in messaging wars as voters begin to make up their minds. Trump's $144 million of early ad buys for September through Election Day show the hidden strength of Trump's war chest, even as Biden has started to close the fundraising gap with the incumbent.
By buying ads in advance, Trump is locking in the most valuable markets and time slots and potentially blocking out competing advertisers like the Democratic nominee. And he can do it at favorable rates. Federal Communications Commission rules require broadcasters to offer candidates for federal office — but not parties or super PACs — the lowest rate that they charge commercial advertisers in the same time slots. Ad rates can go up as the election approaches and demand increases. Read more from Gregory Korte and Bill Allison.
Virginia's Riggleman Considering Governor Bid: Virginia Republican Representative Denver Riggleman said he's seriously considering running for governor, just weeks after his own party voted against giving him a second term in Congress. Read more from Skylar Woodhouse and Kevin Cirilli.
What Else to Know Today
Texas, California, Florida Break Death Toll Records: U.S. deaths from the novel coronavirus disease surpassed 150,000, the highest official toll in the world and another grim milestone in a pandemic that is still raging across the U.S. Three of the country's most populous states—Texas, Florida, and California— reported a record number of daily fatalities yesterday.
Deaths continue to rise even though the wave of new infections that began in June, sweeping across the South and West, appears to have leveled off. New cases reported each day are holding even or falling in half of U.S. states, according to Johns Hopkins University statistics, as public officials impose mask orders and freeze efforts to restart their economies. But fatalities still increase, as people stricken by the virus weeks earlier succumb. Read more.
Trump's Green Card Wealth Test Rule Blocked During Pandemic: The Trump administration was blocked by a federal judge from screening out green card applicants who might become dependent on public benefits during the national emergency over the coronavirus. Read more from Chris Dolmetsch.
Panel Denies DeVos Attempt to Punish Accreditor: A federal advisory panel voted yesterday to reject a Trump administration proposal to penalize a college accreditor, the Higher Learning Commission, for pulling approval from two for-profit colleges in 2017. A report from House Democrats this week found that a top aide to Education Secretary Betsy DeVos had wrongly pressured the accreditor to restore accreditation for two Art Institute campuses after they were acquired by Dream Center Education Holdings along with a chain of other for-profit schools, Andrew Kreighbaum reports.
Ginsburg Hospitalized After 'Minimally Invasive' Procedure: Justice Ruth Bader Ginsburg underwent a "minimally invasive," non-surgical procedure to address an issue with a stent in her bile duct and is recovering in a New York City hospital, the U.S. Supreme Court said. "The justice is resting comfortably and expects to be released from the hospital by the end of the week," the court said. Read more from Greg Stohr.
Supreme Court Justices Make Rare Public Appearances: Two Supreme Court justices appeared in public this week in the kind of sightings that have become rare since the Covid-19 pandemic forced them to end the term while working remotely. Stephen Breyer attended the American Bar Association's first virtual annual meeting yesterday, and Justice Sonia Sotomayor visited the U.S. Capitol Rotunda in person to pay respects to civil rights leader Rep. John Lewis (D-Ga.) this week. Read more from Kimberly Strawbridge Robinson.
Zoom Courts Are Here to Stay: Virtual court proceedings will probably outlive the Covid-19 pandemic, as even skeptical judges and lawyers say that they've made depositions, oral arguments, and jury selection much more efficient. Courts forced to accelerate years of innovation into weeks may never go back to how they did business before the pandemic, according to interviews with more than 30 state and federal judges, lawyers and court staff in 16 U.S. states and the District of Columbia. Read more from Allie Reed and Madison Alder.
SpaceX Nears Final Test: The U.S. will welcome back two astronauts from the International Space Station this weekend as SpaceX stages the first crewed return flight of its Dragon vehicle with a splashdown off the Florida coast.
The planned re-entry flight has passed a flight-readiness review, the National Aeronautics and Space Administration said yesterday. A tropical storm forming southeast of Florida remains the biggest risk for a potential delay in the crew's return, officials from the U.S. space agency told reporters. Read more from Justin Bachman.
Trump Lets Keystone Line Ship More Oil: The Trump administration will allow the existing Keystone pipeline to carry more oil-sands crude into the Midwest and U.S. Gulf Coast while the conduit's decade-old expansion project faces renewed legal hurdles. Read more from Robert Tuttle.
China Researcher Left Consulate Expecting Arrest: A Chinese researcher left the protection of her country's San Francisco consulate expecting to get arrested by U.S. authorities, her lawyer said, in the latest wrinkle in a case that has helped fuel historic tensions between the two sides. Read more from Joel Rosenblatt.
Hong Kong Bars Activist Joshua Wong from Election: Hong Kong's government barred 12 pro-democracy activists including Joshua Wong from running in September elections and said more could be disqualified, confirming fears that officials would use a new security law to deny them the chance to achieve a legislative majority. Read more from Natalie Lung and Iain Marlow.
A New Nuclear Model Could Upend Bombs Count: Nuclear analysts from the U.S. and Russia settled on a new method to account for atomic weapons that may shrink estimates on the size of North Korea's arsenal and could be used to aid future disarmament. Read more from Jonathan Tirone.
With assistance from Andrew Kreighbaum
To contact the reporters on this story: Zachary Sherwood in Washington at zsherwood@bgov.com; Brandon Lee in Washington at blee@bgov.com
To contact the editors responsible for this story: Giuseppe Macri at gmacri@bgov.com; Loren Duggan at lduggan@bgov.com; Michaela Ross at mross@bgov.com