What to Know in Washington: Virus Relief Standoff Leaves Damage
Bloomberg Government subscribers get the stories like this first. Act now and gain unlimited access to everything you need to know. Learn more.
There were plenty of casualties left in the rubble of failed negotiations on another trillion-dollar-plus rescue package for a U.S. economy mired in a historic, pandemic-induced recession.
Worst hit are the families, businesses, and state and local governments that have had a safety net pulled out from under them at a time some data suggest that recent gains in employment may be transitory as the continuing spread of Covid-19 infections forces a retrenchment.
In Washington, the political damage is widespread. But the biggest impact may be on President Donald Trump.
The president on Saturday took some modest steps to try to mitigate the economic impact — diverting disaster money to boost unemployment insurance, and suspending collection of payroll taxes for some workers.
Trump said his actions "will take care of, pretty much, this entire situation." But many economists disagree, and even his own top aides have admitted they're no substitute for a legislative deal.
One thing Trump's response didn't do was spark an immediate return to the bargaining table. Treasury Secretary Steven Mnuchin said yesterday the administration would listen to any proposal put up by Democrats. Speaker Nancy Pelosi (D-Calif.), asked on CNN whether talks would resume after two weeks of fruitless negotiations with the White House, offered only, "I hope so."
Trump said last night that Democrats have contacted the administration "and want to get together" and may be more inclined now to negotiate. Two Democratic congressional aides said Pelosi and Senate Minority Leader Chuck Schumer (D-N.Y.) have had no contact with the White House since Friday. No new talks have been scheduled. Steven T. Dennis and Mike Dorning have the latest.
Orders Poised to Face Legal Challenges: Throughout his presidency, Trump has faced a barrage of lawsuits from Democrats and liberal advocacy groups challenging his broad assertions of executive power, usually over contentious issues, like his crackdown on sanctuary cities or his refusal to cooperate with congressional investigations. With Saturday's actions, Trump is vying to wrest core powers away from Congress. In the coming weeks, his orders are likely to get tied up in litigation over whether they violate core constitutional principles like the separation of powers. Read more from David Yaffe-Bellany.
States Wary of Move For Them to Kick In on Federal Aid: A day after Trump took executive action to offer $400 per week in supplemental unemployment benefits, including 25% he said should be kicked in from state coffers, governors pushed back. The leaders of states including New York and Michigan said Trump's plan ignores the cash-strapped reality of most states, which have deep budget holes as a result of the coronavirus pandemic.
New York Gov. Andrew Cuomo (D) said the president's order was based on "shaky ground legally" and it was "impossible" for states to pay. "The concept of saying to states 'you pay 25% of unemployment insurance' is just laughable," Cuomo said on a call with reporters yesterday. "The whole issue here was getting states funding."
Michigan Gov. Gretchen Whitmer (D) said Trump is ordering states "that are facing severe holes" in their budgets to pay 25% of the funding while the federal government cuts funding for unemployed workers. "His refusal to provide full federal funding to states across the country to help us combat this virus will hurt the brave men and women on the front lines," Whitmer said in a statement. Read more from Yueqi Yang.
What to Watch This Week
Lawmakers are not officially on an August recess, but very little work is scheduled in Washington as negotiations continue over the next round of stimulus aid.
The Senate meets today at 3 p.m., with no votes scheduled. Senators will receive 24-hours notice before any votes. The House meets for a pro forma session tomorrow at noon. Not votes are scheduled, and lawmakers will similarly be give 24-hours notice before votes.
No hearings are scheduled in either chamber.
On Trump's schedule today is lunch with Vice President Mike Pence at 12:30 p.m. White House Press Secretary Kayleigh McEnany will hold a press briefing at 1 p.m.
Primaries tomorrow in Connecticut, Vermont, and Wisconsin are mainly formalities. But in Minnesota, Democrat Ilhan Omar is defending her House seat for the first time, a test for the bloc of progressive first-term Democratic women of color dubbed "The Squad."
BGOV Elections Webinar: Bloomberg Government's elections reporters Greg Giroux and Emily Wilkins will host a webinar this Thursday looking into the races ahead. Find out more and register here.
The Coronavirus Pandemic
U.S. Passes 5 Million Cases: Covid-19 cases in the U.S. crossed 5 million, adding a million cases in just over two weeks, according to data from Johns Hopkins University. The nation with the worst coronavirus outbreak hit 4 million cases on July 23, amid a skyrocketing outbreak in the Sunbelt and political fights over the Trump administration's handling of the virus response. Daily numbers are down from recent peaks. Total deaths are 162,441. Read more.
Sharp, Short U.S. Recession Giving Way to Longer-Term Scarring: The pandemic-induced downturn initially had hints of being the sharpest but shortest U.S. recession on record. Now there are increasing signs of economic scarring that resemble past slumps. Beneath a headline number showing a better-than-expected gain in July jobs, the government's employment report contained indications of underlying weakness. Payrolls remain 13 million below pre-pandemic levels and the number of people out of work for 15 weeks or longer more than doubled from the prior month, to 8 million. The labor-force participation rate fell for the first time in three months and the number of people discouraged by job prospects hit a five-year high. Read more from Reade Pickert and Katia Dmitrieva.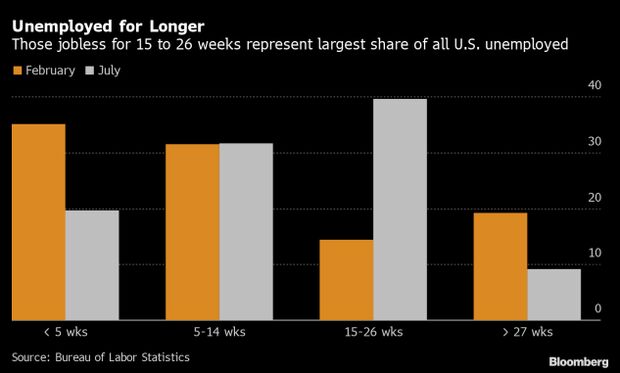 Nursing Homes to Get Another $5 Billion: U.S. nursing homes will get another $5 billion in federal pandemic aid funding, the Trump administration announced Friday. Part of the money will go only to facilities that meet certain performance-based metrics, unlike previous distributions from the Congress-approved pandemic relief fund. Facilities will be evaluated based on the local Covid-19 infection rate and the nursing home's ability to minimize cases and fatalities among residents. Read more from Tony Pugh.
Kodak's $765 Million Loan on Hold Pending Probe: The federal agency that announced a $765 million loan to Eastman Kodak less than two weeks ago said the offer is on hold pending probes into allegations of wrongdoing. "Recent allegations of wrongdoing raise serious concerns," the U.S. International Development Finance Corporation said in a tweet Friday night. "We will not proceed any further unless these allegations are cleared." Congress and the Securities and Exchange Commission are investigating the deal, and Kodak's board said Friday it is also opening a review of the loan disclosure. Read more from Eric Newcomer.
Elections & Politics
Kahele Wins Hawaii Primary for Gabbard's Seat: Kai Kahele won Hawaii's Democratic primary this weekend and is the overwhelming favorite to win the seat being vacated by Rep. Tulsi Gabbard (D) in November in heavily Democratic Hawaii. Kahele had such an advantage over his competitors that he spent the past four months on active duty in the Hawaii National Guard helping the state respond to the coronavirus pandemic, the AP reports.
Puerto Rico to Partially Redo Botched Primary: Puerto Rico will partially redo yesterday's key gubernatorial primary election Aug. 16 after ballots failed to arrive at some polling centers, leaving many who ventured out amid the pandemic unable to cast their vote. Gov. Wanda Vazquez, who is facing a challenge from within her New Progressive Party, or PNP, said no results would be released until everyone gets an opportunity to vote. Read more from Jim Wyss.
Biden Leads in Wisconsin, Pennsylvania: Joe Biden leads Trump in Wisconsin and Pennsylvania, two states won by the incumbent in 2016, according to a CBS survey. Biden is up six percentage points in each state, 48% to 42% in Wisconsin and 49% to 43% in Pennsylvania, the poll shows. By a wide margin, respondents said the situation in America is going "badly," and Trump's handling of the virus was a major issue. Two thirds of those polled also reported disliking how Trump "handles himself personally." Read more from Ros Krasny.
Biden Needs Powell on Board to Fix Race Gaps: Biden's promise to bridge the racial wealth gap needs buy-in from one powerful person—Federal Reserve Chair Jerome Powell—and he doesn't sound convinced. Biden said he wants the Federal Reserve to "aggressively" target inequality, even leaving open the possibility of asking Congress to create a third mandate for the central bank. Powell has acknowledged that the U.S. central bank can run the economy hotter than once thought, helping the benefits of a tighter labor market reach minority communities. But he's downplayed the idea of a direct role in addressing racial inequality, saying in July that its underlying causes "are not related to monetary policy." Saleha Mohsin and Catarina Saraiva have more.
Spy Agencies Say China, Iran, Russia Target Elections: China and Iran are working to sway U.S. voters against Trump while Russia is working against his rival, Biden, intelligence agencies said Friday. "Many foreign actors have a preference for who wins the election, which they express through a range of overt and private statements; covert influence efforts are rarer," National Counterintelligence and Security Center Director William Evanina said in a statement. Acting Senate Intelligence Chairman Marco Rubio (R-Fla.) and ranking member Mark Warner (D-Va.) put out a joint statement calling for the release of all possible information about election interference to fight it. Read more from Gregory Korte and Alyza Sebenius.
Defense & Foreign Affairs
Top U.S. Official Visits Taiwan: On the most senior visit by an American official in more than four decades, Health and Human Services Secretary Alex Azar hailed Taiwan's democracy and praised President Tsai Ing-wen's response to the pandemic in comments likely to stoke tensions with China. "It is a true honor to be here to convey a message of strong support and friendship from President Trump to Taiwan," Azar said when meeting Tsai in prepared remarks. He called Taiwan's democracy "an inspiration to the region and the world" and said he wanted to use the visit "to learn about how our shared democratic values have driven success in health."
Azar later witnessed the signing of a memorandum of understanding that called for strengthening cooperation on global health security and developing vaccines — the first such agreement between U.S. and Taiwanese health authorities. He said that the U.S. would remain the largest funder of public health even after Trump's decision to withdraw from the World Health Organization. "We will of course talk to Taiwan and other entities as we go forward," he added. Read more from Samson Ellis and Cindy Wang. Read more from Samson Ellis and Cindy Wang.
TikTok to Sue Trump as Soon as Tomorrow: TikTok will file a federal lawsuit as soon as tomorrow to fight Trump's executive order barring the social media app from the U.S., National Public Radio reported. The lawsuit will be filed in the U.S. District Court for the Southern District of California, where the firm's U.S.-based operations are located, NPR said. It will argue Trump's action is unconstitutional because it failed to give the company a chance to respond and that the national-security justification for the order is baseless, according the report. Belinda Cao and Yueqi Yang have more.
China Avoids Top Trump Aides in Retaliatory Sanctions: China said it will sanction 11 Americans in retaliation for similar measures imposed by the U.S. on Friday, but the list doesn't include any members of the Trump administration. Those sanctioned include Sens. Rubio, Ted Cruz (R-Texas), Tom Cotton (R-Ark.) and Pat Toomey (R-Pa.); Rep. Chris Smith (R-N.J.); Human Rights Watch Executive Director Kenneth Roth; National Endowment for Democracy President Carl Gershman; and Michael Abramowitz, the president of Freedom House, Chinese Foreign Ministry spokesman Zhao Lijian told a briefing in Beijing today.
"In response to the U.S.'s wrong behaviors, China has decided to impose sanctions on those individuals who behaved badly on Hong Kong-related issues," Zhao said. He did not specify what the sanctions would entail. Read more.
Global Powers Offer Aid for Blast-Hit Lebanon: World leaders pledged almost $300 million to support the Lebanese people after last week's deadly explosion that destroyed large parts of Beirut and unleashed a new burst of protest against a ruling class many blame for the country's downward spiral. As anger mounted over the government's role in the devastating blast, ministers and lawmakers started quitting their posts. Two ministers resigned yesterday, and local LBCI television reported today that the justice minister had joined them. According to Lebanese law, if more than one third of the cabinet's 20 members resign, then the government would be automatically dissolved. Read more from Helene Fouquet, Layan Odeh and Lin Noueihed.
Afghanistan to Free 'Worst' Taliban Prisoners: Afghanistan's government will free hardened Taliban prisoners and clear the final hurdle for direct peace talks with the insurgent group and end the 19-year war. President Ashraf Ghani said he'll accept the recommendation of the Loya Jirga, a grand national assembly of 3,400 influential members of society, which sought to free 400 Taliban prisoners "in order to remove the obstacles to the start of peace talks, stop the bloodshed and serve the common good." Read more from Eltaf Najafizada.
Gulf Council Seeks Iran Arms Ban Extension: The Gulf Cooperation Council is calling on the United Nations Security Council to extend a weapons embargo on Iran, an effort that dovetails with U.S. efforts to persuade Russia and China not to veto a resolution the Trump administration plans to introduce. In a letter over the weekend, the GCC asked the Security Council to extend the embargo and impose additional measures "necessary to prevent the destabilizing proliferation of Iranian weapons," such as a targeted asset freeze. Read more from Nick Wadhams.
Around the Administration
Trump Preps Pre-Existing Condition Mandate: Trump said he'll be "pursuing" an executive order in the next two weeks requiring health insurance companies to provide coverage for pre-existing conditions for every customer. "We have to cover pre-existing conditions. This has never been done before, but it's time the people of our country are properly represented and properly taken care of," he told reporters in New Jersey on Friday.
The Affordable Care Act, which the White House is vying to strike down in court, protects patients with pre-existing conditions. The president has long promised, but never delivered, a comprehensive health plan that may replace Obamacare. Last month, Trump pledged a full health plan that was supposed to have arrived at the start of last week, but it did not. Read more from Justin Sink.
Trump Oversees All-Time Low in White Collar Crime Enforcement: Trump calls himself the "law and order" president, but when it comes to white collar crime, he has overseen a significant decline in enforcement. The prosecution of securities fraud, antitrust violations and other such crimes has hit a record low as the pandemic slows the courts, according to one tracking service. But even before the coronavirus, the numbers were falling under the Trump administration.
The average annual number of white collar defendants was down 26% to 30% for Trump's first three years in office from the average under President Barack Obama, according to data from the Justice Department and Syracuse University, respectively. The trend also shows up in fines on corporations, which fell 76% from Obama's last 20 months to Trump's first 20 months, according to Duke University law professor Brandon Garrett. Read more from Patricia Hurtado, Chris Dolmetsch, Clare Roth and David Voreacos.
Democrats Decry Post Office Overhaul: The U.S. Postal Service overhauled its organizational structure, as Democrats called for an investigation into whether the changes implemented by Trump's postmaster general pose a threat to mail-in ballots for the November election. Postmaster General Louis DeJoy on Friday said the new structure, organized around three business units, will increase the service's efficiency by reducing costs and boosting revenue. Democrats already have raised alarms over mail delays that they worry may tilt the election results. Read more from David McLaughlin.
FAA Workers Say Managers Have Pro-Boeing Bias: Front-line aviation safety specialists for the U.S. government say they fear industry concerns come first, and that senior managers aren't held accountable for pro-business decisions, according to the results of an employee survey. Surveys and focus groups of FAA employees conducted after two fatal crashes of the Boeing 737 Max found widespread concern among the agency's field employees. Some of the polling was done anonymously. A summary of the results was sent to Congress on Friday and obtained by Bloomberg News. Alan Levin has more.
Federal Contractors Unfazed by Trump Move to Shield U.S. Workers: Trump's recent executive order directing federal agencies to review contracts for the displacement of American workers with H-1B visa holders may be more of a political move than an impetus for immediate change. Attorneys who consult contractors on compliance matters don't immediately view the order as an indicator of more regulatory hoops for companies to jump through. It's instead seen as a mandate agency heads will first have to tackle. They're also aware that presidents often view federal contractors as a testing ground for policies. Read more from Genevieve Douglas and Paige Smith.
To contact the reporters on this story: Zachary Sherwood in Washington at zsherwood@bgov.com; Brandon Lee in Washington at blee@bgov.com
To contact the editors responsible for this story: Giuseppe Macri at gmacri@bgov.com; Loren Duggan at lduggan@bgov.com; Michaela Ross at mross@bgov.com
Stay informed with more news like this – from the largest team of reporters on Capitol Hill – subscribe to Bloomberg Government today. Learn more.