What to Know in Washington: Virus Relief Details Set for Release
Bipartisan negotiators on a $908 billion pandemic relief package are planning to unveil more details of their proposal today, aiming to settle on language that can satisfy enough Republicans and Democrats to secure passage of one final tranche of Covid-19 aid before Congress breaks for the year.
The outline of the plan spurred a flurry of optimism last week when it won the endorsement of Speaker Nancy Pelosi (D-Calif.), Senate Minority Leader Chuck Schumer (D-N.Y.) and a number of Republican senators as a basis for fresh talks after a half-year of stalemate.
Sen. Bill Cassidy (R-La.), part of the group behind the proposal, said yesterday he was confident President Donald Trump and Senate Majority Leader Mitch McConnell (R-Ky.) "will come on board" with the plan, which he emphasized was a short-term boost for a nation still reeling from the pandemic.
"This is not a stimulus bill, it's a relief bill," he said on Fox News Sunday. "And it's something for the next three to four months to help those in greatest need."
Still, complaints grew as lawmakers expressed disappointment at missing elements and items that they wanted excluded.
Sen. Bernie Sanders (I-Vt.) said he'd oppose the compromise because it lacked $1,200 individual stimulus checks, something that President-elect Joe Biden also wanted included. McConnell and other Republicans are skeptical about the scale of $160 billion in aid assigned to states, which GOP members have criticized as an improper bailout.
"We're trying to narrow the scope, get the relief out there flowing" to the priority areas both sides can agree on, said Rep. Tom Reed (R-N.Y.), co-head of the bipartisan Problem Solvers group that's also backing the package. "We were trying to get to that sweet spot, that common ground."
Congressional leaders in both parties say the pandemic relief bill will be attached to an omnibus government-funding bill that covers appropriations into 2021. A stopgap measure that prevents a government shutdown runs out on Dec. 11, and lawmakers are considering another one that would last a week, giving Congress until Dec. 18 to wrap up both appropriations and the coronavirus assistance package. Read more from Erik Wasson and Laura Litvan.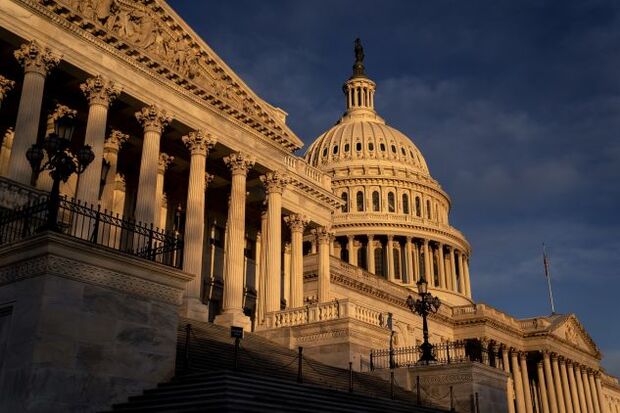 Also Happening on the Hill
Lawmakers Eye One-Week Spending Bill: Lawmakers are tentatively planning to introduce a one-week stopgap spending bill in order to avert a partial U.S. government shutdown after the current temporary funding measure expires on Dec. 11, people familiar with the plan said. The bill would keep the government open through Dec. 18, as lawmakers continue work on a giant $1.4 trillion full-year spending bill to complete appropriations for the fiscal year that began on Oct. 1. Congressional Republicans and Democrats both aim to attach a Covid-19 relief package to that 12-part omnibus spending bill. The House will likely vote on the one-week continuing resolution sometime midweek, a House Democratic aide said. Read more from Erik Wasson.
Expiring Tax Perks See Extra Hurdle to Virus Aid: The annual scramble to pass temporary tax breaks is underway—but their fate is tied to thorny negotiations on two other issues. Extenders are typically packaged with must-pass legislation in order to move through both chambers. Two options are the omnibus funding bill lawmakers hope to pass this week to stave off a Dec. 11 shutdown, or a virus relief package that's also being negotiated. There are 33 tax extenders expiring at the end of the year. Among the industry groups upping the pressure on lawmakers are those representing the wine, beer, and distilled spirits industry and those that support a tax credit for distressed areas known as the New Markets Tax Credit. Read more from Kaustuv Basu.
Trump Defense Veto Puts Funds at Risk: The Pentagon would miss out on almost $6 billion for new construction projects to protect military bases, munitions, and nuclear weapons if Trump's veto of the annual defense authorization bill succeeds. The Defense Department can't spend money on new military construction projects until they are authorized in the defense policy bill. That would also include close to $400 million for special operations training facilities; $590 million for schools, daycare centers, and barracks; $200 million for base safety; and $900 million to overhaul shipyards, according to a list compiled by the House Armed Services Committee.
The fiscal 2021 defense policy bill also continues authorizations for military bonuses, hazard pay, and special allowances and benefits for civilians serving in combat zones, all of which expire Dec. 31.
Trump vowed to veto the defense authorization bill because congressional leaders refused to include provisions abolishing a technology company liability shield, which is unrelated to defense. The House is scheduled to vote on the measure tomorrow. Read more from Roxana Tiron.
House Sets Tuesday Vote on Water Resources Bill: The House tomorrow plans to vote on a broad, bipartisan water infrastructure package that focuses on Army Corps of Engineers projects. The 2020 Water Resources Development Act, which House and Senate negotiators have been working on in an informal conference over the past several weeks, is on the House calendar for tomorrow under a procedure used to quickly move non-controversial bills by requiring a two-thirds majority for final passage.
The package does not include any sections on drinking water and clean water, which some groups pushed for, Kellie Lunney reports. "It is disappointing Congress was unable to provide needed new funding for public clean water utilities in the final WRDA package, especially given the amazing work these utilities have done on the front lines of public health protection since the beginning of the COVID-19 pandemic," said Nathan Gardner-Andrews, general counsel and chief advocacy officer of the National Association of Clean Water Agencies. For a complete look at the updated bill, read the BGOV Bill Summary by Adam M. Taylor.
Georgia Runoffs Carry Big Stakes: The dual runoff elections for Georgia's two Senate seats is an unprecedented all-or-nothing showdown to determine control of the chamber and the fate of Biden's agenda in Congress, drawing a record flood of money and top political names. With the Senate on the line, both parties and allied groups are spending big on advertising and furious get-out-the-vote drives to sway the Jan. 5 vote. Trump held a nearly two-hour rally in Georgia on Saturday and Vice President Mike Pence campaigned there on Friday. For the Democrats, former President Barack Obama held a virtual rally and Biden may campaign there as well. Billy House breaks down the state and stakes of the runoff.
Letlow Wins Republican Runoff in Louisiana: Luke Letlow defeated state Rep. Lance Harrid in Saturday's runoff election for the House seat of retiring Rep. Ralph Abraham (R-La.), AP reports. Letlow is a former Abraham chief of staff and was backed by House Minority Leader Kevin McCarthy (Calif.).
The Biden Administration
Biden Taps Becerra, Murthy to Lead Pandemic Response Health Team: Biden named Xavier Becerra as his Health and Human Services secretary on Monday, tasking the California Attorney General with curbing the coronavirus pandemic and expanding the Affordable Care Act. Biden also announced he was tapping Vivek Murthy as Surgeon General, a job he held previously. Rochelle Walensky, the infectious diseases chief at Massachusetts General Hospital, was named director of the Centers for Disease Control and Prevention.
Rounding out Biden's team to help combat the coronavirus pandemic are Marcella Nunez-Smith as Covid-19 Equity Task Force Chair, a new job that will coordinate the government's response to the virus; Anthony Fauci, who will serve as the president's chief medical adviser as well as keep his current position as director of the National Institute of Allergy and Infectious Diseases; and Jeff Zients as coordinator of the Covid-19 response and counselor to the president. Former White House and Pentagon senior adviser Natalie Quillian will serve as Zients' deputy coordinator. Read more from Jennifer Epstein and Josh Wingrove.
Biden Says He'll Take Vaccine, Wants It to Be Free: Biden said that he'll take a coronavirus vaccine to demonstrate its safety and will work to make sure the shot and any treatments for side effects are provided free to Americans. Speaking to reporters in Delaware Friday, he was asked about wariness among Americans, especially among African Americans, over a vaccine developed quickly and under a cloud of pressure from the Trump administration. Read more from Josh Wingrove and Emma Kinery.
Biden Diversity Push Turns Tense Over Top-Tier: Biden's early picks for top administration jobs made history for elevating women, people of color and immigrants. But advocates want to see more racial diversity closer to the center of power, putting more pressure on Biden as he moves to the next round of selections later this week. He's now drawing criticism over the makeup of his inner circle from Black and Latino lawmakers, and groups like the NAACP and UnidosUS are demanding more say on selections. Read more from Jennifer Epstein.
DOD Says It's Cooperating With Biden Transition: The Pentagon is "fully cooperating" with Biden's transition team, acting Secretary of Defense Christopher Miller said Saturday, pushing back against reports that Trump's administration blocked certain briefings. Planned transition meetings today and tomorrow include the Defense Intelligence Agency and National Security Agency, according to a Defense Department statement. The Washington Post reported Friday that the administration had refused to let Biden's transition team meet with officials at certain agencies controlled by the Pentagon. Read more from Tony Czuczka.
Trump Continues to Fight Election Result
Georgia Officials Rebuff Trump's Call on Election: Georgia officials rejected Trump's effort to pressure them to reverse the state's election result, a day after he repeated unfounded claims of voting fraud and berated the Republican governor and secretary of state. Trump has suggested calling a special session of the Georgia legislature to consider overturning Biden's victory in the state, a move that Gov. Brian Kemp isn't planning to make, Lieutenant Gov. Geoff Duncan said on Sunday.
Calling the special session would be "a solution trying to find a problem," Duncan, also a Republican, said on CNN's "State of the Union." "And we're certainly not going to move the goalposts at this point in the election." Holding the session would lead the state down the path of "nullifying the will of people," said GOP Secretary of State Brad Raffensperger on ABC's "This Week."
The officials spoke out after Trump held a Saturday rally in Valdosta, Georgia, in which he took aim at Kemp and Raffensperger for not doing more to help throw out Biden's victory. The president repeated unsubstantiated and outlandish claims that there was a multistate conspiracy by Democrats to cheat in the Nov. 3 election. Read more from Jordan Fabian and Jennifer Jacobs.
Trump spoke at the Georgia rally a day after his opponent officially clinched the 270 needed Electoral College votes to claim the presidency, after California certified its vote totals Friday evening. Secretary of State Alex Padilla approved the results of Biden's win, according to his office, which Gov. Gavin Newsom (D) will use to appoint the state's 55 electors. Electors will meet in their states on Dec. 14 to cast their votes, which Congress will tally in a joint session Jan. 6. Read more from Mark Niquette.
Giuliani Tests Positive for Virus: Trump said his attorney Rudy Giuliani, who has been leading efforts to overturn the results of the election, has tested positive for the coronavirus. The 76-year-old former New York mayor was admitted to Georgetown University Medical Center yesterday, the New York Times reported, citing a source who wasn't identified. Earlier in the morning, Giuliani appeared in an interview on Fox News and talked at length about the president's election-result challenges. Read more from Yueqi Yang.
The Coronavirus Pandemic
U.S. On the Edge of Key Vaccine Decision: This week could mark an early turning point in the U.S. battle against Covid-19. Advisers to the Food and Drug Administration will review the first vaccine and their guidance could expedite authorization, clearing the way to making it the top weapon against the coronavirus. An advisory panel made of up of leading medical experts will help the agency gain outside perspective in reviewing an experimental shot from Pfizer and its partner BioNTech before a verdict is reached on whether to grant it emergency authorization. Anna Edney breaks down five key points about the approval process.
Azar Sees Vaccine for All Americans by Second Quarter: All Americans who want to get a Covid-19 vaccine should be able to do so by the second quarter of next year, Health and Human Services Secretary Alex Azar said. With the FDA due to decide as early as Thursday on emergency authorization for a shot developed by Pfizer and BioNTech, Azar and Moncef Slaoui, the head of the government's program to accelerate a vaccine, expressed confidence that the FDA would clear the way. "I've not heard of any red flags, but I'll have to leave that to the career scientists at the FDA who were digging through all the data," Azar said on "Fox News Sunday." Read more from Susan Decker.
Azar Takes Jab at China in U.N. Speech: Azar took a veiled swipe at China during a speech to the United Nations on Friday, saying that the "necessary information" on Covid-19 was not shared in a timely fashion when the disease first appeared. Speaking online, Azar didn't mention China by name, but told world leaders at a U.N. General Assembly session on the coronavirus that "the key issue is not where the virus first appeared," but instead, "whether information about the virus was shared in a timely and transparent way." Read more from David Wainer.
What Else to Know Today
Liberals Push Congress for Lower Court Expansion: Two dozen progressive organizations want Congress to expand the lower courts beyond what the federal Judiciary itself has recommended. The groups sent a letter today to Senate Judiciary Committee Chairman Lindsey Graham (R-S.C.) and the panel's top Democrat, Dianne Feinstein (D-Calif.), calling for "a more robust approach" to additional judgeships that reflects rising caseloads. Read more from Madison Alder.
Barr Considers Leaving DOJ: Attorney General William Barr is weighing whether to step down before Trump's term ends next month, the New York Times reported, citing three people familiar with his thinking. Barr could announce his departure before the end of the year, according to the report. He hasn't made a final decision, however, and he could stay through Jan. 20, the people told the Times. Read more from Max Zimmerman.
DACA Restored by Judge's Ruling: The Trump administration must fully restore the so-called Dreamers program that protects undocumented immigrants brought to the U.S. as children, a federal judge ruled on Friday, opening the door to new applicants for the first time since 2017. U.S. District Judge Nicholas Garaufis directed the Department of Homeland Security to make a public notice by today that it will accept petitions from new applicants for the Deferred Action for Childhood Arrivals program. Read more from Patricia Hurtado.
U.S., States Poised to Sue Facebook: Facebook will soon be hit by federal and state antitrust lawsuits accusing the social media giant of abusing its dominance and thwarting competition, according to three people familiar with the matter. Lawsuits are expected as soon as this week from the Republican-led Federal Trade Commission and a group of state attorneys general led by New York's Letitia James, a Democrat, according to the people, who described the plans under condition of anonymity. Read more from David McLaughlin and Ben Brody.
U.S. to Sanction More China Officials: The U.S. is preparing to sanction at least a dozen more Chinese officials over their role in the recent disqualification of Hong Kong legislators, according to two people familiar with the plans. The latest round of sanctions over Hong Kong could be rolled out as soon as today, said the people, who asked not to be identified because the measures haven't been formally announced. Read more from Nick Wadhams and Karen Leigh.
Paul Sarbanes Dies at 87: Paul Sarbanes, the former U.S. senator who co-wrote the Sarbanes-Oxley Act that established the first-ever accounting oversight board following the corporate fraud that toppled Enron and WorldCom, has died. He was 87. Sarbanes "passed away peacefully this evening in Baltimore," according to a statement from the congressional office of his son, Rep. John Sarbanes (D-Md.). Mindful of the ongoing Covid-19 pandemic, the family plans to hold a private service in the coming days. Read more from Nancy Moran and Derek Wallbank.
To contact the reporters on this story: Zachary Sherwood in Washington at zsherwood@bgov.com; Brandon Lee in Washington at blee@bgov.com
To contact the editors responsible for this story: Giuseppe Macri at gmacri@bgov.com; Loren Duggan at lduggan@bgov.com; Michaela Ross at mross@bgov.com