What to Know in Washington: US Reviewing Risks From Trump Docs
Top intel official briefs Congress on fallout from mishandling
Biden's approval rating ticks up ahead of midterm elections
US intelligence agencies are examining the national security risks or damage from the improper storage of highly classified documents by former President Donald Trump at his Florida estate, Director of National Intelligence Avril Haines told two top House Democrats.
Classifying the material and reviewing the risks from their mishandling will be conducted in a way that "does not unduly interfere" with the Justice Department's ongoing criminal investigation, Haines told Oversight and Reform Chair Carolyn Maloney (D-N.Y.) and Intelligence Chair Adam Schiff (D-Calif.), in a letter dated Friday.
"The DOJ affidavit, partially unsealed yesterday, affirms our grave concern that among the documents stored at Mar-a-Lago were those that could endanger human sources," Maloney and Schiff said, in a joint statement on Saturday. They called it "critical" that intelligence agencies "move swiftly to assess and, if necessary, to mitigate the damage done — a process that should proceed in parallel with DOJ's criminal investigation." Billy House has more reactions from lawmakers.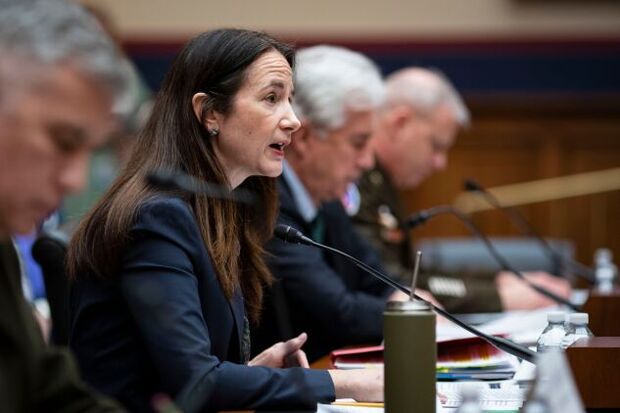 Happening on the Hill
CONGRESS' SCHEDULE:
Both chambers are on recess.
Rep. Jamie Raskin wants to lead the House Oversight Committee, following Maloney's recent primary loss, according to a letter he sent to colleagues. "The Caucus now faces a rare opening for the Chairmanship of COR at a time of continuing extraordinary danger to our political institutions," Raskin (D-Md.) said. Alicia Diaz has more.
A key Senate Republican said she's skeptical a bipartisan deal could be reached on a bill to speed reviews of big energy and other infrastructure projects. When senators return Sept. 6 there will be little time to move the revamp permitting rules, as well as a short-term government funding bill that would be a vehicle to advance such changes. Dean Scott has more.
But progressives say that would be like putting a "gun to the head" of the vast majority of Democrats. House Natural Resources Chair

Raul Grijalva

(D-Ariz.) is circulating a "Dear Colleague" letter now to garner support to keep any proposed permitting changes out of any must-pass legislation. Read more from Kellie Lunney.
House Republicans are scrutinizing FTC Chair Lina Khan's use of unpaid consultants and signaled they could open a formal investigation if the party regains control of the House in the November elections. The House Judiciary Committee's Republican leadership said Khan's agency may have violated limits on the use of outside experts. Emily Birnbaum explains the allegations.
The Labor Department should investigate and regulate how companies use technology to surveil and punish workers, said Sen. Bob Casey (D-Pa.) in a letter to Secretary Marty Walsh. His missive cited a Bloomberg article detailing complaints from Amazon delivery drivers, who said performance-tracking algorithms unfairly penalized them. Josh Eidelson has more.
Elections, Politics & Probes
President Joe Biden's approval rating rose to 44% in the latest Gallup poll, the highest in a year and a fresh sign he and his party are gaining political ground ahead of the November elections. Biden's approval rating in August jumped six percentage points from July, when it hit a low of 38% in Gallup's survey. Jordan Fabian has more.
On Friday, Biden celebrated a monthly drop in consumer prices, a potential political tailwind for him, even as Federal Reserve Chair

Jerome Powell

warned against putting too much confidence in one month's data. "The American people are starting to get some relief from high prices," Biden said in a statement. Josh Wingrove has more.
Rep. Tim Ryan, an Ohio Democrat running in one of the US's closest Senate races, said he opposed Biden's latest student loan forgiveness plan, underscoring intraparty divisions and fears the issue could be a vulnerability in November. "The cost of college is outrageous. But there's nothing in here to control that cost," Ryan (D-Ohio) said on CNN. Laura Davison has more.
The Atlanta prosecutor investigating Trump's attempts to change the result of the 2020 election in Georgia urged a judge to order former Chief of Staff Mark Meadows to testify in front of a grand jury next month. Meadows visited the Cobb County Civic Center on Dec. 5, 2020, where he tried to observe an audit of absentee-ballot signatures, a filing said. Greg Farrell has more.
A suit to stop Texas from using its abortion laws to ban support for residents seeking the procedure elsewhere spotlights one of the biggest unsettled legal questions around abortion access. The complaint alleges that Texas' threats to enforce its ban violates individuals' rights to travel across state lines. Holly Barker has more.
Stacey Abrams (D) is known for upending Georgia's Republican-dominated politics, her voting-rights activism and even for pseudonymously writing romance novels. But on the campaign trail for governor, she's aiming to emphasize a different role: businesswoman. Read more from Margaret Newkirk and Steven Matthews.
The United Arab Emirates sought in 2017 to get a former Republican congressman appointed as US ambassador, but the plan was scuttled after he was arrested on fraud charges, prosecutors said in a separate case against a onetime fundraiser for Donald Trump. Read more from Patricia Hurtado.
Biden drove his classic Corvette and talked cars with Jay Leno on Friday as the two filmed a segment for the comedian's CNBC show. "It was really good. It was even more fun driving my old Corvette," Biden told reporters after taping the clip for "Jay Leno's Garage" in Maryland. Read more from Akayla Gardner.
Defense & Foreign Affairs
US Navy warships have entered the Taiwan Strait for the first time since Speaker Nancy Pelosi's (D-Calif.) visit to the self-ruled island tested ties between Washington and Beijing. The Ticonderoga-class guided-missile cruisers USS Chancellorsville and USS Antietam are conducting a routine transit through a corridor of the strait. Read more from Bloomberg News.
The US and China reached a preliminary deal to allow American officials to review audit documents of Chinese businesses that trade in the US, a first step toward avoiding the delisting of around 200 firms from New York exchanges. The deal will allow Public Company Accounting Oversight Board inspectors to access audit papers. Lydia Beyoud and Lulu Yilun Chen have more.
The deal is a "crucial first step" toward requiring foreign companies that use US capital markets to comply with investor protections rules, Sen.

Chris Van Hollen

(D-Md.) said in a statement Friday. "Foreign companies operating on U.S. markets should be held to the same standards across the board," Van Hollen said. Alicia Diaz reports.
Iran said back-and-forth exchanges with the US over a European Union proposal to revive the nuclear deal will drag on into next month. Iran will take "at least" until Sept. 2 to respond to the Biden administration's comments on an EU-drafted text aimed at salvaging the 2015 pact, state-run Nour News said. Arsalan Shahla has more.
Lawyers are pushing back against legislation that would require them to report suspicious transactions by clients. The provision is included in the House version of the fiscal 2023 defense authorization bill and seeks to close loopholes in the Bank Secrecy Act that let oligarchs take advantage of US entities to launder money. Sam Skolnik has more.
Around the Administration
PRESIDENT'S SCHEDULE:
Biden has no public events scheduled.
Press Secretary Karine Jean-Pierre holds a briefing at 1:30 p.m.
Biden's plan to provide relief for student loan borrowers will cost about $24 billion a year, the White House now says, a figure markedly lower than other private estimates. White House press secretary Karine Jean-Pierre offered up the new figure on CNN, after facing repeated questions about the cost of the plan in briefings. Read more from Nancy Cook and Justin Sink.
Sen. Elizabeth Warren, who lobbied for $50,000 in forgiveness per student borrower, said Biden's plan can still address racial and gender wealth inequality and help counter inflation. "I think there's more that we can do,"

Warren

(D-Mass.) said in an interview. "But it's important to stop and celebrate this historic moment." Jarrell Dillard has more.
Residents of New York, Virginia and eleven other states could end up with a surprise tax hit of hundreds of dollars next year on forgiven student loans. Taxpayers in the 13 states with $10,000 in forgiven debt could end up owing a few hundred extra dollars—or in Hawaii more than $1,000—on their state tax returns next April. Read more from Laura Davison.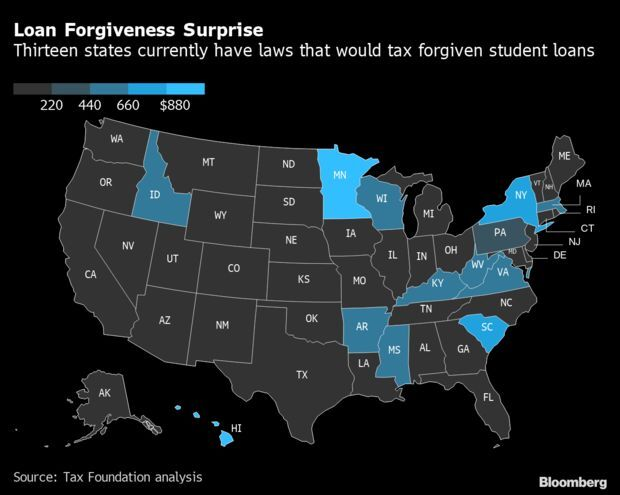 The White House is warning refiners it could take "emergency measures" to address fuel exports as stockpiles of diesel and gasoline fuel remain near historically low levels in the Northeast. While East Coast gasoline and diesel inventories are well below normal, exports of US refined products are at an all-time high, the Energy Department said. Read more from Ari Natter.
The Biden administration plans to begin offering next-generation Covid boosters as soon as the Labor Day weekend, seeking to fend off a fall surge in cases of the disease. Food and Drug Administration regulators are expected to clear the use of Covid-19 vaccines reformulated for omicron variants next week, according to people familiar with the matter. Josh Wingrove has the story.
Providers of services for Americans with intellectual disabilities say they face a mounting workforce shortage exacerbated by staff burnout and low wages. If left unaddressed, they warn, the workforce shortage will hurt efforts by the Biden administration to expand at-home and community-based services for people with these disabilities. Read more from Alex Ruoff.
The White House's efforts to create a more energy-dense nuclear fuel got a sudden $700 million windfall in the climate-and-tax bill signed into law this month, a boost for the agency's plans to demonstrate two next-generation reactors before the end of the decade, energy officials and nuclear supporters said. Read more from Daniel Moore.
WHAT ELSE:
With assistance from Katrice Eborn and Andrew Small
To contact the reporter on this story: Brandon Lee in Washington at blee@bgov.com
To contact the editors responsible for this story: Giuseppe Macri at gmacri@bgov.com; Loren Duggan at lduggan@bgov.com