What to Know In Washington: US Readying $2B in Aid for Ukraine
Bloomberg Government subscribers get the stories like this first. Act now and gain unlimited access to everything you need to know. Learn more.
The US will send Ukraine another $2 billion in security assistance under the Ukraine Security Assistance Initiative, to build on previous efforts to aid Ukrainian defenses against Russia.
The initiative is intended to finance contracts with delivery dates months or even years away to bolster the nation's long-term security needs, not for immediate battlefield use.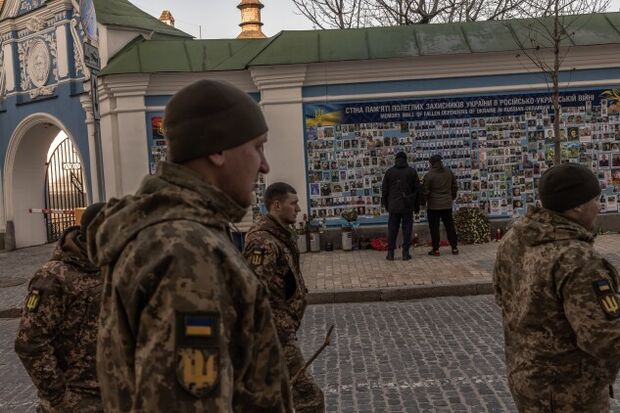 Ukraine has asked repeatedly for fighter jets, which the US has been wary of providing because of the risk of provoking Russia.
"F-16s are not a question for the short-term fight," National Security Advisor Jake Sullivan said. "F-16s are a question for the-long term defense of Ukraine, and that's a conversation that President Biden and President Zelenskiy had."
Since fiscal 2022, the Pentagon has received $18.3 billion in congressional appropriations through Jan. 31 for Ukraine Security Assistance Initiative contracts. The Pentagon has awarded $2.9 billion in contracts, including $1.3 billion to Raytheon for the NASAMS air defense system. Read more.
More on the War in Ukraine
The US announced new action against Russia's metals and mining sector that include measures it said will significantly increase the cost of importing Russian aluminum.
National Security Advisor Jake Sullivan's West Wing office was crammed with sleep-deprived staffers on the morning of Feb. 26, 2022. Clad in jeans and button-down shirts, clutching coffees or cold pizza, they were waiting for President Joe Biden to join on a secure line. Russia had invaded Ukraine two days earlier. The burning question of the day: How to stop a war.
The US and other Group of Seven nations will impose new export controls and a fresh round of sanctions on Russia, a year after President Vladimir Putin invaded Ukraine, the White House said.
China called for a cease-fire between Russia and Ukraine in a position paper on ending the war that offered some reprieve to Moscow but was quickly dismissed by Kyiv's allies as the conflict enters its second year.
China pushed back on US accusations that it has considered providing lethal aid to Russia in its war in Ukraine, saying it never sells arms to parties involved in a conflict. Read more
US Treasury Secretary Janet Yellen said Russia ending the war was "the most important thing" for the global economy as she accused officials from Moscow attending a Group of 20 meeting of being complicit in atrocities taking place in Ukraine.
Happening on the Hill
House Republicans are poised to vote on a measure that would block the US Labor Department from enforcing its ESG retirement investing rule, as Democrats counter by introducing legislation that would codify green 401(k)s into law.
Senate Republicans are largely staying out of the fight over whether Homeland Security Secretary Alejandro Mayorkas should lose his job as the Biden administration struggles to manage migrant crossings at the US-Mexico border.
Prime Minister Justin Trudeau says he and Joe Biden will discuss stemming the flow of irregular migration into Canada when the US President visits Ottawa next month. Read more
IRS use of technology, the OECD's global minimum tax and the agency's treatment of conservative organizations are at the top of the agenda for Republicans now leading the House Ways and Means Subcommittee on Oversight.
The access Speaker Kevin McCarthy (R-Calif.) is giving Tucker Carlson to US Capitol security video surrounding the Jan. 6 insurrection will not enable Republicans to "unwind the truth" of that day's violence, a senior congressional Democrat said.
US Democratic lawmakers are asking officials to crack down on potential conflicts of interest among advisers to Puerto Rico's Financial Oversight and Management Board as the federally-appointed body shepherds the US territory through bankruptcy.
Elections, Politics & Probes
The Republican National Committee plans to hold its first presidential primary debate in August in Milwaukee to coincide with its summer meeting, but is still working on the criteria for candidates to participate.
Former President Donald Trump can be questioned by lawyers for former Federal Bureau of Investigation agent Peter Strzok in his unlawful termination lawsuit, a judge ruled.
A Texas judge has tossed out a disciplinary case against attorney Sidney Powell finding state bar regulators failed to present enough evidence to keep alive claims that she violated ethics rules by filing frivolous post-election lawsuits.
Trump subpoenaed his longtime private banker for documents and testimony in New York Attorney General Letitia James's suit accusing him and his real estate company of using false asset valuations to dupe banks and insurers.
Illinois Governor J.B. Pritzker said he's willing to spend what it takes in the next election to help President Joe Biden keep his job — and keep Republicans like Ron DeSantis and Donald Trump out of the White House.
Around the Administration
BIDEN'S AGENDA
Biden at 9 a.m. EST gathers virtually with Group of Seven leaders and Ukrainian President Volodymyr Zelenskiy on the one-year mark of Russia's invasion.
At 5:25 p.m. the president leaves for New Castle, Delaware.
Yellen said a soft landing is possible for the US economy thanks to its strong labor market and the absence of balance sheet problems like the ones that preceded the global financial crisis.
The EPA is taking over remediation of the Norfolk Southern Corp. freight train derailment in Ohio by utilizing one of its strongest legal authorities to force a company cleanup.
The Justice Department is preparing an antitrust lawsuit seeking to block Adobe's $20 billion acquisition of startup Figma Inc., people familiar with the matter said.
A dozen states sued the Food and Drug Administration and the Department of Health and Human Services on Thursday, alleging the federal government is hampering access to a common drug used to induce abortions and endangering patients and providers.
The National Congress of American Indians on Thursday called for a moratorium on offshore wind development along US coasts, insisting the Biden administration do a better job protecting tribal interests.
The record number of Americans dying from a mix of drugs laced with fentanyl is driving research into medications that can eliminate multiple substances from the body.
The US and South Korea held discussions over ways they would respond to possible nuclear attacks by North Korea, which has been steadily building up its capability to deliver a credible atomic strike against the two.
Taiwan has emphasized there are no US troops "stationed" on the island after the Pentagon said it planned to increase its presence there, the latest sign of Washington's willingness to raise the ire of China.
Beijing has laid down three "red lines" for the top US diplomat in Hong Kong, saying recent comments by the consul general constituted interference.
Biden received more than $46,000 in gifts from foreign leaders in his first year in office, according to an annual report from the US State Department's chief protocol officer.
The US is likely to impose a limit on the chip production capabilities of Samsung and SK Hynixin China, a senior American official said, as Washington works with allies to curb Beijing's access to cutting-edge technologies.
To contact the reporter on this story: Michaela Ross in Washington at mross@bgov.com
To contact the editor responsible for this story: Katrice Eborn at keborn@bgov.com
Stay informed with more news like this – from the largest team of reporters on Capitol Hill – subscribe to Bloomberg Government today. Learn more.