What to Know in Washington: US, EU Show Unity Despite Tensions
Bloomberg Government subscribers get the stories like this first. Act now and gain unlimited access to everything you need to know. Learn more.
President Joe Biden and European Commission leader Ursula von der Leyen will likely make their meeting at the White House on Friday convivial, despite trade tensions and the pressure of the war in Ukraine.
They are seeking to avoid a trade clash after the US pushed through a $369 billion climate and tax package last year to bolster the development of clean technology. To that end, they are expected to agree on a path that would allow European firms to benefit from some of the subsidies for batteries offered only to producers in the US.
The US and EU will announce the launch of negotiations on a critical minerals agreement, a dialog on subsidy transparency and will aim to set a deadline to finalize talks on a global arrangement on steel and aluminum carbon intensity, senior Biden administration officials said.
The likely truce also reflects the desire of both leaders to showcase the strength of the transatlantic alliance in supporting Ukraine against Russia's invasion.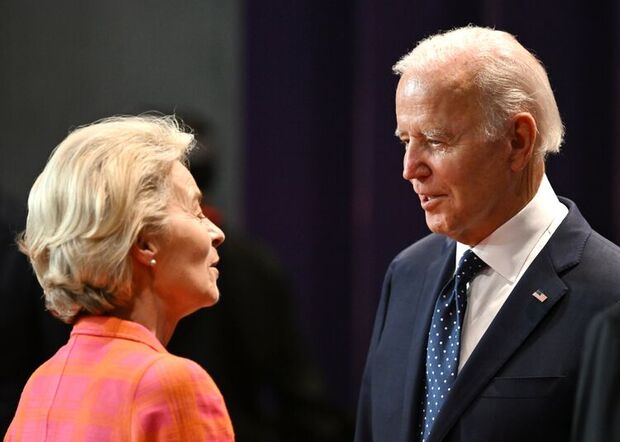 The US would also like to see the European Union move closer to its more hawkish stance on China, particularly amid concerns that Beijing might do more to support Moscow. Yet the EU, which has tried to maintain a more nuanced approach, doesn't want to talk about a new cold war.
Jorge Valero and Jenny Leonard highlight the main issues to watch.
The Biden administration should to work with the EU to address the discriminatory aspects of EU digital regulations, Senate Finance Committee Chair Ron Wyden and Ranking Member Mike Crapo say in a letter to Biden. Read more.
Biden's $6.9 Trillion Budget
Joe Biden released a $6.9 trillion fiscal 2024 budget proposal March 9, teeing up a high-stakes battle with congressional Republicans over government funding.
Click here to register for Bloomberg Government's webinar today at 11 a.m. on the budget request.
Biden's spending blueprint touted his ideas to shrink the budget deficit but couldn't erase the harsh arithmetic of government debt: It's going to get worse.
The Biden administration's proposed budget for the fiscal year beginning Oct. 1 asks for billions more dollars to boost its Indo-Pacific military command, enhance missile defense and strengthen regional economies, as part of a broader push to counter China's more assertive role in the region.
While most of Biden's tax proposals have slim-to-no chances of moving in a sharply divided Congress — at least three of the requests in his budget already have backing from both parties.
The Biden administration wants Congress to make spending for big-ticket transit projects in New York and Chicago priorities.
The Department of Veterans Affairs' problem-plagued Electronic Health Records Modernization program would receive a $1.9 billion injection of funds under the Biden administration's fiscal 2024 budget released Thursday.
Americans' experience using federal government services, especially when accessing benefits or recovering from disasters, needs better coordination and design, according to the Biden administration fiscal 2024 budget request released Thursday.
Also Happening on the Hill
CONGRESS' SCHEDULE
The House meets at 9 a.m. to consider legislation on declassifying Covid-19 intelligence.
The Senate returns Tuesday.
House Republicans took the first steps to advance their congressional energy agenda Thursday, with a committee approving a slate of bills to promote domestic fossil fuel production over Democrats' objections.
Also included in the broad energy package is legislation advanced by the House Natural Resources panel Thursday that looks to increase domestic energy production and accelerate federal permitting for energy, forestry, and infrastructure projects. Read more.
Biden could use his veto power soon for the second time on an environment measure because of the absence of Senate Democrats.
Sen. Joe Manchin (D-W.Va.) rebuked senior White House adviser John Podesta for blessing a role for Chinese companies in the manufacture of US products like electric vehicles.
US Securities and Exchange Commission's proposed rule on open-end fund liquidity risk management programs and swing pricing would hurt investors using mutual funds to plan for retirement, House Financial Services Subcommittee on Capital Markets Chair Ann Wagner and panel member Brad Sherman warn.
The Biden administration should close "loopholes" some health insurers are using to prevent public disclosure of health-care prices, a Democratic and a Republican member of the Senate Health, Education, Labor, and Pensions Committee said.
The Federal Communications Commission's authority to sell off parts of the electromagnetic spectrum is set to expire for the first time Thursday night after the Senate failed to reach a deal on its reauthorization.
A bipartisan group of lawmakers reintroduced a bill that would broaden a law that prohibits US courts from recognizing, enforcing, or validating a trademark confiscated by the Cuban government.
Elections & Politics
Minutes into an address to supporters at a carpenters union hall, Rep. Chris Deluzio (D) pounced on those he blamed for the economic woes of his southwestern Pennsylvania district.
A Democratic super-PAC is coming out early — and big — for the 2024 presidential race, launching ads in battleground states to tout President Joe Biden's economic agenda.
Rep. Laurel Lee (R-Fla.) is one of the few members of Congress to not just run in an election, but to run one.
The former chief attorney for Project Veritas, a conservative activist group that uses undercover videos to try to discredit perceived liberal media, has gone to work for the law firm suing Fox News for $1.6 billion.
Ohio's former House Speaker was found guilty of public corruption capping a landmark trial over a $61 million bribery scheme in which FirstEnergy paid for a state-funded nuclear bailout.
Donald Trump went on the attack when Jack Smith was named the latest special counsel to investigate the former president, calling him a "fully weaponized monster" whose Obama-era ties made him a "political hit man." Yet one of Trump's own lawyers shares those same ties.
Around the Administration
BIDEN'S AGENDA
Biden holds a meeting with European Commission President Ursula von der Leyen at 2 p.m. at the White House.
At 6:50 p.m., the president arrives in New Castle, Delaware.
At 2:30 p.m., White House Press Secretary Karine Jean-Pierre, Office of Management and Budget Director Shalanda Young, and Council of Economic Advisers Chair Cecilia Rouse hold a press briefing.
A widening bank rout has raised the stakes for key jobs data due Friday, as investors brace for a hawkish Federal Reserve to accelerate rate hikes even at the risk of tipping more lenders into distress.
Vice President Kamala Harris will host corporate leaders and union members who work for their companies at the White House on Friday, as part of an effort to encourage corporations to engage with organized labor.
Outgoing Labor Secretary Marty Walsh says his only regret during his time at the Biden administration was the learning curve he faced when it came to the intricacies of policy-making within Washington.
But a group representing 150,000 truckers is calling on the US Senate to oppose Julie Su, Biden's pick for Labor Secretary, over a California labor rule it says has stifled drivers' independence. Read more.
A proposed EPA program to allow third-party emissions tracking at methane leak sites is a test case for citizen air monitoring, and could preview challenges to community efforts from the oil and gas industry.
Prominent voices in the health-care field are urging the Biden administration to ignore criticism and stay the course on planned changes to a process that helps determine payments to Medicare managed care plans.
Biden will address the Canadian Parliament and meet with Prime Minister Justin Trudeau to discuss Ukraine, Haiti, and protecting North American airspace after the incursion by an alleged Chinese spy balloon during a visit later this month.
China and the US have locked themselves into a new cycle of recriminations, provoking fresh worries that the world's two biggest economies are heading down a path that could one day lead to the once unthinkable: the possibility of open conflict.
North Korean leader Kim Jong Un presided over live-fire drills where his military launched several suspected short-range ballistic missiles after his sister threatened the US with consequences if it goes ahead with joint exercises with South Korea.
Biden dropped into a meeting at the last minute in the White House to see a man all of Washington wants an audience with: Sauli Niinisto, once upon a time known as the "Putin whisperer."
To contact the reporters on this story: Brandon Lee in Washington at blee@bgov.com; Michaela Ross in Washington at mross@bgov.com
To contact the editor responsible for this story: Katrice Eborn at keborn@bgov.com
Stay informed with more news like this – from the largest team of reporters on Capitol Hill – subscribe to Bloomberg Government today. Learn more.