What to Know in Washington: US Debt-Limit Distress Returns 2023
Washington and Wall Street are well accustomed to the partisan brinkmanship over the US federal debt limit, but the battle looming in 2023 carries a major economic risk at a time when the US may have slumped into a recession.
Negotiations will be crucially shaped by the outcome of the Nov. 8 congressional election. If forecasts bear out, Republicans will assume control of at least the House, and some GOP lawmakers are vowing to demand spending cuts as the price for increasing the statutory debt ceiling.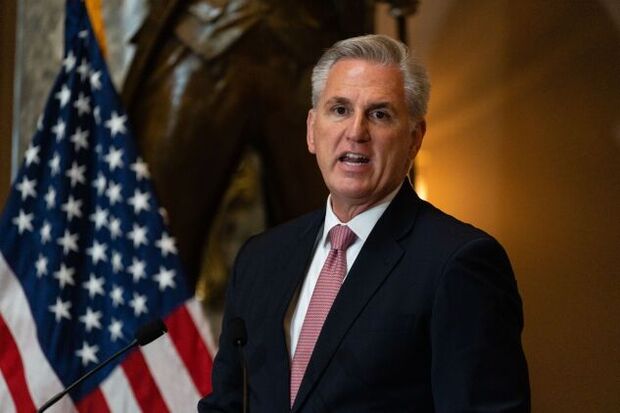 "If we go into recession, the response normally is stimulative fiscal policy, but it seems like the appetite for that may be waning. So that could exacerbate any downturn," said Michael Feroli, chief US economist at JPMorgan Chase & Co.
While a shift toward fiscal tightening now might help in the battle to cool US inflation, the debt-limit fight is expected to come around the third quarter of 2023, by when most economists see price gains having come well down.
Feroli noted potential similarities to the debt-limit crisis of 2011. Republicans took over the House in the 2010 midterm elections and proceeded to use the debt limit as leverage in fiscal debates.
"It seems like we're setting up for probably a pretty stressful episode again," Feroli said. "I don't know how to scale it," he said of the danger of a payments default, though still characterizing it as a tail risk. Steven T. Dennis previews the showdown.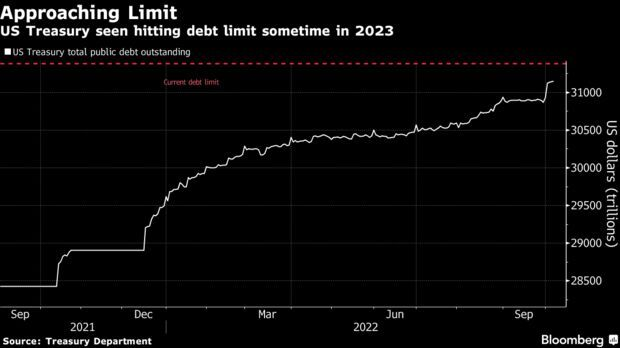 Treasury Secretary Janet Yellen said congressional Republicans must not risk forcing the US to default on its debt in order to further their agenda because the results could be "calamitous."
Happening on the Hill
House Republican leaders are seeking documents from the Treasury Department related to alleged misuse of funds from the American Rescue Plan Act, saying stimulus checks were improperly distributed.
House Republicans on the Ways and Means Committee demanded an update from Yellen on an investigation into how private taxpayer information was leaked to nonprofit news organization ProPublica.
A federal appeals court rejected former President Donald Trump's request to reconsider a ruling that his tax returns must be disclosed to a congressional committee.
Elections, Politics & Probes
Join BGOV's Final Pre-Election Webinar: Bloomberg Government's election gurus will provide their outlook for the 2022 midterms on a Nov. 1 webinar. They'll offer their take on the issues driving the battle for control of Congress and the key races to watch in the election's final week. Register here .
BGOV has been highlighting some of the closest congressional contests following redistricting in our "Razor's Edge Races" series of district profiles that ran weekly in the Ballots & Boundaries newsletter and are now presented in one place in a BGOV OnPoint.
Democrats are grappling with how to respond to inflation, and in no place is it more crucial they get it right than Nevada, where the state's tourism-based economy was hit hard by Covid-19. How Democrats fare there on Nov. 8 will be a bellwether for their fortunes in 2024—and beyond.
Trump dug into his $92 million war chest, the largest in the Republican Party, and sent $20 million in October to an allied super PAC that's supporting Senate candidates he's endorsed, according to Federal Election Commission filings.
Elon Musk completed his $44 billion acquisition of Twitter, according to people familiar with the matter, putting the world's richest man in charge of the struggling social network after six months of public and legal wrangling over the deal.
Former California Gov. Arnold Schwarzenegger said his fellow Republicans are pushing a "nuts" legal theory in a pivotal US Supreme Court case that would allow state lawmakers to draw partisan redistricting maps without fear of judicial oversight.
Tom Barrack was grilled by a federal prosecutor over a 2016 text message he sent to a friend who teased him about his work for Trump's presidential campaign.
A showdown over college affirmative action at the US Supreme Court next week pits the court's liberal wing against Chief Justice John Roberts and his dream of a constitutional ban on racial preferences.
Defense & Foreign Affairs
President Joe Biden questioned whether Russian leader Vladimir Putin was sincere in saying he has no intention of using nuclear or chemical weapons in Ukraine. "If he has no intention, why's he keep talking about it?" Biden said after he was asked if he believes Putin's denials in an interview with NewsNation, a cable outlet, that aired Thursday.
Putin on Thursday lashed out at the US and Europe, heaped praise on Saudi Arabia and reiterated support for China's claim to Taiwan as he sought to cast Russia as a champion of conservatism against Western liberalism. Read more
Biden said China's leader had expressed worries about the US strengthening its domestic production of semiconductor chips as his administration moves to reduce reliance on Asian suppliers and restrict Chinese access to chipmaking technology.
Around the Administration
PRESIDENT'S SCHEDULE
Biden and Vice President Kamala Harris deliver remarks at a reception for the Pennsylvania Democratic Party in Philadelphia at 7 p.m.
Biden criticized record energy company profits after Shell announced it earned $9.5 billion in the third quarter, raised its dividend and expanded share buybacks.
Biden said that some Americans are "better off" due to pay raises and strong employment growth under his presidency, even with high inflation eroding their purchasing power. Read more
Household spending is under pressure but unemployment is sitting at a five-decade low. Major companies are sending conflicting earnings messages, leaving the stock market confused. Read more
About 100 million Americans weren't working in early October, according the Census Bureau, and some of the reasons may come as a surprise. Read more
Biden said his administration would prevail in lawsuits challenging his student debt relief plan and predicted applicants would start getting checks within two weeks. "We're going to win that case," Biden said in an interview with NewsNation, a cable outlet.
The dueling pressures of rapidly deploying electric vehicle chargers around the country—while complying with federal Buy America rules—could threaten Biden's climate agenda.
US allies in the EU are citing unfairness in the Biden administration's most recent industrial policies, including about $370 billion of clean-energy subsides in the Inflation Reduction Act.
The federal consulting shop that helps agencies work on environmental permits is bulking up, adding staff and extending its reach into new sectors of the economy, the head of the office says.
An appellate panel won't issue an order allowing the Trump administration's carbon power plant rules to stay in effect while the EPA crafts new standards slated for next year.
America's opioid crisis and the Covid pandemic have renewed calls from lawmakers and advocates to modernize and expand Medicare's behavioral health coverage. And the Biden administration is listening.
A small US Labor Department subagency tasked with identifying women's issues in the labor force will be a key player in ensuring that the Biden administration's workforce investments lift up women who are typically left out of the male-dominated trades.
To contact the reporter on this story: Brandon Lee in Washington at blee@bgov.com
To contact the editors responsible for this story: Giuseppe Macri at gmacri@bgov.com; Loren Duggan at lduggan@bgov.com