What to Know in Washington: Ukraine Aid Falters in Congress
Abortion, Covid relief bills could hinder Ukraine aid action
Bipartisan immigration talks continue amid Title 42 rancor
Congress is moving slowly fulfill President Joe Biden's request for Ukraine aid as fights continue over Covid relief money, immigration, and a vote on abortion-related legislation in the Senate next week.
Biden is asking for $33 billion in military and humanitarian aid for Ukraine and other countries affected by Russia's invasion and wants Congress to quickly approve it. The House returns from a one-week recess next week, when lawmakers will resume face-to-face negotiations.
Lawmakers say there's no major disagreements on the substance of the aid request, though some Republicans want more than the $20 billion requested for military assistance. They're also weighing whether to combine the Ukraine aid bill with other legislation into a larger package.
Democrats are still deciding whether to attach $10 billion in funding for Covid vaccine and treatment to the Ukraine measure and try to break an impasse on pandemic aid. Republicans demand an amendment vote barring Biden from lifting restrictions on migration over the southern U.S. border before they'll sign off on Covid funds. Read more from Erik Wasson and Ellen. M. Gilmer.
Senators continue exploring options for bipartisan immigration legislation, meeting Thursday for the second time to find consensus on narrow immigration and border security policies, Ellen M. Gilmer reports. The early-stage talks between Sens. Dick Durbin (D-Ill.), John Cornyn (R-Texas), Thom Tillis (R-N.C.), and Alex Padilla (D-Calif.) face long odds during an election year of hyper-partisan immigration debates.
The group is discussing multiple policy areas Cornyn views as needing an overhaul, including migrant detention, asylum processing, and immigration courts. Bipartisan concern about ending the Title 42 public health restriction at the border has created new leverage for the talks, according to Cornyn.
Lawmakers remain entrenched on Title 42 after a Homeland Security and Governmental Affairs hearing Thursday, where Sen. Jon Ossoff (D-Ga.) joined a growing list of Democrats who are dissatisfied with the Biden administration's border management plans.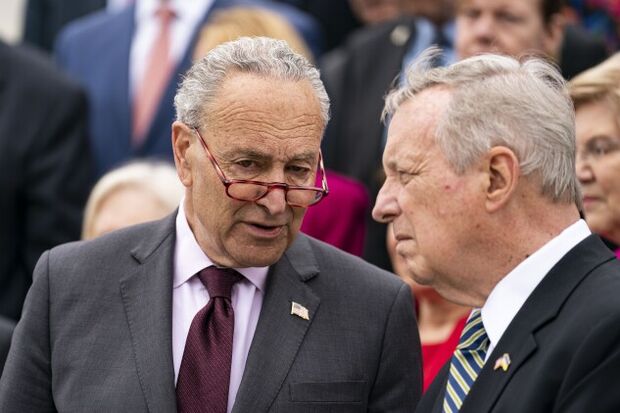 Happening on the Hill
The White House is concerned about legislation gaining momentum that would allow the U.S. to sue the Organization of the Petroleum Exporting Countries for manipulating energy markets. A vote Thursday by the Senate Judiciary Committee on the so-called Nopec bill (S. 977) paves the way for full Senate consideration. The House Judiciary Committee approved its own version of the bill last year. Ari Natter and Justin Sink have more.
Speaker Nancy Pelosi will announce a new minimum annual salary of $45,000 for House staffers, Punchbowl News reports, citing a letter from Pelosi (D-Calif.) to lawmakers. The change will go into effect on Sept. 1, Punchbowl reports.
Rudy Giuliani is balking at showing up for his scheduled interview Friday before the House pznel investigating the Jan. 6, 2021, attack on the U.S. Capitol, a spokesman for the committee said Thursday night. The spokesman, Tim Mulvey, said the committee "will consider all enforcement options" if the former personal lawyer to former President Donald Trump continues to refuse. Read more from Billy House.
Policy advocates and lawmakers are aiming to get several bills added into a must-pass FDA user fee package after proposals to boost pediatric cancer treatment research and improve oversight on diagnostic tests were left out of an initial version. Read more from Celine Castronuovo.
A group of Senate lawmakers are making progress toward a bipartisan climate deal that would potentially allow a methane fee to be applied only to pipelines that have the technology to remove it, Sen. Joe Manchin (D-W.Va.) said Thursday. Daniel Moore has the latest on the plan.
Senate Finance Committee leaders want a semiconductor tax credit to be included in a broader China competition measure, but the effort runs the risk of bogging down talks. Sens. Ron Wyden (D-Ore.) and Mike Crapo (R-Idaho) told Bloomberg Government they will push for the inclusion of a semiconductor investment credit in the conference. Maria Curi details the pitch.
The Senate voted 80-11 on Thursday to confirm Kathryn Huff as assistant secretary of the Energy Department's Office of Nuclear Energy, tasking the nuclear physicist with supporting the country's 93 operating reactors and advancing new technology and fuel supplies, Daniel Moore reports.
Elections & Politics
Chief Justice John Roberts called the leak of a draft Supreme Court abortion opinion this week "absolutely appalling" and said the person responsible would be "foolish" to think the disclosure will affect the court's handling of the case. Greg Farrell and Greg Stohr have more.
Standing in stilettos with a gun holstered on her thigh, Rep. Lauren Boebert (R-Colo.) explained to the 200 gathered on the concrete floor of a horse auction house in West Virginia the difference between Freedom Caucus members and other lawmakers. Boebert was in a town an hour and a half from Washington to help a fellow hard-line conservative. With Republicans well-positioned to take control of the House next year, members of the at-times leadership-bucking Freedom Caucus are stepping up their efforts to shape the GOP conference. Read more on the play by Emily Wilkins.
Midterm Battleground Races Well Underway —BGOV Election OnPoint: Primary season in the 2022 midterm elections began in earnest Tuesday, with Ohio and Indiana kicking off a two-month stretch of nominating contests. The BGOV Election OnPoint features key dates, races to watch, departing member lists, and more to provide an overview of the midterms. Download here.
The National Rifle Association's embattled leader Wayne LaPierre may face a leadership challenge from Allen West, a former congressman and ex-chairman of the Texas Republican Party. Read more from David Voreacos and Neil Weinberg.
Boeing will shift its world headquarters to Arlington, Virginia, from Chicago, a long-anticipated move that would put one of the nation's largest defense contractors near federal government decision-makers in Washington. Read more from Julie Johnsson.
The attorneys general of Louisiana and Missouri sued Biden on Thursday, alleging the federal government worked with Meta, Twitter, and YouTube to censor free speech. Read more from Jennifer Kay.
Around the Administration
BIDEN'S AGENDA:
Biden met with a group of labor organizers Thursday at the White House, including a former Amazon worker who led a Staten Island union-organizing drive. Christian Smalls, the Amazon organizer, took part in a roundtable session hosted by Vice President Kamala Harris and Labor Secretary Marty Walsh. The session included young organizers and workers at a range of companies. Josh Wingrove and Spencer Soper have more on the meeting.
Biden said that Karine Jean-Pierre would replace Jen Psaki as White House Press Secretary, becoming the first Black person to hold the position. Jean-Pierre currently is Psaki's principal deputy. Psaki's last day will be May 13, the White House said in a statement. Jenny Leonard has more on Biden's new press chief.
The U.S. has bought more than twice as many doses of Covid-19 vaccines over the past two years than what's been distributed domestically, according to documents provided to Congress, raising questions about the nation's vaccine campaign across two presidencies. Alex Ruoff and Courtney Rozen explain.
The Food and Drug Administration limited the use of Johnson & Johnson's Covid-19 vaccine to people 18 and older for whom other shots aren't accessible or clinically appropriate, and those who would otherwise not get immunized against the virus, after an investigation of rare and potentially deadly clotting disorder that occurs in some recipients. Read more from Riley Griffin.
The travel industry is increasing pressure on the administration to begin allowing vaccinated people to fly into the U.S. without first testing negative for Covid-19. More than 250 travel groups and businesses, including airlines and airports, asked for the mandate to be dropped in a letter to White House Covid-19 Response Coordinator Ashish Jha on Thursday. Lillianna Byington has the latest.
Commerce Secretary Gina Raimondo pledged the agency would move as quickly as possible to advance a trade investigation that is roiling the domestic solar industry. "We are required by statute to follow a process and do a fulsome investigation as per the statute, so that's what we're going to do," Raimondo told Bloomberg News Thursday. Read more from Jennifer A. Dlouhy.
The Biden administration is "working tirelessly" to get loans to emerging energy technologies such as critical minerals, hydrogen, and nuclear fusion, but most applicants are unprepared for the required scrutiny, the director of the Energy Department's Loan Programs Office said Thursday. Daniel Moore has the latest on the program.
The Agriculture Department is moving to require entities such as state agencies that receive money from the federal Food and Nutrition Service to investigate allegations of discrimination based on gender identity or sexual orientation. Maeve Sheehey explains.
With assistance from Ellen M. Gilmer
To contact the reporters on this story: Giuseppe Macri in Washington at gmacri@bgov.com; Brandon Lee in Washington at blee@bgov.com
To contact the editors responsible for this story: Loren Duggan at lduggan@bgov.com; Michaela Ross at mross@bgov.com