What to Know in Washington: UAW Strike Threatens Economic Damage
Bloomberg Government subscribers get the stories like this first. Act now and gain unlimited access to everything you need to know. Learn more.
Just when US automakers and the broader economy were shaking off the effects of the pandemic and semiconductor shortages, a long strike by the United Auto Workers union could bring higher inflation and economic damage.
A strike against General Motors, Ford, and Stellantis of just 10 days would reduce US GDP by $5.6 billion and likely push the Michigan economy into a recession, according to Anderson Economic Group. It could also make some car models scarce and push prices up after they started coming down from record levels.
If UAW President Shawn Fain makes good on threats to strike all three companies on Thursday, it would have far-reaching effects. A long walkout would hit suppliers and their workers and soften prices of key commodities, especially steel. Damage to the economies in Michigan, Ohio, and Wisconsin could make swing states a tougher sell in the 2024 election for President Joe Biden.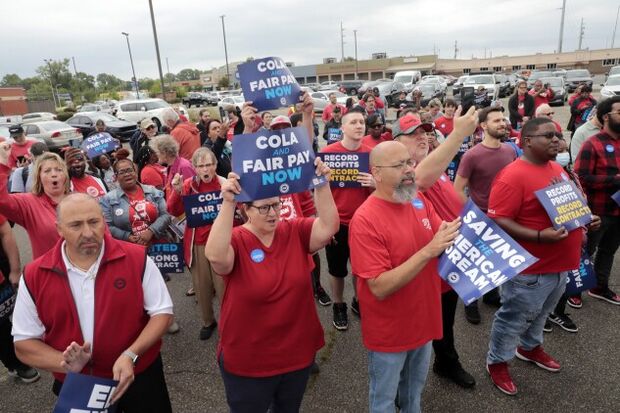 The Biden administration is on edge about the strike. The auto industry accounts for about 3% of US GDP but plays a much bigger role in the Great Lakes economies, and Democrats will rely on winning Michigan and Wisconsin to retain the White House. Biden has tapped Gene Sperling, former economic adviser to presidents Barack Obama and Bill Clinton and a Michigan native, to act as a liaison between the automakers and the union.
Michigan Gov. Gretchen Whitmer (D) told Bloomberg News in an interview last week that she is concerned about where the negotiations are headed. She is talking to leaders of each company and the union to try and head off a strike, but added that it is "unclear" what more she and her state can do.
If the workers wind up seeing strong wage gains, with or without a strike, it will push up labor costs nationwide after a summer of impressive pay gains won by Teamsters at UPS and pilots at American Airlines. Higher pay could also result from the ongoing strikes by Hollywood actors and writers. Read more on the conflict from David Welch and Michael Sasso.
BIDEN'S AGENDA
Biden departs Hanoi, Vietnam for Washington, D.C. and will stop in Anchorage, Alaska to give remarks to service members, first responders, and families commemorating the anniversary of the Sept. 11, 2001 terrorist attacks.
CONGRESS' SCHEDULE
The Senate is back to vote on a VA nominee with spending bills up for votes later this week.
House lawmakers return tomorrow with plans to vote on a defense spending bill this week.
For the full agenda read BGOV's Congress Tracker.
The G-20 Summit and Foreign Affairs
G-20 leaders agreed on a joint statement including compromise language on Russia's invasion of Ukraine that won praise from the US and its allies but drew criticism from Kyiv.
The Biden administration is likely to provide Ukraine with long-range Army Tactical Missile Systems to help the country's efforts to repel Russia, ABC reports. Read more.
Xi Jinping's decision to stay away from G-20 may have been intended to deny India its moment. Instead, Prime Minister Narendra Modi figured out how to more effectively counter China on the world stage.
China said that Premier Li Qiang used a meeting with Biden at G-20 to urge the US to see the possibilities that his nation's advances offer. Read more.
Biden hailed closer ties with Vietnam on his first visit to the country, as the US seeks to make deeper inroads in the region.
During his visit, Biden announced a series of semiconductor, aerospace, and infrastructure deals with business leaders in Vietnam, part of a push by the White House to deepen economic integration with Indo-Pacific nations. Read more.
Happening on Capitol Hill
Pharmacy benefit managers this week will try to counter the advance of bills in Congress that would cut into their profits, arguing the change only benefits drugmakers.
Biden's pick to lead the government's medical research agency will get a hearing after Sen. Bernie Sanders (I-Vt.) lifted his hold on Monica Bertagnolli's nomination.
The Senate Finance Committee expanded its bipartisan investigation of the organ donation system with requests for information from organizations that recover and help transplant human organs from deceased donors.
The House China Committee plans to hold a Taiwan war game with finance and business executives in New York today, the Financial Times reports.
Families of 9/11 victims are asking Congress to strengthen the law that allows them to sue foreign governments that funded or aided terrorist attacks, upping the lobbying effort before a key meeting overseas between Biden and Saudi Arabian leadership.
People, Power and Politics
The Atlanta grand jury that first probed Donald Trump's coordinated effort to stay in power after losing the 2020 election didn't rubber stamp every possible charge against the former president, who fared better than almost all other defendants in terms of how the panel voted.
A federal judge ruled that Mark Meadows wasn't acting within the scope of his duties when he joined efforts to reverse Trump's loss at the ballot box in 2020.
After noteworthy performances at the August debate, former South Carolina Gov. Nikki Haley is polling at 6.1% and former Vice President Mike Pence at 4.9%, according to RealClearPolitics averages. Haley is even beating Biden in a hypothetical 2024 match, according to a CNN/SSRS poll.
Top elected officials such as the president and members of Congress should release health records, including neurological tests, so people know whether they're mentally up to the job, Sen. Bill Cassidy (R-La.) said.
A number of top Biden administration officials will remain restricted in how they communicate with the country's largest social media platforms about the content they host, a federal appeals court ruled.
What Else We're Watching
The Biden administration asked the Supreme Court to uphold broad access to a widely used abortion pill, seeking a review of a ruling that would bar mail-order prescriptions and require in-person doctor visits.
The Center for Climate Integrity estimates that 13,700 US public schools that didn't need cooling in 1970 will either have or need it by 2025. Ten states, including Illinois, Michigan, New Jersey, and Ohio, each face more than $1 billion school cooling costs. The analysis found that schools typically install cooling systems when the number of days hotter than 80 degrees reaches 32 a year. Since 1970, the number of schools estimated to pass that threshold has risen by 40%.
To contact the reporters on this story: Giuseppe Macri in Washington at gmacri@bgov.com; Brandon Lee in Washington at blee@bgov.com
To contact the editor responsible for this story: Kayla Sharpe at ksharpe@bloombergindustry.com
Stay informed with more news like this – from the largest team of reporters on Capitol Hill – subscribe to Bloomberg Government today. Learn more.