What to Know in Washington: U.S. Weighs Solo Russian Oil Ban
Biden administration could act without support of allies
Congress considering legislation to implement ban, Ukraine aid
The Biden administration is considering whether to prohibit Russian oil imports into the U.S. without the participation of allies in Europe, at least initially, according to two people familiar with the matter.
The administration has yet to decide on a U.S. import ban, with the timing and scope of any move still fluid, according to the people, who spoke on condition of anonymity. Administration officials have been in close contact with allies on a possible ban while also working to prepare for the domestic impact, the people said.
Oil soared to as high as $139 a barrel in Asia trading Monday after it emerged that the Biden administration was weighing a possible embargo of Russian crude, fanning supply fears in an already volatile market. Brent crude oil jumped as much as 18% before paring gains, while U.S. equity futures dropped on the prospect of accelerating inflation.
Administration officials were discussing with the U.S. oil and gas industry last week how a ban could affect American consumers and global energy supplies, as lawmakers in both parties in Washington race to advance bills barring Russian oil imports to punish the Kremlin for its invasion of Ukraine.
Speaker Nancy Pelosi (D-Calif.), in a note to lawmakers Sunday, said the House is "exploring strong legislation" that would ban the import of Russian oil and energy products among other steps to isolate Russia from the global economy. Pelosi also said she intends to pass the emergency funding for Ukraine along with an omnibus spending bill to fund the government this week.
Pressure to act increased increased after President Volodymyr Zelenskiy asked lawmakers to ban the import of Russian oil during a call on Saturday. Read more from Jennifer Jacobs and Ari Natter.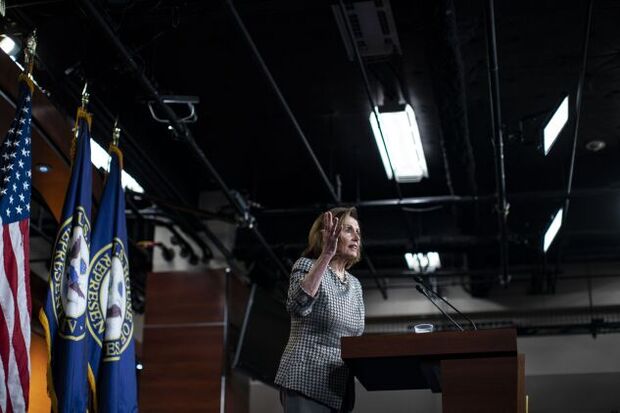 The U.S. and its European allies are discussing the possible ban of Russian oil imports to tighten the economic squeeze on President Vladimir Putin over the war in Ukraine, Secretary of State Antony Blinken said Sunday. Blinken, who said he discussed the matter with Biden on Saturday, said oil supplies would have to be ensured if such a measure were imposed.
Discussions on the possible impact of a ban on U.S. imports of Russian crude are taking place within the Biden administration and with the U.S. oil and gas industry, people familiar with the matter said last week. Sen. Joe Manchin (D-W.Va.), who's in a bipartisan group of lawmakers backing a bill to impose the restriction, suggested yesterday that the U.S. go it alone. Senate Majority Whip Dick Durbin (D-Ill.), the chamber's second-ranking Democrat, added his name to the bill yesterday.
"I think there's very strong bipartisan support to cut off Russian oil and gas sales to the United States," Rep. Adam Schiff (D-Calif.) said on CBS's "Face the Nation."
"I think the White House is open to this idea," Sen. Chris Murphy (D-Conn.) said on "Fox News Sunday." "They just want to make sure that it's done in a way that doesn't dramatically increase prices for American consumers."
"I just would much rather do it with the Europeans," Murphy said. Read more from Victoria Cavaliere.
In addition to Zelenskiy's ask to ban Russian energy imports, the Ukrainian president also sought a no-fly zone and expanded military aid to counter Russia's invasion of his country. With 300 members of the Senate and House on Saturday's call, the Ukrainian president won statements of support for more weaponry while facing reluctance on his appeal for NATO powers to enforce an exclusion zone for Russia's air forces. NATO and the U.S. say that declaring a no-fly zone would risk a war with Russia. He also sought to revive an EU proposal to have Ukrainian pilots use Russian-made fighter jets based in eastern NATO members.
While those countries have rejected the plan, Zelenskiy won support from Senate Majority Leader Chuck Schumer (D-N.Y.). "President Zelenskyy made a desperate plea for Eastern European countries to provide Russian-made planes to Ukraine," Schumer said Saturday. "These planes are very much needed. And I will do all I can to help the administration to facilitate their transfer." Read more from Daniel Flatley and Jennifer Jacobs.
Following the call, the U.S. said it's now working with Poland and others on possibly having them supply warplanes to Ukraine. Biden's administration is considering finding replacements for any fighter jets Poland might send from its fleet to Ukraine, the spokesperson said. The decision is Poland's to make, the spokesperson added, saying that there are logistical challenges, including transferring the aircraft. The talks involve the possibility of sending the countries F-16s to replace the jets they send Ukraine, a person familiar said, Jacobs and Flatley report.
Ukraine rejected a Russian proposal overnight to evacuate people from war zones in Ukraine to Belarus and Russia, asking instead for humanitarian corridors to other areas in Ukraine. "Our people from near Kyiv will not go to Belarus in order to fly to Russia," Ukrainian Deputy Prime Minister Iryna Vereshchuk said in a video statement. "We demand Russia stop manipulating and abusing trust of world leaders," she said, adding that Russia should "open routes that we have lined out." Read the latest in the Bloomberg News Ukraine Update.
MORE ON THE WAR IN UKRAINE:
Former Vice President Mike Pence told donors that there's no place in the Republican Party for "apologists" of Putin, his latest shot at Donald Trump ahead of a possible 2024 presidential bid. Pence made those remarks in a speech at the Republican National Committee's retreat in New Orleans, according to excerpts obtained by Bloomberg News. Trump, who also spoke at the GOP's spring convention this weekend, had previously said Putin is "very savvy" and a "genius" for his invasion of Ukraine. Read more from Mark Niquette.
Mike Pompeo said the U.S. must immediately recognize Taiwan as a country. The remark from the former secretary of state and another potential presidential candidate, came during a visit to Taipei and garnered a scornful response from China. "It is imperative to change 50 years of ambiguity," said Pompeo, the chief diplomat in the Trump administration who is visiting Taiwan at the invitation of a think tank. Read more.
Sen. Elizabeth Warren said banks are "undermining" sanctions on Russia by snapping up the nation's corporate bonds and suggesting clients buy assets on the cheap. In a statement released late Friday,

Warren

(D-Mass.) called out market makers JPMorgan Chase and Goldman Sachs following a Bloomberg report that the banks had been buying beaten-down bonds. Read more from Hannah Levitt.
Also Happening on the Hill
CONGRESSIONAL SCHEDULE:
The House is back at 2 p.m., with votes at 6:30 p.m. on bills under expedited floor procedure.
The Senate returns at 3 p.m., with a procedural vote at 5:30 p.m. on a package of U.S. Postal Service changes.
Lawmakers continue to work on a $1.5 trillion government funding package with just a few days left until Friday night's deadline to avoid a shutdown, leaving members of both chambers to consider how quickly they could pass the bill when it's ready. Negotiators said last week they couldn't afford delays over the weekend and would need to have the 12-bill spending package ready early this week. Leaders may attach a $10 billion spending bill to aid Ukraine and a $22.5 billion measure to provide Covid relief. House Majority Leader Steny Hoyer (D-Md.) said last week he hopes to hold a vote Tuesday. Senators will need unanimous consent to speed through procedural hurdles in order to pass a funding measure by Friday night's deadline. Read more from Jack Fitzpatrick.
A bipartisan House group is pushing to permanently ban a wide slew of synthetic opioids, fulfilling a White House request to crack down on fentanyl traffickers. Reps. Chris Pappas (D-N.H.), Dan Newhouse (R-Wash.), and Ted Budd (R-N.C.) will introduce a bill today to label fentanyl-related substances—copies of the powerful opioid often found in other illicit drugs—among the most controlled drugs, Schedule 1. The measure would allow researchers to put some types of fentanyl into less-controlled classes. Read more from Alex Ruoff.
Legislation to nullify pre-dispute deals forcing workers and consumers to pursue claims through arbitration rather than in court will get a vote in the House. Mandatory arbitration language is common in both employment and consumer agreements, and the FAIR Act would bar their enforcement. Hoyer wrote in a Feb. 25 letter to colleagues that it may be considered later this month. His office confirmed that the vote will take place before the House recess the week of March 21. Read more from Paige Smith.
The Capitol Police Board issued an emergency declaration Sunday in response to convoys of truck drivers who assembled around the capital region to protest the government response to Covid-19. The overseers of the police force that protects Congress and Capitol Hill said the truckers and other vehicles could shut highways, bridges and roadways in the capital region, including in Washington. The protest, which started Sunday with truckers making two noisy laps around the Capital Beltway interstate highway, could last several days. Read more from Bill Allison.
Around the Administration
BIDEN'S SCHEDULE:
Press Secretary Jen Psaki holds a press briefing at 2 p.m.
The president has no public events scheduled.
The Biden administration will soon review the first group of tariffs on more than $300 billion in Chinese imports needed to prevent their expiration, a process likely to bring new scrutiny of their effectiveness as inflation runs at a four-decade high. The evaluation, officially labeled a "review of necessity," so far has attracted little attention. It relates to Section 301 of the Trade Act of 1974, the law that Trump used to hit China with the tariffs in 2018. The law states that tariffs lapse four years after they were imposed, unless the U.S. Trade Representative's office analyzes their effectiveness. Read more from Eric Martin.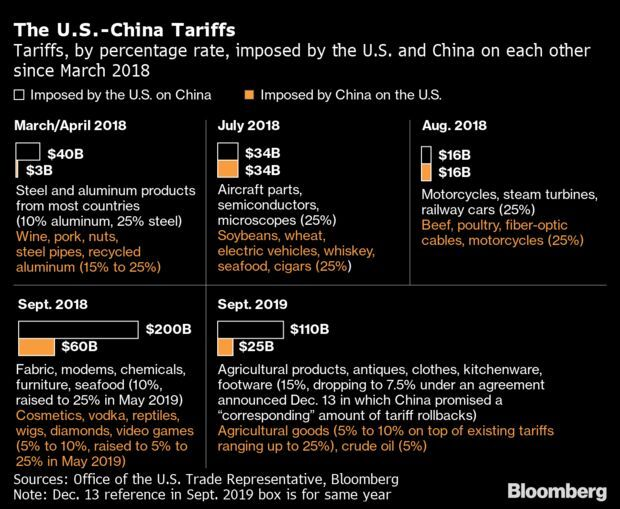 China warned the U.S. against trying to build what it called a Pacific version of NATO, while declaring that security disputes over Taiwan and Ukraine were "not comparable at all." Foreign Minister Wang Yi told his annual news briefing Monday that the "real goal" of the U.S.'s Indo-Pacific strategy was to form Asia's answer to the North Atlantic Treaty Organization. China has often accused the U.S. of trying to form blocs to suppress its growth, a complaint that's likely to attract greater attention after President Vladimir Putin cited similar grievances before his invasion of Ukraine. Read more from Bloomberg News.
Iran and world powers could announce a revival of the 2015 nuclear deal as soon as this week. If all goes to plan, the U.S will formally reenter the agreement that curbs Tehran's atomic work in return for an easing of sanctions. Iran paved the way for final negotiations by agreeing over the weekend to help the International Atomic Energy Agency finish a contentious investigation into Tehran's past activities. Some hurdles still remain. Blinken will meet with his Israeli counterpart on Monday to discuss the Iran deal and Russia's invasion of Ukraine. Read more from Sylvia Westall.
U.S. efforts to catch up with China and Russia in developing hypersonic weapons may be set back after Lockheed Martin's air-launched missile suffered three consecutive test failures that left it on a tight schedule. That's put in doubt the Pentagon's goal to declare it America's first combat-ready hypersonic weapon and approve initial production by Sept. 30. Read more from Tony Capaccio.
To contact the reporters on this story: Michaela Ross in Washington at mross@bgov.com; Brandon Lee in Washington at blee@bgov.com
To contact the editors responsible for this story: Giuseppe Macri at gmacri@bgov.com; Loren Duggan at lduggan@bgov.com