What to Know in Washington: U.S. Troops Finish Afghanistan Exit
The U.S. officially ended its military presence in Afghanistan with the final flight out of Kabul, concluding two decades of American involvement touched off by the Sept. 11 terrorist attacks.
America's longest war ended with a rushed withdrawal of more than 123,000 people since Aug. 14. That followed the Taliban advance to Kabul, and the killing of 13 U.S. service members in a suicide bombing outside the capital city's airport last week.
General Kenneth McKenzie, the head of U.S. Central Command, said yesterday that some Americans who wanted to leave were not able to get to the airport in time for the military to transport them. No U.S. citizens were evacuated on the last five flights. Leaving Americans behind is sure to prompt criticism of the Biden administration from lawmakers from both parties.
Secretary of State Antony Blinken last night said there are fewer than 200 Americans in Afghanistan who want to leave, and that number is likely closer to 100. Blinken said the U.S.'s commitment to helping these people has no deadline, Catherine Larkin reports.
President Joe Biden, who will address the nation on the withdrawal this afternoon, said the Taliban who now rule Afghanistan have "made commitments on safe passage and the world will hold them to their commitments."
Biden in a statement yesterday said of the Aug. 31 departure date "it was the unanimous recommendation of the Joint Chiefs and of all of our commanders on the ground to end our airlift mission as planned. Their view was that ending our military mission was the best way to protect the lives of our troops, and secure the prospects of civilian departures for those who want to leave Afghanistan in the weeks and months ahead." Read more from Jennifer Epstein and Tony Capaccio.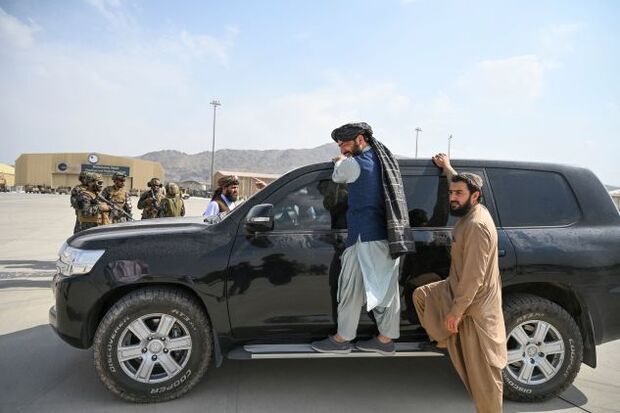 Today's Agenda: Biden and Vice President Kamala Harris will meet with their national security team at 10:30 a.m. on Afghanistan. Biden is scheduled to speak on Afghanistan from the White House at 1:30 p.m. Biden will also receive updates today on the effects of Hurricane Ida.
Withdrawal Leaves Afghanistan in Crisis, Uncertainty: The departure of the last U.S. military plane from Afghanistan left the region facing uncertainty, with the Taliban seeking to cement control of a nation shattered by two decades of war and an economy long dependent on foreign aid and opium sales. The fate of the tens of thousands of Afghans—civil society workers, women and girls, minorities—who may want to flee but couldn't make it through the crush of people at Kabul's airport this month remains uncertain. Justin Sink and Nick Wadhams take a look at the biggest unanswered questions about the country's future.
Taliban Call for Good Ties With U.S.: The Taliban called for good ties with the U.S. hours after the last American soldiers flew out of Kabul, with the militant group now facing a host of fresh challenges. "The Islamic Emirate wants a good and diplomatic relationship with the Americans," Zabihullah Mujahed, the Taliban's main spokesman, told reporters today from the Hamid Karzai International Airport, which was the last place under American control. Read more from Eltaf Najafizada.
Happening on the Hill
Transit, Bus and Jet Fuel Wish Lists: Lawmakers and industry are pushing for incentives to make flying greener as part of a $3.5 trillion tax and spending bill. Democrats, who are prioritizing environmental projects in budget negotiations, say they see support for provisions such as a sustainable aviation fuel tax credit among their caucus. American Airlines and Delta Air Lines are among the airlines lobbying for government help to buy greener fuel. "I am working hard to ensure sustainable aviation fuel investments are included in the budget reconciliation," said Rep. Julia Brownley (D-Calif.). "I am optimistic that we are going to get key provisions over the finish line." Read more from Lillianna Byington.
A coalition of more than 40 advocacy groups is pushing Democrats for at least $10 billion in public transit spending to be included in the bill. The funding was cut out of the bipartisan infrastructure deal. "We also urge Congress to provide significant, dedicated funding to construct high-speed rail in the United State," the groups wrote in a pair of letters sent yesterday to Transportation Secretary Pete Buttigieg and Democratic lawmakers, Lillianna Byington reports.
Finding a place to charge your electric vehicle on a road trip may be as easy as locating the nearest post office under a plan Democrats are pitching. The idea aims to address concerns about establishing an equitable and efficient way to dole out billions of dollars toward a network of charging stations, lawmakers say, Lillianna Byington reports.
Democrats Aim to Boost Oil, Gas Fees in Reconciliation: Oil and gas drillers would see leasing and other fees on federal lands and waters increase, while the government would invest billions more in climate resilience, drought relief, and conservation programs under a draft reconciliation bill the House Natural Resources Committee released last night. The panel had a topline number of $25.6 billion to work with from the budget resolution, but included several revenue raisers in the legislative text related to fossil fuel activities, which would boost that amount to approximately $31 billion, a committee spokesman said. The committee is scheduled to consider the legislation on Thursday. Read more from Kellie Lunney.
House Republicans Oppose Debt Ceiling Increase: Half the House Republican Conference—106 members—signed a letter yesterday saying they would not "vote to increase the debt ceiling," regardless of whether a debt limit measure is attached to a stopgap funding bill to avert a shutdown, Jack Fitzpatrick reports. The letter, led by Rep. Kevin Hern (R-Okla.), comes as Republicans in both chambers say Democrats should come up with the votes to raise or suspend the debt limit through the partisan budget reconciliation process. Republicans oppose Democrats' plans for a $3.5 trillion social spending and tax bill and say Democrats should carry the burden to address the debt limit. "Because Democrats are responsible for the spending, they need to take responsibility for increasing the debt ceiling," the lawmakers wrote.
Congress will need to raise or suspend the debt ceiling sometime this fall in order to avert a default on federal payments. Despite Republicans' promise to oppose a debt limit increase, the letter also says the U.S. "should not default on our debts under any circumstances," though it says Democrats have the ability to address the issue without Republican votes.
Democrats Find Use for Trump-Era Tax Break: Senate Democrats have decided to move forward with an idea that would repurpose a Trump-era tax break to help impose higher taxes on U.S. companies' foreign income. The Democrats want to use a "high-tax exclusion" issued under former President Donald Trump that was originally intended to help U.S. multinationals avoid some U.S. taxes. But Democrats would use it to help identify income that companies are trying to shield from U.S. taxes, and calculate how much more in taxes they should be paying on it. Read more from Michael Rapoport.
Vilsack Pressed on Farmer Relief Programs: The top Republicans on the Senate and House Agriculture panels told Agriculture Secretary Tom Vilsack to put "greater forethought" on future USDA programs, pointing to debt relief for socially-disadvantaged farmers currently in limbo due to legal challenges. Sen. John Boozman (R-Ark.) and Rep. Glenn Thompson (R-Pa.) also mentioned unanswered data questions about pandemic-related spending in a letter yesterday, Megan U. Boyanton reports.
Progressives Urge Against Powell as Fed Chair: Rep. Alexandria Ocasio-Cortez (D-N.Y.) and a group of fellow progressive Democrats are calling on Biden to replace Federal Reserve Chair Jerome Powell when his term expires. "We urge President Biden to re-imagine a Federal Reserve focused on eliminating climate risk and advancing racial and economic justice," the representatives wrote in the statement yesterday. "This consequential appointment has the potential to remake the composition of the Board of Governors." Read more from Jarrell Dillard and Steven T. Dennis.
Capitol Attack Probe Panel Asks Media Firms to Preserve Records: The House committee investigating the Jan. 6 attack at the U.S. Capitol has asked AT&T, Verizon and 33 other communications companies to preserve the records of individuals connected to the insurrection and Trump's efforts to overturn the 2020 election. The committee released copies of the nearly identical letters but did not make public the individuals whose records they are seeking. The request spans the months leading up to the attack and through its aftermath. Read more from Erik Wasson.
Cyber Incident Reporting Mandated in Draft Bill: Critical infrastructure operators would be required to report cyber incidents to the government's cybersecurity agency within three days under a bipartisan bill from by House Homeland Security Committee leaders. The draft legislation follows a large increase in cyberattacks across critical infrastructure sectors, including on energy firm Colonial Pipeline and meat producer JBS, and increased pressure to require companies to share incidents with the federal government. Read more from Rebecca Kern.
Around the Administration
CDC Panel Backs Pfizer Shot, Punts on Booster: Pfizer and BioNTech's Covid-19 vaccine got the backing of key health advisers, putting it on the cusp of a final signoff that would help governments and business push wider adoption. The Centers for Disease Control and Prevention's Advisory Committee on Immunization Practices voted unanimously in favor of the two-dose regimen in people 16 and older yesterday. It still needs a final nod from CDC Director Rochelle Walensky.
Yesterday's meeting was originally intended to be occupied with the discussion of boosters more broadly. Now it appears that the bulk of those discussions will take place in mid-September, as the White House rushes toward a Sept. 20 kickoff for rolling out the extra shots. Read more from Fiona Rutherford.
Garland Wants Big Law Firms to Help Fight Evictions: The Biden administration is calling on law firms and law schools to help fight evictions following a Supreme Court ruling last week to remove protections created by the federal government in response to the pandemic. Attorney General Merrick Garland yesterday called on the legal community to take immediate action and help address the "looming housing and eviction crisis," a letter obtained by Bloomberg Law shows. Meghan Tribe has more.
Banks Brace for Overdraft Scrutiny: Federal regulators are expected to take steps in the coming months to curtail overdraft fees even after several larger banks have voluntarily reined in their practices. Overdraft fees were in the Consumer Financial Protection Bureau's crosshairs during the Obama administration and are likely to be again if Biden's nominee for director, Rohit Chopra, wins Senate confirmation as expected. Read more from Evan Weinberger.
Biden Antitrust Pick Earned $20.3 Million From Firm: Jonathan Kanter, Biden's nominee for Justice Department antitrust chief, earned $20.3 million over two years from his former law firm, according to federal financial disclosure forms. The money was his partnership share at Paul, Weiss, Rifkind, Wharton and Garrison, "and payments in connection with my departure from the firm," according to a form Kanter submitted to the Office of Government Ethics. Read more from Sam Skolnik.
Kerry Will Visit China, Japan to Discuss Climate: John Kerry, the U.S. special presidential envoy for climate, began a tour that takes him to Japan and China to discuss commitments as the international summit in Scotland later this year draws nearer, the State Department said. The trip, which started with meetings in Japan today, is intended to involve the two Asian powers in the international campaign to combat global warming, the department said in a statement last night. Read more from John Harney.
More Americans Covered by Health Insurance in 2020, CDC Says: Nearly 32 million people in the U.S. lacked health insurance in 2020, a modest drop from about 33 million the year before, the Centers for Disease Control and Prevention reported today. The government data confirms earlier reports that losses in employer-sponsored insurance during the pandemic didn't lead to higher uninsured rates because many people were able to shift to Medicaid or Affordable Care Act coverage. Read more from Sara Hansard.
With assistance from Brandon Lee, Megan U. Boyanton, and Jack Fitzpatrick
To contact the reporter on this story: Giuseppe Macri in Washington at gmacri@bgov.com
To contact the editors responsible for this story: Zachary Sherwood at zsherwood@bgov.com; Loren Duggan at lduggan@bgov.com; Michaela Ross at mross@bgov.com