What to Know in Washington: U.S. Stops Mask Mandate on Airplanes
Most major U.S. airlines ease masking rules on flights
More Ukrainians can receive U.S. immigration protections
Passengers on airplanes, trains and other public transportation in the U.S. don't have to wear masks anymore, after a federal judge struck down the mandate.
The U.S. Transportation Security Administration and the Centers for Disease Control and Prevention said orders requiring masks on public transportation would no longer be enforced, although both agencies recommended their continued use.
U.S. District Judge Kathryn Kimball Mizelle in Tampa, Florida, vacated the mask requirement nationwide Monday and directed the CDC to reverse the policy put in place in February 2021. The ruling was handed down in a lawsuit filed last year by the Health Freedom Defense Fund, a nonprofit group that says it focuses on "bodily autonomy" as a human right.
"Today's court decision means CDC's public transportation masking order is not in effect at this time," an administration official said in a statement. "Therefore, TSA will not enforce its Security Directives and Emergency Amendment requiring mask use on public transportation and transportation hubs at this time."
The five largest U.S. carriers—American Airlines, Alaska Air, Delta Air Lines, Southwest Airlines and United Airlines—said they were dropping their mandates effective immediately. Use of masks will be optional for both passengers and staff, they said. Uber Technologies also said masks are now optional for riders and drivers.
White House Press Secretary Jen Psaki called the judge's ruling "a disappointing decision" and said "we're continuing to recommend that people wear masks" while the administration considers its legal options.
The mask requirement has has been particularly contentious because it has been linked to a surge in the number of disruptive passengers on flights. At the same time, it has eased fears of infection and helped the airlines bounce back after travel was decimated in the early days of the pandemic.
The CDC announced last week that it would extend the mask mandate by two weeks, to May 3, as it weighs data on Covid-19 cases and hospitalizations driven by the BA.2 subvariant. The extension is shorter than previous ones, signaling that the agency was nearing a position to lift the mandate altogether. Read more from Erik Larson, Fiona Rutherford and Mary Schlangenstein.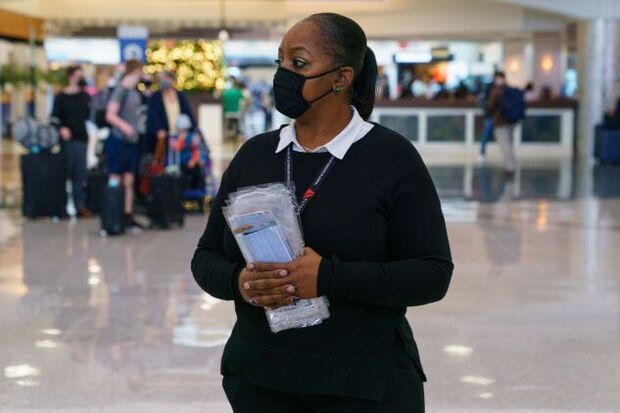 MORE CORONAVIRUS COVERAGE:
More Headlines:
Dozens of Lawmakers Travel Abroad Amid Ukraine War
At least 30 members of Congress, including members of senior leadership, are spending part of the two-week congressional recess in eastern Europe as Russia wages war against Ukraine, Zach C. Cohen reports.
House Majority Leader Steny Hoyer (D-Md.) and House Minority Leader Kevin McCarthy (R-Calif.) recently returned to the U.S. after separate bipartisan congressional delegations to the continent, including to Poland on Ukraine's northern border.
"In Berlin, Copenhagen, Warsaw, and at the Ukrainian border we heard the same message over and over again," Hoyer said in a statement yesterday. "The free world needs America to continue leading the unified effort against Vladimir Putin's criminal and unprovoked war in Ukraine."
McCarthy, whose group also visited Romania and Brussels, after his trip praised Ukrainians' "fortitude" and European countries' increase in its military spending and acceptance of Ukrainian refugees. "All they're asking for is the weapons to defend themselves," McCarthy said on Fox News Sunday. "If we would have taken those actions earlier instead of waiting until after Russia invaded, they probably never would have invaded."
Sen. Rick Scott (R-Fla.), a member of GOP leadership, is also meeting with "high-level officials" in Poland, Germany, and Lithuania this week to "reinforce" the country's commitment to Ukraine and NATO allies, Scott spokesman McKinley Lewis said. Scott and his wife, Ann Scott, visited Ramstein Air Force Base in Germany on Sunday, where they attended an Easter service and ate with members of the American military. The Scotts are covering the costs of Ann's travel.
Two Republicans, Sen. Steve Daines (Mont.) and Rep. Victoria Spartz (Ind.), a Ukrainian immigrant, last week crossed into the war-torn country to visit Kyiv and Bucha.
Sens. Kirsten Gillibrand (D-N.Y.), Cory Booker (D-N.J.), Mark Kelly (D-Ariz.), and Ed Markey (D-Mass.) as well as Rep. Mondaire Jones (D-N.Y.) also plan to visit Poland in the coming days.
A separate delegation comprised of Reps. Jason Crow (D-Colo.), Peter Welch (D-Vt.), Sean Patrick Maloney (D-N.Y.), and Mike Quigley (D-Ill.) returned last week from a trip to Poland, Slovakia, and Romania.
Crow told reporters upon his return that Congress will need to pass another emergency spending package. He emphasized Ukrainians will need more "significant amounts" of weapon support, including fighter jets, if they are to repel the Russian military in the months to come.
"We have to rise to meet that moment," Crow, a member of the House Intelligence Committee, said yesterday, "and I'm going to be working with the Biden administration to make sure that we are providing the weapons and equipment that we need for the next phase of this war."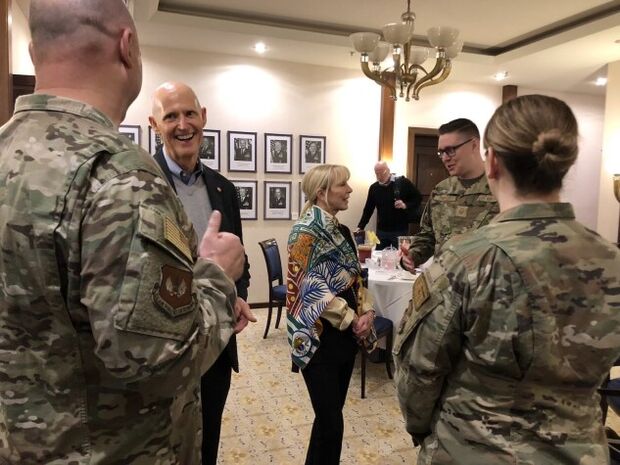 Biden is extending deportation protections to more Ukrainian nationals in response to the ongoing war with Russia. A Federal Register notice set to publish Tuesday broadens the eligibility for Ukrainians in the U.S. to get Temporary Protected Status to those in the U.S. since April 11, instead of March 1. The date change nearly doubles the estimate of people eligible for protection—nearly 60,000 now, according to the Department of Homeland Security. Read more from Andrew Kreighbaum and Ellen M. Gilmer.
The meeting of Group of 20 finance chiefs this week will include Russian representatives and is intended to send the message that Russia is fully responsible for the global economic consequences of its war on Ukraine, a German government official said. After a long discussion, an agreement has emerged that Russia shouldn't be able to dictate the G-20 format or the agenda of the upcoming meeting of finance ministers and central bank governors, the official said. Read more from Birgit Jennen.
Earlier, the U.S. backed further away from any suggestion its officials would boycott G-20 meetings if their Russian counterparts attend, as the Treasury Department said Secretary Janet Yellen will participate in some sessions this week. Yellen will avoid some meetings of the G-20's finance ministers in Washington, but will attend others focused on the economic fallout from Russia's invasion of Ukraine. Read more from Christopher Condon.
A cargo of crude from the U.S. Strategic Petroleum Reserve departed a Texas port bound for Europe, a signal of increasing oil-market disarray as refiners shun Russian supplies and prices surge. The rare export of strategic U.S. barrels is evidence of the ever-widening search for crude to replace Russian cargoes seven weeks after Putin's invasion triggered international revulsion and sanctions. Read more from Sheela Tobben and Joe Carroll.
A cyber organization accredited by NATO will conduct what it bills as the largest and most complex "live-fire" cyber defense exercises in the world beginning Tuesday. The NATO Cooperative Cyber Defense Center of Excellence, which is based in Estonia, said the annual event, called Locked Shields, is intended to boost the skills of cybersecurity experts defending national IT systems and critical infrastructure under real-time attacks. Andrew Martin has more.
MORE ON THE WAR IN UKRAINE:
President Vladimir Putin awarded a special elite designation to an army unit that Ukraine has accused of committing war crimes in the town of Bucha, Bloomberg News reports.
Russia's economic crisis has lost some of its sting, buying more time for Putin at home as his military presses a new offensive in its war against Ukraine. Even with a recession looming and inflation approaching 20%, the economy has for the moment defied the most dire forecasts. Read more from Bloomberg News.
Deputy Treasury Secretary Wally Adeyemo on Monday countered the argument that the U.S.'s sanctions-based response to Russia's invasion of Ukraine would encourage adversaries to build their own, separate international economic and financial system, adding his takeaway was "the opposite," in a prepared speech, Christopher Condon reports.
Happening on the Hill
Democratic lawmakers want information from Intuit, the maker of TurboTax tax preparation software, about how much money the company makes off of low- and middle-income filers, and information about how many Intuit employees previously worked for federal agencies. In a public letter sent Monday, Sen. Elizabeth Warren (D-Mass.) and Reps. Katie Porter (D-Calif.) and Brad Sherman (D-Calif.) accuse the company of misleading consumers and using former government officials to shield it from government action. Read more from Colin Wilhelm.
A House Democrat pushing to require state Medicaid programs to cover women one-year after giving birth said Monday she's looking for "another route" beside the stalled Build Back Better Act to get her legislation into law. The requirement that states extend Medicaid postpartum coverage for 12 months was part of the package effectively torpedoed by opposition from Sen. Joe Manchin (D-W.Va.) in December. Rep. Robin Kelly (D-Ill.) said she's now hoping to build support to pass it through the House and hopefully gain traction in the Senate. It's a sign that Democrats are making plans for key domestic policy issues outside reconciliation as it remains stalled in the Senate, Alex Ruoff reports.
Two senior lawmakers have joined the Pentagon in pushing for TransDigm Group to pay $20.8 million in voluntary refunds for the costs of spare parts that were deemed excessive by the Defense Department's inspector general. The $20.8 million "may be only the tip of the iceberg," Rep. Carolyn Maloney (D-N.Y.), chairwoman of the House Oversight Committee, and Sen. Chuck Grassley (R-Iowa) wrote in a letter released on Monday. Read more from Tony Capaccio.
The two top Republican tax-writers in Congress still want answers from Treasury on how a news outlet got private tax information on some of the wealthiest Americans. Senate Finance Committee ranking member Mike Crapo (R-Idaho) and House Ways and Means Committee ranking member Kevin Brady (R-Texas) are pressing the Treasury Department again to identify how the information ended up with ProPublica, which has published a series of articles based on the tax data, Kaustuv Basu reports.
Join our webinar for insights on the key policy items Congress plans to tackle as it returns from its spring recess. Bloomberg Government's analysts April 27 will discuss what House and Senate leaders plan to prioritize for the remainder of 2022, with an eye on what can be accomplished before the midterm elections or possibly left to a lame-duck session. They'll talk about the latest on bills to boost U.S. manufacturing to compete with China, proposals to reauthorize key programs that committees are exploring, and whether there's any chance for a budget reconciliation. Register here.
Elections & Politics
Kimberly Guilfoyle, a Trump campaign fundraiser and Donald Trump Jr.'s fiance, was re-interviewed in-person Monday by the House committee investigating the Jan. 6 assault on the U.S. Capitol. The appearance is a follow-up to Guilfoyle's abbreviated Feb. 25 session with the panel, which was done virtually and ended abruptly with accusations by her legal team of leaks of information to the media. Read more from Billy House.
Speaker Nancy Pelosi endorsed fellow member of Congress Charlie Crist to take on Florida Governor Ron DeSantis in the election set for November. "We have an excellent chance to elect a Democratic governor in Florida," Pelosi (D-Calif.) said in a campaign video. Crist (D-Fla.), who began his career as a Republican but joined the Democratic Party in 2012, said on Twitter that he was "honored" to receive Pelosi's support. He previously served as Florida's governor from 2007 to 2011. Read more from Nathan Crooks.
Former Bridgewater CEO David McCormick reported income of over $27 million and assets worth at least $115 million, according to a required financial disclosure for his Republican U.S. Senate bid in Pennsylvania. McCormick, 56, is locked in a tight May 17 GOP primary race in a field of six other candidates, including celebrity physician Mehmet Oz. Oz, 61, known for his one-time television program the "Dr. Oz show," reported at least $104 million in assets—also disclosed in wide ranges—and income of at least $20 million over 2020 and 2021. Bill Allison and Mark Niquette have more.
A voter challenge to Rep. Marjorie Taylor Greene (R)'s eligibility to seek reelection can continue, a federal judge ruled, potentially giving Georgia officials access to information and testimony about the Jan. 6 attack on the Capitol that has eluded a House panel investigating it. U.S. District Judge Amy Totenberg's ruling wades into unprecedented legal territory centered around Article 3 of the 14th Amendment, which bars from office any sworn official who has then "engaged in insurrection or rebellion against the same [United States], or given aid or comfort to the enemies thereof." Read more from John Holland.
Former Rep. Joe Crowley is joining Dentons' Public Policy practice as a senior policy director, according to a press release. Crowley (D-N.Y.), who lost his seat to Rep. Alexandria Ocasio-Cortez (D-N.Y.) in the 2018 election joins the firm from his role as a senior policy advisor at Squire Patton Boggs, Zach C. Cohen reports.
Mark Pomerantz, who quit the Manhattan District Attorney's office after what he called a "misguided" decision not to prosecute former President Donald Trump, has rejoined his old firm, Paul Weiss Rifkind Wharton & Garrison. Pomerantz resigned in Feburary after he said the district attorney, Alvin Bragg, had decided not to seek criminal charges against Trump at that time. Read more from Meghan Tribe.
Arizona lawmakers are nearing a final vote to put on the November ballot a constitutional amendment to outlaw teaching "critical race theory" in public institutions. The university-level academic framework examining systemic racism has become both a political target across the country and shorthand for school lessons about privilege and discrimination. "I think Democrats are really underestimating how much of an issue that is with the Republican base," said Lorna Romero Ferguson, a Phoenix-based GOP strategist. Read more from Brenna Goth.
Defense & Foreign Affairs
A senior official responsible for driving technological innovation at the U.S. Department of Defense has resigned, saying the Pentagon needs "structural change" and should behave more like SpaceX, Elon Musk's satellite company that has shaken up rocket launches. "We're falling behind the commercial base in key areas, so we've got to catch up," Preston Dunlap, the first person in the DOD to fulfill the role of chief architect officer, told Bloomberg News in an interview. Read more from Katrina Manson.
Vice President Kamala Harris announced the U.S. won't test some anti-satellite weapons in space, a move aimed at pressuring rivals Russia and China. Banning "reckless and irresponsible" anti-satellite missile tests should become the "international norm," her office said in a statement. During a visit to the Vandenberg Space Force Base in California, Harris announced the U.S. will forgo tests of "direct-ascent" anti-satellite weapons—generally, missiles designed to destroy spacecraft in orbit by impact. Read more from Jordan Fabian.
More Headlines:
Around the Administration
BIDEN'S SCHEDULE:
Biden will convene a virtual meeting at 9:45 a.m. with allies to discuss efforts in Ukraine.
Biden is set to deliver remarks at 2:45 p.m. on the modernization of ports. Ahead of his speech, he'll visit New Hampshire's Portsmouth Harbor, which is set to receive funding from the bipartisan infrastructure law.
Buy America Infrastructure Guidance Gets Pushback: The Biden administration issued guidance on Monday to require that projects funded by the infrastructure package (Public Law 117-58) source steel, iron, and construction materials from the U.S., which quickly raised concerns from the construction industry. The new guidance, which also sets up a process for waivers on those requirements, was mandated to be put in place by May 14 by a provision in the infrastructure law, Lillianna Byington reports.
Stephen Sandherr, CEO of the Associated General Contractors of America, said the new mandate would require individual federal agencies to run waivers by the White House for materials not made in U.S., which would slow down the process. "It makes no sense to place unrealistic limitations on firms' ability to source key materials at a time when prices for those products are skyrocketing and supplies are limited," Sandherr said in a statement Monday.
The Energy Department was expected to provide details this week on a $6 billion program aimed at keeping uneconomical nuclear plants in service, providing a lifeline to an industry that's seen a raft of early reactor retirements driven by competition from cheaper power sources. The program, funded through the $550 billion infrastructure law will let owners and operators of commercial nuclear reactors apply for credits for plants that are likely to shut down for economic reasons if the closures would lead to higher emissions. Read more from Ari Natter.
Separately, the Interior Department's resumption of oil and gas leasing fails to give energy companies certainty about the future of drilling on federal land and is unlikely to resolve any court challenges, lawyers say. The agency announced on April 15 that the Bureau of Land Management will hold much-pared-down oil and gas lease sales later this year, effectively ending the White House's 2021 leasing "pause" established to consider drilling's impact on climate change. Read more from Bobby Magill.
Meanwhile, the Biden administration took formal steps toward its first sales of onshore oil and gas leases on federal land Monday, with announcements teeing up those auctions in June, Jennifer A. Dlouhy reports.
A cargo of crude from the U.S. Strategic Petroleum Reserve departed a Texas port bound for Europe, a signal of increasing oil-market disarray as refiners shun Russian supplies and prices surge, Joe Carroll reports.
A natural gas pipeline in Texas operated by Energy Transfer leaked so much of the super-potent greenhouse gas methane in little more than an hour that by one estimate its climate impact was equivalent to the annual emissions from about 16,000 U.S. cars. The leak came from a pipe that's a tiny part of a vast web of unregulated gathering lines across the U.S. Although new federal reporting requirements start next month for these pipes, the incident highlights the massive climate damage even minor parts of the network can inflict. Read more from Aaron Clark and Naureen Malik.
The Medicare agency would pay acute care hospitals 3.2%—about $1.6 billion—more for inpatient services in fiscal 2023, the Biden administration proposed Monday. Long-term care hospitals would get an extra 0.7%, or $25 million, under the proposed rule released by the Centers for Medicare & Medicaid Services, Allie Reed reports.
Separately, Biogen's chances of seeing change to Medicare's limited Alzheimer's drug coverage will hinge largely on whether it can find patients who say they have been unreasonably denied access to the treatment. CMS restricted coverage for Biogen's Aduhelm and other treatments like it to patients in CMS-approved clinical trials. Read more from Celine Castronuovo and Jeannie Baumann.
U.S. regulators are applying greater scrutiny to Tesla's Autopilot than ever before. The National Highway Traffic Safety Administration, which has the authority to force recalls, has opened two formal defect investigations that could ultimately lead Tesla to have to retrofit cars and restrict some use of Autopilot. A clampdown could damage confidence in tech other companies are spending billions to develop in hope of reversing a troubling trend of soaring U.S. traffic fatalities. Read more from Craig Trudell and Keith Laing.
The Justice Department is pressing ahead with criminal antitrust prosecutions despite a pair of defeats last week, but the losses will influence the department's strategy and how defense attorneys respond. When juries in Colorado and Texas failed to convict executives on antitrust charges last week, they delivered setbacks to the government's boundary-testing theory that anti-competitive practices affecting workplace conditions amount to criminal misconduct. Read more from Ben Penn and Valerie Bauman.
Federal Reserve Bank of St. Louis President James Bullard said Monday the central bank needs to move quickly to raise interest rates to around 3.5% this year with multiple half-point hikes and that it shouldn't rule out rate increases of 75 basis points. Read more from Steve Matthews.
A visit by IRS Commissioner Chuck Rettig to Waffle House offering higher pay to its workers than his agency highlights a major challenge the IRS has in recruiting enough entry-level workers to perform important jobs like handling the more than a million paper documents the IRS receives each week or staffing the agency's help lines. Like many employers during "The Great Resignation," staff retention is also a challenge for the IRS: In both fiscal 2020 and fiscal 2021, the total number of retirements and separations from the IRS slightly exceeded the number of external hires, according to an annual report from National Taxpayer Advocate Erin Collins. Read the latest installment in a multi-part series from David Hood and Naomi Jagoda on the problems plaguing the IRS.
The former acting leader of Biden's White House regulations office served in the job unlawfully for more than five months, a federal watchdog found, marking the first official violation under the Biden administration of the law that governs interim officials. Sharon Block, who left her job leading the Office of Information and Regulatory Affairs (OIRA) earlier this year, didn't meet the government service requirements to be that office's acting administrator under the Federal Vacancies Reform Act, the Government Accountability Office said Monday. Read more from Courtney Rozen.
A group that facilitates compliance with U.S. children's online privacy law is turning its attention to teens, with a new roadmap for how companies should consider potential risks from data collection and use. The new framework was developed over the past year and is meant to help fill a gap in data safeguards for teens, since the federal Children's Online Privacy Protection Act only covers kids under 13. Read more from Andrea Vittorio.
From the Supreme Court
The Supreme Court declined to review a New York-led constitutional challenge to the $10,000 cap on state and local tax deductions imposed by Congress in the 2017 tax law. The high court issued an order Monday denying the request from New York, New Jersey, Maryland, and Connecticut to review a decision of the U.S. Court of Appeals for the Second Circuit. Read more from Aysha Bagchi, Perry Cooper and Donna Borak.
The U.S. Supreme Court rejected a Black death-row inmate's appeal despite one of his Texas jurors believing non-whites are more dangerous than whites. The denial underscores the difficulties capital defendants face at the high court dominated by Republican appointees. Read more from Jordan S. Rubin.
The Supreme Court won't be rescheduling arguments in the fight over work requirements for Medicaid beneficiaries that had been sitting in limbo at the court for over a year. The justices on Monday agreed the cases disputing the Trump administration's approval of work rules in Arkansas and New Hampshire are now moot. Read more from Lydia Wheeler.
With assistance from Lillianna Byington and Alex Ruoff
To contact the reporters on this story: Michaela Ross in Washington at mross@bgov.com; Zach C. Cohen in Washington at mailto:zcohen@bloombergindustry.com
To contact the editors responsible for this story: Brandon Lee at blee@bgov.com; Loren Duggan at lduggan@bgov.com
Editor's note: The section on Ukraine travel was updated with information on the Scotts' travel arrangements.