What to Know in Washington: U.S. Preps Massive Ukraine Aid Surge
$750 million will bolster Ukraine military
Biden lobs genocide allegation at Putin
The Biden administration is preparing a military assistance package of roughly $750 million for Ukraine in its battle against Russian invaders, people familiar with the matter said Tuesday night.
The weapons and other equipment are expected to be sent under presidential drawdown authority, which allows President Joe Biden to transfer equipment from U.S. stocks without congressional approval to speed up deliveries during an emergency. The types of weapons in the package are still being discussed and are not finalized, added the people, who requested anonymity to discuss the assistance before it was announced.
The move comes as Russian President Vladimir Putin vowed to continue pursuing the war. The U.S. has provided more than $2.4 billion in military assistance to Ukraine since Biden took office. Of that, over $1.7 billion was delivered after the invasion began on Feb. 24. The plan for enhanced military aid was reported earlier by Reuters and the Washington Post.
Ukraine has repeatedly asked the U.S. and European nations to increase weapons shipments as it braces for a new offensive by Russian forces in the country's east after they were forced to pull back from areas around Kyiv. But the U.S. continues to reject pleas from Ukrainian President Volodymyr Zelenskiy to provide fighter jets over concern it would bring about a direct U.S.-Russia confrontation and heighten the risk of world war. Read more from Tony Capaccio and Jordan Fabian.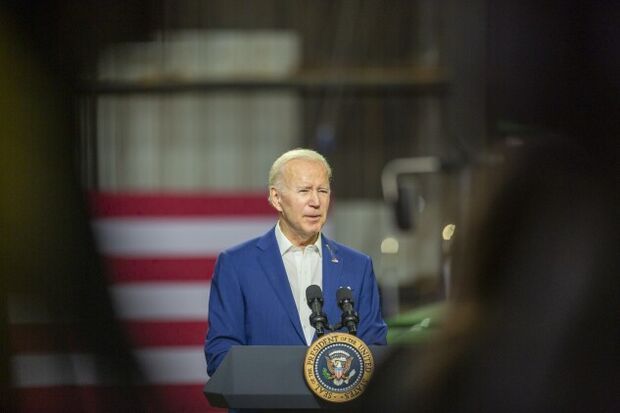 Also on Tuesday, Biden for the first time accused Russia of genocide in Ukraine, significantly escalating his condemnation of Putin's invasion. Speaking at an event in Iowa on Tuesday laying out steps to lower fuel costs that have surged through the war, Biden described Russia's actions in the conflict as a "genocide." He later stood by his comments, but said lawyers would ultimately make the official determination. "Yes, I called it genocide because it has become clearer and clearer that Putin is just trying to wipe out the idea of being able to be Ukrainian," he told reporters. "The evidence is mounting." Read more from Jordan Fabian and Justin Sink.
MORE ON THE WAR:
Policy, Politics & Probes
Biden is seriously considering Michael Barr, a Treasury Department veteran and an architect of the Dodd-Frank Act of 2010, to be the Fed's top banking supervisor, according to people familiar with the matter. While the president has not yet made a final decision, Barr has emerged as a leading contender for the post, the people say. Biden aides have discussed Barr with lawmakers and staffers on Capitol Hill, as they try to settle on a nominee who can appease progressive and centrist wings of the Democratic members and win support in a narrowly divided Senate. Read more from Ben Bain and Nancy Cook.
Pfizer and other drugmakers are facing calls from Congress to make their opioid reversal drugs available over the counter, a move lawmakers claim will lower stigmas around addiction and drug-related deaths. Thirty lawmakers in the House and Senate are calling on Pfizer, Teva, Hikma, Emergent, Amphastar, and Adamis to apply to the Food and Drug Administration for over-the-counter status for their naloxone products. Read more from Ian Lopez.
Federal privacy legislation is moving ahead, as lawmakers on both parties make significant progress on the main points of contention, congressional staffers said Tuesday. Two issues have stood in the way of an agreement: whether to override state-level privacy laws and whether individuals should be able to sue companies for violations, known as a "private right of action." Democrats, in contrast to Republicans, argue a federal privacy law should preempt state law unless the state's law is stronger. They also say it should allow for private rights of action. Read more from Maria Curi.
Two congressional Democrats are pressing the Internal Revenue Service for more details about why the audit rate for the lowest-earning households has nearly doubled in the past year, in face of pledges by Biden to restrain such examinations. Sen. Elizabeth Warren (D-Mass.) and Rep. Judy Chu (Calif.) asked IRS Commissioner Chuck Rettig to explain a rise in audits of those earning less than $25,000, which is at odds with Biden's policy of not increasing tax examinations for those earning less than $400,000. Read more from Laura Davison.
A proposed bipartisan overhaul of the 2017 tax law's opportunity zones incentives includes long-requested data reporting requirements that would offer more transparency into whether the contentious tax breaks are actually helping long-overlooked communities. The GOP tax law in 2017 established capital gains tax benefits for development now available in more than 8,700 designated census tracts—a policy meant to serve as a catalyst for financial investment in areas that were undercapitalized. But there have long been questions about who the tax breaks were truly helping. Erin Slowey and Kaustuv Basu have more.
Ginni Thomas's texts to a Trump White House official reinvigorated congressional Democrats' calls to hold the Supreme Court to a code of ethics but tying it to her husband, Justice Clarence Thomas, may make it harder to pass. The focus on Thomas, one of the most conservative justices, and his activist wife would complicate efforts by majority Democrats to reach a 60-vote threshold in the Senate. Read more from Madison Alder.
Texas Agriculture Commissioner Sid Miller blasted Governor Greg Abbott's "catastrophic" crackdown on cross-border trucking and warned it will lead to food shortages in the second-largest U.S. state. Miller, who like Abbott is a Republican, said the governor's six-day old program of heightened vehicle inspections at Texas-Mexico border crossings is strangling commerce and doing nothing to curb undocumented migrations. The GOP infighting is a sign of rising tensions between the pro-business and law-and-order factions of the Texas Republican Party. Joe Carroll, Shelly Hagan and Sergio Chapa have more.
Around the Administration
BIDEN'S SCHEDULE:
The president has no public events scheduled. Press Secretary Jen Psaki holds a press briefing at 3 p.m.
Biden is all in on a new plan to bring down gasoline costs. It turns out that the move is also likely to make the air dirtier. The president is planning expanded sales of gasoline with a higher ethanol content than usual during the summer months. Most American fuel stations already carry gasoline mixed with about 10% ethanol, made from corn. But this summer, more drivers will be able to fill their cars up with E15—the 15 stands for 15% ethanol. E15 isn't sold in parts of the U.S. during the summer months because it's thought to be a more volatile mix which releases more particles that lead to air pollution. That's especially a problem in summer, when heat and light interact with the particles to create more smog. Read more from Chunzi Xu.
As Biden's administration chips away at a hefty air emissions to-do list, legal experts see challenges ahead for industry and local regulators tasked with compliance for forthcoming regulatory changes. New rules on carbon, particulate matter, and ozone transport are on the horizon in coming months, creating uncertainty around next steps for regulated industries, said Holland & Hart LLP partner Emily Shilling. "It feels sort of like a barrage at this point, but [it's] yet to be seen what a lot of the final rules are going to end up looking like," Schilling said. Read more from Jennifer Hijazi.
National Cyber Director Chris Inglis sought to temper fears among companies that data they share with the government for cybersecurity collaboration purposes may be used for enforcement actions. Inglis on Tuesday at an International Association of Privacy Professionals conference cited new reporting rules for critical infrastructure in the latest federal spending package. In it was language saying cyber-related information sent to the Cybersecurity and Infrastructure Security Agency won't be subject to regulation. That is important for the U.S. to understand "the express purpose" for collecting data, said Inglis, Maria Curi reports.
Racial minorities and others disproportionately affected by Alzheimer's could continue facing barriers to treatment unless Medicare does more to facilitate access to research and safety trials, policy watchers say. The Centers for Medicare & Medicaid Services' finalized plan for Biogen's Aduhelm restricts coverage to patients enrolled in certain clinical trials. CMS says approved studies have to include a diverse group of patients representative of the national diagnosed population. But patient advocates say it doesn't clarify how trial organizers can combat geographic and financial barriers. Celine Castronuovo has more.
Separately, a senior CMS official said last week's decision to restrict Medicare coverage for Alzheimer's drugs that are fast-tracked through the FDA doesn't portend changes in other disease areas. "Our recent decision should not be viewed as setting a new direction on therapies that receive FDA accelerated approval," Lee Fleisher, chief medical officer for CMS, said Tuesday. Read more from John Tozzi.
The EPA missed its deadline to review air emission standards for oil and gas production and storage, putting communities at risk from harmful air pollutants, environmental groups told a federal court in Washington Tuesday. The Environmental Protection Agency is mandated to review standards for oil and natural gas production and natural gas transmission and storage every eight years, the suit says. The agency has yet to review the standards and either revise them or say no revisions are needed, according to the filing in the U.S. District Court for the District of Columbia. Read more from Maya Earls.
United Steelworkers asked Biden to exempt some small refineries from yearly biofuel-blending quotas, warning that union jobs are jeopardized without the assistance. "Failure by the EPA to issue small refinery exemptions would imperil the viability of America's small refineries, which play a vital role in producing our nation's supply of transportation fuels," United Steelworkers' President Thomas Conway and Delek CEO Uzi Yemin wrote, Jennifer A. Dlouhy reports.
To contact the reporters on this story: Giuseppe Macri in Washington at gmacri@bgov.com; Brandon Lee in Washington at blee@bgov.com
To contact the editor responsible for this story: Loren Duggan at lduggan@bgov.com