What to Know in Washington: U.S., Israel Weigh Iran Strategy
President Joe Biden and Israeli Prime Minister Naftali Bennett plan to discuss what both countries consider to be an alarming acceleration of Iran's nuclear program as the leaders meet today at the White House.
Biden plans to emphasize his strong support for Israel, U.S. officials said, speaking on condition of anonymity, in a meeting that may reveal divergent approaches on Iran: the U.S. favors a diplomatic pact to halt the Islamic Republic's nuclear program and Israel has said it may use secret attacks to disable Iranian facilities.
Bennett is looking to reset Israel's ties with the U.S., after an era dominated by former Prime Minister Benjamin Netanyahu and former President Donald Trump, though the new Israeli government has carried over some policies of its predecessor. It also seeks to advance a strategic plan for Iran; fulfill its $1 billion request for replenishing Iron Dome missile interceptors; and visa-free entry to the U.S., local Channel 12 news reported, citing an official traveling with the prime minister. Biden will reiterate his commitment to the region, and argue that his withdrawal from Afghanistan frees up resources to support other efforts, including backing Israel, the officials said.
"We expect their conversation to be wide-ranging," White House Press Secretary Jen Psaki said, citing subjects such as security within Israel, Iran and the pandemic.
With Iran's nuclear program accelerating weekly, U.S. officials said the administration is committed to finding a diplomatic resolution after inheriting Trump's "maximum pressure" campaign. The Biden administration's view is Trump's approach undercut efforts to slow nuclear development, the officials said. Josh Wingrove and Daniel Avis offer further previews.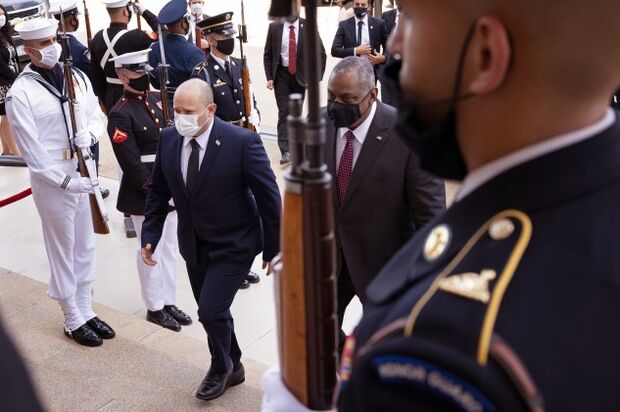 Today's Agenda: Biden will meet with his national security team at 9:15 a.m. to discuss Afghanistan. The president will meet with Bennett at 11:55 a.m. for a bilateral meeting. Biden will meet virtually with governors at 3 p.m. to discuss the resettlement of Afghans in the U.S.
Happening on the Hill
Democrats Float Drilling Bans in Reconciliation: Endangered butterflies and desert fish would get millions of dollars in federal funding while oil companies would face new fees and a ban on most offshore drilling under a plan floated by House Democrats. The details were summarized in a document seen by Bloomberg News. The document was prepared by staff on the House Natural Resources Committee and circulated to lawmakers before a planned Sept. 2 meeting to vote on the $3.5 trillion budget reconciliation plan being advanced in the House.
It sketches out Natural Resources Committee Democrats' ambitions for spending roughly $31.5 billion on conservation programs, environmental analysis and cleanup of abandoned mines, among other priorities. The proposals described in the blueprint could be revised before the committee takes up the measure next week. The draft calls for devoting some $550 million to wildlife recovery efforts, including $25 million each to endangered butterflies, freshwater mussels and desert fish. Read more from Jennifer A. Dlouhy, Billy House and Ari Natter.
Over 100 Democrats Seek Housing Credit Boost in Reconciliation Bill: More than 100 House Democrats, led by Ways and Means Committee members Suzan DelBene (D-Wash.) and Don Beyer (D-Va.), are seeking to expand a federal subsidy for affordable housing in the chamber's forthcoming bill. The group of lawmakers sent a letter today to House leaders asking for the Affordable Housing Credit Improvement Act to be included in the budget reconciliation package. The bill, which DelBene introduced in April, would expand the low-income housing tax credit program by increasing the amount of credits allocated to each state, decreasing the amount of private activity bonds needed to secure tax-credit funding, and boosting resources for underserved communities. The measure mirrors a bill introduced in the Senate. Read more from Allyson Versprille.
Lawmakers Set to Allow Jobless Aid to End: Democrats have no plan to extend unemployment insurance benefits before they end on Labor Day, despite the jump in the delta variant's spread. House Ways and Means Chair Richard Neal (D-Mass.), whose committee would be responsible for pushing the end date beyond Sept. 6, cited the lack of appetite from Biden's White House and debates over whether the $300 weekly benefit is still needed with falling jobless figures and the return of school.
"The president's position has been to hold off on it until we see more evidence on it," Neal said. "There's a series of pretty good competing debates about that whole question." Three programs are set to expire on Sept. 6: one providing $300 extra in weekly unemployment insurance, one offering unemployment aid to otherwise ineligible workers, and one for additional aid to workers after their state benefits run out. Twenty-six states have already stopped at least some of the extra relief. Emily Wilkins has more.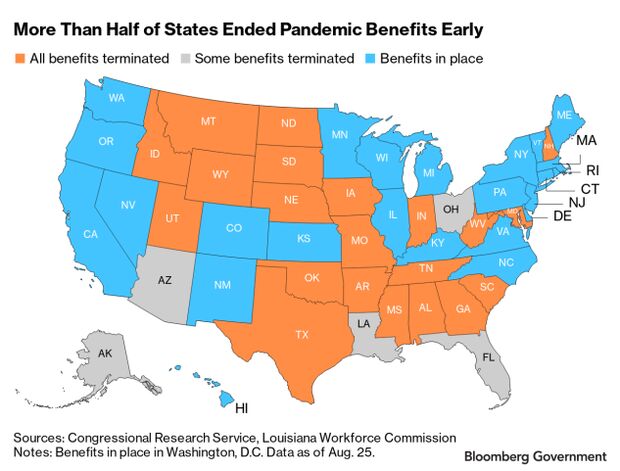 Crypto-Savvy Senator Sees the Future in Wyoming: In 2013 then-Rep. Cynthia Lummis first heard about a new form of currency from her daughter and son-in-law, who helped Lummis buy her first Bitcoin for $330. Eight years later the first-term Republican senator from Wyoming has become one of Capitol Hill's most ardent supporters of cryptocurrencies and the blockchain technology that powers them. Her state is at the forefront of trying to regulate the fast-evolving digital asset sector after the passage of a slate of crypto-friendly laws in 2018 and 2019. Read more from Sophia Cai.
Around the Administration
Afghan Exit Leaves Unused $6 Billion to Fight Over: The Pentagon's departure from Afghanistan is leaving at least $6 billion in unspent funds for the now-defunct Afghan Security Force, and a potential fight over how to spend the money. The Department of Defense's Comptroller is consulting with Congress and the White House Office of Management and Budget over the funds, which includes $600 million unspent in fiscal 2020, $2.3 billion in fiscal 2021, and $3.3 billion requested for 2022. Tony Capaccio has more.
Harris Says She Raised Human Rights With Vietnam: Vice President Kamala Harris said she raised human-rights concerns including the release of imprisoned dissidents in meetings with Vietnamese officials after facing criticism from activist groups. "Those issues were raised and discussed, as was the issue of human rights, both with the leaders of the Vietnamese government as well as with civil society leaders because it is a real concern for the United States," Harris said today in a press briefing in Hanoi at the end of a trip that also brought her to Singapore. "We're not going to shy away from difficult conversations." Read more from Jenny Leonard and Philip J. Heijmans.
Gensler Taps Wall Street Critic as Top Aide: Securities and Exchange Commission Chair Gary Gensler named long-time Wall Street critic Barbara Roper a senior adviser, signaling that the agency will aggressively crack down on broker conflicts and seek to strengthen investor protection rules. Roper has spent three decades at the Consumer Federation of America, where her frequent criticisms have made her a thorn in the side of companies from Goldman Sachs to Robinhood Markets. Read more from Ben Bain.
Virtual Jackson Hole Underscores Uncertainty in Fed's Next Steps: Having already dashed plans for Federal Reserve officials to meet in person in Jackson Hole this week, rising coronavirus cases are now limiting what Jerome Powell can say about what comes next for U.S. monetary policy. The Fed chair will speak at 10 a.m. Washington time tomorrow and is expected to reinforce the message that it will probably be appropriate to begin scaling back the Fed's $120-billion-a-month bond-buying program by the end of the year. But the abrupt change of conference plans—the Wyoming gathering's host shifted the format on Aug. 20—underscores the uncertainty officials face as they debate when to begin winding down the stimulus measures they rolled out last year at the outset of the pandemic. Read more from Matthew Boesler.
Politics & Influence
GOP Election Fraud Lawyers Sanctioned by Michigan Judge: A federal judge in Michigan ordered former Trump campaign attorney Sidney Powell and other Republican Party lawyers to pay legal fees for the state and the city of Detroit for filing a lawsuit to overturn the 2020 election result using false claims about voter fraud. U.S. District Judge Linda V. Parker in Detroit yesterday issued a 110-page ruling that dissected dozens of affidavits the lawyers had submitted as evidence of a vast conspiracy to steal the election from Trump. "The present matter is built on fantastical claims and conspiracy theories," she wrote in the ruling. Read more from Erik Larson.
Vaccinated Democratic Counties Leading the Economic Recovery: With Covid-19 cases once again rising across the country, the U.S. is struggling to curb the latest, surge, as hospitalizations and deaths have steadily climbed. But at least so far, the economy has proved highly resilient. There are many reasons for this, ranging from generous stimulus checks to the Federal Reserve's commitment to buying bonds and holding interest rates low. But some interesting new data on the overlap of electoral politics and economic dynamism suggest another reason: The geography of America's economic engine is heavily concentrated in counties that Biden won in 2020. These counties are much more heavily vaccinated than the rest of the country and thus better able to withstand the economic effects of the delta variant. Read more from Joshua Green.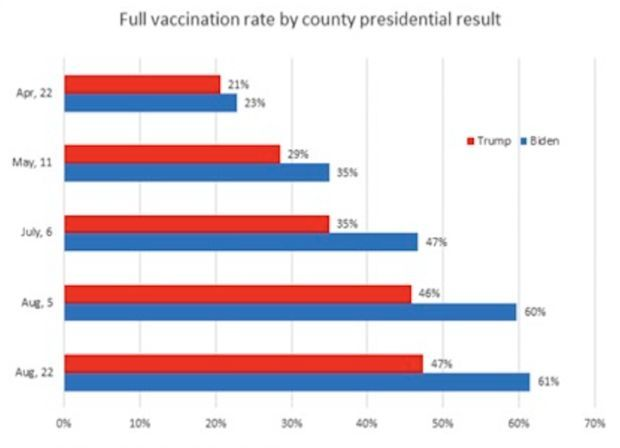 To contact the reporters on this story: Michaela Ross in Washington at mross@bgov.com; Brandon Lee in Washington at blee@bgov.com
To contact the editors responsible for this story: Zachary Sherwood at zsherwood@bgov.com; Loren Duggan at lduggan@bgov.com