What to Know in Washington: U.S., EU Unveil Gas Deal, Cut Russia
U.S. supplies of LNG will help reduce reliance on Russia
Biden continues meetings in Europe on Ukraine response
The U.S. and the European Union announced an agreement to try and boost the supply of liquefied natural gas to European countries by the end of 2022 with at least 15 billion cubic meters.
The aim is to work with international partners to help the continent wean itself off Russian fuel imports. Under the agreement, EU member states will work to ensure demand for 50 billion cubic meters of U.S. liquefied natural gas until at least 2030.
Europe imports most of its Russian gas via pipelines, with just a tiny fraction coming in the form of LNG. Russia ships about 150 billion cubic meters of gas to Europe via pipelines, with just about 14 to 18 billion coming in the form of LNG. That means any disruptions from Russia would be hard to cope with.
"We're coming together to reduce Europe's dependence on Russian energy," President Joe Biden said at a joint press conference with European Commission President Ursula von der Leyen, who added that 15 billion cubic meters this year "is a big step in that direction."
The issue is critical as Russia is the EU's biggest natural gas supplier, accounting for more than 40% of imports. The EU also relies on the country for the biggest share of its coal and oil imports, and has struggled to shift its energy policy away from Moscow. Read more from Jordan Fabian, Josh Wingrove and Ewa Krukowska.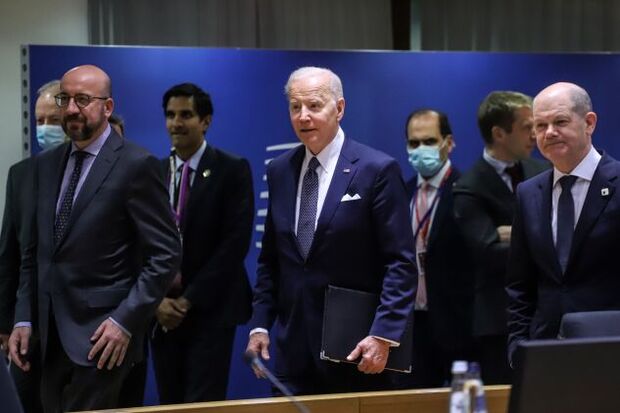 Biden's plan to supplant Russian natural gas now going to Europe with U.S. supplies is drawing applause from the fossil-fuel industry but risks undermining his campaign to combat climate change. Administration officials insist that emergency moves announced Friday won't derail long-term climate goals. Yet it's causing friction with environmentalists who see it as a betrayal. White House National Climate Adviser Gina McCarthy acknowledged Thursday that Europe's current energy needs had taken precedence over climate goals in the short term. Read more from Ari Natter and Jennifer A. Dlouhy.
BIDEN'S AGENDA
Biden meets European Commission President Ursula von der Leyen at the U.S. Mission in Brussels, Belgium to discuss the response to Russia's invasion of Ukraine. He'll then travel to Rzeszów, Poland, to be greeted by Polish President Andrzej Duda. The president will receive a briefing on the humanitarian response in Ukraine before visiting service members from the 82nd Airborne Division, who are supporting Poland's military along NATO's eastern flank. Later, Biden will travel to Warsaw.
On Saturday, Biden will hold a bilateral meeting with Duda and deliver remarks before returning to Washington.
THE WAR IN UKRAINE:
Biden administration officials are worried that Russian President Vladimir Putin may lash out dangerously as Russian troops find themselves bogged down in Ukraine and Western sanctions begin to bite. The internal assessment of senior officials, speaking on condition of anonymity, is that Putin's tendency when boxed in is to escalate rather than back down. Their view is that the Russian leader's choices could include the blanket bombing of Ukrainian cities or the use of chemical weapons, or even tactical nuclear weapons. Read more from Peter Martin.
Russian Foreign Minister Sergei Lavrov accused the West of waging "hybrid war, a total war" through sanctions against his country. European leaders want to "destroy, strangle the Russian economy and Russia as a whole," Lavrov told a meeting of the Gorchakov Public Diplomacy Fund in Moscow on Friday.
European Union officials suspect that China may be ready to supply semiconductors and other tech hardware to Russia as part of an effort to soften the impact of sanctions imposed over the invasion of Ukraine, Chiara Albanese reports.
Happening on the Hill
The Senate's plans to vote Thursday on legislation to strip Russia of its trade status with the U.S. were scuttled by a dispute over the language of a human rights provision. That means the bill (H.R. 7108), and a separate measure to ban Russian oil imports (H.R. 6968), won't get a vote until next week, a setback for Democrats who wanted to pass both while Biden was meeting with European allies. Action on both bills was delayed after Sen. Rand Paul (R-Ky.) raised objections to language that would extend and expand the Global Magnitsky Human Rights Accountability Act, Laura Davison reports.
A bipartisan bill that would expand scientific and medical research on marijuana and its compounds passed the Senate. Senator Dianne Feinstein (D-Calif.) said the legislation (S. 253) will "cut the red-tape around the research process, helping get FDA-approved, marijuana-derived medications safely to patients." Read more from Alisa Parenti.
The House Committee investigating last year's deadly attack on the U.S. Capitol is preparing to advance a contempt of Congress case Monday against former President Donald Trump's deputy chief of staff Dan Scavino and trade adviser Peter Navarro. Scavino and Navarro would be the third and fourth Trump aides or allies to face a potential criminal referral for allegedly refusing to comply with a committee subpoena. The panel said it plans to meet at 7:30 p.m. Monday for a vote. Read more from Billy House.
A push by Republican Senator Cynthia Lummis, one of the crypto industry's staunchest supporters in Congress, to write a new law for digital assets is getting the support of at least one Democrat. Sen. Kirsten Gillibrand (D-N.Y.) said on Thursday that she's working with Lummis (Wyo.) to introduce the legislation in the next several weeks. The bill will cover a range of issues, including banking, taxes, privacy, and consumer protection, the two said during an event hosted by Politico in Washington. Read more from Allyson Versprille.
Biden's Fiscal Year 2023 Budget Proposal — BGOV Webinar: In a March 30 webinar, Bloomberg Government's expert analysts lead a deep dive review of and provide insights on Biden's budget proposal for fiscal year 2023, and answer your questions on the administration's top priorities. Topics include topline agency funding levels, new spending initiatives and revenue proposals, and next steps in the budget process. Register here.
Senators Seeking More Bipartisan Wins Face Election-Year Reality
Democrats and Republicans in the Senate came together last week to confront a common enemy: the disrupted sleep that comes with daylight saving time. With little advance warning, and no objection, the Senate passed a bill (S. 623) to end the twice-a-year time change by unanimous consent.
It was just the latest example of bipartisan lawmaking, which is imperative for the chamber—split 50-50 between the two parties—to advance legislation outside of the budget reconciliation process. There are several factors that may help the trend continue in the coming months, but there's a looming pitfall threatening it: the midterm elections. Read more from Zach C. Cohen, Jack Fitzpatrick, and Alex Ruoff.
Resuming work on a wall along the southern U.S. border and codifying the Remain in Mexico program for asylum seekers are among Republicans' top priorities if they win control of the House, Emily Wilkins reports. House Homeland Security ranking member John Katko (R-N.Y.) previewed his party's border policy plans for the next Congress at a GOP retreat on Thursday. His border security bill (H.R. 4828) is among measures the party would prioritize for "day one," he said. Katko is retiring at the end of this Congress.
The Justice Department is searching for a new chief election crimes prosecutor, a position charged with enforcing campaign finance violations, election fraud, and other matters that will be increasingly implicated as the midterms approach. The vacancy is created by the expected exit of current election crimes branch director Richard Pilger. Pilger was reinstated to the post in February 2021 after he'd resigned in objection to then-Attorney General William Barr's authorizing federal prosecutors to pursue investigations of voting irregularity claims. Read more from Ben Penn.
A federal jury in California found Republican Jeff Fortenberry of Nebraska guilty of charges that he lied to federal agents about an illegal $30,000 contribution to his campaign, according to the AP, Michael Sin reports.
Around the Administration
Biden's upcoming anti-identity theft executive order should concentrate on criminal syndicates illegally applying for pandemic unemployment benefits in multiple U.S. states, according to a group focused on breaking down digital barriers to distributing public assistance. The group is urging White House officials to move away from emphasizing individual identity checks as a way to stem fraud and to ensure that identity verification technology, such as facial recognition, doesn't create obstacles for those seeking jobless aid. Read more from Andrea Vittorio.
A White House tool to help agencies and departments identify communities long suffering from pollution and other inequities shows promise but also gaps in fully understanding the communities, according to advocates. The Climate and Economic Justice Screening Tool assesses census tracts using eight metrics including legacy pollution and access to renewable energy and clean transportation. Read more from Dean Scott.
The European Union and U.S. agreed in principle to a new transatlantic data transfer pact in a move that that could bring to an end months of uncertainty over how thousands of companies can safely move data across the ocean. This new pact will "enable predictable and trustworthy data flows, balancing security, the right to privacy and data protection," European Commission President Ursula von der Leyen said in a tweet on Friday. "This is another step in strengthening our partnership." Read more from Stephanie Bodoni.
Four Russian nationals who worked for their government committed cyberattacks against hundreds of companies in the energy sector worldwide, including the operator of a nuclear power facility in Kansas, the Justice Department announced Thursday as part of a sweeping pair of indictments aimed at curbing state-sponsored hacks. A separate indictment alleges three employees of the Russian Federal Security Service, or FSB, undertook a years-long effort to target and compromise computer systems across the energy sector. Read more from Jack Gillum and Jeff Stone.
Kim Jong Un oversaw the successful launch of a new, larger intercontinental ballistic missile, in an explosive confirmation of his continued nuclear weapons development over the past four years despite international sanctions and failed talks with the U.S. The missile fired from a mobile launcher at Pyongyang Sunan International Airport was a Hwasong-17, according to dispatches and photographs published Friday by the official Korean Central News Agency. Read more from Sangmi Cha, Jessica Park and Jordan Fabian.
To contact the reporter on this story: Giuseppe Macri in Washington at gmacri@bgov.com
To contact the editors responsible for this story: Loren Duggan at lduggan@bgov.com; Michaela Ross at mross@bgov.com