What to Know in Washington: U.S. Debt-Limit Showdown Intensifies
Bloomberg Government subscribers get the stories like this first. Act now and gain unlimited access to everything you need to know. Learn more.
Pressure on Democrats to increase the federal debt limit and avert a crippling default escalated yesterday, with the party facing a cumbersome legislative procedure that could complicate efforts to deliver on Joe Biden's economic agenda.
Senate Republicans blocked a bill late yesterday to suspend the debt ceiling until December 2022 and keep the government operating past the end of the fiscal year on Sept. 30. That's left Democrats no clear alternative to overcome the filibuster except using a budget procedure that could take nearly two weeks.
The GOP maneuver sets the stage for a protracted debate over debt that Republican lawmakers hope will help them portray Biden's expanded child tax credits, paid family leave and new benefits for Medicare recipients as out-of-control government spending. An eventual Democrat-only vote to raise the debt limit would provide fodder for election attack ads.
Democrats haven't given up on the idea of forcing Republicans to join them to address the issue, however—raising the risks of financial-market distress as the Treasury's deadline for running out of cash looms. Treasury Secretary Janet Yellen has said the government will run out of money some time in October.
Republicans refused to back the debt ceiling suspension even though a major portion of the current debt accumulated under GOP control of Congress and the White House. That's a departure from the usual bipartisan votes on the matter.
Following the Senate's 48-50 vote, Majority Leader Chuck Schumer (D-N.Y.) didn't immediately signal Democrats' next step, instead castigating Republicans for "one of the most reckless, one of the most irresponsible votes I have seen taken in the Senate." Read more from Mike Dorning and Laura Litvan.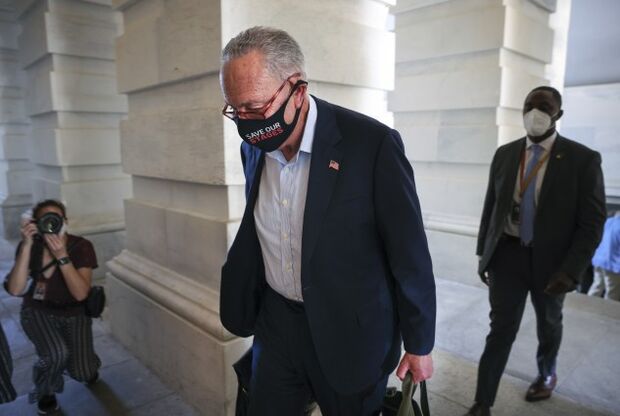 Democratic Rift Persists on Biden Agenda: Democrats remained deeply divided late yesterday as they struggled to close an intra-party split on infrastructure and tax and spending legislation.
Speaker Nancy Pelosi (D-Calif.) and Biden have been calling lawmakers to resolve differences between moderates and progressives that are stalling votes on a $550 billion bipartisan infrastructure bill (H.R. 3684) and a much larger tax and social spending measure.
The larger bill, with a price tag of as much as $3.5 trillion is proving particularly vexing for Democrats amid demands from moderates to narrow the size and scope of the measure. Party leaders were examining ways to shrink the price tag. "They will continue their close coordination over the coming days," the White House said in an account of a Biden telephone call with Pelosi and Schumer.
Yesterday, Pelosi told her members in a closed-door meeting that leaders are still working on a final bill and prefer to reach an agreement with the Senate and White House before the House votes on the larger package, according to a lawmaker who attended the session.
The speaker, the lawmaker said, doesn't want the legislation to go through a series of changes as it ping-pongs from chamber to chamber. Another lawmaker said Pelosi told them that Biden is negotiating a top-line number for the bill with Senate Democrats.
Democrats are pushing the legislation through using a reconciliation process, which requires a simple majority in the Senate. But with slim majorities and no GOP support in both chambers, party leaders must rally the rank-and-file. "Ten times as complicated as the ACA in one-tenth the time," Rep. Peter Welch (D-Vt.) said yesterday, referring to then-President Barack Obama's Affordable Care Act.
Asked after the meeting if the House would vote on the infrastructure measure on Thursday, even if the reconciliation bill is not complete, Majority Leader Steny Hoyer (D-Md.) said: "That is fair to say." Read more from Erik Wasson, Billy House, and Laura Litvan.
Happening on the Hill
Today's Agenda:
The House will continue consideration of the bipartisan infrastructure bill, and could also consider five bipartisan measures under expedited procedure.
The Senate plans to vote on two of Biden's nominees to be assistant secretaries at the State Department.
Click here for a complete list of today's hearings and markups.
Democrats Eye Narrowing Plan on Bank Reporting: Democrats are considering a plan that would require banks to report accounts with at least $10,000 to the Internal Revenue Service — well above the Biden administration's proposed $600 threshold — while also exempting some common transactions from the law. "We've made some significant movement on the number," House Ways and Means Chair Richard Neal (D-Mass.) said yesterday. Neal said he backed the $10,000 figure from "day one" of considering the proposal, and that Senate Finance Chairman Ron Wyden (D-Ore.) also supports it.
In addition, lawmakers' staff members have begun working on language to exempt payments from payroll processors from the reporting requirements, according to a Senate Democratic aide familiar with negotiations. Removing direct deposits from the calculation would likely drastically reduce the number of accounts covered by the reporting rules. Read more from Laura Davison and Colin Wilhelm.
Infrastructure Deal Would Boost Telecom Unions: A provision tucked into the bipartisan infrastructure bill could steer billions of dollars for broadband expansion to companies with large union workforces, presenting an opportunity for organized labor to expand and creating logistical hurdles for the nation's largest telecom providers. The part of the bill dedicated to distributing $42.5 billion in broadband funds would give preference to companies with a record of following labor and employment laws—a requirement that, practically speaking, could give an advantage to professionalized union workforces over the constellation of subcontractors that power the telecom industry. Read more from Ian Kullgren, Ben Penn, and Maria Curi.
Climate Probes Put Pressure on Big Oil: Congressional Democrats are wading into the battle over climate misinformation claims against oil companies, a move that parallels a sea of litigation from states, counties, and cities looking to put those companies on the hook for the local impacts of global warming. Though climate litigation has been moving slowly in U.S. courts, some experts see the growing pile of calls for energy company climate liability in and out of court as a pressure-point to speed the process. Democrats on the House Oversight and Reform Committee—led by Chairwoman Carolyn Maloney (D-N.Y.) and Ro Khanna (D-Calif.)— sent letters to the heads of Exxon Mobil, BP, Chevron and other major oil and gas companies looking to dig up information on a "coordinated effort to spread disinformation" on climate change. The leaders were also asked to testify at an Oct. 28 hearing. Read more from Jennifer Hijazi.
Senators Vow Sanctions If Turkey Buys New Russian Missiles: U.S. Senators, including Senate Foreign Relations Chair Robert Menendez (D-N.J.) warned NATO ally Turkey that they would trigger new sanctions if it goes ahead with plans to purchase additional Russian missile defense systems. The warning comes ahead of a critical meeting between President Recep Tayyip Erdogan and Russian President Vladimir Putin in Sochi tomorrow. Turkey and Russia have been negotiating over technology transfers and local production ahead of a potential purchase of a second S-400 missile defense system. Read more from Selcan Hacaoglu.
Politics & Influence
Abortion Rights Hitting Midterm Stage: The threat to abortion rights will be a major theme for Democrats in midterm election campaigns, as Congress weighs in with legislation and candidates seize on the issue to rally key constituencies, particularly women. Democrats say abortion could be a decisive issue in Senate races in New Hampshire, Nevada, and beyond that will decide which party controls the chamber. The issue is already being highlighted by a progressive group's seven-figure ad buy in New Hampshire, where Sen. Maggie Hassan (D) is hammering her possible opponent, Gov. Chris Sununu (R), for taking action to curb abortion rights. Read more from Kenneth P. Doyle.
Texas Proposal Merges Two Democratic Seats: Texas' new congressional map would pit two Democratic incumbents — Reps. Al Green and Sheila Jackson Lee— against each other in next year's elections, according to a proposal released yesterday. The Republican-controlled Texas Legislature released the draft maps as part of the decennial redistricting process that dictates political power in the states and Congress for the next decade. Read more from Tiffany Stecker.
Griffin Leads DeSantis' Wall Street Donors Bankrolling: When it comes to the likely Republican presidential candidates in 2024, Wall Street's money is on Florida Governor Ron DeSantis—not former President Donald Trump, who's been teasing another run at the White House. A fifth of the $55 million that DeSantis (R) has raised this year came from hedge fund billionaires, private equity bankers, investment managers, and other finance industry donors. Trump, who got less than 2% of his 2020 reelection funds from Wall Street, has raised the bulk of his $100 million war chest from small-dollar donors. Read more from Michael Smith, Jonathan Levin and Bill Allison.
UAE Royals Said to Direct Barrack Influence Campaign: Just weeks after Trump's election in November 2016, American billionaire Tom Barrack received a royal welcome in the United Arab Emirates. U.S. prosecutors say the meeting was part of a secret back-channel effort to influence the foreign policy positions of the Trump campaign and incoming administration, and to increase the Gulf State's political clout. Barrack was charged in July with acting as an unregistered foreign agent of the UAE. He has pleaded not guilty. Read more from David Voreacos, Caleb Melby and Patricia Hurtado.
Smartmatic Shifts Law Heads Amid Trump Coverage Dispute With Fox: Smartmatic, a voting technology company caught up in litigation over the 2020 U.S. presidential election, has parted ways with two top in-house lawyers and installed a new legal chief. Colin Flannery, who most recently served as general counsel for Vertiv Holdings, confirmed via email to Bloomberg Law that he has succeeded David Melville, who recently retired from Smartmatic's London-based parent company SGO Corp. The move comes amid an ongoing litigation battle between Smartmatic and Fox News over the latter's coverage of Trump's electoral defeat last year to Biden. Read more from Brian Baxter.
Around the Administration
Today's Agenda: Biden has no public events. The White House Covid-19 Response Team is scheduled to give a 12:30 p.m. press briefing, with another briefing by Press Secretary Jen Psaki at 1:30 p.m.
Yellen Declines to Take IMF Chief's Calls: Treasury Secretary Janet Yellen has declined to return calls from the beleaguered head of the International Monetary Fund, Kristalina Georgieva, since a scandal broke, indicating that the Biden administration's withholding of support for her goes beyond its public statements. Since Georgieva was accused earlier this month of improperly intervening in a World Bank report in her prior job there, she has made attempts to speak with Yellen but has failed to get through, people familiar with the matter said, speaking on the condition of anonymity. The report from law firm WilmerHale, commissioned by the World Bank, alleged that Georgieva — who took the helm of the IMF in 2019 — pressured bank staff to boost China's business-climate rating. Read more from Saleha Mohsin and Eric Martin.
Powell Says Jobs Still Short of Goal: Federal Reserve Chair Jerome Powell said supply bottlenecks have been longer lasting than anticipated, and he expects inflation pressures to remain high in coming months before easing. "These effects have been larger and longer lasting than anticipated, but they will abate, and as they do, inflation is expected to drop back toward our longer-run 2% goal," Powell said in testimony to the Senate Banking Committee released yesterday. "As reopening continues, bottlenecks, hiring difficulties, and other constraints could again prove to be greater and more enduring than anticipated, posing upside risks to inflation." Read more from Craig Torres.
China Defends Holding U.S. Pair: China said a three-year prohibition on two American siblings from leaving its borders was legal even though they faced no criminal charges, a stance intended to counter accusations Beijing has used "exit bans" to force people to cooperate. American citizens Cynthia and Victor Liu have been allowed to return to the U.S., the New York Times reported yesterday, citing their lawyer. Their departure came as Huawei executive Meng Wanzhou reached a deal with U.S. prosecutors to end extradition proceedings against her. The pair, stopped from leaving China since mid-2018, are the children of Liu Changming, a former bank executive wanted on fraud charges. Read more from Bloomberg News.
NK Defies Missile Ban With Launch: North Korea test-fired a ballistic missile just as its envoy was preparing to address the United Nations, in a pointed gesture of defiance against international resolutions meant to prevent such launches. The projectile was fired from the northern province of Jagang around 6:40 a.m. local time and landed in waters to the east, South Korea's military said, without elaborating. The missile's trajectory differed from previously known North Korean launches, the Yonhap News Agency reported, adding later that the military analysts were examining whether it was a new high-speed weapon. Read more from Jon Herskovitz, David Wainer and Jihye Lee.
To contact the reporters on this story: Michaela Ross in Washington at mross@bgov.com; Zachary Sherwood in Washington at zsherwood@bgov.com
To contact the editors responsible for this story: Giuseppe Macri at gmacri@bgov.com; Loren Duggan at lduggan@bgov.com
Stay informed with more news like this – from the largest team of reporters on Capitol Hill – subscribe to Bloomberg Government today. Learn more.