What to Know in Washington: U.S. Aims to Lure Russian Scientists
U.S. plans to poach educated Russians with visa lure
High-stakes primary season begins in Ohio, Indiana
The Biden administration has a plan to rob Vladimir Putin of some of his best innovators by waiving some visa requirements for highly educated Russians who want to come to the U.S., according to people familiar with the strategy.
One proposal, which the White House included in its latest supplemental request to Congress, is to drop the rule that Russian professionals applying for an employment-based visa must have a current employer. It would apply to Russian citizens who have earned master's or doctoral degrees in science, technology, engineering or mathematics in the U.S. or abroad, the proposal states.
A spokesman for the National Security Council confirmed that the effort is meant to weaken Putin's high-tech resources in the near term and undercut Russia's innovation base over the long run — as well as benefit the U.S. economy and national security.
Specifically, the Biden administration wants to make it easier for top-tier Russians with experience with semiconductors, space technology, cybersecurity, advanced manufacturing, advanced computing, nuclear engineering, artificial intelligence, missile propulsion technologies and other specialized scientific areas to move to the U.S.
Biden administration officials have said they've seen significant numbers of high-skilled technology workers flee Russia because of limited financial opportunities from the sanctions the U.S. and allies have imposed after Putin's invasion on Ukraine. Read more from Jennifer Jacobs and Alberto Nardelli.
Speaker Nancy Pelosi met Ukraine's president on Saturday in an unannounced visit to Kyiv, telling him that "your fight is a fight for everyone." Pelosi (D-Calif.), second-in-line to the American presidency, became the highest-ranked official from the U.S. to travel to Ukrainian soil since Russia's invasion. "Our delegation traveled to Kyiv to send an unmistakable and resounding message to the entire world: America stands firmly with Ukraine," Pelosi said in a statement on Sunday.
President Volodymyr Zelenskiy showed footage of Pelosi's visit on his Twitter account early on Sunday. "Thank you for helping to protect the sovereignty and territorial integrity of our state!" he tweeted. The video showed Zelenskiy shaking hands with Pelosi and other House lawmakers on the streets of Kyiv, including Foreign Affairs Chair Gregory Meeks (D-N.Y.), Intelligence Chair Adam Schiff (D-Calif.), and Reps. Jason Crow (D-Colo.) and Jim McGovern (D-Mass.). Saturday night's meeting with Zelenskiy lasted for three hours, Schiff said Sunday. Read more from Ros Krasny.
Zelenskiy on Sunday confirmed civilian evacuations from the Azovstal steel plant in Mariupol. The effort started Saturday evening under United Nations and International Committee of the Red Cross guidance. More than 100 people have been moved out so far and the operation is continuing, said Deputy Prime Minister Iryna Vereshchuk, who added that she hopes to meet the first group of evacuees on Monday. Zelenskiy said the civilians will be transported to Zaporizhzhia. Read more.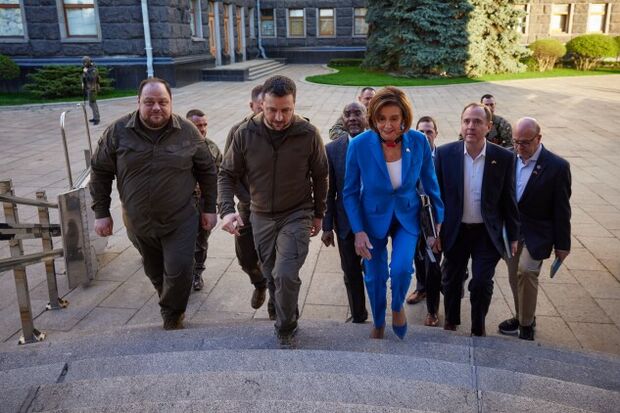 Also Happening on the Hill
CONGRESSIONAL SCHEDULE:
Senators today are set to vote on the motion to invoke cloture, or limit debate, on Joshua Frost to be an assistant secretary for financial markets at the Treasury Department.
The House is on recess for the week.
Nearly two dozen senators implored Biden to swiftly advance a trade probe that they said was already causing "massive disruption" in the U.S. solar industry. The investigation into whether Chinese companies are circumventing decade-old tariffs by assembling solar cells and modules in Southeast Asia "will severely harm" American businesses and workers "as long as it continues," the 22 senators said in a letter to Biden.
The group, led by Democrats Jacky Rosen (Nev.), Martin Heinrich (N.M.) and Kyrsten Sinema (Ariz.), asked the Biden administration to quickly make a preliminary determination on the matter, rather than waiting until an Aug. 30 deadline to issue its initial findings. That could limit the domestic impact from the investigation and neuter the threat of retroactive tariffs on panels imported from Cambodia, Malaysia, Thailand and Vietnam, which represent some 80% of imported supply in the U.S.
For now, the mere existence of the probe has chilled development, with a survey by an anti-tariff industry group showing 83% of solar companies have been notified of canceled or delayed panels. New tariffs could mean "massive price hikes for U.S. utility customers," delays in deploying clean energy and halted projects, the senators said. Read more from Jennifer A. Dlouhy.
A close Biden ally said Democrats will keep up pressure on student loan forgiveness through executive action, including for the president to cancel up to $50,000 in debt rather than a more limited plan being weighed by the White House. "When you see a student coming out of college, law school, or professional schools, with $130,000, $150,000 in debt, that cripples the economy in more ways than one," House Majority Whip James Clyburn (D-S.C.) said in an interview on Saturday. "So the extent to which you can give some relief I think will stimulate the economy in many ways." Read more from Emma Kinery.
Apparent opposition to a push by Democrats from Sen. Joe Manchin (D-W.Va.) to expand a popular consumer incentive for electric vehicles threatens to widen a gap between prices for traditional and electric cars at a time when interest in climate-friendly technology is ticking up. The average transaction price of a new electric car was $60,054 in February, which was $1,820 more than the average MSRP of $58,234, according to Edmunds.com figures. The average industrywide transaction price, including EVs, was $45,596, or $680 above an average MSRP of $44,916. Read more from Keith Laing.
Elections, Politics & Probes
Primaries in Ohio and Indiana on Tuesday inaugurate a busy stretch of elections, with nominating contests on all but one Tuesday in May and June. The outcomes will set up the general election matchups that will determine whether Republicans can take the House and Senate majorities from Democrats. The first competitive Senate election of 2022 is Tuesday in Ohio, where a fractious and big-spending GOP primary offers an early window into Donald Trump's sway over the GOP electorate. The former president intervened to endorse venture capitalist J.D. Vance over others in a state that will help decide control of the Senate.
In House elections, Ohio Republicans buoyed by favorable redistricting could win as many as 13 of 15 districts in November, aiding the party's efforts to overturn Democrats' five-seat majority. The Republican-drawn map is under court review as the election proceeds. There's also a primary in next-door Indiana, where Republicans also redrew district lines and are strongly favored in seven of nine districts—with a shot at an eighth if Biden's mediocre approval rating persists. Bloomberg Government's Greg Giroux breaks down the contests to watch in Ohio and Indiana.
A judge rejected Donald Trump's insistence he has no other records to hand into New York's attorney general, meaning the former president is still in contempt of court and accruing a daily fine of $10,000. Trump on Friday filed a sworn affidavit saying he's not aware of any more records in his personal possession to send into state authorities investigating potentially fraudulent asset valuations at his real-estate company. But New York state court Judge Arthur Engoron quickly ruled that wasn't enough to bring the former president into compliance with the court. Read more from Erik Larson.
New York's congressional and state Senate primaries will be Aug. 23, a state Supreme Court justice ordered on Friday. The rescheduling came after the Court of Appeals, the state's highest court, threw out the redistricting plans for those offices and ordered new maps. Party primaries for the Assembly and other races, including for governor, are still scheduled for June 28. A court-appointed special master, Jonathan Cervas of the Carnegie Mellon University Institute for Politics and Strategy, has until May 20 to redraw congressional and state Senate lines. Read more from Keshia Clukey.
States and the federal government sent more women to argue before the Supreme Court this term than last, although the historic gender gap only changed slightly with men still garnering a much larger share of appearances. With arguments for the current term ending April 27, the numbers show law firms sending about the same number of women advocates to the high court lectern despite pressure to create more opportunities for them. Read more from Kimberly Strawbridge Robinson.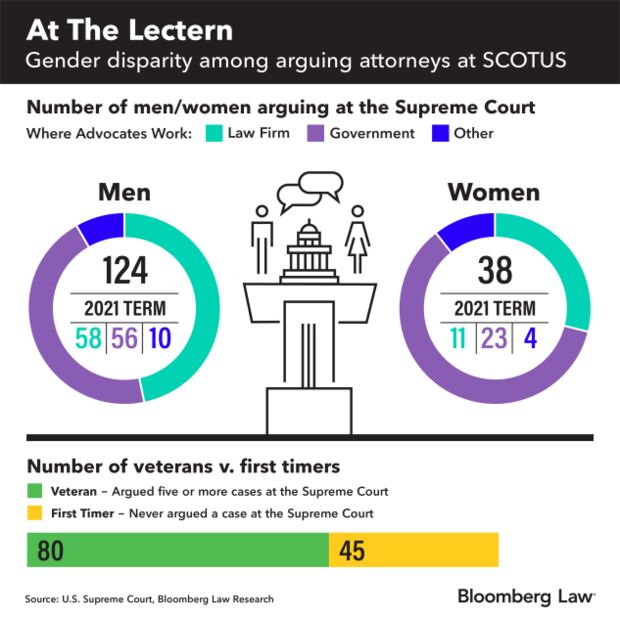 Around the Administration
PRESIDENTIAL SCHEDULE
Biden on Monday is scheduled to present the Presidential Rank Awards to over 200 winners from 37 federal agencies.
Biden and the first lady have planned a reception at the White House to celebrate the Muslim holiday Eid al-Fitr.
Biden attended the White House Correspondents' Association Dinner for the first time as commander-in-chief, even as the coronavirus continues to infect those around him. "We're here to show the country we're getting through this pandemic," Biden told the crowd of some 2,600 people at the Washington Hilton on Saturday, adding all attendees had to be fully vaccinated and boosted. "We have to stay vigilant." Read more from Nancy Cook.
Meanwhile, health officials cast doubt on Covid as a potential cause of severe hepatitis that's been seen in dozens of previously healthy people across around the world, while adding weight to the possibility that it's due to a more common virus linked to stomach illness. The Centers for Disease Control and Prevention on Friday released its most detailed study yet on nine cases of pediatric hepatitis in Alabama. Read more from Madison Muller.
The FBI searched emails, text messages and other electronic communications of up to 3.4 million U.S. residents without a warrant over a year, the nation's top spy chief said in a report. The queries were made between December 2020 and November 2021 by Federal Bureau of Investigation personnel as they looked for signs of threats and terrorists within electronic data that were legally collected under the Foreign Intelligence Surveillance Act, according to an annual transparency report issued Friday by the Office of the Director of National Intelligence. Read more from Chris Strohm.
The Pentagon has committed to combating bias in artificial intelligence but may not be asking the right questions of industry partners to be successful. AI has become a bedrock of 21st century military strategy, and the Defense Department argues that machine learning is integral to the U.S. military's competitive edge. But traditional AI models are "brittle" and "not ready for deployment," Nisheeth Vishnoi, a Yale professor of computer science, said. Wrong results on the battlefield include incorrect identification of human and environmental targets. Read more from Josh Axelrod.
Workers say a proposed change from the Transportation Department to drug testing rules may unfairly violate their privacy. The administration is weighing whether to allow a licensed professional of any gender to observe a urine test for drugs. The plan was included in a wider rule primarily seeking to add saliva sampling to the transportation sector's drug testing. Lillianna Byington reports.
The U.S. immigration system would come under intense pressure if the end of a fast-track deportation policy sparks a surge of up to 18,000 migrants at the southern border, Homeland Security Secretary Alejandro Mayorkas said on Sunday. "There is no question that if in fact we reach that number, that is going to be an extraordinary strain on our system," Mayorkas said. "But we are preparing for it." His comments come as the administration prepares to end a public health rule called Title 42 that allowed speedy expulsion of migrants since 2020. Jennifer A. Dlouhy and Laura Litvan have more.
The NIH could find itself wading into the drug pricing debate as it houses a new biomedical accelerator agency, despite its longstanding policy not to get involved in the cost of new therapies. There's been a push, particularly among progressives, for the NIH to exercise "march-in rights" to ease drug prices, most recently on Astellas' cancer drug Xtandi. Established under the 1980 Bayh-Dole Act, march-in rights allow the government to seize patents for inventions made with public money and license them to other entities for commercialization. Jeannie Baumann has more.
Beneficiaries in Medicare Advantage plans and Medicare Part D drug plans can expect improved transparency and lower out-of-pocket costs for medications under a final rule issued on Friday by the Biden administration. The final rule provides a number of enhancements designed to improve access and advance health equity for people who qualify for both Medicare and Medicaid. Read more from Tony Pugh.
To contact the reporters on this story: Brandon Lee in Washington at blee@bgov.com; Michaela Ross in Washington at mross@bgov.com
To contact the editors responsible for this story: Loren Duggan at lduggan@bgov.com; Giuseppe Macri at gmacri@bgov.com