What to Know in Washington: U.S. Aims to Curb Domestic Terrorism
Bloomberg Government subscribers get the stories like this first. Act now and gain unlimited access to everything you need to know. Learn more.
The Biden administration, five months after the assault on the U.S. Capitol, outlined its plans today for combating domestic terrorism, promising to better use existing federal resources and to consider whether any additional laws are needed to address the threat.
In the National Strategy for Countering Domestic Terrorism, the administration details ways it intends to improve analysis and information sharing, prevent recruitment and mobilization, disrupt and deter activity, and confront long-term factors. Some efforts are already under way, such as the federal government's efforts to step up the screening of employees who may pose insider threats.
"Today's domestic terrorism threat poses a danger to Americans, our democratic society, and our national security that we must counter aggressively, comprehensively, and responsibly. Doing so will make America not just safer, but also stronger – and more unified," according to the document, which Attorney General Merrick Garland will disclose today.
Other cabinet members will also be engaged as the strategy is put in place, a senior administration official said on the condition of anonymity to preview plans.
Garland and the Justice Department will consider whether the government needs additional legal authority to address domestic terrorism, and the administration will ultimately determine, in consultation with Congress, whether any legislative action is necessary. Read more from Jennifer Epstein.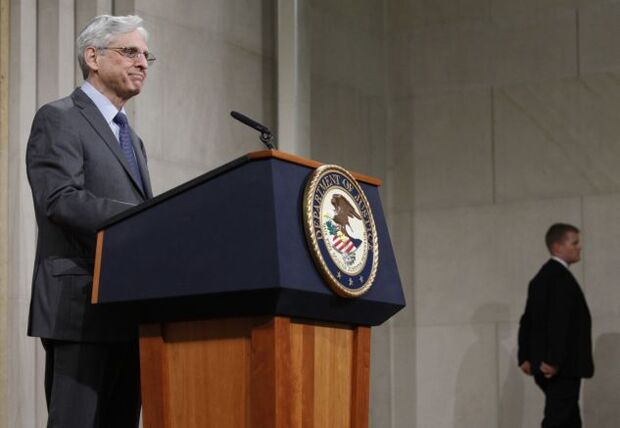 Happening on the Hill
Today's Agenda:
The House is scheduled to vote on 22 bills under expedited procedure that indicates broad support.
The Senate plans to vote on Lina Khan, Biden's nominee to fill a seat on the Federal Trade Commission.
Click here for a complete list of today's hearings and markups.
House Panels Turn Focus to China Competition: A House panel is set to begin work today on its version of legislation to strengthen U.S. research and development in answer to China's economic rise, aiming to come up with a bill that can mesh with a Senate-passed measure and be sent to Biden by August. The House Science Committee will consider two bills that would bolster research funding at the National Science Foundation and the Department of Energy and will form the basis for the House measure. Like the Senate legislation, a new technology directorate would be created at the National Science Foundation to support research and technology development. Read more from Daniel Flatley.
House Panel to Push Vaccine Access Bills: Lawmakers are pushing to expand vaccine access for seniors and low-income children as routine inoculations over the past year have dropped, and the pandemic highlighted disparities in vaccine access. Many of the bills to be discussed at today's Energy and Commerce hearing aren't for improved Covid-19 vaccine access specifically. But they could help push forward Biden's goal of getting 70% of Americans inoculated by July 4. Read more from Jacquie Lee.
Senate Group Keeps Gas Tax Indexing Idea, for Now: A bipartisan group of 10 senators trying to hash out a compromise $1.2 trillion, eight-year infrastructure spending package retained the idea of indexing the national gasoline tax to a measure of inflation despite White House opposition. Indexing the gas tax — which hasn't changed since a hike approved in 1993 — remains part of the proposed compromise. Sen. Jon Tester (D-Mont.) said it's "in until it is out," while highlighting that the bipartisan group doesn't yet have a full agreement on the infrastructure plan. Sen. Bill Cassidy (R-La.) said if the Biden administration wants it out, it should offer a replacement. Read more from Erik Wasson, Steven T. Dennis and Laura Litvan.
Democrat Floats Multimillionaire Tax: Rep. Tom Suozzi (D-N.Y.), one of the leaders in Congress behind the push for an expansion of the state and local tax deduction, is considering proposing a one-time wealth tax on the richest Americans. Suozzi is weighing a proposal for a one-off 2.5% levy on accumulated wealth over $50 million and a 5% tax on assets over $100 million, according to his office. Read more from Laura Davison.
House Judiciary Panel Joins Scrutiny of Justice Department Probe: The House Judiciary Committee is beginning its own investigation into the Trump-era Justice Department's surveillance of members of Congress and journalists, while the Senate's top Republican yesterday characterized the scrutiny as a "witch hunt in the making." Rep. Jerrold Nadler (D-N.Y.), the Judiciary Committee chairman, said last night that his panel would be looking into the Justice Department's actions, including secretly subpoenaing the data of two House Democrats — a move that follows a Senate Judiciary Committee announcement Friday that it would pursue an inquiry. Read more from Billy House.
Meanwhile, Apple is facing renewed scrutiny in Washington over its compliance with secret Trump-era subpoenas for user data on more than 100 users including U.S. lawmakers, highlighting the bind tech companies find themselves in when obliged to satisfy law enforcement demands. Read more from Anna Edgerton.
Microsoft President Brad Smith also criticized secret data subpoenas sent by the government to cloud providers like his company and Apple, saying gag orders on requests for personal information undermine freedoms and are hurting U.S. technology companies in Europe. Read more from Emily Chang and Dina Bass.
Facebook Should Be Broken Up, Khanna Says: California Democrat Ro Khanna wants Facebook to unwind its acquisitions of Instagram and WhatsApp — two of its biggest deals in the past decade — as he called for more aggressive antitrust enforcement and privacy regulations. "It seems to me we would be better off if they were multiple platforms," Khanna, who represents part of Silicon Valley in Congress and sits on the House Oversight Committee, said in an interview with Bloomberg TV yesterday. "I don't think that merger should have been approved in the first place," he said, referring to Facebook's takeover of Instagram. Read more from Ilya Banares and Emily Chang.
Biden Abroad
Today's Agenda: Biden remains in Brussels today, where he plans bilateral meetings with Belgian King Philippe and Prime Minister Alexander De Croo. Later today, the president meets with European Council President Charles Michel and European Commission President Ursula von der Leyen, before participating in a U.S.-EU summit. Biden then heads to Geneva this evening, where he will meet with Swiss President Guy Parmelin.
Putin Goes to Geneva With Long Wish List: Russian President Vladimir Putin will bring a long laundry list of issues to discuss at his first summit with Biden in Geneva tomorrow even as the Kremlin says there's little chance for a breakthrough in relations. The official agenda touches on bilateral relations, cybercrime, climate change and the Arctic, economic cooperation and regional security issues from around the globe, as well as issues that haven't been agreed on ahead of time, Kremlin foreign policy aide Yuri Ushakov told reporters in Moscow. Ilya Arkhipov and Jake Rudnitsky have more.
Biden said yesterday U.S. allies have thanked him for his planned meeting with Putin, but he warned the Russian president that relations would be severely damaged if Alexey Navalny, a political opponent who was the victim of an apparent assassination attempt, died in prison. "Navalny's death would be another indication that Russia has little or no intention of abiding by basic fundamental human rights," Biden said. Read more from Jordan Fabian, Josh Wingrove, Jennifer Jacobs.
Biden Says Ukraine Has Work Before Joining NATO: Biden said yesterday that Ukraine has to crack down further on corruption and meet other unspecified criteria before it can be considered for NATO membership. "It depends on whether they meet the criteria," Biden said at a news conference in Brussels following a NATO summit. "The fact is they still have to clean up corruption." Ukrainian President Volodymyr Zelenskiy earlier said NATO leaders "confirmed" his country "will become a member of the Alliance." Read more from Josh Wingrove and Jennifer Jacobs.
China Pushes Back Against G-7: China mocked the U.S.'s efforts to build a broader coalition to counter Beijing, calling Washington "very ill indeed" as the world's biggest economies continue to spar over everything from human rights to technology exports. Chinese Foreign Ministry spokesman Zhao Lijian hit back at U.S. efforts to rally allied support during summits of the Group of Seven and North Atlantic Treaty Organization in recent days. The comments represented Beijing's most pointed response since Biden began his first visit to Europe focused on efforts to answer China's challenge to the global order. "The U.S. is ill and very ill indeed," Zhao said. "The G-7 had better take its pulse and come up with a prescription." Read more.
Also Around the Administration
Harris to Announce $1.25 Billion in Virus Aid: The Biden administration will award $1.25 billion to hundreds of community lenders in an effort to speed the economic recovery from the coronavirus pandemic, Vice President Kamala Harris will announce today. More than 860 community development financial institutions, which lend to small businesses and people in disadvantaged communities that have trouble getting loans from big banks, will receive the funding, according to a senior administration official. Read more from Jordan Fabian.
Border Policy Said Limits Information on Smugglers: A Trump administration policy allowing the quick expulsion of migrants in the pandemic has prevented federal agents from obtaining information about smugglers operating at the border with Mexico, a new analysis says. The Government Accountability Office released a report detailing how Title 42, a public health declaration allowing the U.S. to expel migrants swiftly, has affected Customs and Border Protection's border operations. Ellen M. Gilmer has more.
Jackson Confirmed to D.C. Circuit, First Biden Appellate Judge: Ketanji Brown Jackson was confirmed with bipartisan support yesterday to the powerful D.C. Circuit, becoming Biden's first appellate appointment. The Senate confirmed Jackson 53-44 with three Republicans voting yes in the bitterly divided chamber controlled by Democrats. She replaces Merrick Garland on the U.S. Court of Appeals for the District of Columbia Circuit, known for its high-profile docket and as a potential springboard to the Supreme Court. She's viewed as a possible Biden high-court nominee if he gets to name one. Read more from Madison Alder.
Politics & Influence
Biden Calls Republican Party 'Diminished': Biden said yesterday he believed that the Republican Party had been "diminished" and "fractured" after the Trump presidency and that he was disappointed that Republicans fearful of political retaliation wouldn't investigate the Jan. 6 U.S. Capitol riot. Biden, speaking after a NATO summit in Brussels, said he doesn't worry that allies could be skeptical of his commitments or unwilling to deal with the U.S. after Donald Trump's time in office. Read more from Justin Sink.
Boeing PAC Resumes Giving to Anti-Election Republicans: Boeing's political action committee resumed giving to federal candidates and committees in May after a three-month pause, including donations to members who opposed certifying the 2020 election results for Biden. The aerospace giant joined dozens of other companies on Jan. 13 in announcing that they would suspend and review their PAC donations in the wake of the Jan. 6 riot by supporters of Donald Trump. Read more from Bill Allison.
GOP Seeks to Put New Hampshire, Nevada in Play: Republicans are recruiting a pair of high-profile candidates in an effort to expand a Senate map with limited offensive opportunities. New Hampshire Gov. Chris Sununu and former Nevada Attorney General Adam Laxalt are considering challenging Democratic incumbents whom they've succeeded in elected office before. They're viewed as strong contenders by strategists from both parties. Read more from Kenneth P. Doyle.
Retail Lobby Seeks Biden Meeting on Port Congestion: The National Retail Federation asked to meet with Biden to discuss supply-chain disruptions that are leading to congestion at U.S. ports and have affected its members ability to serve customers. Read more from Ana Monteiro.
To contact the reporters on this story: Zachary Sherwood in Washington at zsherwood@bgov.com; Brandon Lee in Washington at blee@bgov.com
To contact the editors responsible for this story: Giuseppe Macri at gmacri@bgov.com; Loren Duggan at lduggan@bgov.com; Michaela Ross at mross@bgov.com
Stay informed with more news like this – from the largest team of reporters on Capitol Hill – subscribe to Bloomberg Government today. Learn more.