What to Know in Washington: Twitter Hack Reveals Election Fears
The hijacking of several prominent Twitter accounts, including that of Democratic presidential nominee Joe Biden, has again raised questions about the company's ability to combat disinformation on its platform and rekindled concerns about potential election interference with November just four months away.
Twitter and other social media sites such as Facebook were already facing scrutiny over their ability and willingness to protect the integrity of the democratic process and avoid a repeat of 2016, when Russia spread disinformation in efforts to bolster Donald Trump's candidacy.
That pressure increased yesterday as Biden, Barack Obama, Jeff Bezos, Bill Gates, Warren Buffett and Elon Musk were among the prominent political and business leaders whose accounts were exploited to send out tweets in an apparently coordinated effort to promote a cryptocurrency scam.
"What happened today should be a red flag in terms of the huge amounts of disinformation that are already rife in this election and it's only going to get worse," said Meredith McGehee executive director of Issue One, a non-profit focused on political reforms. "When you're going after presidential candidates and the richest men in the world, it's a display of their vulnerability."
Lawmakers were swift to call for the company to answer questions or for the U.S. to bolster its cybersecurity position.
Rep. Frank Pallone (D-N.J.), who leads the House Energy and Commerce Committee that oversees much of U.S. technology policy, said in a tweet that Twitter "needs to explain how all of these prominent accounts were hacked." Rep. Carolyn Maloney (D-N.Y.), who leads the Oversight Committee, sent out a release noting she had just held a hearing on creating a national cyber director for the U.S.
Sen. Josh Hawley (R-Mo.), a vocal tech critic who has backed Trump on accusations that the largest social media platforms have tried to silence conservative voices, wrote a letter to Twitter CEO Jack Dorsey within minutes of the hack.
He urged Dorsey to get in touch with the U.S. Justice Department and FBI to secure the site, and asked about potential data theft and whether the breach affected select users or the security of the platform overall.
Who hacked Twitter and how are certainly the company's greatest immediate concerns. But until yesterday's episode, users could take for granted that verified account holders were indeed who they claimed to be. And that the messaging from those accounts was, if nothing else, authentically sourced. That sense of trust may have been altered during a five-hour window when some of Twitter's highest-profile accounts were commandeered by an intruder, said Laura Galante, founder of the cyber research firm Galante Strategies. Read more from Ben Brody, Misyrlena Egkolfopoulou and Kartikay Mehrotra.
What to Watch Today
Mortgages & CARES Act: The House Financial Services Oversight and Investigations Subcommittee plans an oversight hearing on mortgage servicers' implementation of the CARES Act.
Small Business Rehiring: The House Small Business Innovation and Workforce Development Subcommittee holds a virtual hearing on small business rehiring.
Extremist Threats: The House Homeland Security Intelligence and Counterterrorism Subcommittee will examine threats from militia extremists and accelerationists during a virtual meeting.
VA Legislation: The House Veterans' Affairs Subcommittee on Disability Assistance and Memorial Affairs scheduled a hearing to discuss eight bills related to VA cemeteries, veteran remains, insurance, and legal representation.
Native Youth & Mental Health: The House Natural Resources Indigenous Peoples of the United States Subcommittee holds a remote hearing on native youth perspectives on mental health and healing.
Senate, House Meetings: The Senate meets for a pro forma session at 10:30 a.m. and the House meets at noon for a pro forma.
Trump on Regulations: Trump will discuss efforts to roll back regulations during a White House event at 4 p.m.
Also Happening on the Hill
Senate's Virus Liability Limit's No Cure-All: The virus liability shield for businesses that Senate Republicans see as a top priority in the next stimulus bill would give companies an advantage in litigation, but wouldn't necessarily spare them the time and expense of defending themselves in court.
Depending on how the federal proposal gets written, companies could have to show their business operations didn't amount to gross negligence during a pandemic in order to get immunity from liability, attorneys told Bloomberg Law. That's the standard a number of states have set in enacting their own virus liability shields. Chris Marr has more.
Pompeo to Testify Amid Nominee Skirmish: Secretary of State Mike Pompeo will testify before the Senate Foreign Relations Committee this month after Republicans agreed to schedule hearings on his top three nominees over opposition from Democrats, according to a letter from Chairman Jim Risch (R-Idaho). Pompeo had previously rejected bipartisan requests to testify for the hearing to answer questions about the State Department's 2021 budget until it considered department nominees he said were crucial. Read more from Nick Wadhams.
House Targets Mental Health Coverage Gaps: The House is set to vote on two bills in coming weeks that would force insurers to report more data on how they cover mental health and drug addiction treatment services. The provisions, one of which was tucked into a fiscal 2021 appropriations bill, would require health insurance companies to publish reports on their compliance with federal mental health parity rules and on how they limit certain mental health benefits.
Together, the measures seek to align coverage of mental health and substance abuse treatment services with those of other health services, a longtime goal of mental health advocates. "Mental health is just as important as physical health," Rep. Fred Upton (R-Mich.) said yesterday. Read more from Alex Ruoff.
Neal Wants IRS Details on Trump Education Tweets: House Ways and Means Chairman Richard Neal (D-Mass.) asked the IRS for more information about Trump's tweets on ordering an investigation into the nonprofit status of private universities over political beliefs. It is "unlawful" for the president to tell Internal Revenue Service employees "to conduct or terminate an audit or other investigation of any particular taxpayer,'" Neal wrote to IRS Commission Charles Rettig in a letter highlighting two tweets posted by Trump on July 10. Read more from Colin Wilhelm.
OSHA Virus Safety Standards Sought: A group of 10 House Republicans led by Rep. David McKinley (R-W.Va.) wants Minority Leader Kevin McCarthy (R-Calif.) to press for language in the next pandemic aid legislation to direct the Occupational Safety and Health Administration to issue an emergency temporary standard covering virus transmission in the workplace. OSHA leaders have resisted calls from congressional Democrats and labor unions to take such a step. Read more from Jaclyn Diaz and Fatima Hussein.
The Coronavirus Pandemic
Masks, Gowns in Short Supply: American health-care workers still face dangerous shortages of personal protective equipment as the uncontrolled spread of Covid-19 fills hospitals across the nation and threatens patients and workers in long-term care facilities. Dayna James, an emergency department nurse in Miami, said some days she's had to clean patient rooms with hand sanitizer because no disinfectant wipes were available. Other days she was rationed to three Clorox wipes per room. Like many colleagues around the U.S., she gets a single N95 mask per shift, which means she may bring a potentially contaminated mask into a new patient's room, ignoring longtime standard practice. Read more from John Tozzi.
Texas Readies Morgue Trucks: Along the Texas coast outside Corpus Christi, Nueces County Judge Barbara Canales surveyed the sandy Gulf of Mexico beaches packed with swimmers and sunbathers, just the way they are every summer. Then she went back to her office to order another morgue truck. Officials across Texas are rushing to mobilize overflow mortuary space as communities brace for a surge in coronavirus deaths following Fourth of July festivities. Already, July has had a succession of record-setting days in terms of new cases, deaths and hospitalizations. Yesterday, Texas continued to set records, with almost 11,000 new cases and 110 deaths. Read more from Bloomberg News.
Fewer Covid ICU Deaths Suggest Care Is Improving: Fewer Covid-19 patients are dying in intensive-care units, researchers wrote in a study published yesterday in the journal Anaesthesia, indicating that hospitals are getting better at treating severe forms of the disease. Overall mortality of Covid-19 patients treated in ICUs had fallen to just under 42% at the end of May from almost 60% in March. That's according to the first systematic analysis of two dozen studies involving more than 10,000 patients in Asia, Europe and North America. Read more from Jason Gale.
Outbreaks at U.S. Military Bases Add to Japan's Worries: Coronavirus clusters at military bases in Okinawa are causing fresh strains between Japan and the U.S., with Tokyo questioning if American service personnel are dodging local rules and causing infections to spread. Read more from Jon Herskovitz.
Coronavirus & the Economy
Virus Fears Hurt U.S. Economy: As a second wave of coronavirus cases spreads across the U.S., economists say fear of the disease likely plays a bigger role in stalling business activity than any rules that governments put in place. That's the key finding in a series of studies that cast doubt on the effectiveness of attempts to reopen the economy while the pandemic is still raging. The research also suggests that reluctance to re-impose lockdowns on economic grounds may be misplaced.
The U.S. has the world's largest number of coronavirus cases and deaths, and it's reporting rising levels at a time when many other countries appear to have gotten a grip on their outbreaks. That divergence may soon have consequences for the economy if it takes longer for American shoppers or diners to get comfortable returning to prior habits. Read more from Olivia Rockeman.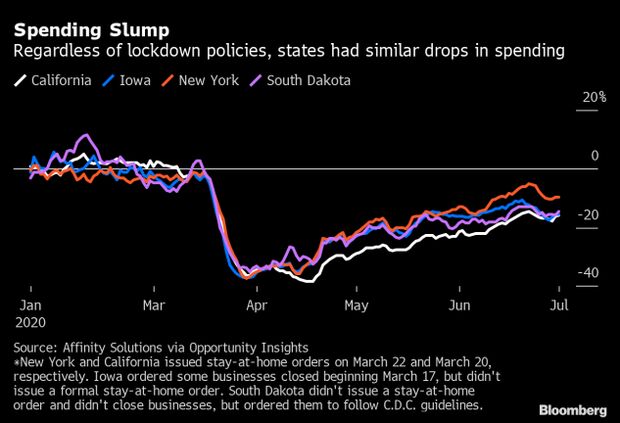 Meanwhile, Trump may have lost the one remaining issue advantage he had with voters, with 50% in one new poll saying they trust Joe Biden to do a better job managing the U.S. economy, compared to Trump's 45%. Last month, the same survey gave Trump a 5-point advantage on the economy. An NBC/Wall Street Journal poll released later yesterday showed better news for Trump on the economy — with 54% saying they approved of his stewardship — but still contained troubling signs for his re-election as the president trailed Biden by 11 points overall. Read more from Gregory Korte.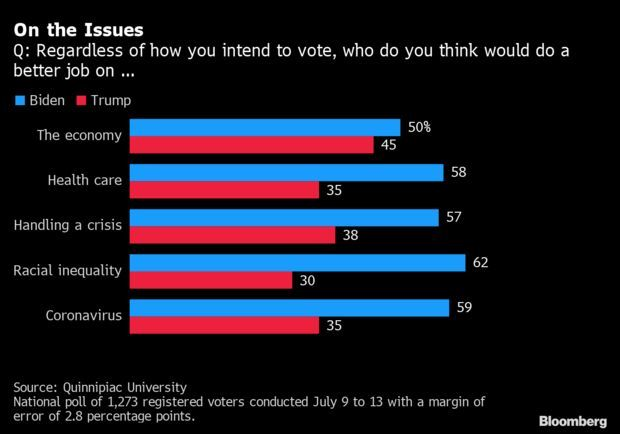 SBA Lists Wrong Congressional District: At least a quarter-million coronavirus relief loans may be listed in the wrong U.S. congressional district in data that the Trump administration released for the Paycheck Protection Program, hindering efforts to determine how effective the initiative to help out small businesses has been. Bloomberg News checked the nearly 5 million PPP loans against Housing and Urban Development data that track changes in ZIP codes and congressional districts quarterly. The analysis found 226,000 loans where the districts did not match HUD data. Read more from Jason Grotto and Mark Niquette.
White Households Got Stimulus Checks Faster Than Black Families: With Congress about to debate whether to send another round of relief payments to individuals, a study has found that the last batch of stimulus checks arrived at wealthier, White households more quickly than to those of Blacks and Hispanics. Nearly seven in 10 adults said that they received their coronavirus economic stimulus payments, approved by Congress in March, as of late May.
Among Whites, 74% reported getting payments by then, compared to 69% who were Black and 64% who were Hispanic, according to a study from the Urban Institute released today. Read more from Laura Davison.
U.S. Spending at Risk Without Extra Jobless Benefit: The extra $600-a-week unemployment benefit helped propel spending by jobless Americans above pre-pandemic levels and allowing it to lapse could jeopardize consumer demand and have a negative effect on the U.S. economy, according to new research from the JPMorgan Chase Institute. While aggregate spending by the employed decreased during the pandemic, spending by benefit recipients increased by 10%, likely due to the $600 supplement, the report showed Thursday. The group also found that outlays dropped 20% for those who experienced delays in receiving the expanded benefit, highlighting the importance of the added financial assistance. Read more from Maeve Sheehey.
Elections & Politics
Trump Replaces Parscale: Trump has insisted for weeks that he is in good shape to win a second term in November. But yesterday, the president acknowledged the trouble he is facing by reshaping his campaign leadership, ousting manager Brad Parscale. Trump announced in a Facebook post that Bill Stepien, the former deputy campaign manager, will now lead his re-election operation. Parscale, who had led the campaign since 2018, will remain as senior adviser for digital and data.
The shake-up comes with Trump's political standing battered by the coronavirus pandemic that has killed more than 137,000 people in the U.S. and sunk the economy, once the pillar of the president's case for re-election. Read more from Jordan Fabian, Jennifer Jacobs and Misyrlena Egkolfopoulou.
Pence Suggests GOP's Convention Could Change: Vice President Mike Pence suggested yesterday the Republican National Committee is looking at changes to its nominating convention and will prioritize the health of attendees as cases of Covid-19 continue to rise in Florida. "With regard to the convention, I can tell you it is a work in progress. The president's indicated that we'll be flexible," said Pence in a call with reporters. He said the party will consult with health officials, Jacksonville Mayor Lenny Curry and Gov. Ron DeSantis (R), about the structure. Read more from Emma Kinery and Mario Parker.
Trump Touts Goya Foods After Praise From CEO: Trump touted Goya Foods products from the White House yesterday as the foodmaker faces a consumer boycott after its CEO praised him. Trump posted a picture with Goya products on his desk as he gives two thumbs up. The Instagram post followed a tweeted photo from his daughter, Ivanka, holding a can of Goya black beans. The photo drew criticism from government watchdog groups, who said it violates federal rules against top White House employees endorsing specific companies. Read more from Josh Wingrove and Ari Natter.
Defense & Foreign Affairs
EU Bans Key Data-Transfer Pact: The European Union's top court issued a stinging rebuke of potential U.S. surveillance, striking down the so-called Privacy Shield, a key method to transfer data across the Atlantic. Today's landmark decision means thousands of companies that ship commercial data across the Atlantic risk turmoil in their day to day activities. Still, the court did approve another system to transfer data known as Standard Contractual Clauses. Read more from Stephanie Bodoni.
U.S. Reviewing TikTok for National Security Risks The Trump administration is conducting a formal review of Chinese-owned social media apps TikTok and WeChat for possible national security risks, which could conclude in a matter of weeks. Chief of Staff Mark Meadows told reporters aboard Air Force One yesterday that there was no self-imposed deadline for finishing the review, but he expects a result in "weeks, not months." Read more from Jennifer Jacobs and Jordan Fabian.
Chinese Students Not Reassured by Trump Reversal: Trump administration policy whiplash of the the past week has added to doubts many Chinese students have about studying in the U.S. Last week, U.S. Immigration and Customs Enforcement said students would lose their visas if they didn't have in-person classes because of the pandemic; the government reversed itself Tuesday after Harvard University, MIT and dozens of other colleges challenged the policy in court. Read more from Bruce Einhorn, Lulu Yilun Chen and Sybilla Gross.
China Tensions Force New Strategies: Dealing with China is so complex it's produced its own lexicon: Engagement. Containment. Confrontation. Constrainment. Even "con-gagement." The word stew reflects the dilemma for governments facing a power that is no longer simply "rising." The leadership under Xi Jinping believes China is now strong enough that it can forcefully assert its agenda both at home and abroad because it has reached the point it can withstand whatever penalties come its way. Read more.
Canada Warns of Reprisal in Tariff Spat: Canada said that the U.S. should be patient on determining whether to reimpose aluminum tariffs on imports, but says it will retaliate if the U.S. pulls the trigger. At the heart of the debate is the question of whether Canadian raw-aluminum imports have surged since tariffs were lifted in May 2019, contravening recent trade deals. Read more from Joe Deaux.
What Else to Know Today
Justices Clear Path for Second Execution: A divided U.S. Supreme Court cleared the way for a second federal execution this week—in another middle-of-the-night vote—siding against the death row inmate on a series of claims, including ones related to his mental competency, the government's execution protocol, and his minister's plea to halt the execution during the Covid-19 pandemic. Along the party lines of the presidents who appointed them, the justices split 5-4 in lifting a stay yesterday afternoon that was in place against Wesley Ira Purkey's execution. Then just before 3 a.m. this morning, the justices split the same way while siding against Purkey on four remaining claims. Read more from Jordan S. Rubin.
Trump Rule Easing Methane Curbs on Oil Wells Overturned: A California-based federal district judge yesterday tossed out the Trump administration's 2018 rule weakening limits on the venting and flaring of natural gas from wells on federal land, saying the measure was based on "myriad inadequacies," Jennifer Dlouhy reports. The ruling is a defeat for the Trump administration, which has repeatedly tried to thwart more stringent 2016 mandates that sought to curb the waste of natural resources from oil and gas wells on public and tribal lands.
Ginsburg Has Left Hospital: Justice Ruth Bader Ginsburg was released from a Baltimore hospital and is back home, a day after being admitted with a possible infection, the Supreme Court said. The hospital stay was the latest health scare for an 87-year-old justice who's become a liberal icon. Ginsburg underwent an endoscopic procedure to clean out a bile duct stent that was placed last August, when she was treated for a malignant tumor on her pancreas. Read more from Greg Stohr.
Environmental Permitting Update to Spark Frenzy: Environmental coalitions and states are set to wage multiple challenges to Trump's latest overhaul of U.S. requirements for environmental permits, setting up long-term uncertainty over regulations and the potential for a checkerboard of rules across the U.S. Trump unveiled the plan yesterday, replacing Nixon-era rules for how federal agencies conduct reviews under the National Environmental Policy Act. Read more from Ellen M. Gilmer, Stephen Lee, and Jennifer A. Dlouhy.
To contact the reporters on this story: Zachary Sherwood in Washington at zsherwood@bgov.com; Brandon Lee in Washington at blee@bgov.com
To contact the editors responsible for this story: Michaela Ross at mross@bgov.com; Giuseppe Macri at gmacri@bgov.com; Loren Duggan at lduggan@bgov.com