What to Know in Washington: Trump's Win Emboldens the President
Donald Trump's acquittal by the Senate delivered an expected yet exhilarating victory to the White House, freeing a president who has for years operated under the threat of impeachment and longed for vindication.
The vote by the Senate yesterday provided Trump another last-hour escape from a mortal threat to his presidency, even though the outcome was tarnished when Sen. Mitt Romney (R-Utah) became the first senator ever to vote to remove a president from his own party.
The Romney decision, along with the unified Democratic front, soured an acquittal that otherwise appeared perfectly timed for the president, clearing the decks just as campaign season enters its full fury. But the bipartisan vote to convict — a day after his State of the Union address, where he claimed credit for engineering a "great American comeback" — laid bare the deep rancor gripping the Capitol.
The 2020 contest is now an unambiguous referendum, pitting Trump — and a Republican Party inextricably wed to him — against Democrats, who have depicted him as an extreme threat to the republic. Both sides leave the impeachment process carrying considerable political risk.
Following the Senate vote, Trump tweeted that he would make a public statement today at noon from the White House on "our Country's VICTORY on the Impeachment Hoax!" He later posted a video in which a narrator describes Romney as "slick, slippery, stealthy," accuses him of "posing as a Republican" and taunts him for his 2012 election loss to President Barack Obama. Read more from Justin Sink.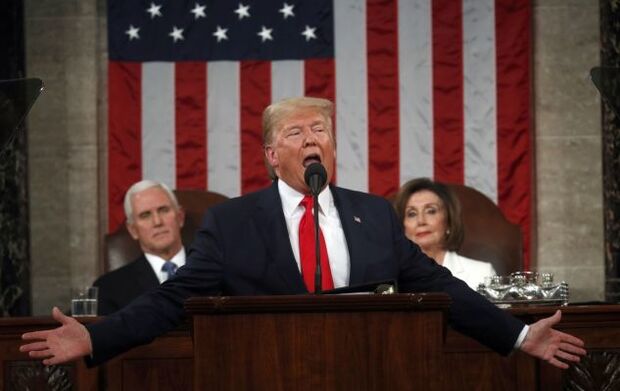 GOP Senators Investigating Hunter Biden: Sens. Chuck Grassley (R-Iowa) and Ron Johnson (R-Wis.) said they've asked the U.S. Secret Service to provide Hunter Biden's official travel records for their investigation into "potential conflicts of interest." Grassley, chairman of the Finance Committee, and Johnson, chairman of the Homeland Security and Government Affairs Committee, said in a statement they're seeking details on Hunter Biden's travel dates and locations when he had Secret Services protection because his father Joe Biden was vice president.
Hunter Biden served on the board of Burisma Holdings, a Ukrainian energy company that had been embroiled in controversy, while his father oversaw U.S. policy on Ukraine. Read more from Laura Davison.
Elections & Politics
Buttigieg, Sanders in Virtual Tie in Iowa: Pete Buttigieg and Sen. Bernie Sanders (I-Vt.) were in a virtual tie in the Iowa caucuses early today as the state's Democratic Party continued to struggle with releasing long-delayed results. The former South Bend, Indiana, mayor had 26.2% of state delegate equivalents, barely besting Sanders's 26.1%, with 97% of more than 1,700 precincts reporting results.
In third place was Sen. Elizabeth Warren (D-Mass.), with 18.2%, followed by former Vice President Joe Biden, with 15.8%. Sen. Amy Klobuchar (D-Minn.) was in fifth, with 12.2%. Iowa Democrats plan to continue releasing results as they sort through the data. Read more from Tyler Pager and Jennifer Epstein.
Buttigieg Faces Tough Battle to Repeat Iowa Feat: The once-improbable path for Buttigieg to win the Democratic presidential nomination hinged on a strong performance in the Iowa caucuses. Now, with a possible first- or second-place finish, the looming question is whether that will be enough to propel him into contention in more racially diverse states.
Buttigieg appears to have decisively defeated Biden and Klobuchar, the two other top moderates who competed in the caucuses. But he still has a long way to go prove a 38-year-old gay ex-mayor can claim the mantle as the clear alternative to the progressive wing of the party. Moving forward, his campaign is aiming to replicate its organizing success, particularly in Nevada, where they have a large organization staffed by caucus experts. Read more from Tyler Pager.
Trump Fans Flooded Iowa Caucus Hotline, Democrats Say: Supporters of Trump flooded a hotline used by Iowa precinct chairs to report Democratic caucus results after the telephone number was posted online, worsening delays in the statewide tally, a top state Democrat told party leaders on a conference call last night. According to two participants on the call, Ken Sagar, a state Democratic central committee member, was among those answering the hotline on caucus night and said people called in and expressed support for Trump. The phone number became public after people posted photos of caucus paperwork that included the hotline number, one of the people on the call said. Read more from Tyler Pager and Jennifer Epstein.
Biden Adviser Raises Questions About Iowa Caucus Over App: A senior adviser to Joe Biden's campaign raised questions about the results of the Iowa Democratic caucuses. In an interview on CNN yesterday, senior adviser Symone Sanders pointed to problems with an app used to tabulate precinct results. Pressed by CNN anchor Brianna Keilar over whether this meant she was contesting the reported results, Sanders demurred, saying she has not "analyzed the back ends of the data." Read more from Ryan Beckwith.
Sanders Leads in N.H.: Bernie Sanders is holding a comfortable lead before next week's New Hampshire primary with nearly double the support held by former South Bend Mayor Pete Buttigieg and is favored in nearly every subgroup, according to a new Emerson College poll. Sanders leads with 32% in the state, followed by Buttigieg at 17%. Former Vice President Joe Biden was next with 13%. Ryan Beckwith has more.
After raising $25 million in January, Sanders is ready to kick his campaign spending into high gear, planning big expenditures in Super Tuesday states. The Vermont senator had his single best fundraising month to date, his campaign said, with more than 648,000 individuals, including 219,000 first-time givers, making over 1.3 million donations. Read more from Bill Allison.
Biden stepped up attacks on his Democratic rivals Buttigieg and Sanders while campaigning in New Hampshire, a day after results out of the Iowa caucuses showed Biden in fourth place in the first nominating contest. The gloves came off at a town hall in Somersworth, when Biden said that Buttigieg's limited experience in leadership as mayor of South Bend would make him a risky choice as the party's nominee. Misyrlena Egkolfopoulou has more.
Trump's Plea to Black Voters Showcases Find-Just-a-Few Strategy: Trump is ramping up his appeals to African Americans, including a State of the Union speech on Tuesday that illustrated his campaign's effort to lure enough black voters from the Democratic Party to secure his re-election. During his remarks, Trump awarded a young black girl a scholarship to escape what he called "failing government schools." He recognized a black Army veteran seated in the First Lady's box for landing a job in an "Opportunity Zone" created by his 2017 tax law.
And in a rare instance of the president sharing credit for a policy, Trump called out Sen. Tim Scott (R-S.C.) — the only black Republican in the Senate — for devising the Opportunity Zone program. Trump also recognized one of the last surviving Tuskegee Airmen, Charles McGee, and announced he'd been promoted to brigadier general. Read more from Mario Parker.
Happening on the Hill
White House Threatens Vetoes: The Trump administration "strongly opposes" legislation that would appropriate an additional $4.7 billion in emergency funding for Puerto Rico. A provision of the bill would "make permanent changes to the nation's tax code and provide more than $15 billion in federal subsidies that are unrelated to immediate disaster relief and recovery," the Office of Management and Budget said in a statement of administration policy.
The White House also said it opposed a broad labor rights bill. While the administration "supports the rights of workers to freely join a union," the bill "contains provisions that would kill jobs, violate workers' privacy, restrict freedom of association, and roll back the administration's successful deregulatory agenda," the OMB statement said.
If the bills were presented to Trump, his advisers would recommend he veto them.
McConnell Tees Up Judicial Nominees: The Senate moved quickly after acquitting Trump of impeachment charges to line up votes on a series of his judicial nominations. Minutes after the historic votes, Majority Leader Mitch McConnell (R-Ky) filed motions to invoke cloture, or limit debate, on five nominees, including Andrew Brasher to the U.S. Court of Appeals for the 11th Circuit. The Republican-led chamber will start with Brasher on Monday before moving on to four district court nominees.
The move from McConnell signals judicial confirmations are still top-of-mind for Republicans, especially with election campaigns heating up. Trump and McConnell have worked to remake the judiciary with conservatives over the past three years, a point the president underscored in his State of the Union address. Read more from Madison Alder.
Tree Plan Seen as Center of GOP Climate Bill: Republicans in Congress said yesterday that Trump's embrace of a global tree-planting initiative could make the proposal a centerpiece of a forthcoming GOP climate change package. Rep. Bruce Westerman (R-Ark.) plans to introduce legislation over the next week or so for a U.S. Trillion Tree Initiative, which Trump endorsed in Tuesday's State of the Union address. House Minority Leader Kevin McCarthy (R-Calif.) ultimately seeks to combine that bill and other ideas into a House GOP climate package. Read more from Dean Scott.
What Else to Know Today
Navy Swaps Submarine for Destroyer in Budget Request: The Pentagon is bolstering the number of warships the Navy will seek in its fiscal 2021 budget request after the White House complained an initial proposal was too low to meet Trump's long-term target, according to officials. In the budget proposal expected Monday, the Navy will request funding for eight ships, up from seven in a draft service request in mid-December. The new request for the fiscal year starting Oct. 1 includes two DDG-51 Arleigh Burke destroyers built by General Dynamics Corp., one more than the service proposed seeking in the December draft. Read more from Tony Capaccio.
Pentagon Eyes Cuts to Raise $5B: A Cold War-era program to secure nuclear material is among programs that could be cut in a Pentagon effort to shift $5 billion into higher priorities such as space operations and hypersonic missiles, defense officials said today. The Pentagon will also get savings from initiatives that were already underway, like resizing about 50 medical treatment facilities as ordered by Congress and consolidating its supply, storage, and distribution operations as part of the 2005 Base Realignment and Closure process (BRAC). Read more from Travis J. Tritten.
12th Virus Case in U.S.: Wisconsin public health officials confirmed the 12th case of the coronavirus in the U.S. The patient had traveled to Beijing and was exposed to known cases while in China, said the state's Department of Health Services. The person, an adult, has been isolated at home and is doing well, the state said in a statement yesterday. Bloomberg News is following outbreak developments.
Beijing is growing increasingly angry at countries imposing harsh travel restrictions on visitors from China as the world tries to contain the spread of a deadly coronavirus. Authorities have registered "strong objections" with countries who have cut flights to China during the outbreak, foreign ministry spokeswoman Hua Chunying said today. She said countries were ignoring recommendation from the World Health Organization and International Civil Aviation Organization, which have advised against canceling flight routes and limiting travel to affected nations. Read more from Iain Marlow.
Trump Suspends Travel Programs for New Yorkers: Acting Homeland Security Secretary Chad Wolf said that his department was suspending Trusted Traveler and Global Entry programs for New York residents over a new state law allowing undocumented immigrants to obtain driver's licenses. Wolf told Fox News last night that the suspension of the programs, used by travelers to quickly move through customs and security at airports, was effective immediately. The action was taken a day after Trump condemned "sanctuary cities" as a Democratic scourge in his State of the Union Address. He highlighted the arrest of an undocumented migrant in the recent rape and murder of an elderly woman in New York City. Read more from John Harney.
U.S. Jobs Report to Contrast Healthy 2020 Start With Weaker Past: The U.S. job market probably got off to a healthy start in 2020 but may also lose some of the luster Trump boasted about this week. January figures due tomorrow are projected to show U.S. employers added about 163,000 jobs — less than last year's 176,000 average but still enough to keep unemployment at a half-century low. Wage gains are forecast to rebound from a surprise slump in December. Read more form Reade Pickert and Max Reyes.
Trump Is Short on Tools to Run His Election Economy: Governments up for reelection typically do what they can to nudge the economy into high gear just as voters are starting to pay attention. On that front, things already look pretty good for Trump. One problem for the president ahead of the vote in November is that his most powerful tool is now in the hands of his enemies. Fiscal stimulus is the main reason for faster growth on Trump's watch. In 2018 tax cuts coupled with higher spending helped the U.S. economy match its best performance in the years since the financial crisis. But Republicans lost control of the budget machinery in Congress last year. Ever since then, with his own options for juicing the economy narrowed, Trump has crusaded to lower interest rates—a lever that's controlled by the Federal Reserve. Read more from Laura Davison and Ben Holland.
To contact the reporters on this story: Zachary Sherwood in Washington at zsherwood@bgov.com; Brandon Lee in Washington at blee@bgov.com
To contact the editors responsible for this story: Giuseppe Macri at gmacri@bgov.com; Loren Duggan at lduggan@bgov.com