What to Know in Washington: Trump's Virus Visits Are New Rallies
President Donald Trump credits his signature rallies for his improbable White House victory and the roaring economy he once presided over was his best argument for re-election. But with the coronavirus pandemic destroying both, he's trying to compensate by turning official events into the next best thing.
The visits, often to see manufacturers of medical equipment, feature the same themes and some of the same moves. The campaign play list goes with him. He ticks off similar talking points about pre-Covid economic achievements.
One difference with campaign rallies: Taxpayers foot the bill for these official visits.
There is no substitute for screaming fans waving signs and sporting MAGA hats, but Trump has been using some of his most popular campaign-style commentaries during those trips.
Trump visited Ford's ventilator facility yesterday in Ypsilanti, Mich., and got some of the feel of a rally on the way.
Along his motorcade route, supporters wearing campaign gear waved and held up signs of support. There were also people holding signs criticizing his response to the pandemic.
"We've got to get back to the rallies," Trump told reporters at the plant.
He trails Biden in polls in Michigan—as well as two other state's Trump's visited, Arizona and Pennsylvania—even though the former vice president has been campaigning only through virtual events from his home in Delaware.
Biden's top advisers insist that his candidacy hasn't been hindered by self-isolating. Polls support Biden's strategy. He leads Trump by 4.5 percentage points in the RealClearPolitics average of national polls and his campaign manager Jen O'Malley Dillon told reporters on a May 15 conference call that the campaign is "bullish" on Arizona, once a solidly Republican state and the home of the GOP presidential standard bearers John McCain and Barry Goldwater. Read more from Mario Parker.
Relief Talks & Implementation
Senators Put Off Action on Changing Small-Business Aid: The Senate put off action on a bipartisan proposal to extend the small-business Paycheck Protection Program and make other changes to the initiative before leaving yesterday for a weeklong recess. The bill from Senate Small Business Chairman Marco Rubio (R-Fla.) and others seeks to extend the deadline to apply to the end of the year from June 30 and double the current eight-week period in which businesses must use funds to have loans forgiven, according to Rubio's office.
Some senators had sought quick approval by unanimous consent yesterday. It wasn't immediately clear whether the Senate will act to approve the measure during a pro forma session during the break, or wait until members return to Washington in June. The timing matters because the first companies that had received loans after the PPP program opened on April 3 will see the eight-week loan-forgiveness periods begin to expire at the end of next week and in early June. Read more from Daniel Flatley and Mark Niquette.
The rollout of small-business relief loans under the PPP had a rocky start in April, criticized for giving loans to large firms and favoring certain states. One of the surprising features of the initial relief was that it showered money on states least hurt by the coronavirus pandemic and overlooked some areas hit the hardest. Now, that gap is closing.
Read more: Tracking the U.S. Small Business Impact From Coronavirus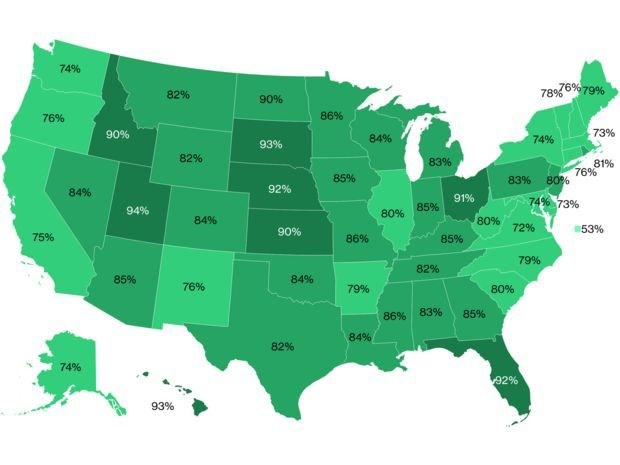 Trump's Postal Service Feud Risks Riling Voters: Trump is escalating his long-running feud with the U.S. Postal Service, setting up a bitter political fight that could harm the president's standing with key voters ahead of November elections. The partisan conflict centers on tens of billions of dollars postal leaders say they need to avert possible bankruptcy as soon as late September. Trump says the agency must first raise prices and cut costs.
The president's stance carries considerable political risks with millions more Americans and small businesses relying on home deliveries to keep goods flowing as strict social-distancing measures cripple economic activity. Democrats, large retailers and other postal service advocates say raising shipping costs now would simply harm consumers and small businesses that are struggling to survive. Read more from Jordan Fabian.
Millions of PPP Loan-Forgiveness Requests to Hit Banks: Banks are preparing for a flood of applications for loan forgiveness under the Paycheck Protection Program, marshaling staff to help borrowers navigate a complicated process that recalls the fraught early days of the Covid-19 small-business relief effort. Companies that received PPP funding in early April can start to submit forgiveness applications at the end of May. Lenders will have to help them sort through a detailed application document, complete the paperwork and get it to the Small Business Administration for approval. Banks made about 4.3 million PPP loans for a total of more than $500 billion, and the program allows every borrower to request forgiveness. Read more from Olivia Rockeman.
Senators Seek to Help Music Venues: Sens. John Cornyn (R-Texas), Tom Carper (D-Del.) and others asked Senate leadership to include funding for independent live music venues in any upcoming coronavirus relief legislation. Live event venues were among the first to close down due to the pandemic, and "they are likely to be among the last to reopen," they say, adding their reopening may not occur until a vaccine is widely available. Read the letter here.
Reopening Efforts
Americans Venture Out for Holiday Travel: Americans are fleeing weeks of home isolation for beaches, parks and other leisure destinations over the Memorial Day weekend — and that has pandemic experts and businesses concerned about a spike in coronavirus cases. Many states have begun to lift restrictions at the urging of Trump while travel and tourism businesses are seeing signs of life after nearly two months of near-zero demand.
Yet those limits on public activity helped slow the spread of the virus, and a surge in tourism could mean trouble, said Jeff Schlegelmilch, deputy director of the National Center for Disaster Preparedness at Columbia University. "We should be worried about increases in Covid-19 transmission," he said. "I do expect that we're going to see an uptick in coronavirus cases a week to two weeks after Memorial Day because of that increase in travel as well as because of the premature relaxing of social distancing in some states." Read more from Ryan Beene and Alan Levin.
Baltimore Mayor Asks Trump Not to Visit: Baltimore's mayor asked Trump to cancel a planned visit to the city on Monday to celebrate Memorial Day, noting the Maryland city is still under a stay-at-home order to combat the coronavirus outbreak. Trump is planning to visit the Fort McHenry National Monument for the holiday. The city's mayor, Jack Young, said Trump's travel would set a poor example for the city's residents. Read more from Alex Wayne.
Trump Says Guidance on Churches Coming: The Centers for Disease Control and Prevention plans to put out guidance for reopening churches "very soon," Trump said yesterday. "I said I want the churches to open," he said, suggesting the guidance would be released this week. "We want to get our churches back." Recommendations for restarting activities by religious groups weren't part of CDC suggestions for opening workplaces, schools and restaurants released over the weekend, though they were included in a draft first reported by The Associated Press. Read more from Mario Parker and Emma Court.
Trump Defies Ford Policy, Tours Without Mask: Trump didn't wear a face mask as he toured Ford's ventilator facility yesterday, defying the automaker's policies and seeking to portray an image of normalcy even as American coronavirus deaths approach 100,000. But he told reporters he had put on a mask in the "back area" of the plant in Ypsilanti, Mich., and didn't want to give them the "pleasure" of seeing him with it. "I was given a choice," he said. "And I had one on in an area where they preferred it, so I put it on. And it was very nice. Look, very nice. But they said they're not necessary." Read more from Justin Sink and Mario Parker.
What General Counsel Need to Think About as Companies: In-House Counsel will be asking themselves questions that seemed unfathomable months ago as they oversee employees returning to the workplace. Should they take employees' temperatures? What's the legal risk? How much immunity could the business face from liability suits? Bloomberg Law has put together the General Counsel's Guide to Reopening to help in-house lawyers think about these sorts of questions as they consider how best to resume operations. Get the guide here.
Dozens of Antibody Tests to Exit Market: The Food and Drug Administration said yesterday that 27 coronavirus antibody tests will no longer be distributed in the U.S., as part of a previously-announced crackdown by the regulator on the tests. Antibody tests look for markers in the blood that indicate exposure to the coronavirus, but, in contrast with diagnostic tests, cannot determine whether a patient has an active Covid-19 infection.
The FDA's stricter stance on antibody tests follows an initially permissive policy that let hundreds of antibody tests be sold without the regulator's oversight and prompted criticism about the tests having accuracy issues. The 27 tests either didn't seek authorization from the FDA or had "significant problems" identified with them, according to the FDA. Read more from Jacquie Lee and Emma Court.
Mixing of Tests Muddy Virus Data as U.S. Looks at When to Reopen: The CDC and some states reported both completed diagnostic tests and antibody tests in public datasets, mixing results that show current infections with past infections and presenting an image of testing capacity that's greater than the on-the-ground reality. The agency is now working to distinguish the two types of tests and will report the differentiated data online "in the coming weeks," a CDC spokesperson said. Read more from Emma Court.
Meat Workers Crowd in Reopened Plants: Three weeks after Trump ordered meat plants to remain open in the pandemic, infections are still on the rise as workers say they're being forced to put themselves in harm's way in the name of food security. Based on 13 interviews with employees, labor representatives and a U.S. government inspector at meat plants, employees are still standing elbow-to-elbow along production lines. Employees haven't been spaced out in parts of the plants, and some people with symptoms are still coming in for shifts, afraid of losing income if they call in sick. Read more from Lydia Mulvany, Jen Skerritt, Polly Mosendz, and James Attwood.
Also on Lawmakers' Radars
Burr Probe Upends Panel's Agenda: An investigation into Senate Intelligence Chairman Richard Burr's (R-N.C.) stock trading throws into question his political future and the direction of a crucial Senate domestic policy committee. Burr has been in line to helm the Senate Health, Education, Labor, and Pensions Committee, as Chairman Lamar Alexander (R-Tenn.) retires at year's end, as will senior members Mike Enzi (R-Wyo.), who currently leads a subcommittee focused on health care and retirement security, and Pat Roberts (R-Kan.). Read more from Jaclyn Diaz, Alex Ruoff, and Andrew Kreighbaum.
Senator Proposes Resolution Over Hong Kong: Sen. Josh Hawley (R-Mo.) introduced a resolution condemning China's plans to write a new national security law into Hong Kong's charter, which he said violates the 1984 Sino-British Joint Declaration and the Hong Kong Basic Law.
Navy Secretary Confirmed by Senate: The Senate yesterday confirmed Kenneth Braithwaite to be secretary of the Navy by unanimous consent.
Homeland Chair Wants Joint Saudi Programs Halted: House Homeland Security Chairman Bennie Thompson (D-Miss.) asked Secretary of State Mike Pompeo and acting Homeland Security Department Secretary Chad Wolf to "immediately halt" two joint airport security and air marshal training, advisory programs with Saudi Arabia. Thompson says he is reiterating his request after the Justice Department announced this week the gunman involved in December's terrorist attack in Pensacola, Fla., had contacts with al-Qaeda. Read more from Ben Livesey.
Dems Jab at Unexplained Firing: Pompeo is defending the firing of the State Department's inspector general but his refusal to give any details — saying he wouldn't discuss personnel issues— is fueling questions about probes the watchdog was conducting and demonstrating anew the secretary of state's distaste for explaining controversial decisions publicly.
Speaker Nancy Pelosi (D-Calif.) added to the criticism yesterday. "This is a demonstration of the power, the fear that this administration has of the truth," Pelosi said in an interview with Bloomberg Television. "It's just wrong, it's scandalous really — and we want to know why." Read more from Nick Wadhams.
House Democrats including Oversight and Reform Chairwoman Carolyn Maloney (D-N.Y.) and Foreign Affairs Chairman Eliot Engel (D-N.Y.) also sent a letter to Pompeo condemning the IG firing and pointing toward new reports of potential power abuses. The lawmakers cited an NBC News report detailing Pompeo's frequent hosting of what he calls "Madison Dinners," in which the secretary and his wife invite conservative donors and business executives to regular dinners at the State Department.
Elections, Politics & Probes
Biden Doesn't Know Who He'll Pick as Running Mate: Joe Biden said yesterday he knows what qualities he's looking for in his vice-presidential pick but stressed he's far from a decision. "I honest to God don't know who — I promise you — right now," he said on CBS's "The Late Show with Stephen Colbert."
Asked about reporting that Sen. Amy Klobuchar (D-Minn.) had agreed to be vetted, Biden said "no one's been vetted yet by the team."
Biden said the lawyers working on the search are wrapping up a process of reaching out to a "preliminary list of people" to "ask them general questions" including "what are they interested in, why would they be interested in the job or not interested in the job." Read more from Jennifer Epstein.
Biden Gets Slow Start in Arizona: Biden's campaign doesn't have any staff in Arizona, a state many Democrats believe would give him a clear path to victory over Trump. He also hasn't campaigned there, even virtually — while Trump has been to the state twice since mid-February. Biden's campaign promises to make up ground quickly by adding staffers in coming weeks. And while the slow start might make Democrats anxious, polling shows that the former vice president is leading Trump in a possible Sun Belt antidote to the Democrats' Rust Belt disappointments of 2016.
Still, David Lujan, a former Democratic state legislator who now runs the Arizona Center for Economic Progress, said Trump's incumbency has given him a head start that Biden must overcome. The president has "been here several times over the last several years," Lujan said. "I think that's helped him build that ground presence. He definitely has that advantage. That doesn't mean Biden can't catch up to him." Read more from Tyler Pager.
Biden Limits Press Access to Virtual Wall Street Fundraiser: Biden's campaign limited press access to a fundraiser with Wall Street donors on Thursday night, the first time reporters were unable to join the video portion of a virtual fundraiser or hear the presumptive Democratic nominee answer questions. The campaign has allowed a pool of reporters to watch his virtual fundraisers hosted on Zoom. But, last night, the pool was only given a call-in line, prohibiting reporters from seeing who was in attendance. Read more from Tyler Pager.
Trump's Long-Shot Effort to Woo Black Voters: Earlier this year, Trump bet his reelection hopes would be powered by a group that's so far given him scant support: black voters. To entice them, his campaign bought a Super Bowl ad touting his work on criminal justice reform and announced grand plans to open "Black Voices for Trump" centers in battleground-state shopping areas to hand out buttons, hats, and sweatshirts that say "Woke." At the time, a senior Trump official called them places "where the black community can come in and learn about what the president has done and help push forward his agenda."
The coronavirus has dashed those plans—possibly for good. With retail stores in much of the country still shuttered, a Trump campaign official says the plan for community centers is "on hold." But, at least publicly, the Trump campaign isn't backing off its push for black voters. Read more from Joshua Green.
Puerto Rico Sets Primary for July 12: Puerto Rico Democrats grudgingly agreed to hold the territory's presidential primary in mid-July after Sen. Bernie Sanders (I-Vt.) demanded that the event not be canceled. Puerto Rico Democratic Party Chairman Charles Rodriguez said in a statement he made it clear he "preferred to avoid the primary and save much needed public funds to deal with the COVID-19 emergency and budgetary constraints." Emma Kinery has more.
What Else to Know Today
Disaster-Heavy Year Risks a FEMA 'Code Red': Mounting disasters in the U.S. are spurring concern about the federal government's ability to handle a storm season that's projected to produce the most dangerous storm period since Hurricane Katrina in 2005. Even before hurricane season officially begins June 1, the U.S. government office that leads the response to natural disasters, FEMA, has been grappling to help states deal with the deadly coronavirus pandemic. Read more from Ari Natter.
Flynn Judge Ordered to Respond to Dismissal Bid: The federal judge who declined to rubber-stamp the Justice Department's request to dismiss the prosecution of Trump's national security adviser was ordered by an appeals court to respond to Michael Flynn's petition to have his case thrown out immediately. Read more from Chris Dolmetsch.
Justices Urged to Reject Border Wall Case: The Trump administration is urging the Supreme Court to steer clear of green groups' complaints on environmental waivers for the U.S.-Mexico border wall. Government attorneys told the justices they should deny a petition from the Center for Biological Diversity and other groups that say the waivers are unconstitutional. Read more from Ellen Gilmer.
To contact the reporters on this story: Zachary Sherwood in Washington at zsherwood@bgov.com; Brandon Lee in Washington at blee@bgov.com
To contact the editors responsible for this story: Giuseppe Macri at gmacri@bgov.com; Loren Duggan at lduggan@bgov.com; Michaela Ross at mross@bgov.com