What to Know in Washington: Trump's Vaccine Promise Has Risks
President Donald Trump has begun promising a coronavirus vaccine will be approved within weeks — a gambit to turn a pandemic cure into an October surprise for his struggling re-election campaign.
Trailing Democratic challenger Joe Biden in the polls, and with voters giving Trump's response to the coronavirus outbreak poor marks, the president has championed his administration's aggressive vaccine push as part of an effort to sway public opinion in his favor. Democrats have responded by raising doubts a shot approved under Trump can be trusted, making the coronavirus vaccine an election flashpoint.
"We will deliver a safe and effective vaccine before the end of the year — and it could be very, very soon. It could be very, very soon," Trump said yesterday at a campaign rally in Mosinee, Wis.
But Trump's promise of a vaccine in mere weeks, a timetable far more ambitious than that of any drug maker or public health official, risks embarrassment if the government doesn't make his self-imposed deadline — or public rejection of the shot if it does.
Rushing out a Covid-19 vaccine before the election, especially without ironclad evidence it's safe and effective, may result in many Americans concluding its approval was tied to the political calendar and refusing the shot, Democrats and public health experts have said.
And if the Food and Drug Administration gives authorization for a shot that turns out to be ineffective, those who do take it may remain unknowingly vulnerable to infection.
If a vaccine isn't approved before Election Day, Trump will be denied a political victory and blamed for over-promising and under-delivering — an outcome he's made clear is on his mind.
"They're petrified the vaccine comes in before the election," Trump said yesterday of his opponents in a Fox Sports Radio interview. Read more from Jordan Fabian and Josh Wingrove.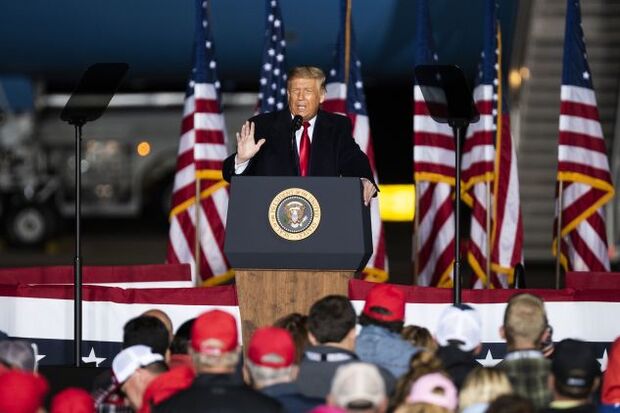 Vaccine Leaders Make Trial Plans Public: Meanwhile, the companies leading Covid-19 vaccine efforts disclosed detailed information about their pivotal late-stage clinical trials, and how they plan to gauge their shots' safety and efficacy. The moves by first Moderna, and then later from Pfizer and partner BioNTech, follow mounting fears that the effort to make a vaccine is becoming politicized, and that an inoculation could be rushed to market before it's proven safe and effective. AstraZeneca said it would post its plans as well. Robert Langreth and Riley Griffin have more.
Millions Lose Employer Health Coverage: More than 3 million employees lost their employer-sponsored health insurance amid the pandemic and 1.9 million became newly uninsured, according to a new analysis released yesterday by the Urban Institute. Medicaid and other coverage options may have helped reduce the number of uninsured people, according to the report, which was based on Census Bureau data. Between late April and July an estimated 2.2 million adults gained public coverage, it said. Read more from Sara Hansard.
Happening on the Hill
Democrats Weigh Next Stimulus Steps: Some House Democrats are keeping pressure on Speaker Nancy Pelosi (D-Calif.) to bring a new pandemic relief bill for a vote next week, as they look to signal to voters that their party is pursuing an agreement to bolster the U.S. economy. Pelosi said yesterday that voting on some version of a Democratic stimulus bill is one of the options that's been under discussion within the party to break the impasse with their Senate Republican counterparts and the White House.
Some Democrats want to vote again on the $3.4 trillion stimulus package the House passed in May, she said at a news conference, while some lawmakers don't want to advance any legislation until they strike an agreement with the Trump administration. "Others will say let's just put our own proposal on the floor," Pelosi said. She expressed confidence that her party is united in their approach. Read more from Billy House and Erik Wasson.
EEOC Picks Headed Toward Confirmation: Three nominees for positions on the Equal Employment Opportunity Commission are poised for confirmation votes in coming days, a prospect that would provide the workplace civil rights agency its first full complement of five commissioners during the Trump era. Senate Majority Leader Mitch McConnell (R-Ky.) filed for cloture on agency nominees Keith Sonderling (R), Andrea Lucas (R), and Jocelyn Samuels (D). Paige Smith and Ben Penn have more.
House Eyes Vote on Marijuana Bill This Fall: Reps. Earl Blumenauer (D-Ore.) and Barbara Lee (D-Calif.) said the House plans to vote on a measure to legalize and tax recreational marijuana. "Leadership has now given an ironclad commitment that the House will consider the bill this fall," they said in a statement yesterday. House Majority Leader Steny Hoyer (D-Md.) had previously signaled the chamber would vote on a bill (H.R. 3884) this month to repeal the federal prohibition on cannabis. Megan Howard has more.
GOP Releases Privacy Bill: Senate Republicans introduced long-awaited privacy legislation that would require businesses to be more transparent in consumer data collection and allow courts to grant injunctive relief in cases of privacy violations. Senate Commerce, Science, and Transportation Chairman Roger Wicker (R-Miss.) released the consumer privacy bill, which expands on a draft version his staff first circulated last November. Sens. John Thune (R-S.D.), Marsha Blackburn (R-Tenn.), and Deb Fischer (R-Neb.) cosponsored the legislation.
The legislation includes tenets of the draft bill, such as the establishment of individual consumer data rights and a requirement that businesses allow consumers to access, correct, delete, or port their data. The measure also seeks to prohibit businesses from processing or transferring consumers' data without consent. Read more from Rebecca Kern and Ben Brody.
FEMA Policy Said Hurts Trump on Schools: Republicans said that a decision by the Federal Emergency Management Agency to cap reimbursement of Covid-19-related costs will hurt states' ability to combat the pandemic and undermine the Trump administration's effort to reopen schools for instruction in person. FEMA ought to immediately reverse the policy, several Republicans told Administrator Peter Gaynor in a letter yesterday. Read more from Andrew Kreighbaum.
Pai Criticized for Alleged Inaction in Pandemic: Federal Communications Commission Chairman Ajit Pai has failed to take actions that would help low-income Americans stay connected during the coronavirus pandemic, House Democrats told him at a hearing. Democrats admonished Pai for not allowing FCC broadband funding that goes to schools and libraries through its E-Rate program to be used to purchase laptops, Wi-Fi hotspots, and other tools that students could use for remote learning. Read more from Jon Reid.
GOPUnveils Law Enforcement Legislation: Violently targeting local state of Federal law enforcement officers would become a federal crime under a bill introduced by 16 Republicans in the Senate yesterday. The "Protect and Serve Act" comes after months of protests against police brutality in the wake of fatal police shootings across the country and counter protests that proclaim "Blue Lives Matter."
"This legislation has long been a legislative priority for the FOP and takes on a particular urgency in the wake of the vicious ambush attack on two deputies with the Los Angeles County Sheriff's Department a few days ago," Patrick Yoes, the national president for the Fraternal Order of Police, said in a statement, Shaun Courtney reports.
Federal prosecutors should consider charging violent protesters under a criminal sedition law, which doesn't require proof that they were plotting to overthrow the government, the Justice Department said in a memo yesterday. The federal statute governing sedition charges applies to other acts, including preventing law enforcement officers from carrying out their duties and forcibly taking property belonging to the government, according to the memo issued by Deputy Attorney General Jeffrey Rosen. Read more from Chris Strohm.
Elections & Politics
Biden Leads Trump in Maine, Arizona: Joe Biden is leading Trump by wide margins in Maine and Arizona, according to a poll conducted by the New York Times and Siena College, Deana Kjuka reports. Biden was ahead by 9 percentage points in Arizona, at 49%, versus 40% for Trump. He was ahead by 17 percentage points in Maine, at 55%, compared to 38% for Trump. Biden was ahead by one point at 45% in North Carolina to Trump's 44%.
Biden Stresses Middle Class Roots: Biden drew a sharp contrast between his middle-class upbringing and Trump's wealth as the Democratic presidential nominee sought to win over the Rust Belt voters who drifted away from his party in 2016. Biden, who was born in Scranton, Pennsylvania, returned to his birthplace last night for a CNN town hall. Biden repeatedly compared his childhood in Scranton and Delaware with Trump's privileged background, saying he understands Americans' fears as they struggle with lost jobs, expensive health care and economic pain that has been exacerbated by the coronavirus pandemic. Read more from Tyler Pager and Misyrlena Egkolfopoulou.
Ex-Pence Aide Endorses Biden: A former senior adviser to Vice President Mike Pence endorsed Biden and accused Trump of showing "disregard for human life" during the coronavirus pandemic. Pence dismissed the criticism by Olivia Troye, who worked as his homeland security, counterterrorism and coronavirus adviser for two years, saying she was a "disgruntled employee" playing politics. Troye said in a video for the group Republican Voters Against Trump that the president's "biggest concern" was how the pandemic would affect his re-election campaign. Trump also said the pandemic might be a "good thing" because he would not have to "shake hands with these disgusting people," Troye said. Read more from Justin Sink and Misyrlena Egkolfopoulou.
Barr Goes All-in for Trump: Attorney General William Barr has become one of Trump's most potent sources of campaign ammunition and political cover less than 50 days before the president faces voters, a most unconventional role for the nation's top law enforcement officer. Adding to concern that he's cast aside any notion of Justice Department independence, Barr has hurled himself and his agency into the middle of the most controversial issues that Trump and his campaign see as vital to winning re-election on Nov. 3.
Barr has belittled the career prosecutors he leads, told U.S. attorneys to consider charging violent protesters under a sedition law that makes it a crime to interfere with law enforcement or plot a coup, compared coronavirus lockdowns to slavery and intervened in a case involving a rape accusation against Trump that was handled by the president's personal lawyers. Read more from Chris Strohm.
Judge Blasts DeJoy's 'Intentional' Bid to Disrupt Election: The judge who ordered a nationwide halt to operational changes at the U.S. Postal Service said it was "easy to conclude" the effort by Postmaster General Louis DeJoy was intended to disrupt and challenge the legitimacy of the upcoming election.
"At the heart of DeJoy's and the Postal Service's actions is voter disenfranchisement," U.S. District Court Chief Judge Stanley A. Bastian said in a ruling yesterday in Yakima, Washington. "DeJoy's actions fly in the face of Congress's intent to insulate the management of the Postal Service from partisan politics and political influence." Read more from Erik Larson.
Trump Chides FBI Chief for Saying Russia Seeks to Defeat Biden: Trump ridiculed FBI Director Christopher Wray for telling Congress that Russia is seeking to hurt Biden's presidential campaign through social media and influence operations. China "is a FAR greater threat than Russia, Russia, Russia," Trump said in a tweet last night. Read more from Chris Strohm.
Eric Trump Agrees to Be Deposed After Election: Trump's son Eric says he's willing to be questioned under oath by New York authorities in a civil probe of the family business, but only after the Nov. 3 election. New York Attorney General Letitia James has been seeking sworn testimony from Eric Trump for months as part of a probe of asset valuations at the Trump Organization, where he's an executive vice president. His lawyer said in a court filing that he's too busy with the campaign to be deposed now. Read more from Erik Larson.
What Else to Know Today
Fed Restarts Stress Test: The Federal Reserve, which just started a second round of Wall Street stress tests, is considering extending the unprecedented constraints on dividend payments and share buybacks it imposed on the U.S.'s biggest banks. In a statement yesterday, the Fed said it will decide in the next two weeks whether to prolong the limits, which are scheduled to lapse at the end of the third quarter. Any extension through the end of the year would likely disappoint banks, as JPMorgan Chase has already indicated it might resume buybacks in the fourth quarter if allowed to by regulators, Jesse Hamilton reports.
Trump to Kill What's Left of Iran Deal: The Trump administration's push to kill off what's left of the 2015 nuclear deal with Iran comes to a head this weekend at the United Nations, where allies and adversaries argue the U.S. effort to restore sanctions is groundless and a diplomatic crisis is set to explode. The U.S. bid to restore all UN sanctions on Iran — which Secretary of State Michael Pompeo contends will go into effect on Sunday in the middle of the U.N. General Assembly — deepens a chasm between the U.S. and most other nations. Even European allies say the U.S. has no right to invoke the accord's "snapback" provision because Trump quit the multinational deal to restrain Iran's nuclear program two years ago. Read more from David Wainer.
WeChat Ban May Face Temporary Halt: Trump's executive order that could ban Chinese-owned WeChat in the U.S. may face a delay as a federal judge is considering putting it on hold temporarily. U.S. Magistrate Judge Laurel Beeler said at a hearing yesterday she's willing to grant a preliminary injunction at the request of the U.S. WeChat Users Alliance because Trump's order is too vague. Beeler didn't issue a final decision on the request. Edvard Pettersson has more.
Trump Latin Bank Wants Unifying Agenda: Trump's pick to lead a key Latin America development bank said he's now focused on uniting the region and leaving behind the political divisions that involved his election. Mauricio Claver-Carone was elected on Sept. 12 for a five-year term as president of the Inter-American Development Bank, breaking a six-decade tradition of the gorup's head coming from Latin America. Read more from Eric Martin.
McMaster Says Trump Policy Sides with Taliban: H.R. McMaster, Trump's former national security adviser, said pulling troops from Afghanistan and allying with the Taliban have made the U.S. less secure, CBS News' "60 Minutes" reports, Ben Livesey reports.
Giuliani Allies Parnas, Fruman Face Fresh U.S. Charges: Federal prosecutors filed additional charges against associates of former New York City Mayor Rudy Giuliani, saying they solicited foreign donations for U.S. election campaigns and defrauded investors in a company they launched. Lev Parnas and Igor Fruman were already facing charges that they worked for at least one Ukrainian official to oust Marie Yovanovitch as the U.S. ambassador to Ukraine. Read more from Christian Berthelsen.
With assistance from Shaun Courtney
To contact the reporters on this story: Zachary Sherwood in Washington at zsherwood@bgov.com; Brandon Lee in Washington at blee@bgov.com
To contact the editors responsible for this story: Giuseppe Macri at gmacri@bgov.com; Loren Duggan at lduggan@bgov.com; Michaela Ross at mross@bgov.com